Learn how to make these colorful Funfetti Pancakes. This homemade pancake recipe is studded with colorful rainbow sprinkles in every bite. It's the perfect birthday pancake recipe and a fun way to get your kids excited for breakfast. These pancakes with sprinkles are sure to be an intstant hit.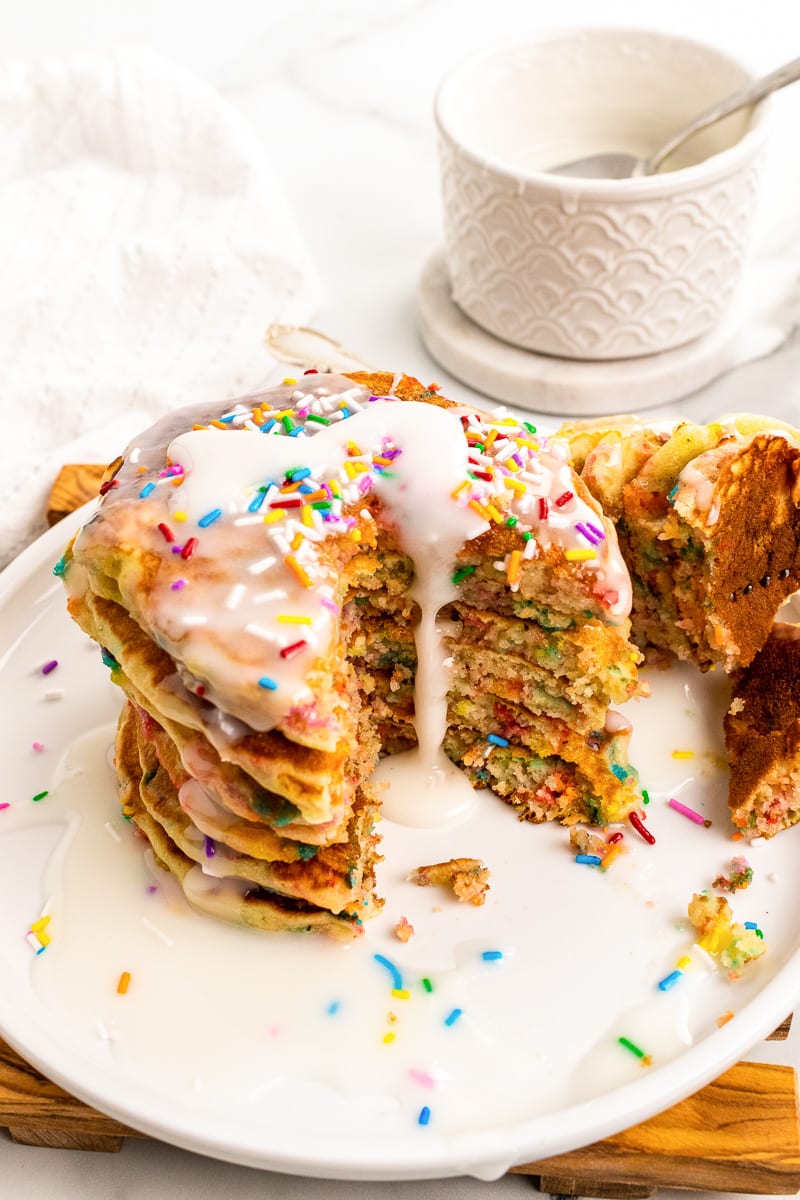 These pancakes are also freezer friendly, which means that you can batch cook and then freeze a bunch for easy breakfasts on busy mornings. Give these pancakes a try—and don't forget to grab the bottle of syrup!
If you like these pancakes, try my Unicorn Donuts or my Copycat IHOP Cheesecake Pancake recipe for other sweet breakfast ideas.
This Funfetti Pancakes recipe is....
Homemade
Easy to make
Soft and fluffy
Studded with sprinkles in each bite
Kid-friendly
Freezer-friendly
How to Make Funfetti Pancakes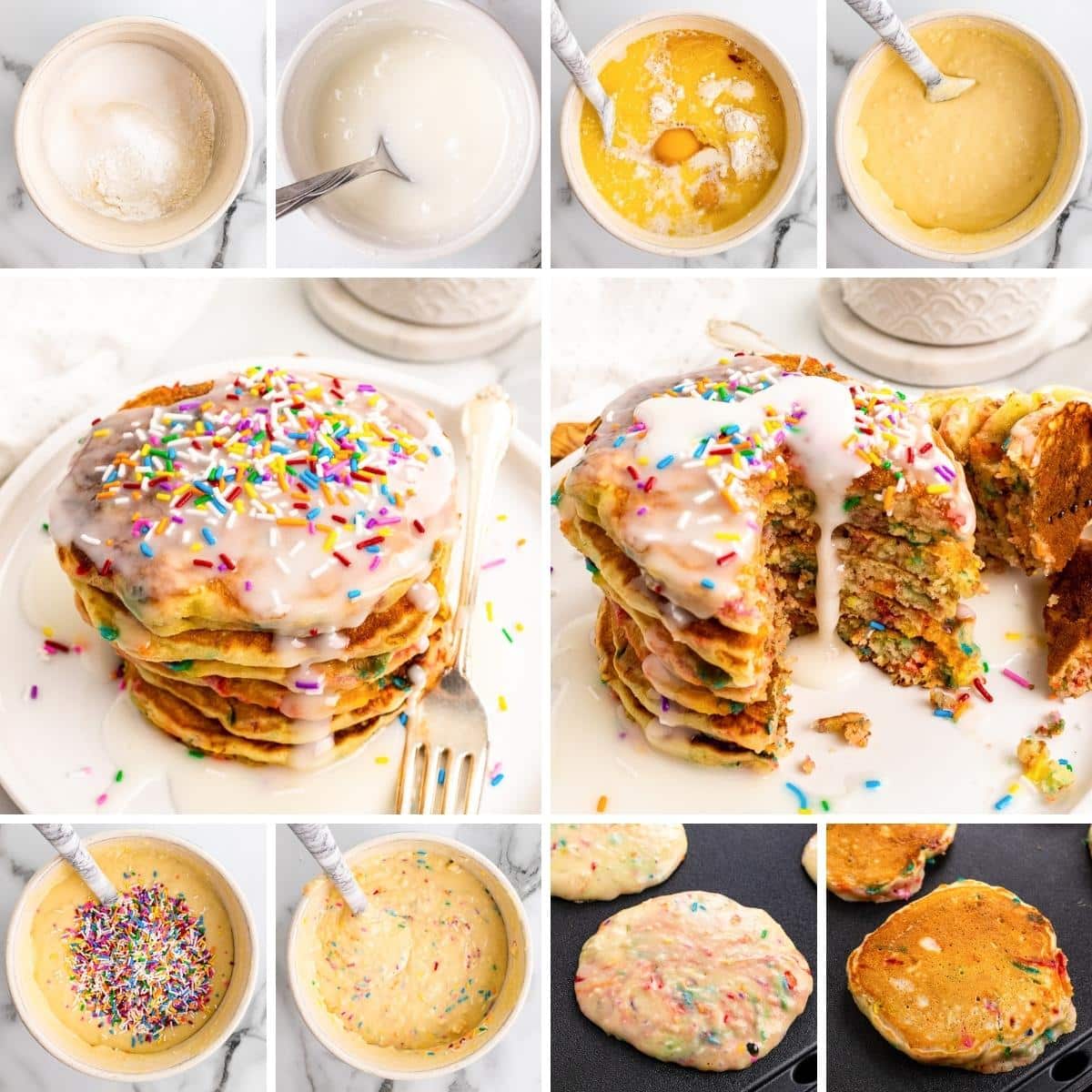 Combine powdered sugar and milk in a bowl, then set aside.
In a large mixing bowl, mix together dry ingredients.
Then add milk, butter, eggs, and vanilla.
Once batter is fully smooth, mix in the sprinkles.
Preheat griddle and cook your pancakes.
Serve with syrup or powdered sugar icing and sprinkles!
Full directions for how to make Funfetti Pancakes are in the recipe card at the bottom of the post.
Tips & Tricks for Funfetti Pancakes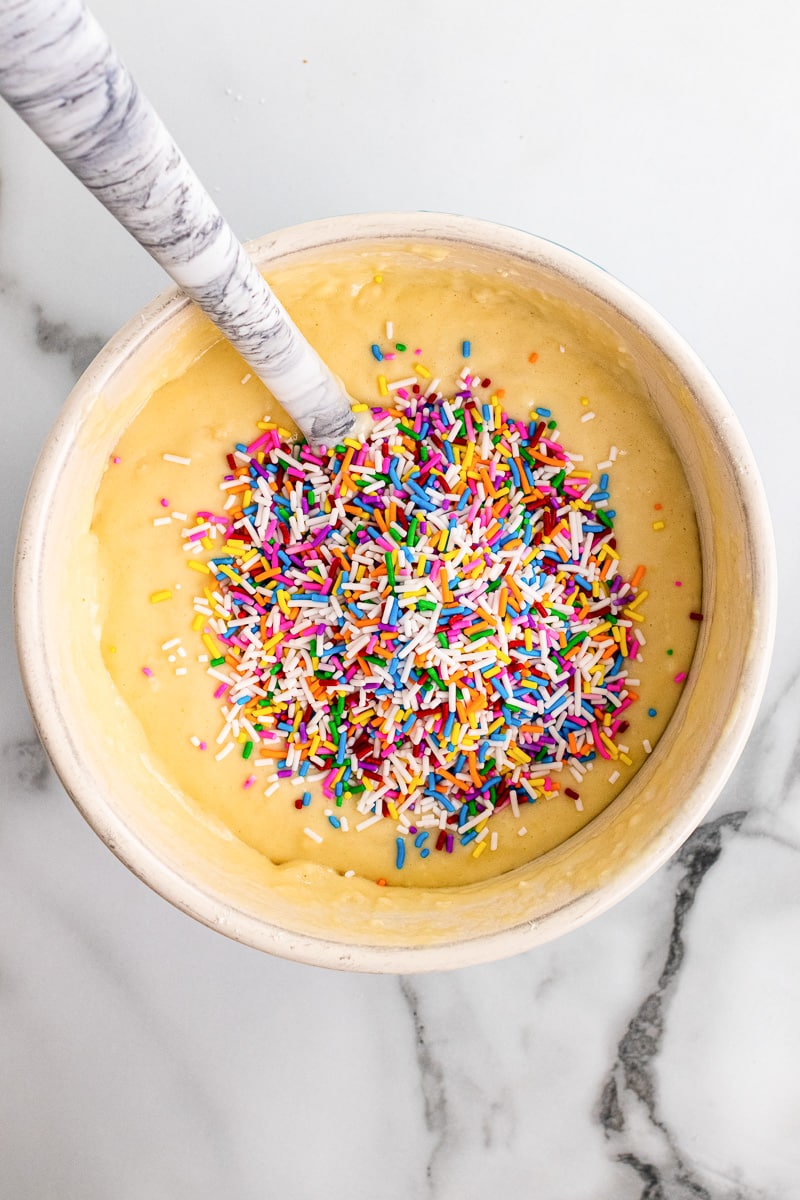 Mixing
You don't need a hand mixer for this recipe. Just grab a whisk to whip up the batter. This batter is so easy to mix together, but if you want to use a mixer, go right ahead!
Sprinkles
Jimmies sprinkles are great for funfetti as they are soft and cook up properly. If you use really hard sprinkles, they will make your pancakes crunchy when you bite into them.
Hot Griddle
Make sure that the griddle is nice and hot when you go to cook your pancakes. Otherwise, it will not create the golden brown sear on the pancakes that you need.
Variations to Funfetti Pancakes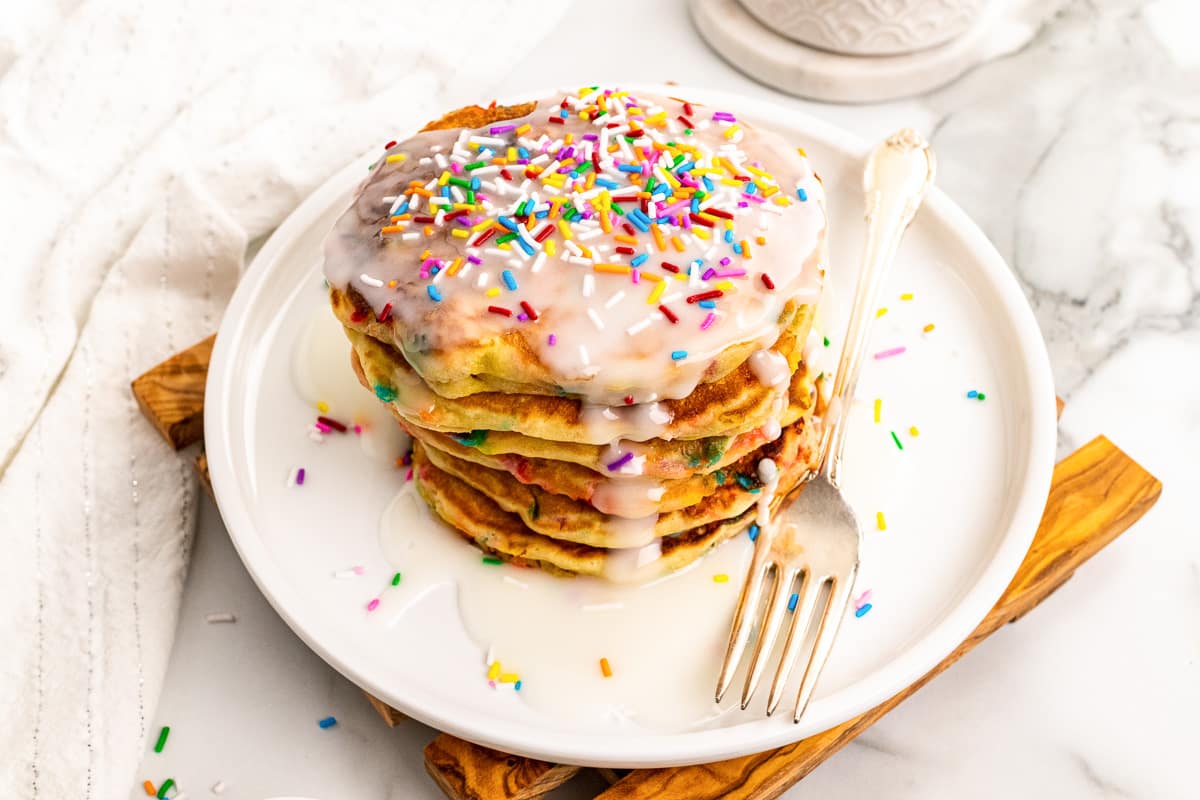 Extract
These days, you can even find birthday cake extract! If you can find some, you might want to add some to your pancakes for an extra birthday cake flavor and vibe. Start with about 2–3 drops of extract, but if the flavor isn't strong enough, go ahead and add more.
Pancake Mix
Feel free to use a store bought pancake mix instead of making homemade pancakes. It's up to you to decide how you want to make your pancakes. Just make sure to add in the sprinkles before cooking!
Funfetti Pancakes FAQs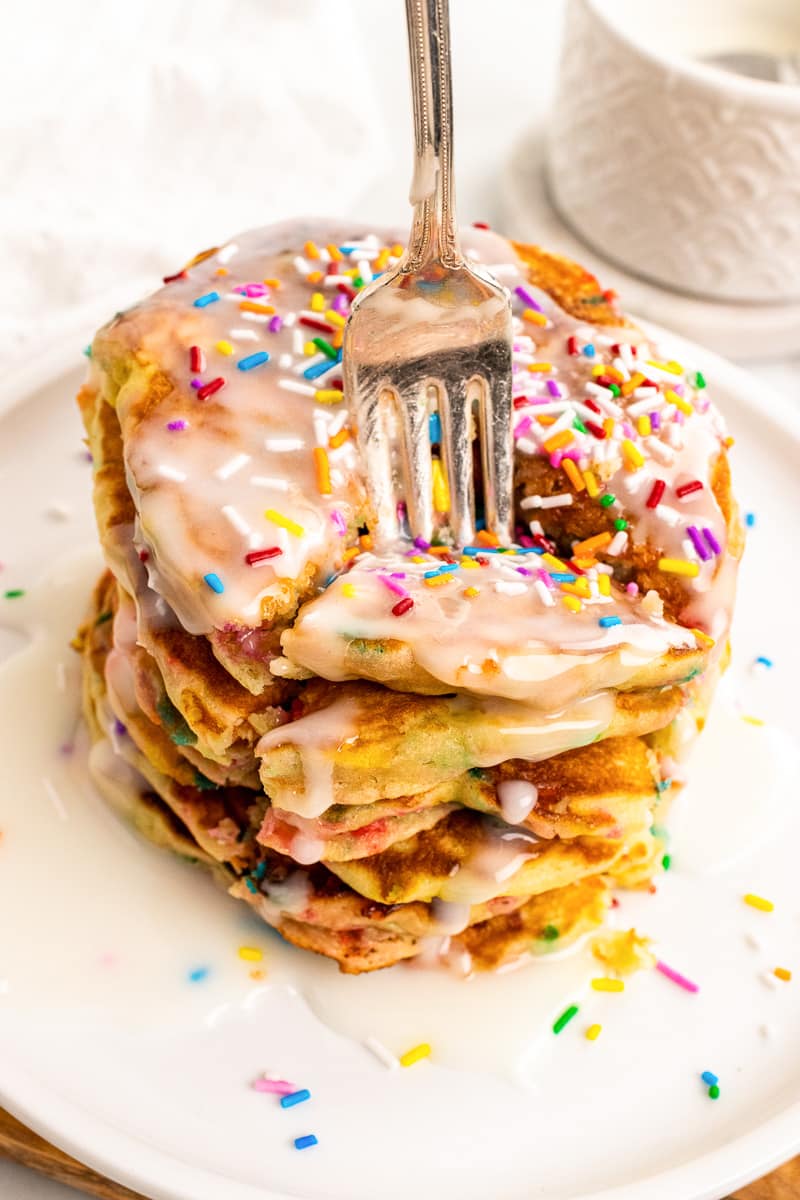 Can you freeze these pancakes?
You can definitely freeze these funfetti pancakes. Just allow them to cool, then flash freeze them on a baking sheet. Once the pancakes have frozen stiff enough to stack, transfer them to a freezer container or bag. Then you can store them in the freezer for 3–4 months. When you're ready to eat them again, just thaw your pancakes in the fridge overnight or warm them up in the microwave.
Does this recipe double well?
This recipe absolutely doubles well. If you want to make extra pancakes, just double—or even triple—this recipe as needed. Then just batch cook the pancakes and enjoy.
How do you reheat pancakes?
To reheat pancakes, place them in the microwave and warm them up in 20–30 second increments. Once the pancakes are warm, serve. If your pancake feels like it's drying out, place a small cup of water in the microwave with the pancakes. This will add moisture to the pancakes as they reheat.
Recipe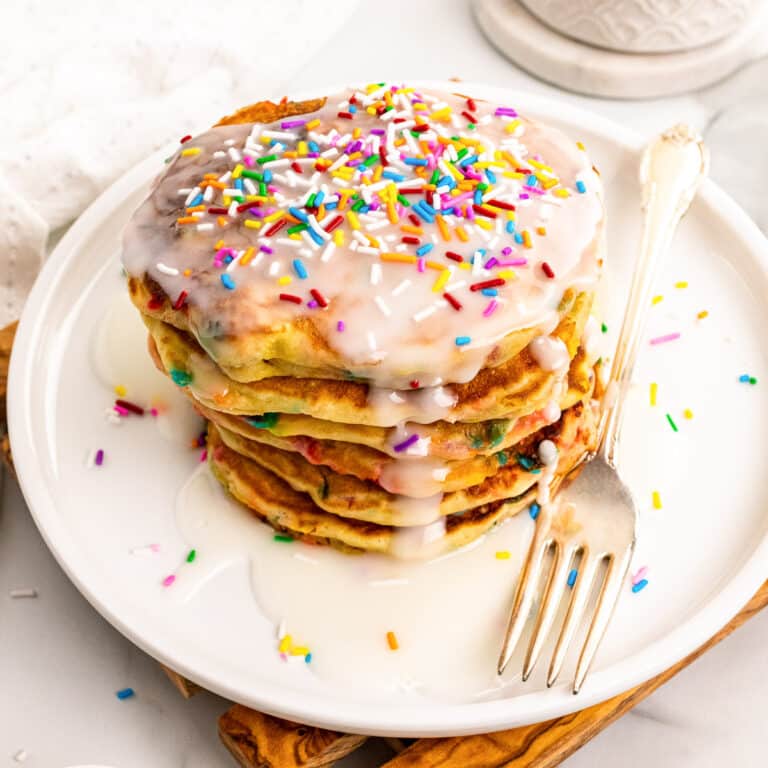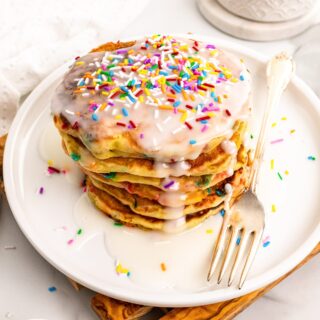 Funfetti Pancakes
Learn how to make these colorful Funfetti Pancakes. This homemade pancake recipe is studded with colorful rainbow sprinkles in every bite.
Instructions
In a small bowl, stir together the powdered sugar and milk until desired consistency is reached; set aside.

In a large mixing bowl, stir together the flour, sugar, baking powder, and salt.

Then add the milk, melted butter, eggs, vanilla.

Combine until evenly distributed.

Preheat nonstick pan or griddle to medium heat, then spoon ⅓ cup of batter onto the preheated pan per pancake.

Cook 2–3 minutes, or until bubbles start to form on the surface, then flip and cook an additional 2–3 minutes.

Repeat until all batter has been used.

Serve with icing from step one and additional sprinkles if desired.
Nutrition
Calories:
209
kcal
Carbohydrates:
31
g
Protein:
3
g
Fat:
8
g
Saturated Fat:
2
g
Polyunsaturated Fat:
2
g
Monounsaturated Fat:
3
g
Trans Fat:
1
g
Cholesterol:
25
mg
Sodium:
253
mg
Potassium:
70
mg
Fiber:
1
g
Sugar:
17
g
Vitamin A:
345
IU
Vitamin C:
1
mg
Calcium:
88
mg
Iron:
1
mg