Perfect Dinner to Share with Friends
Scrumptious Summer Chicken Salad Sandwiches. What better way to enjoy the summer with friends--sharing their company, catching up, laughing and having good food?
When we serve these chicken salad sandwiches, everyone loves them. Recipes that get such rave reviews are always a winner to have on hand!
The trick to these quick chicken salad sandwiches is simply a store-bought rotisserie chicken. Or, if you have a home rotisserie, you can do it yourself. Just imagine smelling that delicious chicken cooking all day. It would be such an amazing flavor to have wafting around in the air all day.
Add in an Italian Chopped Salad, fun Banana Cream Dessert, or a signature cocktail like a Tom Collins, and you've got the perfect menu for a Girls Night In.
Chicken Salad Sandwiches for the Win
Simply refrigerated the rotisserie chicken until cold and then took all the meat off the bones. Once that was done, put it all on a cutting board and chopped it up a bit.
Other ingredients used: red onion, celery, and either black or red seedless grapes. We use black seedless grapes for this recipe and quarter them. They taste so sweet and are the perfect compliment to the ground mustard, pepper and salt used to spice up the chicken salad. Mix it all together with mayo (the kind that has olive oil) and refrigerate it for about an hour. Perfection!
What's your favorite summer sandwich?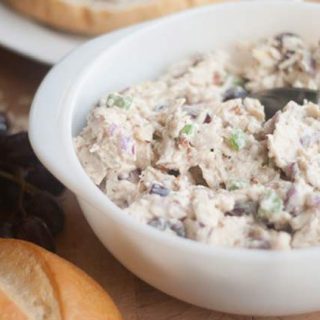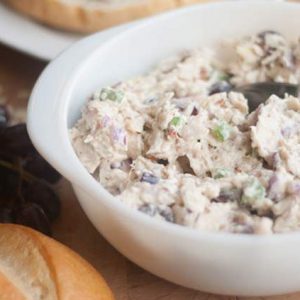 Scrumptious Summer Chicken Salad Sandwiches
This is the best recipe for Chicken Salad Sandwiches with fresh and delicious ingredients and a flavor you won't want to miss.
Ingredients
Instructions
Refrigerate rotisserie chicken until cold. Take chicken meat off the bones and chop up in chunks. Mix together with chopped celery, seedless grapes, onion and almonds. Add mayo in and stir together. Season with salt, pepper and ground mustard, and mix together again.
Nutrition
Calories:
3072
kcal
Carbohydrates:
47
g
Protein:
181
g
Fat:
244
g
Saturated Fat:
41
g
Cholesterol:
670
mg
Sodium:
4693
mg
Potassium:
857
mg
Fiber:
10
g
Sugar:
32
g
Vitamin A:
359
IU
Vitamin C:
9
mg
Calcium:
198
mg
Iron:
3
mg