Hello Spicy Black Bean Lettuce Wraps! A spicy Tex-Mex seasoned black bean filling that is spooned into lettuce leaves, for a crunchy and savory lunch or dinner option. Vegetarian lettuce wraps are easy, quick to whip up, and a great way to give you a boost to get through the rest of your day.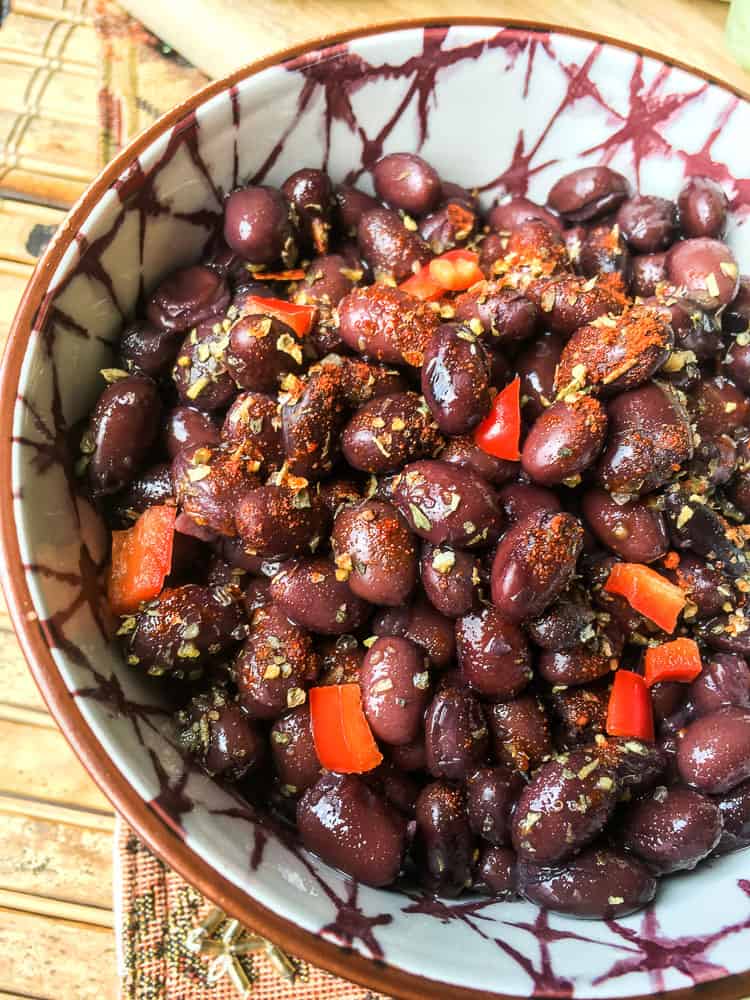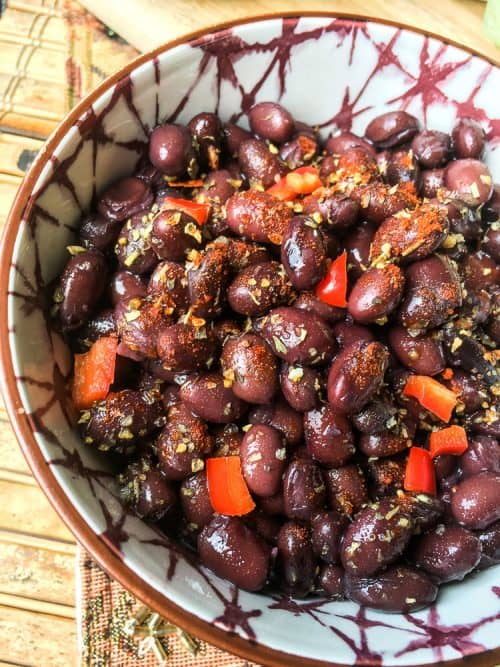 Vegan taco wraps are also gluten-free. So dive into this recipe, we enjoyed it on Taco Tuesday! A healthy vegan taco wrap that will be a protein boost, tasty, and great for meal prepping for your work week. Meal prep for the week, serve for a quick lunch or whip up for dinner for the whole family.
Black Bean Lettuce Wraps
If you want you could easily swap the lettuce out with tortilla wraps if you wanted something heartier. You can buy any tortilla you enjoy and fits your dietary needs or make your own. I have also used this as a dip and used chips to scoop up the bean mixture. The spicy black beans are just right no matter how you serve it up.
Craving More Black Bean Recipes
What Is The Best Lettuce For Wraps
Depending on what your store carries will depend on what you might reach for. One of the most prominent types of lettuce is Butter lettuce or Iceberg. You can also use Boston or Green Leaf! Butter lettuce is my go-to if I can find it at the store because it wraps nicely. You might find that iceberg tends to break since it is a harder lettuce.

How Do You Serve Black Bean Lettuce Wraps
I generally have some Mango Salsa on hand that I top it with or even guacamole! If you don't have either of those a sprinkle of pico de gallo, salsa, or even sometimes a dollop of Greek yogurt. I recommend adding whatever your favorite taco toppings are.
Can I Make Vegetarian Lettuce Wraps Ahead Of Time
You can make this vegetarian lettuce wrap ahead of time. What I recommend doing is prepping your bean mixture and storing it in the fridge in an airtight container. Then when you are ready to eat, rinse up your lettuce and assemble. If you make your wraps the bean mixture could break down and sog up the lettuce rather fast.
How Long Does Washed Lettuce Last In The Fridge
If you decide to pre-wash your lettuce you can expect it to last anywhere from four days up to two weeks depending on how you wash it and the type of lettuce it is. This makes it easy to grab and use for sandwiches, wraps, etc.
I wash my lettuce by filling a sink with cold ice water. I cut off the base of the lettuce and gently massage the lettuce and then allow it to soak for around 15 minutes to help get all the dirt off the lettuce. Your lettuce leaves will float, and the dirt will sink.
How To Store Lettuce
What I do is line a container with a damp paper towel. Then take your cleaned lettuce, removing any excess water and lay it flat in the container.
Repeat and then lay down a fresh damp paper towel in between layers. Top the last layer with a damp paper towel. Make sure the lid fits nicely without smashing the lettuce, or it will bruise and break down your lettuce.
Can I Use Taco Seasoning In Replace of Spices In Recipe
I made my own taco seasoning for this black bean wrap recipe. If you prefer to use your favorite store bought taco seasoning feel free. Just swap it with all the spices in the recipe. I find that fresh seasoning tends to taste better for us, but if you prefer a particular brand feel free to use that.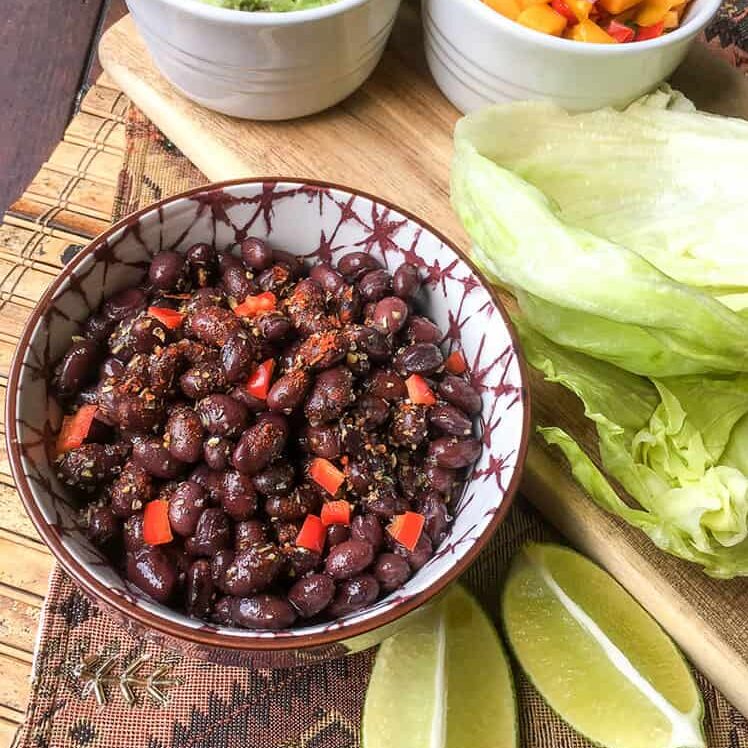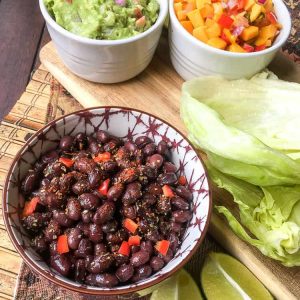 Spicy Black Bean Taco Lettuce Wraps
These vegetarian spicy black bean taco wraps are perfect for Meatless Mondays or anytime you want to get a plant-based meal on the table in around 20 minutes.
Ingredients
Guacamole
½

medium jalapeño

finely diced

1

medium tomato

seeded and diced

3

tablespoons

fresh lime juice

2

large ripe avocados

pitted

Sea salt

to taste

Black pepper

to taste

2

tablespoons

fresh cilantro

minced
To Serve
Mango Salsa

Iceberg

butter, or Romaine lettuce leaves for wrapping
Instructions
Heat olive oil in a skillet over medium heat. Add beans, water, cumin, chili powder, smoked paprika, cayenne, and Mexican oregano. Season with salt and black pepper, to taste, and stir to combine.

Cook, stirring occasionally, until the beans are warmed through and the spices become fragrant, around 4-5 minutes. Remove from heat and set aside.

While the beans are cooking, mash the avocado in a small glass or other non-reactive bowl. Add tomato, lime juice, fresh cilantro, and jalapeño. Season with salt and black pepper, to taste, and stir to combine. Set aside.

Transfer warm beans to a bowl and add diced bell pepper, if using. Sprinkle with additional spices, if desired. Serve immediately with large lettuce leaves for wrapping, along with fresh guacamole and

this spicy mango salsa.

Enjoy!
Nutrition
Serving:
1
g
Calories:
240
kcal
Carbohydrates:
12
g
Protein:
3
g
Fat:
22
g
Saturated Fat:
3
g
Sodium:
17
mg
Potassium:
612
mg
Fiber:
8
g
Sugar:
2
g
Vitamin A:
827
IU
Vitamin C:
20
mg
Calcium:
29
mg
Iron:
2
mg
These vegetarian black bean lettuce wraps genuinely are so simple to make. If you are looking for something different, bursting with vibrant flavors and colorful, give this recipe a try.
You can always tame down the spice if you are not a huge fan of spice or serving kids. Either way, I think you will enjoy this lettuce wrap recipe.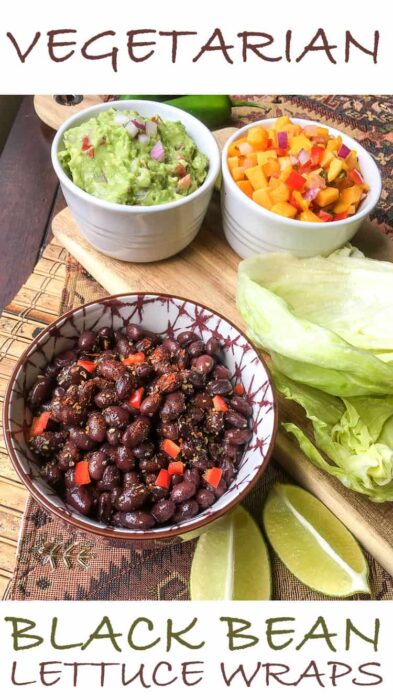 Have you tried black bean lettuce wraps before?