Mango Salsa is a colorful and refreshing salsa that is a great dip or topper for your main dish. Six essential ingredients are all you need for this fresh mango salsa recipe that will kick up the party a notch or two.
When mangos are in season, this mango salsa recipe is always at the top of my list to make.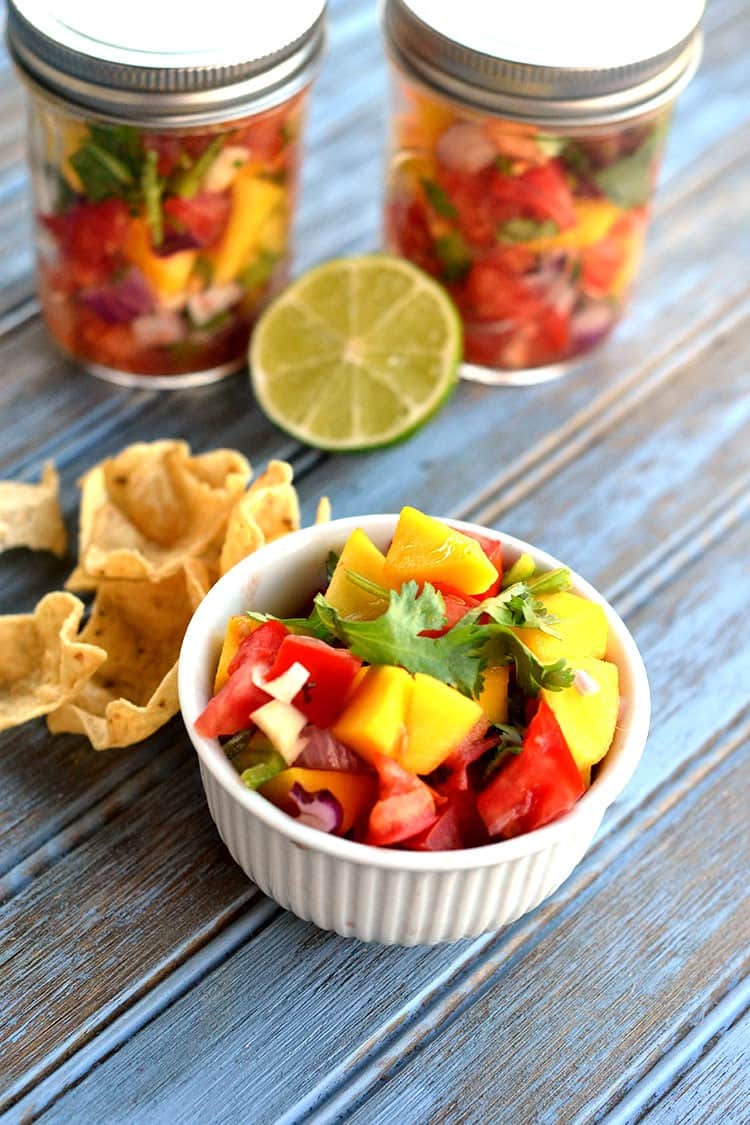 There is something about using fresh, whole ingredients that makes eating more fun. I mean, what's not to enjoy when you know that every bite is wholesome, nutritious, colorful...and did we forget to mention: delicious?
Even better, this recipe is EASY to make!
Mango Salsa
Every salsa recipe I've ever made has been full of these types of ingredients, but tossing in a fun new component like mango puts a fun spin on salsa and kicks things up a notch. We're talking sweet flavor mixed with some zesty zing that will leave you reaching for another chip to scoop up a second bite--just to catch a whiff of the salsa's delightful aroma.
This is my go-to salsa for summer entertaining. After one try, you will see why I won't stop raving on it.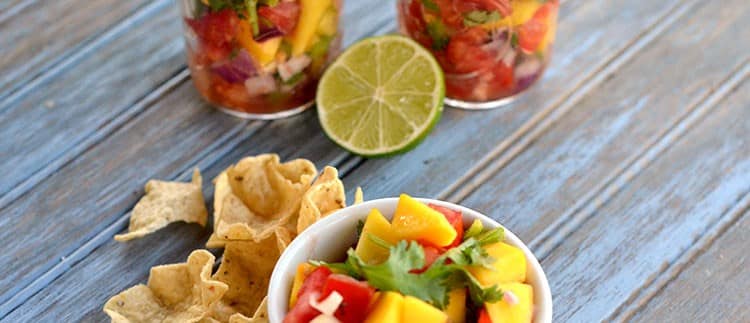 Mano Salsa Ingredients
What I love about this recipe is it is simple everyday ingredients. Fresh mango, tomatoes, onion, chili pepper, cilantro, and lime. That is all you need. One side note on this is fresh lime juice is best, skip the bottled lime juice. The fresh citrus is a must for this salsa!
On the hunt for more salsa recipes
Copycat Chipotle Corn Salsa | If you enjoy Chipotle you will love this copycat recipe. You get all the rich and savory flavors in this corn salsa, but it can be made at home whenever you want.
Peach Salsa | Here is a sweeter version similar to this Mango salsa recipe. You get that sweet and savory component in every bite. This is outstanding with fresh peaches.
Black Bean Salsa | Black beans, corn, tomatoes and more come together in this salsa. Another great summer recipe to keep in your back pocket for entertaining.
Tips For Making Mango Salsa
Evenly Cutting Ingredients
Take the time to make sure your ingredients are uniformly cut. Dice small, so it gives you nice bite-size texture when eating the salsa. If you have the onions larger than the other ingredients it won't offer that blended flavor.
Fresh and Ripe
Make sure all the ingredients are fresh and ripe. Quality is vital, and an under-ripe mango isn't that tasty. Take the time to pick ripe produce, and you will enjoy the end results.
The best way to tell if your mango is ripe is to see if it offers a slight give when you gently squeeze it. The flesh will be soft inside and full of flavor. You can also smell the step, and if it offers a fruity aroma that is another indicator, it is ripe.
Spice Up The Salsa
Add in some diced up jalapeno if you want added heat. I am more of a tame person, but if you feel you want an extra kick to your salsa, a jalapeno does the trick!
Different Ways to Serve Mango Salsa
I get asked a lot, how exactly do you serve mango salsa or eat it. Well, it varies! I have used this salsa to top chicken, fish, and even topped tacos for our Taco Tuesday at home. Or pair with some salty tortilla chips and treat it like any other dipping salsa! You will love the sweet and savory aspect.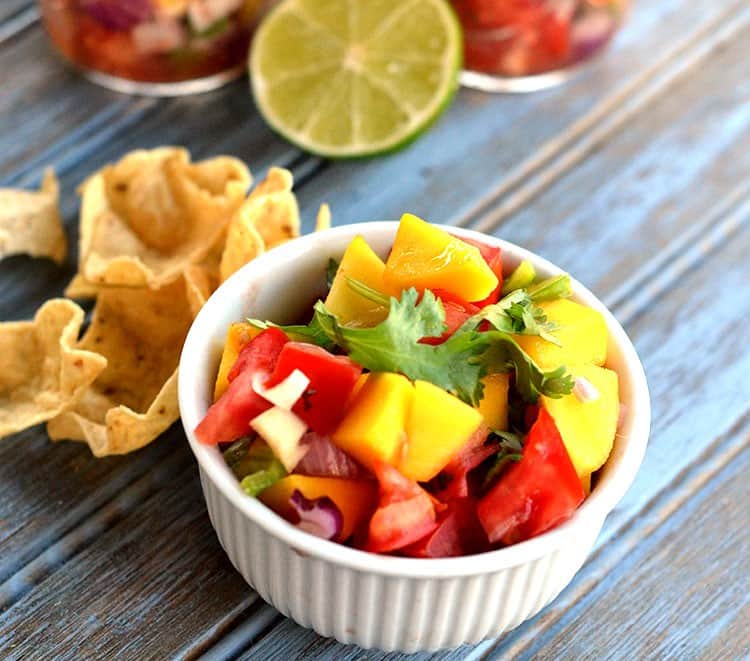 How to Store Fresh Mango Salsa
I like to place in an airtight container and then store in the fridge for 1-3 days. Each day the texture will break down slightly, but the flavor will still be good. Use your judgment on when to toss out the salsa.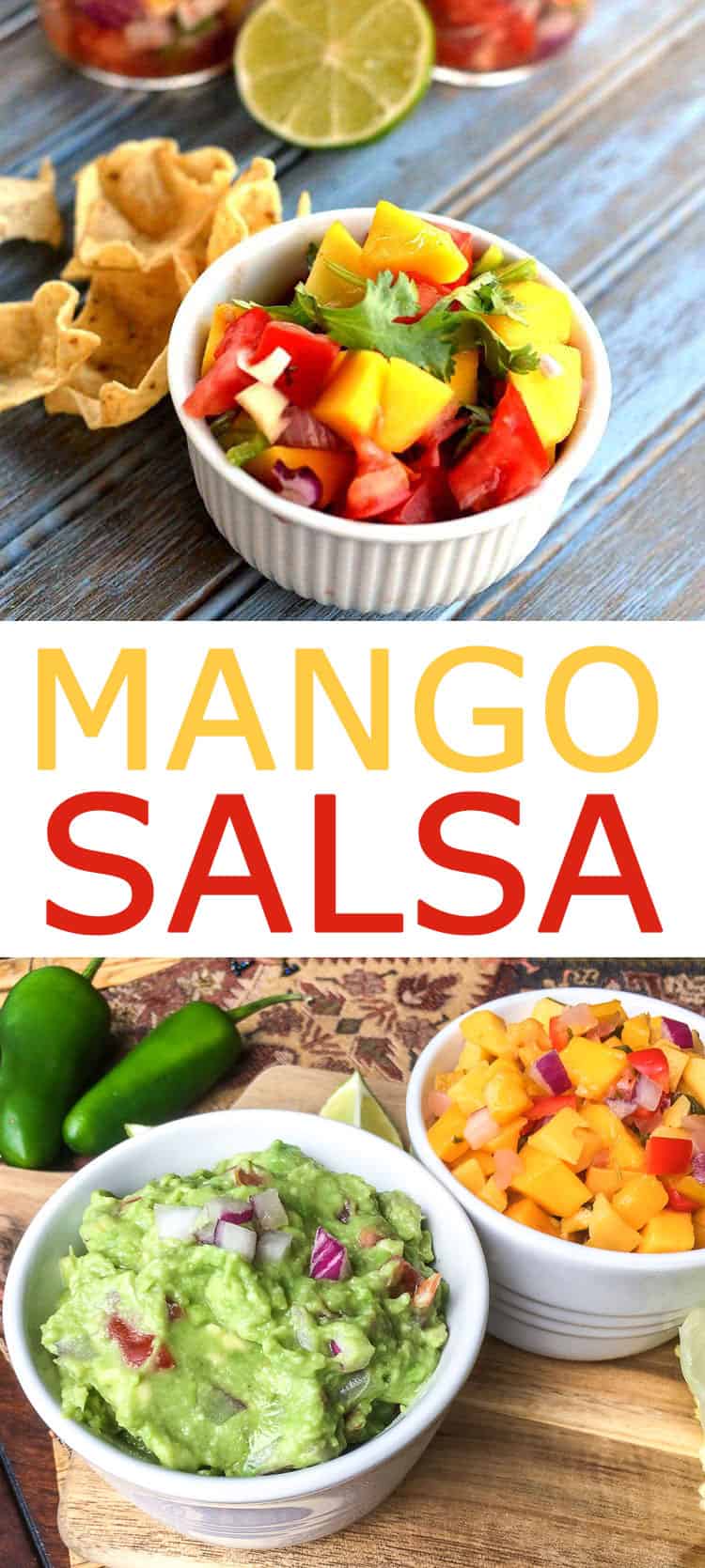 Can I Make Mango Salsa Without Cilantro
Absolutely! You either love cilantro, or you hate it. This recipe can be made with or without cilantro! I think it adds a layer of flavor, but if you are not a fan, leave it out. It won't affect the overall taste of the homemade fruit salsa.
Can I Make This Fruit Salsa Ahead Of Time
Yes. Feel free to make this salsa a day ahead of time if you need to. This will store nicely in the fridge and allow the flavors to blend even more as it sits. When ready, give a good stir, and then serve.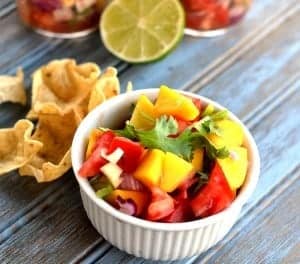 Mango Salsa
This fruity mango salsa is full of color and layers of flavor. Serve it with chips or alongside your favorite vegetarian, pork, chicken or fish tacos.
Ingredients
2 to

matoes

chopped

2

mangos

chopped

1

red onion

chopped

2

sprigs cilantro

chopped

1

chili pepper

chopped

1

lime
Instructions
Finely chop mangos, onion and chili pepper. Remove seeds from the tomato and finely chop. All all veggies to a large bowl. Squeeze juice from the lime over the mixture. Chop cilantro and mix. Enjoy!
Nutrition
Serving:
1
g
Calories:
63
kcal
Carbohydrates:
16
g
Protein:
1
g
Fat:
1
g
Saturated Fat:
1
g
Sodium:
9
mg
Potassium:
239
mg
Fiber:
4
g
Sugar:
9
g
Vitamin A:
712
IU
Vitamin C:
35
mg
Calcium:
23
mg
Iron:
1
mg
If you have some fresh produce sitting around, consider making this recipe. We love it, and make it for a snack for the work week, entertaining with friends, and any other occasion we feel would work well.
There is never a wrong time to make a salsa that tastes this good.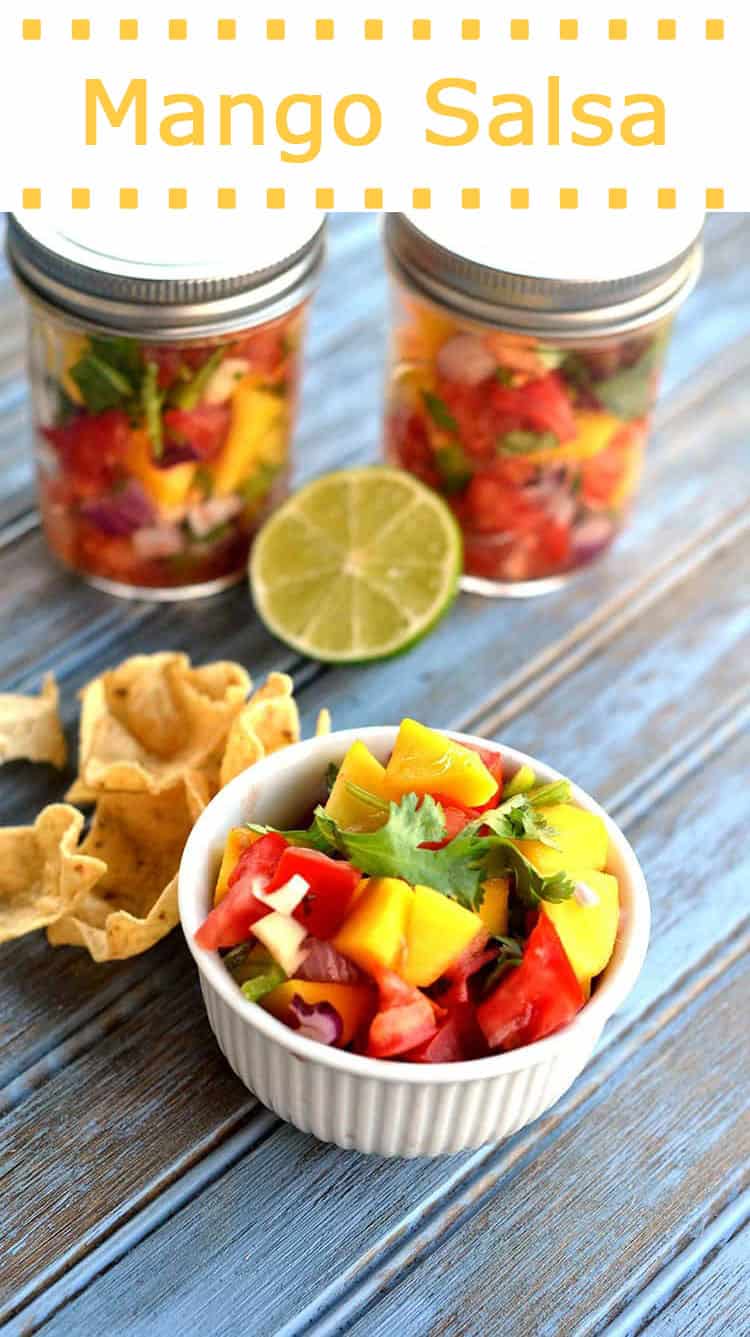 Have you ever tried mango salsa before?