An easy to make, ultra soft and chewy cookie filled with crunchy pretzel pieces, stuffed with a sweet caramel surprise!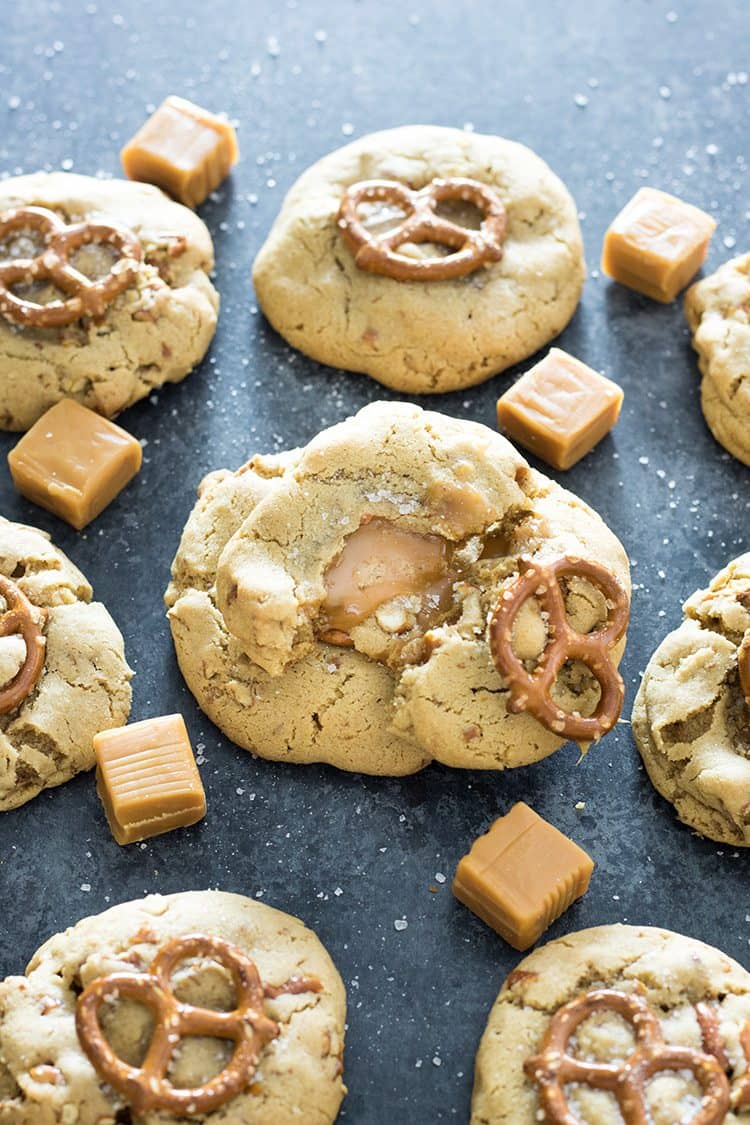 Ok, can we just go ahead and talk about the fact that these cookies are the perfect combination of salty and sweet?
I kid you not, these are a really big pop in the mouth, in a good way!
That nutty-ness of the pretzels, combined with the sweet brown sugar in the dough, then the sea salt, and that melt in your mouth caramel oozing out of the middle of the cookie.
Good. Gracious.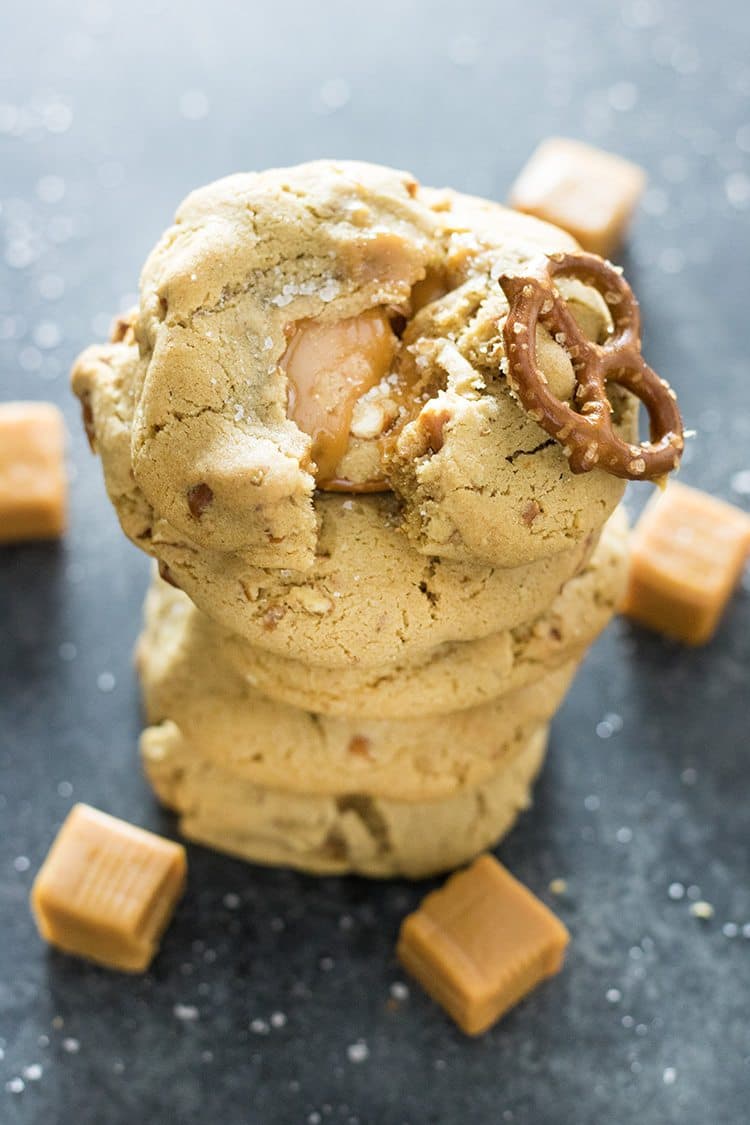 Aside from the fact that these will blow your taste buds away and make you never want a non-caramel-stuffed cookie again....
They're also SUPER easy to make.
These bake up thick and puffy, with no dough chilling required.
For these, I took a simple dough recipe from my Peanut Butter Butterfinger Cookies, and added cornstarch to make them even more thick. This way they really hold on to all of the caramel goodness. We also add cinnamon to really give them some warm cozy flavor.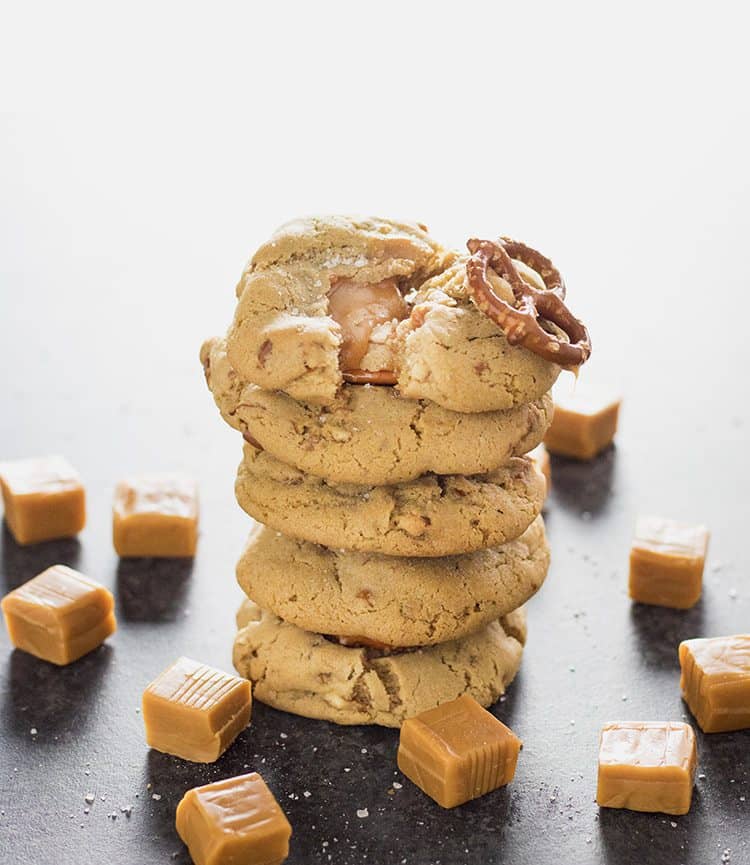 Let's talk caramels, shall we?
You'll notice there are a few different brands of those little square soft caramels out there. Good news, you can use any you like.
A note though, the Kraft brand caramels will not stay as "melty" after the cookies cool down. If you use this brand, you may want to microwave the cookies for a few seconds to re-melt your caramel. Another example is the
Werther's soft caramels
, they will stay soft, even when the cookies cool.
I personally think either is a win. I often stick cookies that we aren't eating right away in the freezer, and like to warm them up anyway!
What's better than a warm cookie? Nothing. Enjoy!
Recipe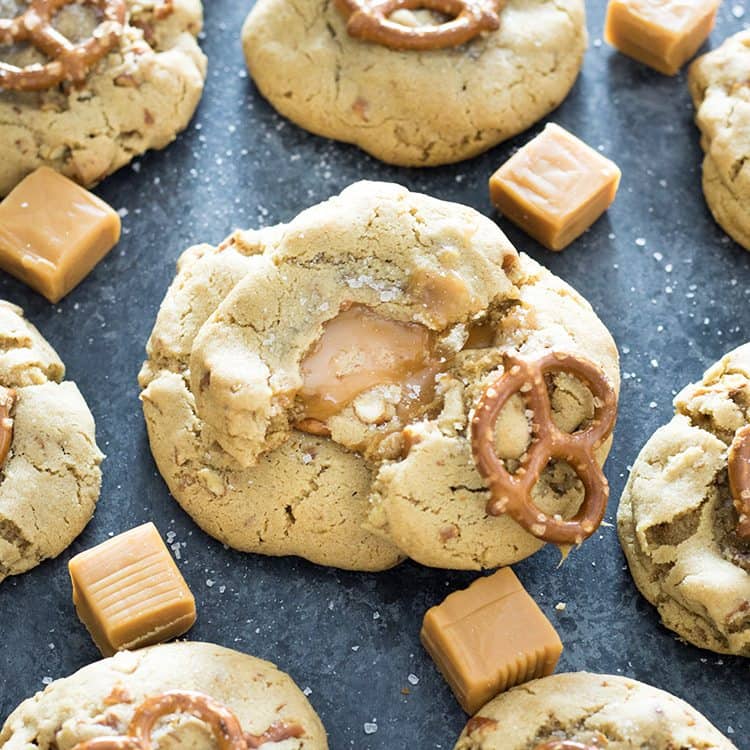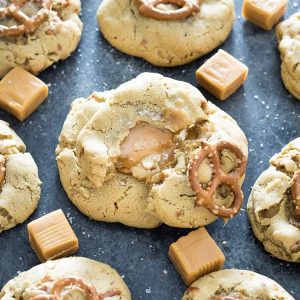 Caramel Stuffed Salted Pretzel Cookies
Learn how to make Caramel Stuffed Salted Pretzel Cookies
Instructions
Preheat oven to 350 degrees, prepare two large baking sheets with parchment paper or non stick spray, set aside.

In a large bowl using hand mixer, or bowl of stand mixer using paddle attachment, cream together the butter and both sugars until light and fluffy. Add in eggs and vanilla, mix on low speed for 1-2 minutes until well combined.

In a medium bowl, whisk together the flour, baking powder, baking soda, corn starch and salt.

With mixer running on low, add the dry ingredients into the butter/sugar mixture slowly until all ingredients are well incorporated.

Stir in crushed pretzel pieces.

Scoop a good 2 Tablespoons worth of dough into your hand, with your thumb make a dent in the middle of the dough and add the caramel. Wrap the dough around the caramel candy, and flatten in the palm of your hand.

Repeat with remaining dough.

Top cookies with extra pretzels as desired.

Bake in preheated oven for 10-12 minutes, until slightly golden brown.
Nutrition
Calories:
1014
kcal
Carbohydrates:
218
g
Protein:
18
g
Fat:
9
g
Saturated Fat:
3
g
Cholesterol:
86
mg
Sodium:
1230
mg
Potassium:
370
mg
Fiber:
3
g
Sugar:
119
g
Vitamin A:
144
IU
Vitamin C:
1
mg
Calcium:
218
mg
Iron:
7
mg