This post was sponsored by No Yolks as part of an Influencer Activation for Influence Central and all opinions expressed in my post are my own.
I'm all about making quick and easy dinners lately. The thing that worked great about my Chicken Broccoli Noodle Casserole is that I made it in the afternoon and had it prepared and ready for the family to heat up when they all got home.
It's not always easy getting everyone around the dinner table at the same time. Let's face it...when you have kids and after school activities, athletics, etc., to contend with...it is really difficult to get everyone in one place at the same time period.
Working from home allows me to occasionally toss together a meal in the middle of the afternoon and put it aside for dinnertime. That is a huge plus!
But, no matter. Even if you're coming home at 6 from a long day at work, you still have plenty of time to make this Chicken Broccoli Noodle Casserole and get it on your table.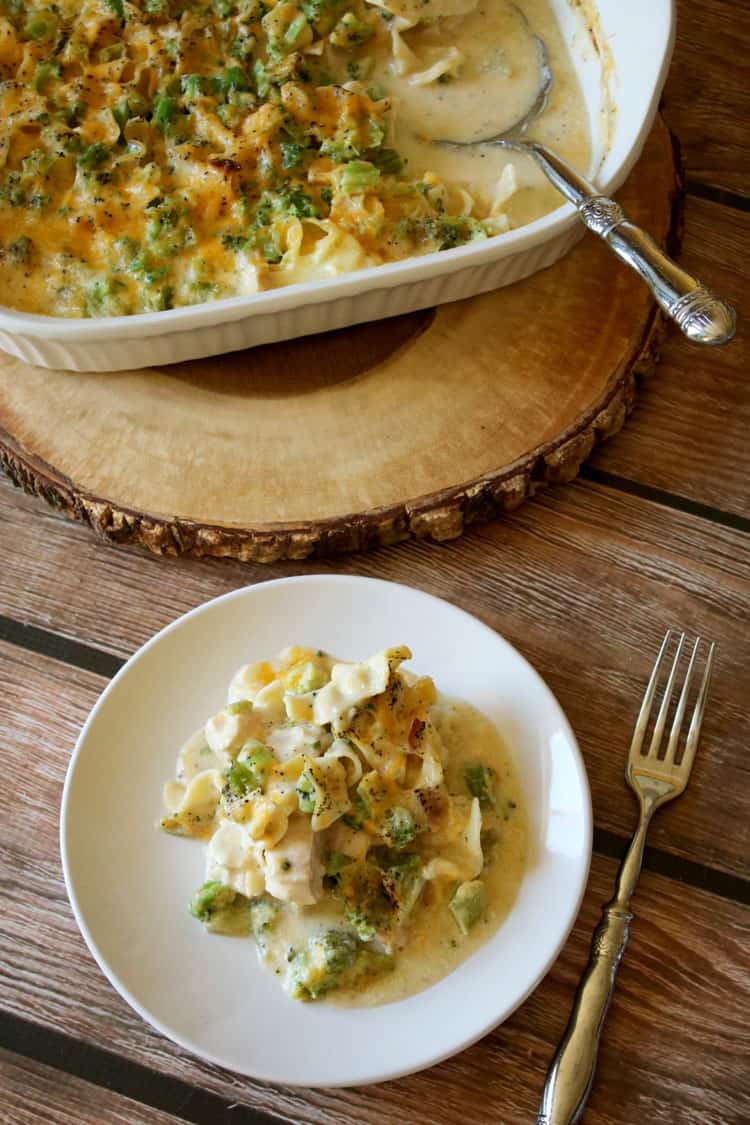 Cooking with No Yolks Noodles
I made this Chicken Broccoli Noodle Casserole using No Yolks, which I love. They are so versatile and are a healthy egg noodle alternative. We're talking about a noodle made from egg whites with no cholesterol, and they are low in fat and sodium. When you're trying to make good choices with ingredients that lower the fat content and cholesterol in your recipes...No Yolks are a great way to go.
One of the things I often forget about when making recipes with noodles is that there are SO many different ways to cook with them. Noodles are not just for my favorite stroganoff recipe or casseroles. Noodles, and No Yolks in particular since they are a healthier noodle option, are also great for soups, Chili Mac n Cheese and so many other things.
Get creative. Be inventive! Make a noodle-based meal with fajita chicken. Explore your taste buds and try a Sriracha Cheesy Noodles dish. You never know what your new favorite will be until you absolutely fall in love with it.
Chicken Broccoli Noodle Casserole in a Few Easy Steps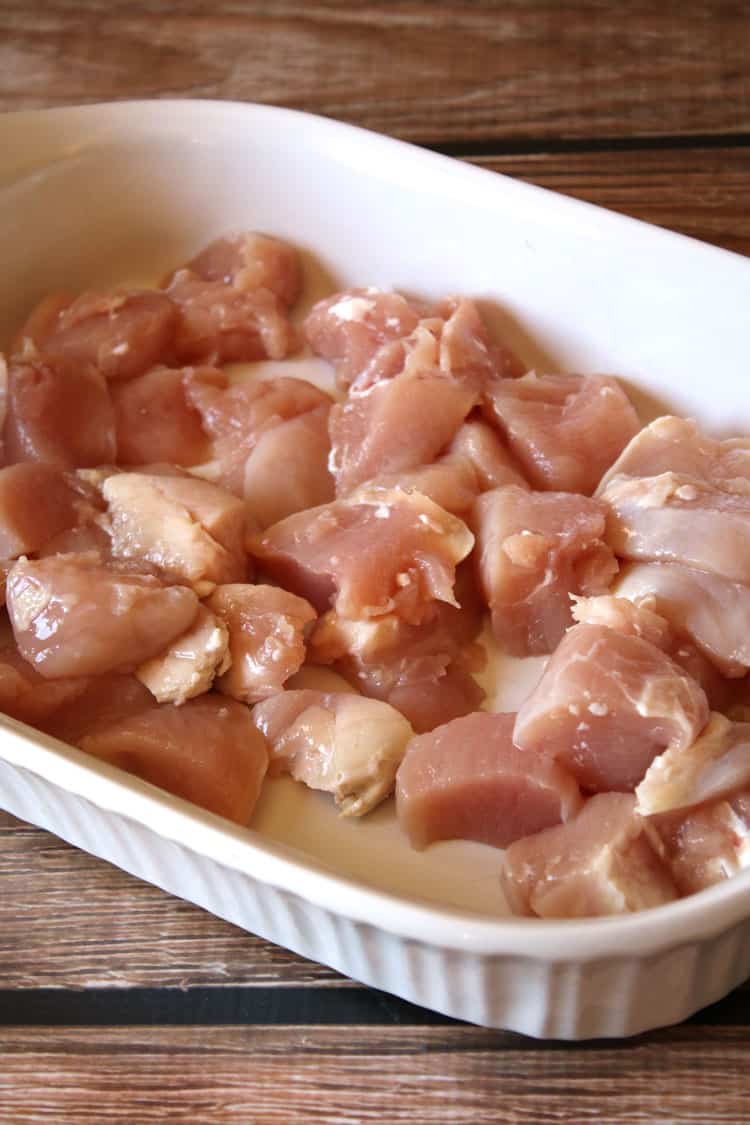 How to Make This Easy Chicken Broccoli Dumpling Casserole
This recipe is seriously SO easy. And yes, I went ahead and took step-by-step photos to show you the recipe in process.
I'm even planning to go back to my old recipes and take in process photos. Don't worry! I'll be starting with my most popular recipe posts, which are the posts most people see anyway.
Step One-
In a casserole dish approximately 9x13, add cubed chicken.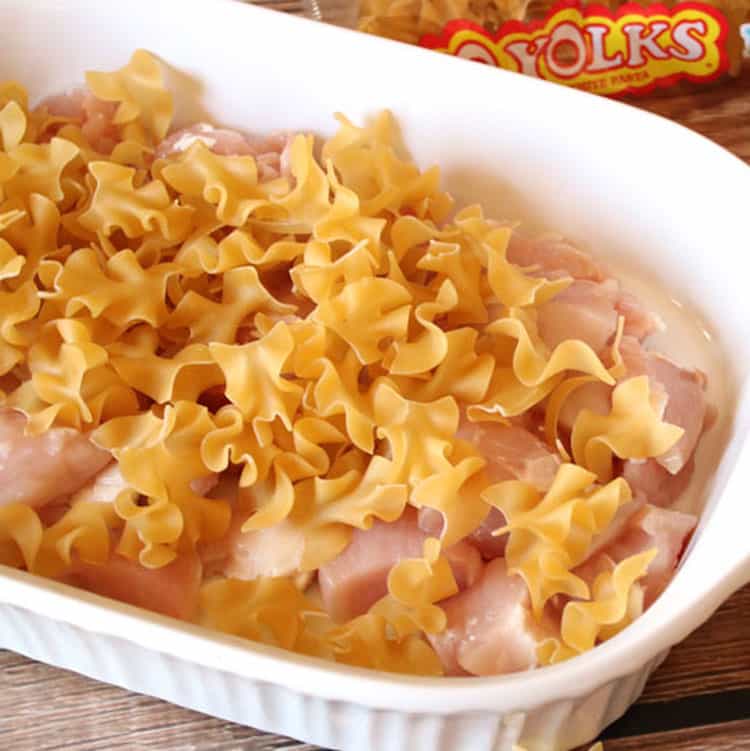 Step Two-
Like I said, this is such an easy recipe. Step two is simply to add uncooked No Yolks Broad Noodles. I added one cup and then decided this recipe needed two cups.
And I'm so glad that I added that second cup of yummy noodles! They are SO good.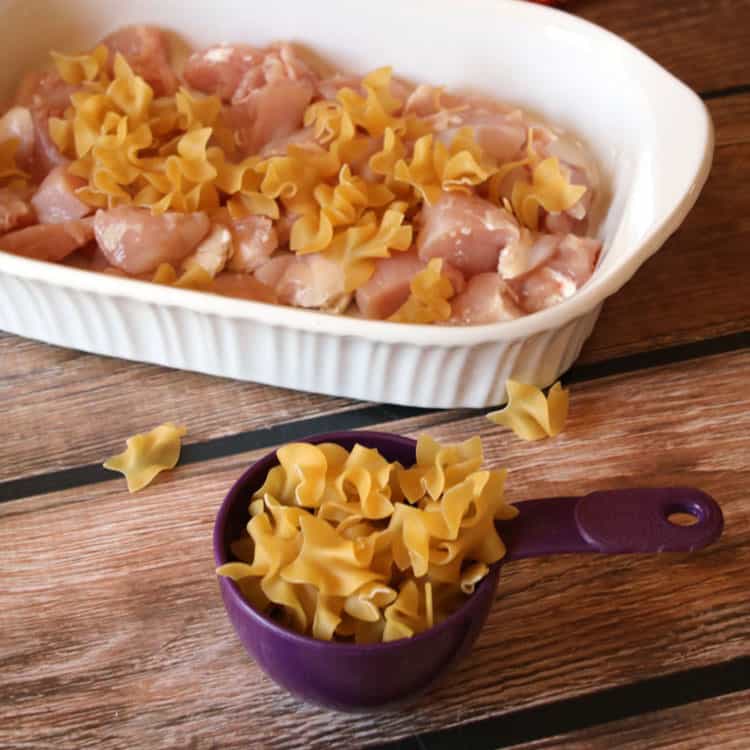 Step Three-
I added 2 cups of chopped frozen broccoli pieces.
You could also use fresh broccoli, but for this recipe I was planning on developing an easy recipe that works for busy people. Now, if you wanted to chop the broccoli a day ahead, or on the weekend before...that would certainly be worthwhile.
Either way, broccoli=yum.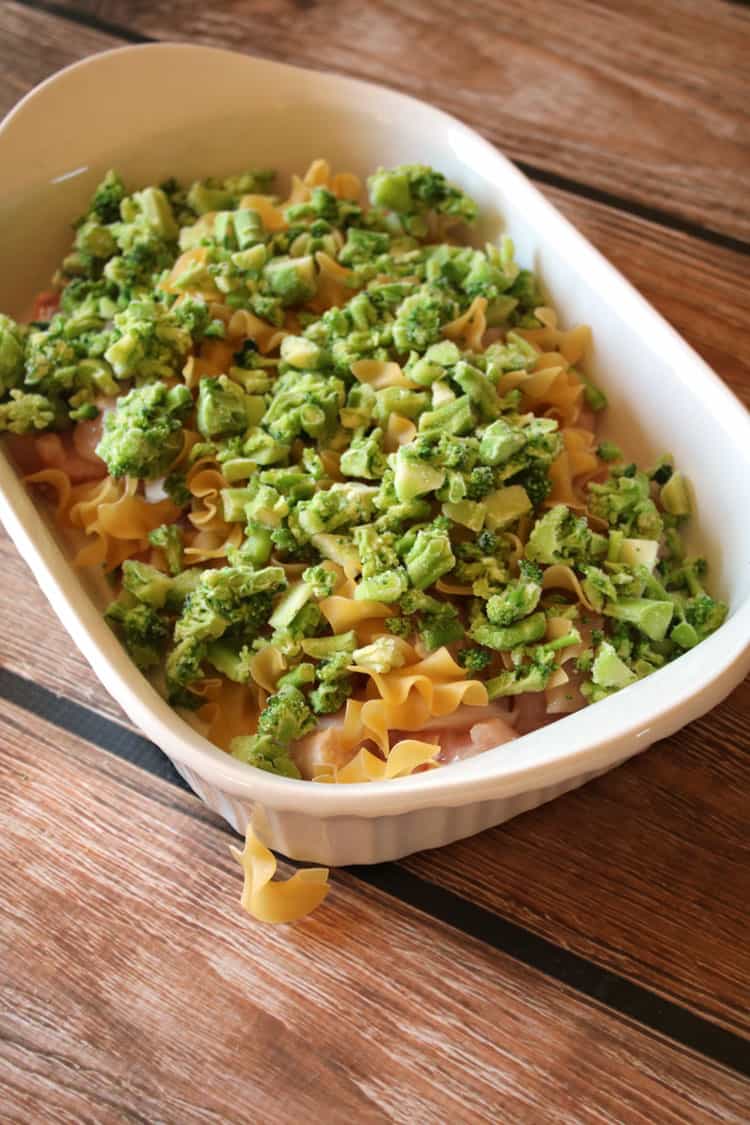 Step Four-
You might think I'm a little bit cheesy, but...okay you got me.
I LOVE cheese...and yes, I can be goofy about it. We used lower fat everything in this recipe, including cheese. But, of course that is totally optional.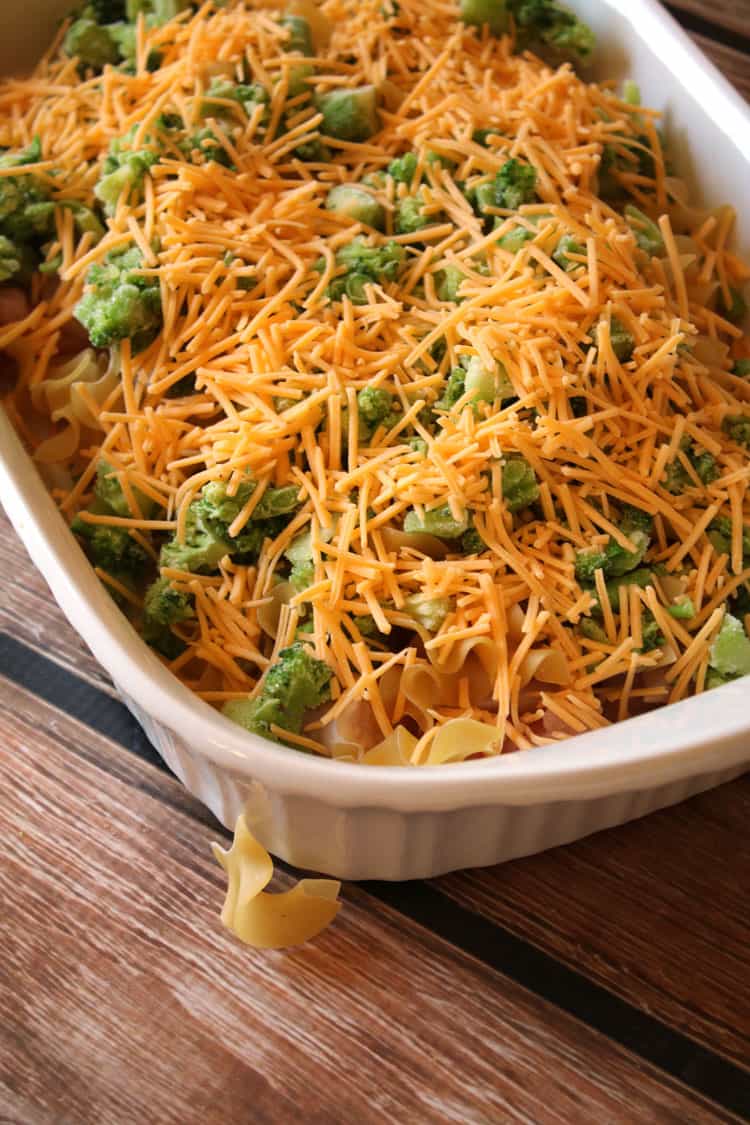 Step Five-
For this step, I mixed together one can reduced fat cream of chicken soup with 2 ½ cups low fat milk, and then pour it over the rest of the ingredients.
We've got to have some kind of liquid to cook those noodles in, right?
After that, I simply added salt and pepper and placed this pan of yumminess into the oven to bake for 40 minutes.
Perfection!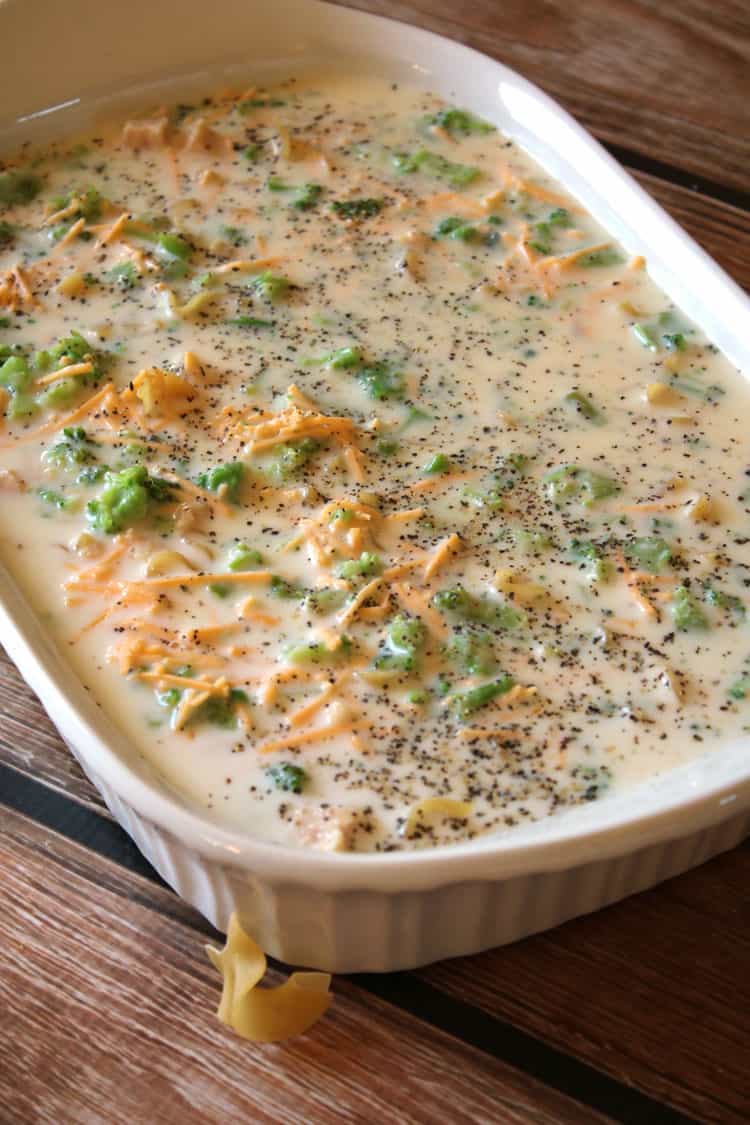 Make More Noodle Recipes
From pesto recipes to chicken and noodles, I love experimenting with new recipes to make!
The variety of noodle cuts that No Yolks comes in from Broad, Extra Broad, Fine, Kluski, Dumplings, and now Stir-Fry, makes it even easier to try recipes that I would have never thought of trying before. For instance, with this recipe...I had fun using the noodles.
Broad Noodles are a wider cut of No Yolks that was perfect for serving in this Chicken and Broccoli Casserole. And, I made the entire recipe in the oven...so no need to cook the noodles separately.
Now, that was a huge winner to me!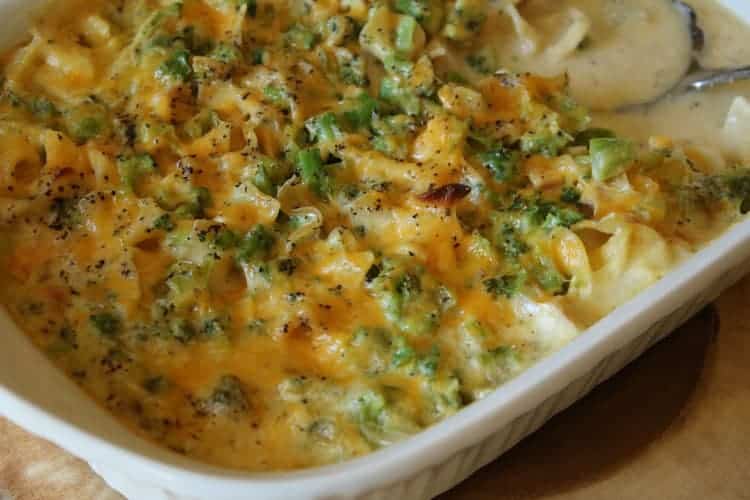 Good Quality Noodles are Easy to Cook With
I'll take time savings wherever I can get it. It's also a positive that No Yolks are high quality noodles that always cook up smooth. I can attest that they are firm and fluffy and stay that way in your favorite recipes. I can't get over how much I love them. Seriously, as a food blogger, one of the fun perks is taste testing and experimenting with ingredients that I haven't necessarily used a ton before.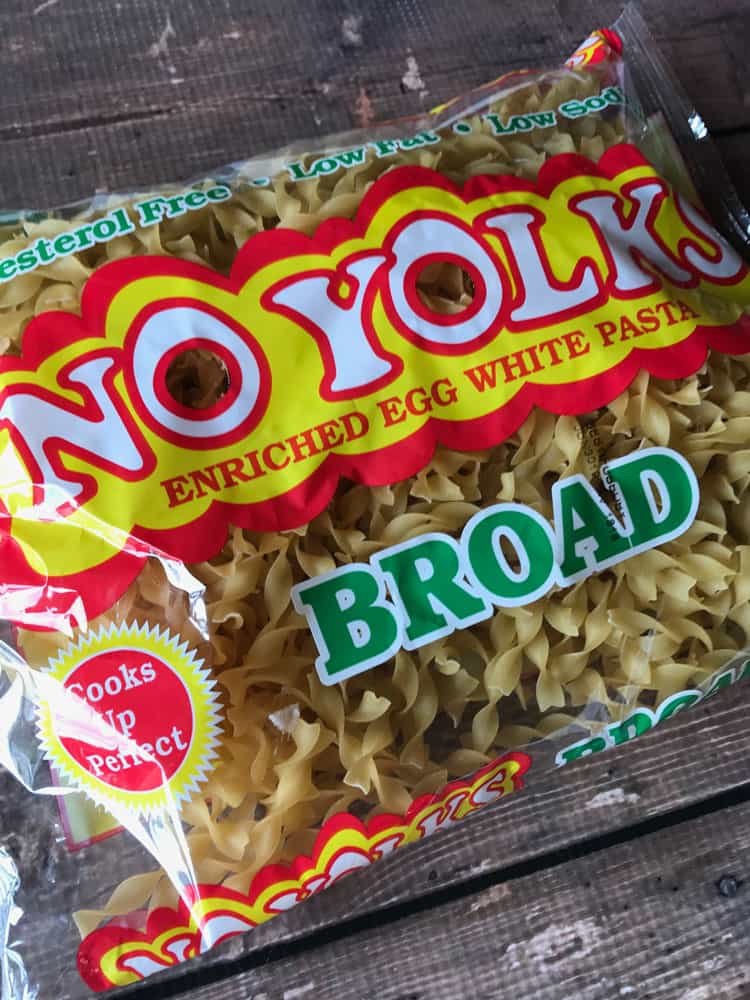 What's the Next Noodle Recipe You're Going to Make?
Now, over the last few weeks I've been cooking up a storm with these noodles and love how easy they are to work with.
I've always loved noodles, but lately I've been cooking with them more and more. Next on my list is a homemade chicken noodle soup. We're talking down home cooking with a delicious broth, tiny chunks of chicken and yummy noodles.
As much as I don't want to, I'm going to have to leave out the carrots so my daughter will eat it. And I LOVE carrots in homemade chicken noodle soup.
For more AMAZING No Yolks Not Your Mama's Noodles recipes...check out these recipe videos. They're yum!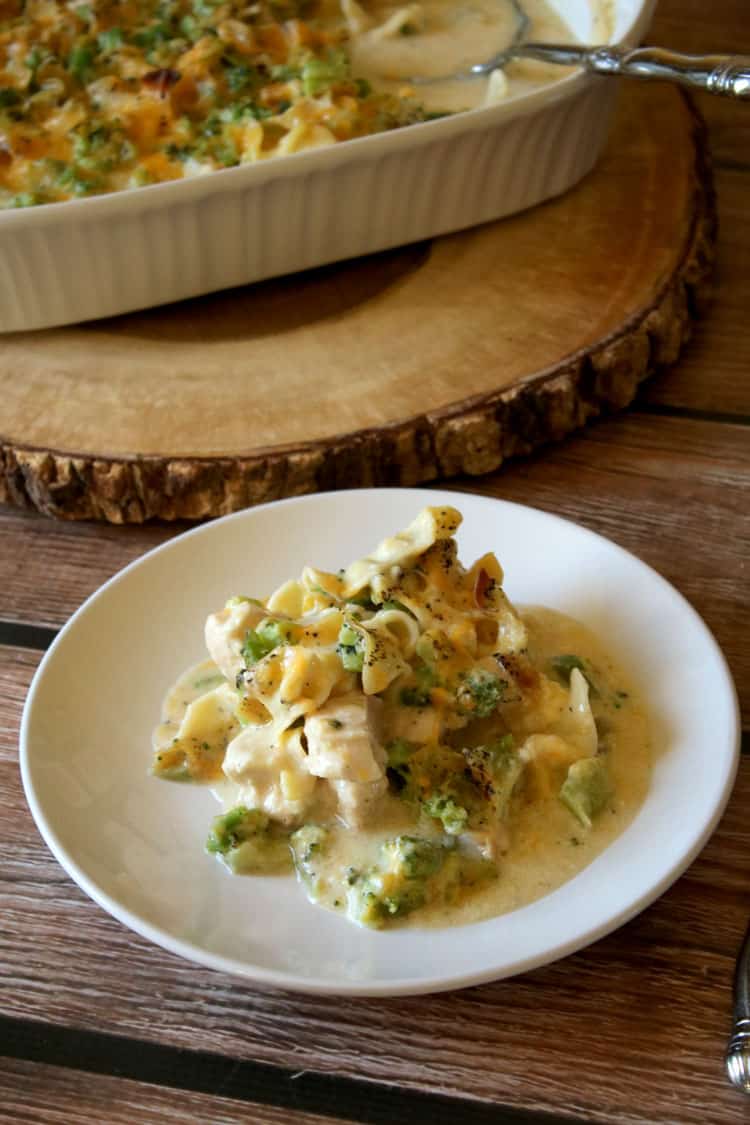 Follow No Yolks on Facebook, Pinterest and Instagram for more great recipe ideas.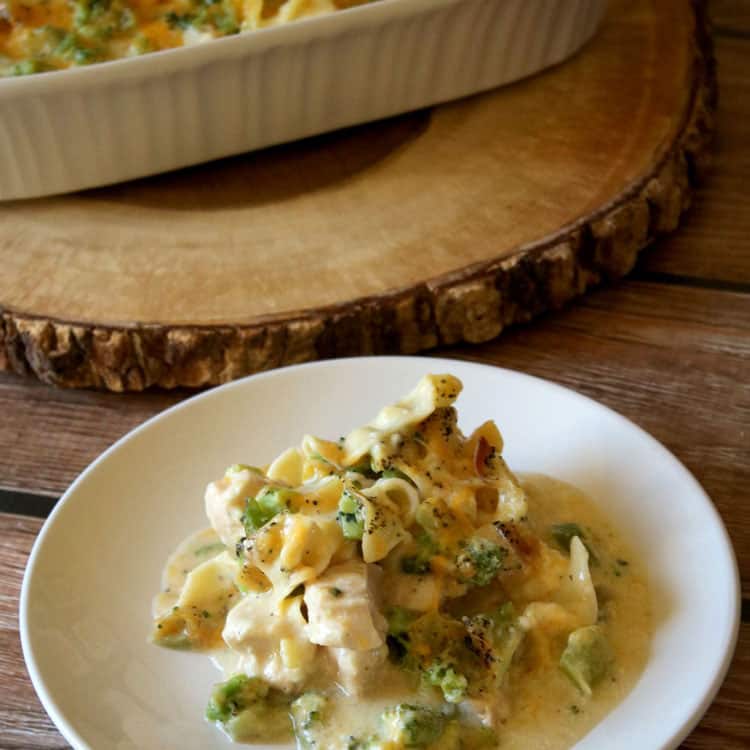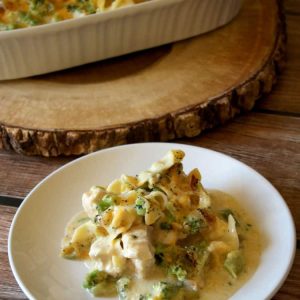 Chicken Broccoli Noodle Casserole - Easy Dinner Recipe
Looking for an easy dinner idea? Our easy Chicken Broccoli Dumplings Casserole is an easy recipe using #NoYolks noodles for a lower fat complete dinner ready for the table. #MC #NoOtherNoodle #ad Get the recipe--> (blog post link) #healthymeals #chickendinner #noodles #easyrecipes
Ingredients
Instructions
Preheat oven to 350 degrees.

Cut raw chicken into cubes and place into a large casserole dish, roughly 9×13. Top with 2 cups of No Yolks Broad Noodles, followed by broccoli and cheese.

With a whisk, mix together soup and 2 ½ cups of milk. Pour over the top of the casserole ingredients. Sprinkle salt and pepper over the casserole and then put the casserole dish into the oven.

Bake for 40 minutes and serve.
Notes
Casserole can be made in the afternoon or a day ahead and then reheated for dinner. This also makes a great casserole to share with friends or neighbors who might be in need of a meal.
Nutrition
Calories:
1657
kcal
Carbohydrates:
24
g
Protein:
258
g
Fat:
52
g
Saturated Fat:
18
g
Cholesterol:
730
mg
Sodium:
1001
mg
Potassium:
4530
mg
Fiber:
2
g
Sugar:
9
g
Vitamin A:
714
IU
Vitamin C:
41
mg
Calcium:
369
mg
Iron:
7
mg