Chocolate Cream Cheese Croissants are just about the easiest breakfast you can make.  And they have chocolate in them, so they are good, good, good.  If you're not a huge cream cheese fan, cut the amount of cream cheese in half, or just leave it out entirely and love yourself some chocolate.
Chocolate Cream Cheese Croissants = YUM!
You know what else?  These Chocolate Cream Cheese Croissants are easy enough for a child to make.  I am a big fan of kids cooking.  It teaches them all sorts of useful lessons, including cooking skills they need to know as they get older.  My daughter could make these all on her own when she was 10, and younger kids could do most of the work with some supervision.
All you need is a refrigerated roll of croissants (I used Pillsbury Crescents), 4 ounces of cream cheese, and ¼ cup of chocolate chips.
Divide the cream cheese into eight pieces and put one down on the wider edge of each crescent.  Share the chocolate chips among all eight crescents.
Next, roll up the crescents with the cream cheese and chocolate chips inside.
Keep rolling them up until you have all eight of the crescents nicely rolled up.  Tuck the dough around the cream cheese and chocolate to form a type of pocket.  We don't want the chocolate and cream cheese goodness oozing out of the croissants.
Then you're going to bake the croissants according the the crescent package directions.  Per the Pillsbury directions, we baked our Chocolate Cream Cheese Croissants for 11-13 minutes in a pre-heated 375 degree oven.  And that worked just perfectly.
See?  What'd I say?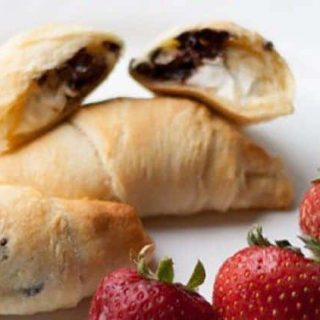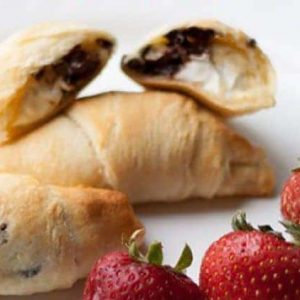 Chocolate Cream Cheese Croissants
An easy dessert that taste amazing!
Ingredients
_empty_
1

roll refrigerated crescent rolls

4

ounces

of cream cheese

use less if desired

¼

cup

chocolate chips
Instructions
Lay crescent rolls out on baking sheet. Top each with ⅛ of the cream cheese called for in recipe. Divide chocolate chips among the 8 crescents. Roll up, seal edges of dough by pressing down around edges of cream cheese, and then bake on 375 for 11-13 minutes.
Nutrition
Calories:
121
kcal
Carbohydrates:
4
g
Protein:
2
g
Fat:
11
g
Saturated Fat:
6
g
Cholesterol:
31
mg
Sodium:
146
mg
Potassium:
39
mg
Sugar:
2
g
Vitamin A:
381
IU
Calcium:
28
mg
Iron:
1
mg
Perfectly.  Because you can see the cream cheese and chocolate just ready to ooze out of the croissant in ooey goodness, right?  And you know I like all things gooey.  Seriously.  Take my Hot n Gooey Cinnamon Toast Sandwich.  Yes.  I said it.  And if you haven't tried that masterpiece yet, you're seriously missing out.  Heaven.  No lie.
Cream cheese, chocolate, and croissants are just as good.  Pair them up with strawberries for pure perfection.
Next time, I think I'm going to make some of the croissants with extra chocolate and no cream cheese, and some the same ole same ole.  Might be fun to mix things up and see what rocks better.  Now... either way, it's not like I'm making French croissants from scratch and making them all chocolatey.  Maybe down the road I'll tackle that one.
In the meantime... this will do just fine.
Save
Save
Save
Save
Save
Save