Have you tried biscuit donuts yet? If you haven't, you have to give these Easy Biscuit Donuts a try. They are literally the easiest donuts you will ever make. In this recipe, canned biscuits get transformed into fluffy donuts in minutes.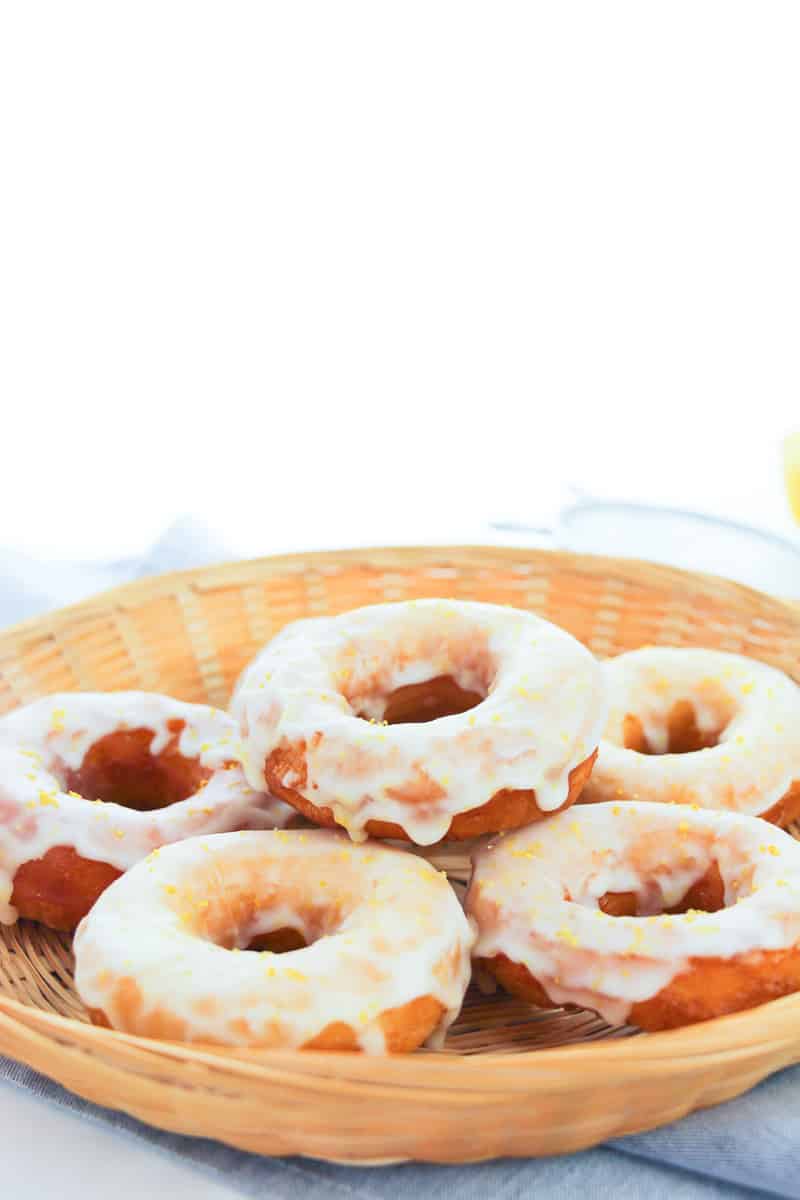 In this Article:
For these homemade donuts, I poured a lemon glaze on top. You are welcome to alter the flavor of your glaze or leave it off.
This Easy Biscuit Donuts recipe is...
Made with canned biscuits
An easy donut recipe
Quick
Fried
Get the latest scoop on all the recipes I'm whipping up in the kitchen by following along with All She Cooks on Facebook, Instagram, and Pinterest. Also, don't forget to join my Facebook Group where you can share your favorite blogger recipes: Easy & Delicious Recipes.
How to Make Easy Biscuit Donuts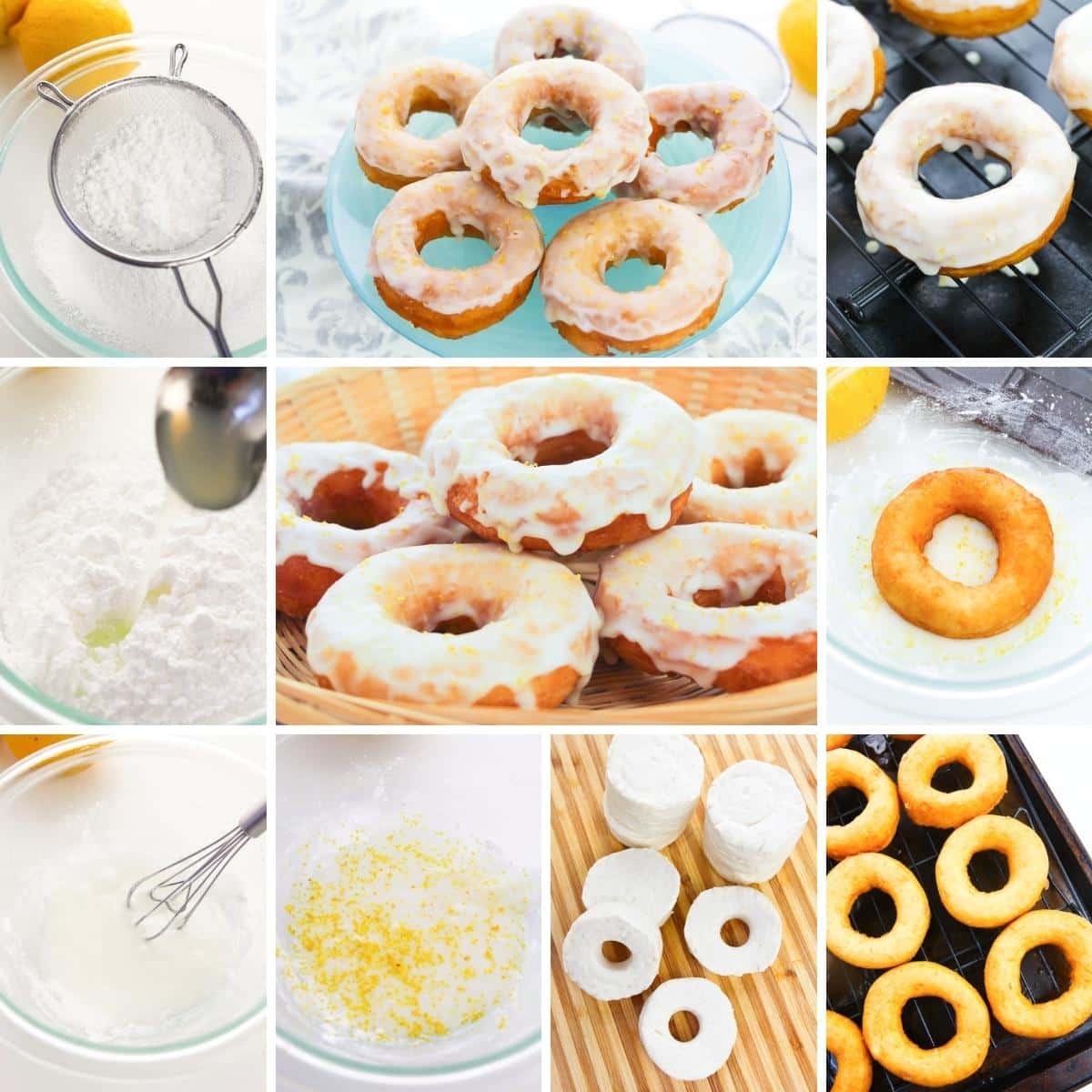 Lay out your biscuits, stretch the dough, and use a cutter to make center holes.
Heat oil in a large deep-sided skillet over medium-high heat.
When oil is hot, place in a few donuts leaving room between them.
Fry for just a minute or two, then flip.
Remove the fried donuts and set on a rack to cool.
Mix up the glaze with powdered sugar and lemon juice.
Dip half the donut in the glaze and place back on the cooling rack.
Serve and enjoy.
Full directions for how to make Easy Biscuit Donuts are in the printable recipe card at the bottom of the post.
Tips & Tricks for Easy Biscuit Donuts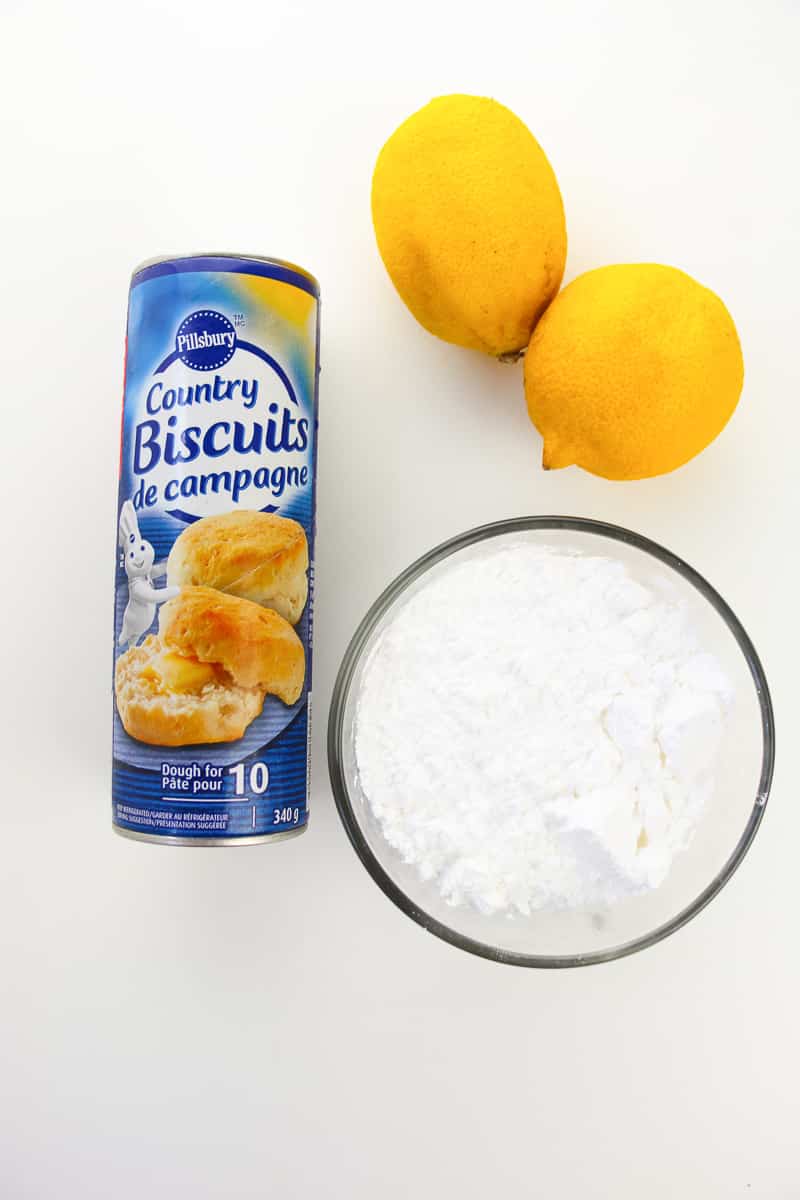 Making the Holes
You can use a small shot glass or a circle cookie cutter to create the donut holes. Just make sure that whatever you use is small enough to cut a donut hole that fits within the biscuit. The donut holes help the center of the donuts cook thoroughly and not puff up.
Cook Donut Holes
Don't throw away your donut holes! Simply toss them in the oil and cook for a short time to get them nice and golden brown. The donut holes are just as delicious as the whole donuts!
Heating Oil
Aim for your oil to be around 325-350°F. This is a good temperature to ensure that the outside and center of the donut cook all the way through. If the oil is too hot, it will overcook the outside of the doughnuts while leaving the center doughy.
Variations to Easy Biscuit Donuts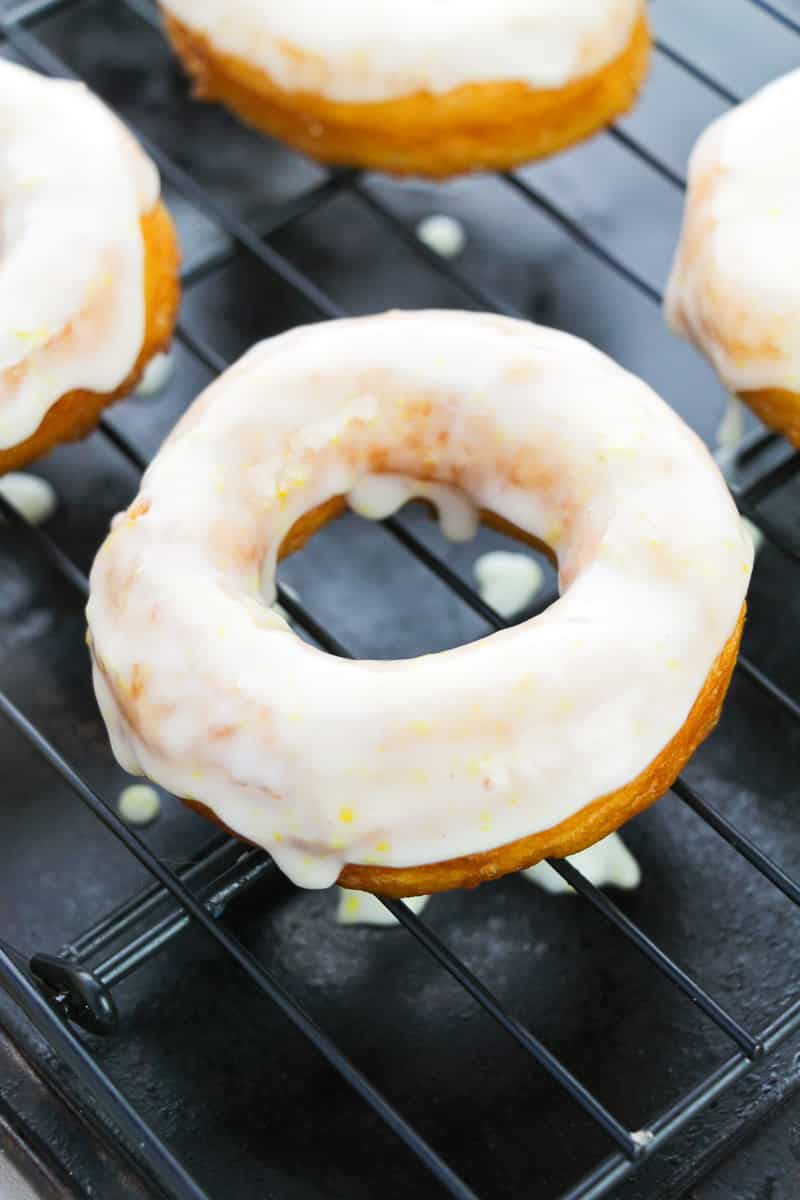 Add Powdered Sugar
Allow the donuts to cool, and then dust them with powdered sugar. I like to use a sifter and lightly dust the powdered sugar over the tops of the donuts, and it works great.
Cinnamon and Sugar
Mix together ½ cup granulated sugar and 1 tablespoon cinnamon. As you remove the donuts from the hot oil, simply dip both sides in the sugar mixture. Then place the donuts on the cooling rack to cool a bit.
Make a Glaze
For the glaze, you can choose literally any flavor of glaze you prefer. Try making a fruity, chocolate, or maple glaze—and the list goes on. Have fun with it and create your ideal donuts!
Easy Biscuit Donuts FAQs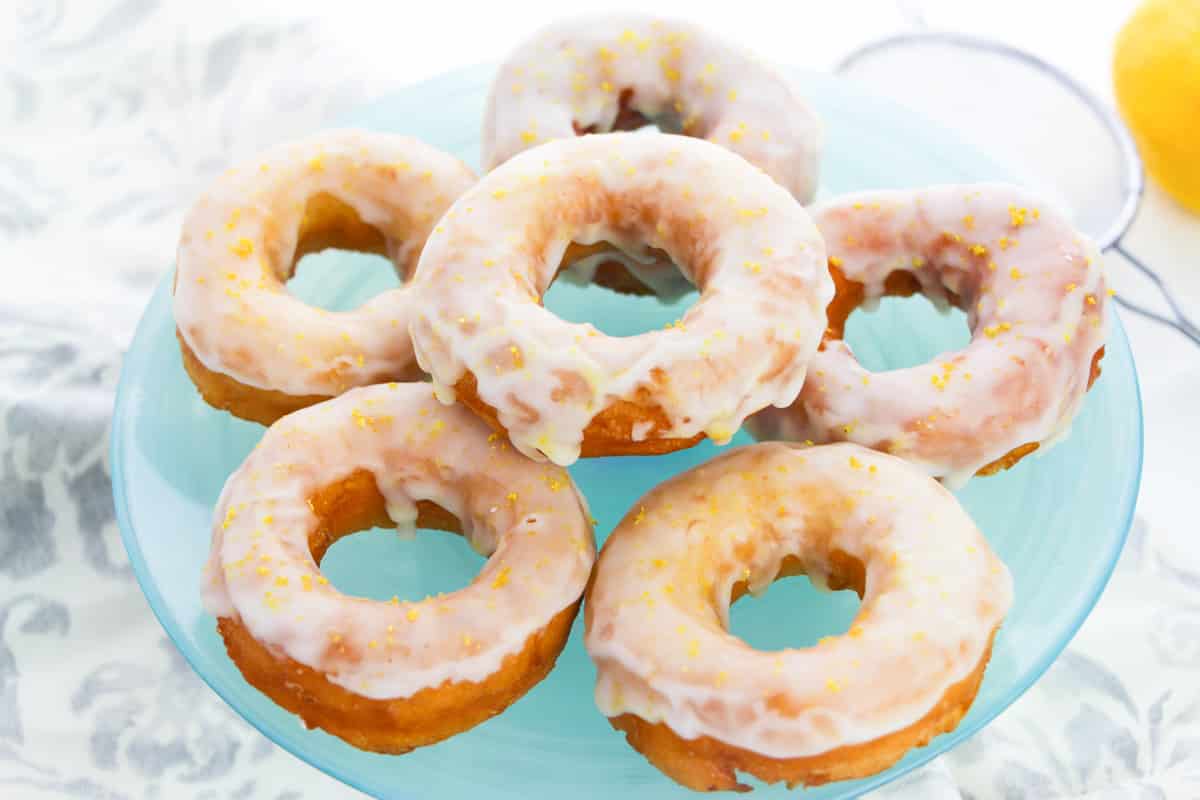 Do you glaze donuts when they are hot or cold?
The ideal dipping temperature is not too hot or too cold. You want to let the donuts cool down enough that you can touch them, then you can dip them into the glaze. Only dip half of the donut in the glaze, and then place it back on the cooling rack. This will allow some of the glaze to drip off.
How do you keep donuts from getting soggy?
Wrap each donut in a paper towel or napkin and then place it in a brown paper bag. This will help keep your donuts soft and a bit more fresh. Just make sure that the donuts are fully cooled before you do this.
How long do these donuts last?
Donuts are best eaten on the day that you make them. They dry out quickly and lose a lot of their appeal after a few hours. You can store them for up to 1–2 days. I find that warming up the doughnuts in the microwave helps to bring them back to life with a softer texture.
Recipe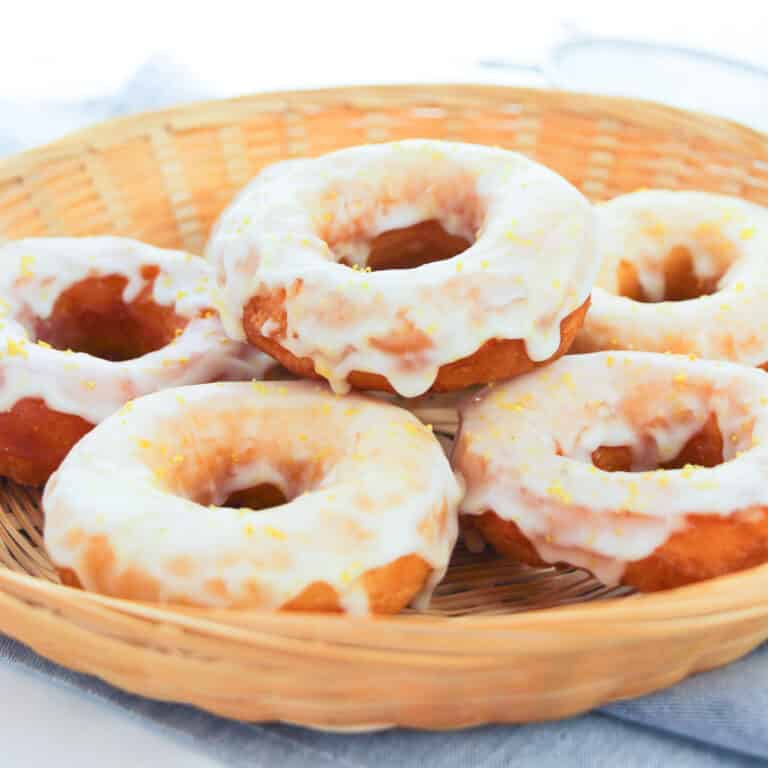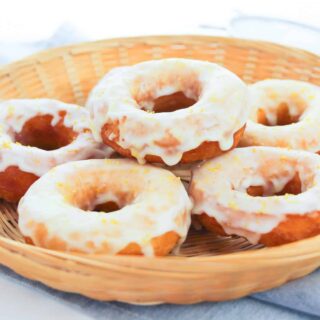 Easy Biscuit Donuts
You have to give these Easy Biscuit Donuts a try. They are literally the easiest donuts you will ever make!
Ingredients
16

oz

biscuits

1 can, typically 10 biscuits

1 ½

cups

powdered icing sugar

2

tbsp

lemon juice

oil

for frying
Note: You will need approximately 4 cups of oil to fry the donuts, but the amount will differ based on the size of your pan. You want at least 3–4" of oil depth. You can use canola or vegetable oil.
Instructions
Place a cooling rack over top of a baking tray and set aside.

On a flat surface, lay out the biscuits. Cut out the center of each biscuit and then stretch each biscuit a bit wider (stretch by about ½").

Pour your frying oil into a large deep-sided pan and heat over medium-high heat. Use a candy thermometer to ensure you bring the oil to 350°F, for best results. Once oil is hot, fry each donut individually for about 1 minute per side, until they are golden brown.

Set each fried donut on the cooling rack to allow excess oil to drip off.

Sift the powdered sugar into a large bowl.

Whisk in the lemon juice.

Mix well until you get a smooth consistency.

Dip each donut into the lemon glaze.

Then place back on the cooling rack. Allow to sit until glaze is set, about 30 minutes.
Notes
I garnished my donuts with a little lemon zest for the photos. It was a tasty addition!
Nutrition
Calories:
304
kcal
Carbohydrates:
47
g
Protein:
2
g
Fat:
12
g
Saturated Fat:
4
g
Polyunsaturated Fat:
4
g
Monounsaturated Fat:
3
g
Sodium:
161
mg
Potassium:
43
mg
Fiber:
1
g
Sugar:
27
g
Vitamin A:
39
IU
Vitamin C:
1
mg
Calcium:
6
mg
Iron:
1
mg