No-Bake Pecan Coconut Clusters are out-of-this-world good. With white chocolate, condensed milk, chopped pecans, and coconut flakes, how can they be anything other than incredible?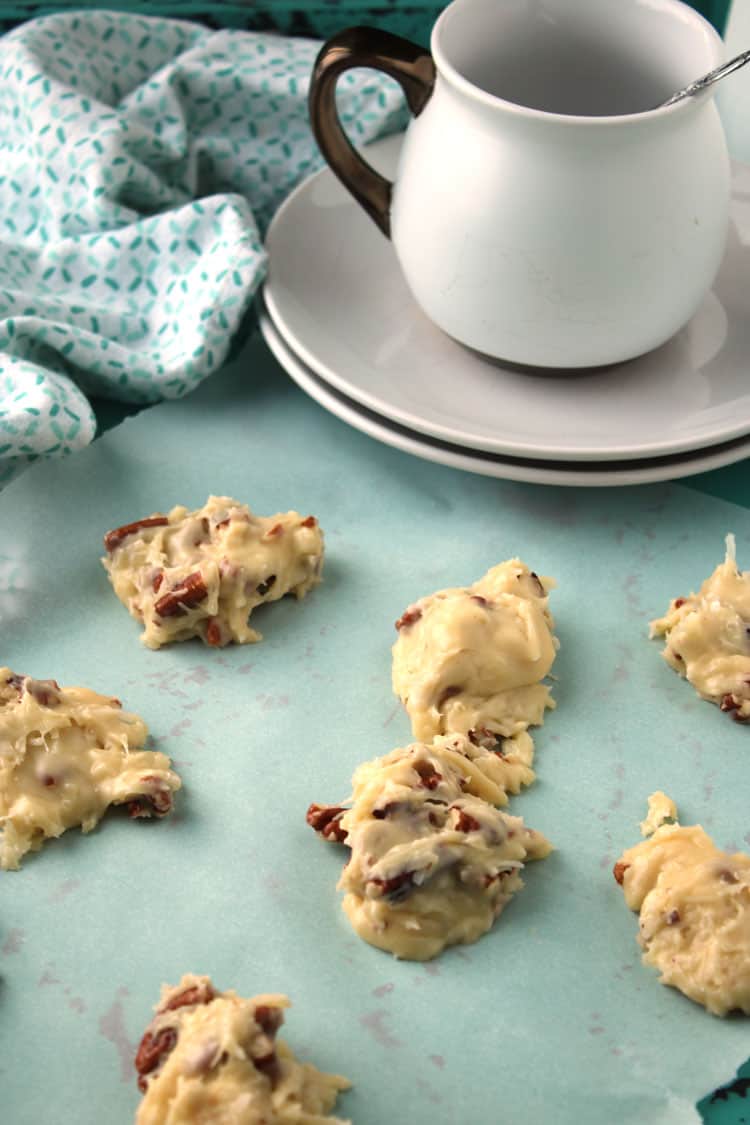 Sometimes I just get a craving for something sweet. You know? Especially when I'm doing my daily updates on Facebook (and oh yeah, if you're not following me, go head on over there now!) and I see all the sweets my blogging friends have posted from around the worldwide web.
So, when I saw the Almond Joy Bites that Will Cook for Smiles created, I knew I had to create something that would rock the socks off, well... anyone who loves coconut.
Which I figure to be roughly half of the world if you use my household as a model. Half of us love it. The other half can't stand it. Yeah, they're crazy. But I love them!
I checked my baking supplies to see what I had on hand.  I came up an idea for No-Bake Pecan Coconut Clusters with white chocolate, pecans, coconut, and condensed milk.  Perfect. 
Four ingredients, that's all. The sweet pecan flavor of these pecan, white chocolate and coconut clusters reminds me of divinity without all the hassle.
(Note: I used to call these "Coconut Pecan Bites." But then I thought "No-Bake Pecan Coconut Clusters" might be better. I guess it doesn't really matter what I call them... the incredible end result is the same!)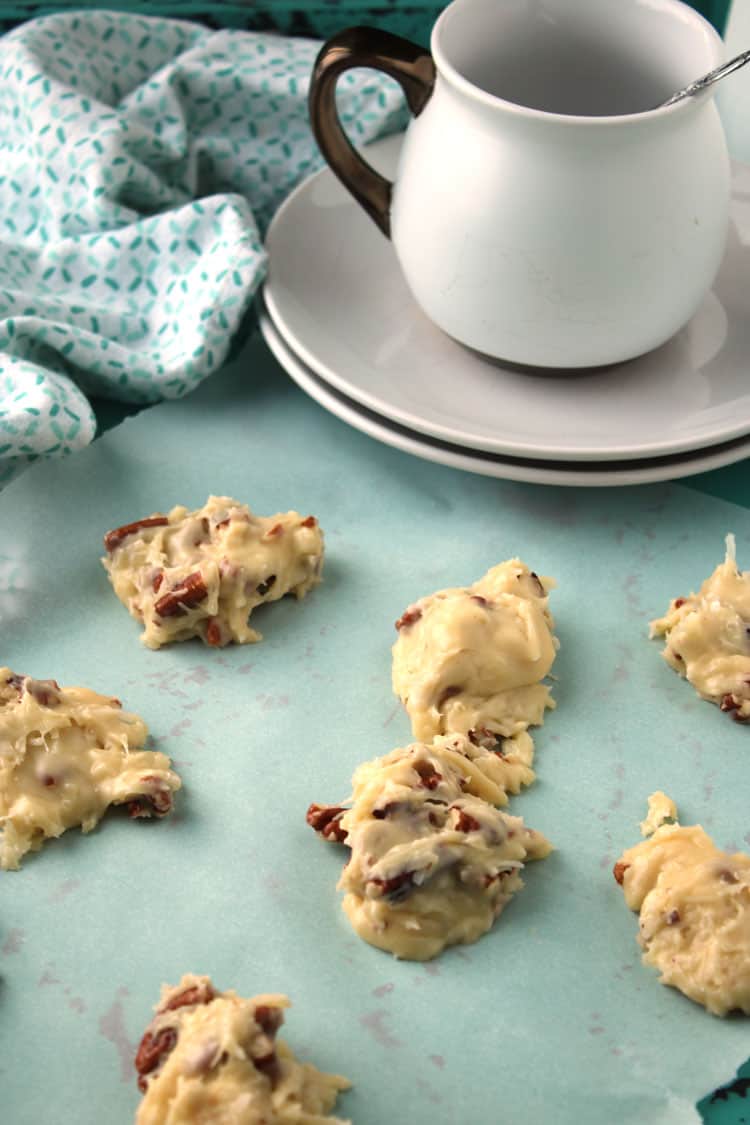 How to Make No-Bake Pecan Coconut Clusters
These are SO easy to make. The hardest part (and probably the most excruciating part of the process!) is waiting for them to harden up before diving in!
Step #1: The first thing you do when making Pecan Coconut Clusters: combine white chocolate and condensed milk in a microwave-safe dish and microwave it. Never would have guessed, huh?
One minute, stir super duper good, and then another 30 seconds, stir and should be good to go.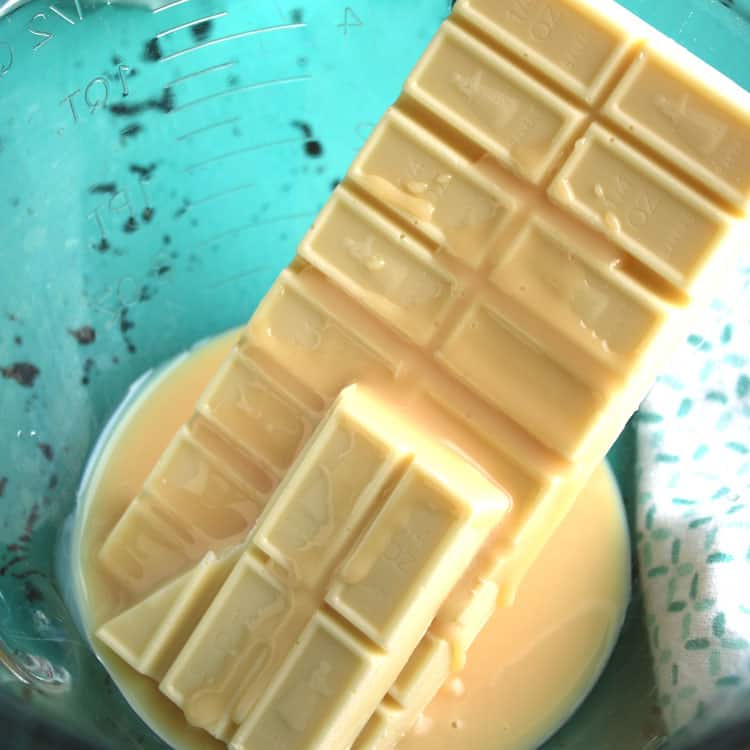 Step #2: Now you're ready to measure out the pecans and coconut and pour those bad boys on into the same container that you used to melt the chocolate.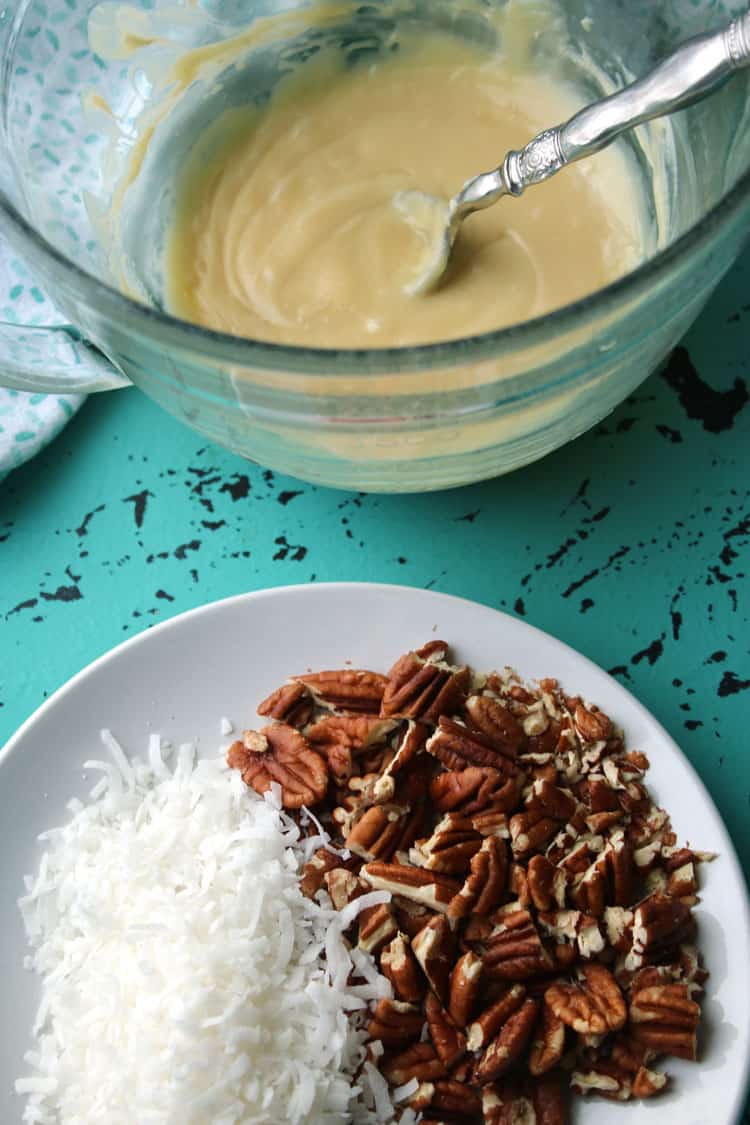 Step #3: Stir to combine the melted white chocolate, chopped pecans, and coconut flakes. Try not to just eat it by the spoonful at this point so you can actually have some white chocolate coconut clusters to eat later!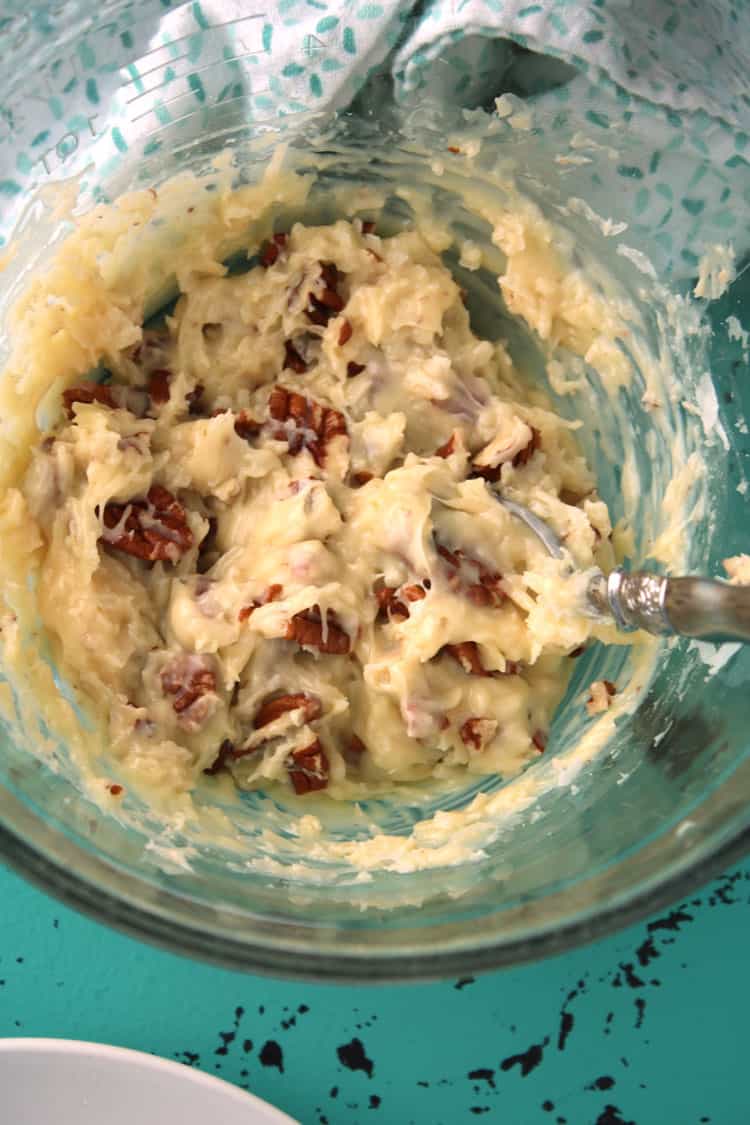 Step #4: When it is all stirred together, either drop by spoonfuls or make balls out of the mix.
Step #5: Once you've made the candies, go ahead and let them sit to firm up for about 30 minutes to an hour. If you can't wait that long to try one of these bad boys, don't feel bad. I couldn't either.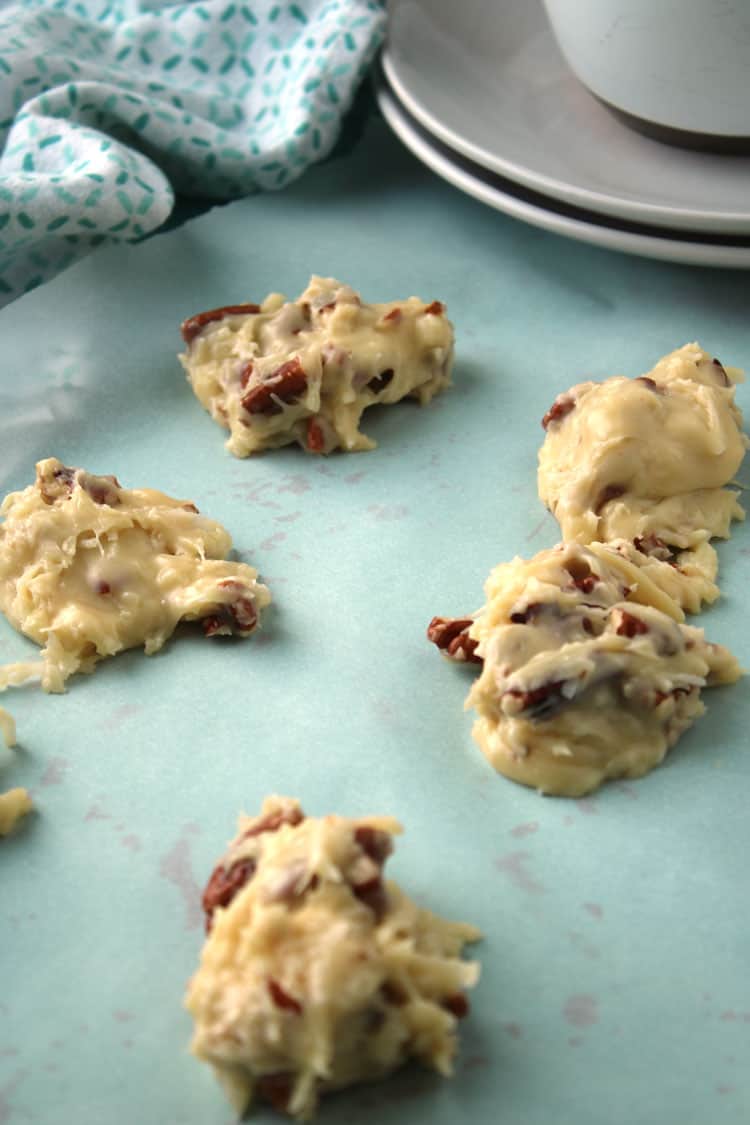 Want More No-Bake Desserts Like No-Bake Pecan Coconut Clusters?
Ready for a few more mouthwatering no-bake desserts like No-Bake Pecan Coconut Clusters? Try these, and enjoy!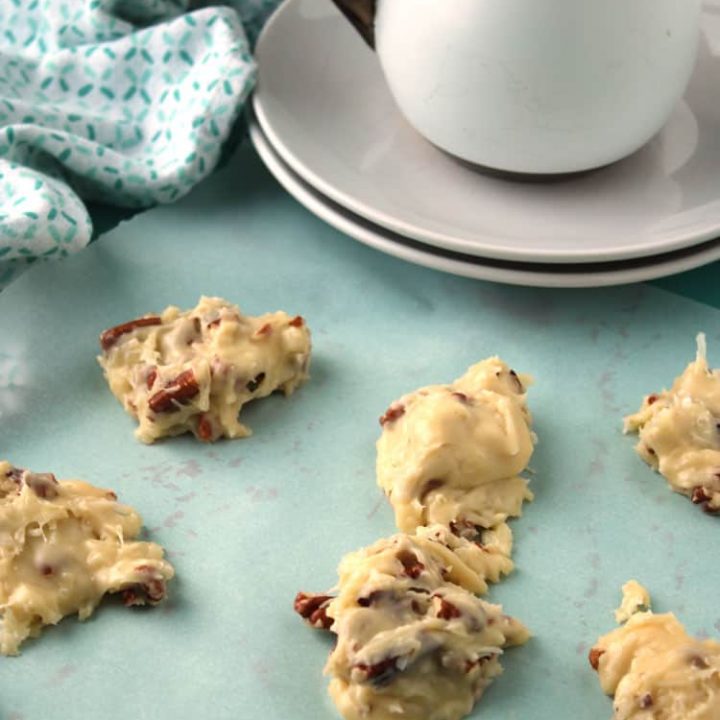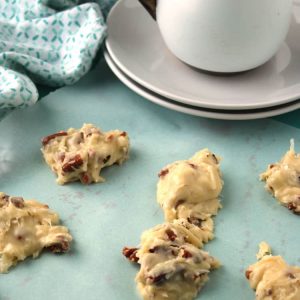 No-Bake Pecan Coconut Clusters
No-Bake Pecan Coconut Clusters are easy dessert bites with only four ingredients!
Instructions
Combine white chocolate and condensed milk in microwave safe bowl and microwave for one minute. Stir it up good, which will help melt some of the remaining chocolate. Return to the microwave and heat for an additional 30 seconds. Stir again.

Add coconut and pecans and stir to combine ingredients.

Drop by spoonfuls (or form balls) and place onto parchment paper. Let sit for 30 minutes to an hour to harden up.

Store in a sealed container.
Nutrition
Calories:
163
kcal
Carbohydrates:
15
g
Protein:
2
g
Fat:
11
g
Saturated Fat:
6
g
Cholesterol:
6
mg
Sodium:
27
mg
Potassium:
115
mg
Fiber:
1
g
Sugar:
14
g
Vitamin A:
31
IU
Vitamin C:
1
mg
Calcium:
61
mg
Iron:
1
mg
Save
Save