These Lemon Poppy Seed cookies are packed with flavor from vanilla, lemon zest, and crunchy poppy seeds - then topped with a sweet and sticky glaze. And they're easy to make in just 30 minutes!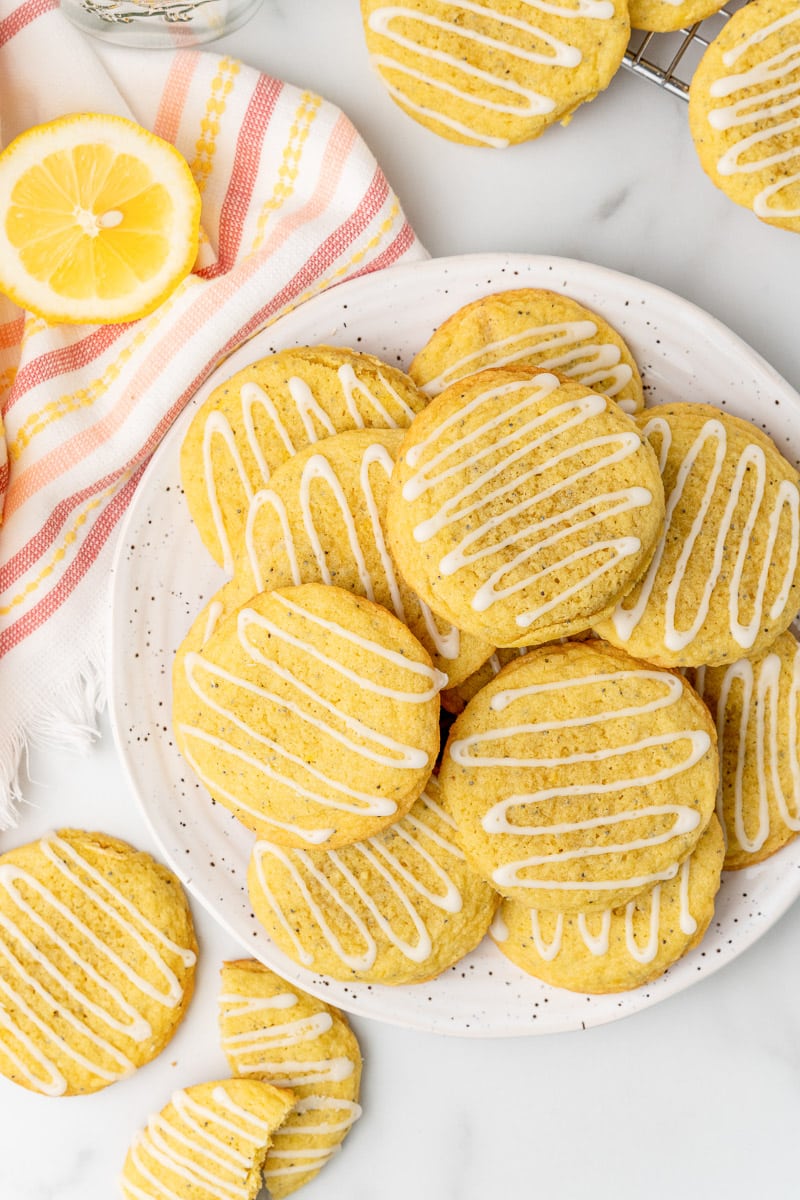 Lemon poppy seed cookies are such a classic flavor combination. There's something about the tart lemon and nutty poppy seeds that just works so well together.
And since my Lemon Poppy Seed Muffins have been such a hit on the blog for years, I thought I would give a cookie version a try!
These Lemon Poppy Seed Cookies are:
Packed with citrusy flavor.
Soft and pillowy.
Easy to make with simple ingredients.
Ready in under 30 minutes!
Whether you're looking for a sweet snack to enjoy with your afternoon tea or a dessert to share with friends and family, these lemon poppy seed cookies are a great choice.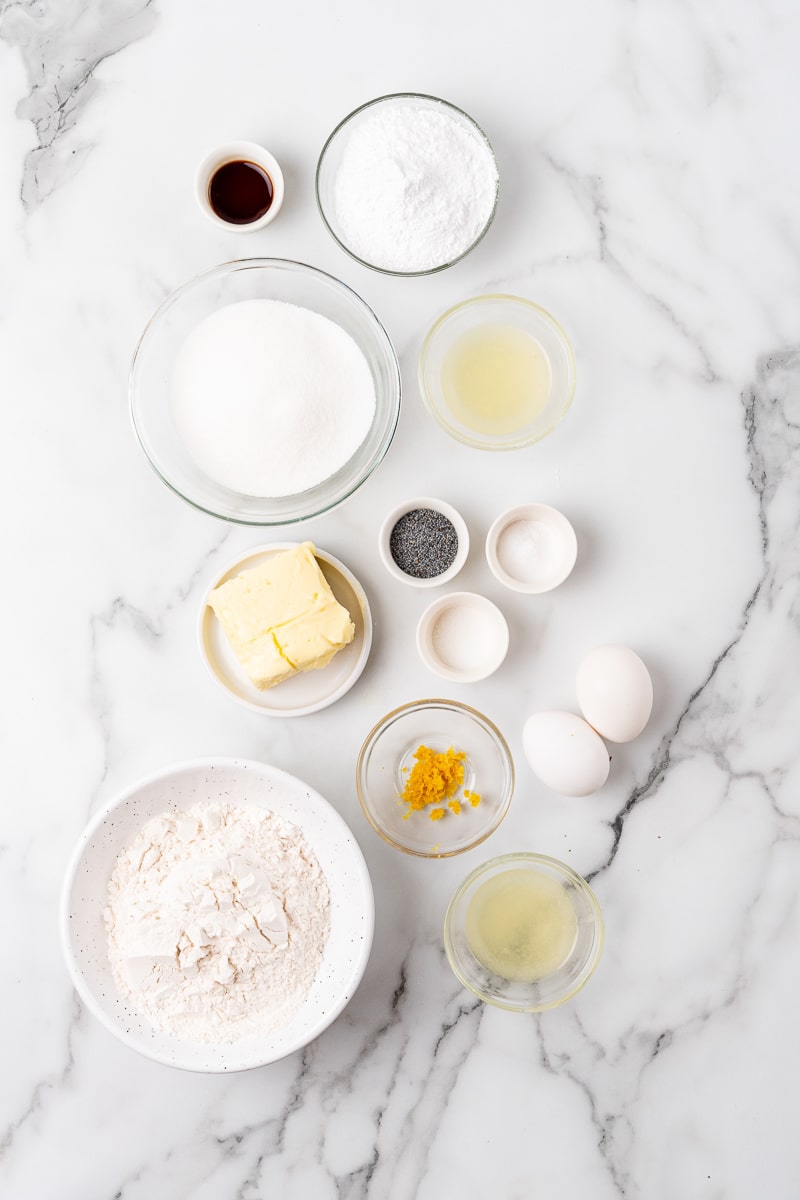 Ingredients & Supplies You'll Need
When it comes to making delicious lemon poppy seed cookies, there are some key ingredients and supplies you'll need to have on hand. Here's a rundown of everything you'll need to get started:
Ingredients
First and foremost, you'll need the right ingredients to make your cookies. Here's what you'll need:
Flour - Basic all-purpose flour works just fine here.
Baking soda
Salt
Unsalted Butter - Softened at room temperature.
Granulated Sugar
Eggs - It's best if you start with room temperature eggs.
Lemon zest
Fresh Lemon Juice
Vanilla extract
Poppy seeds
Powdered sugar
In addition, you'll need some basic supplies including mixing bowls, a stand mixer, baking sheets, and parchment paper. It's also helpful to have a zester!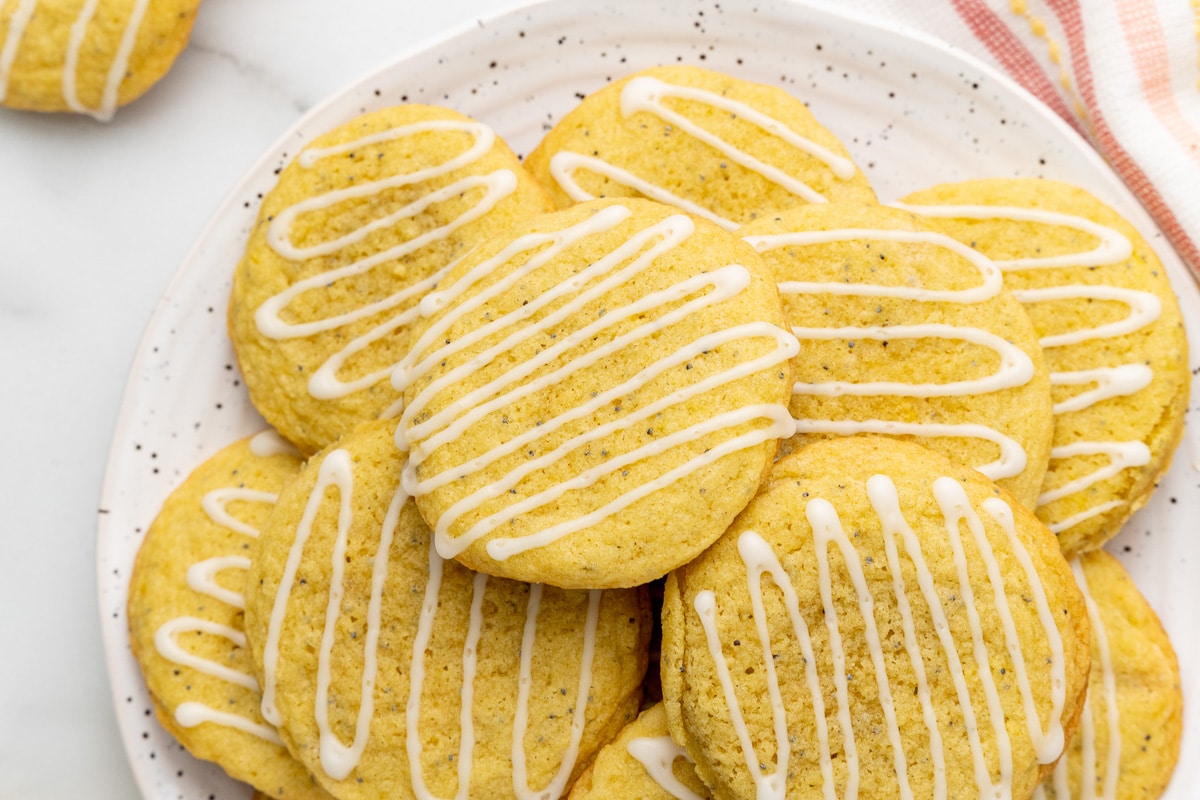 How to Make Lemon Poppy Seed Cookies
To get started, preheat your oven to 350 F and line a cookie sheet with parchment paper. In a medium bowl, whisk together the flour, baking soda, and salt, and set it aside.
Next, in the bowl of a stand mixer fitted with the paddle attachment, beat the butter and sugar until light and fluffy. Then, add the eggs, lemon zest, lemon juice, and vanilla, and beat again until everything is well combined.
In 2-3 smaller additions, add the flour mixture to the bowl, mixing well after each addition. Then, stir in the poppy seeds until they are evenly distributed throughout the dough.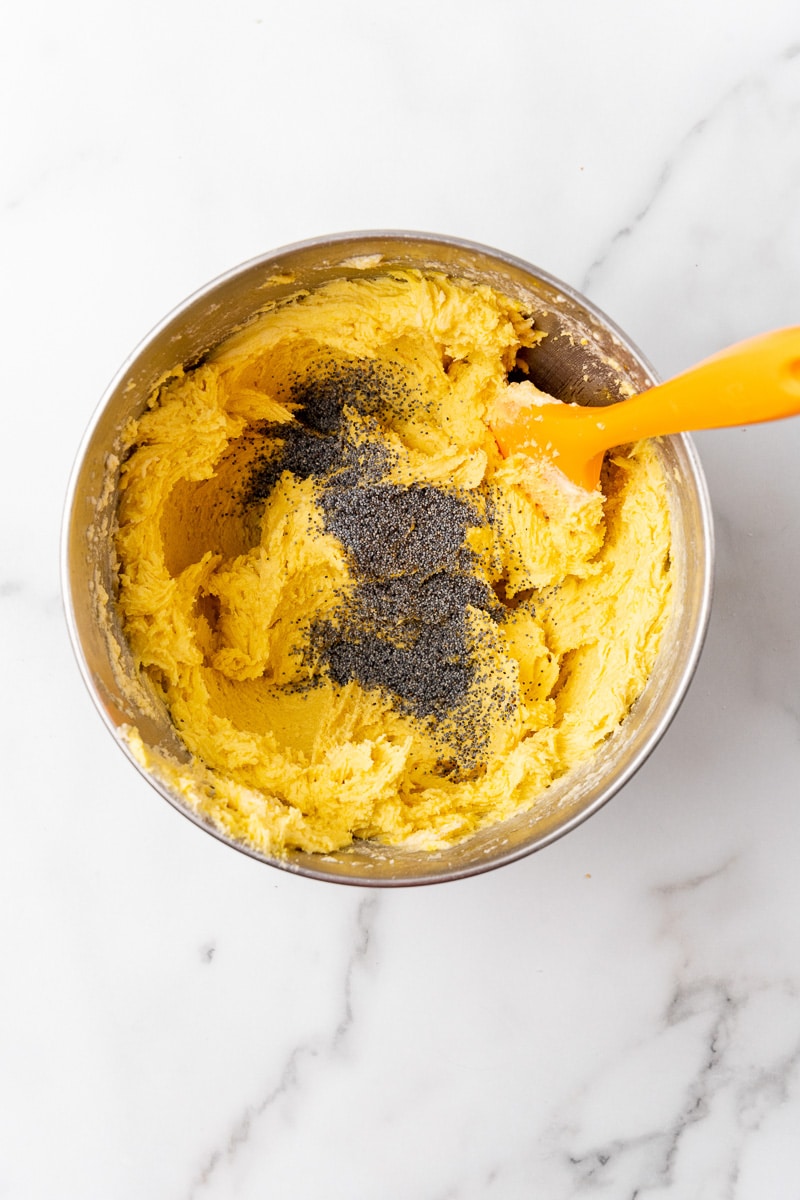 Using a tablespoon, drop the cookies onto the prepared baking sheet about 2 inches apart. Bake in the preheated oven for 8-10 minutes or until slightly golden brown around the edges.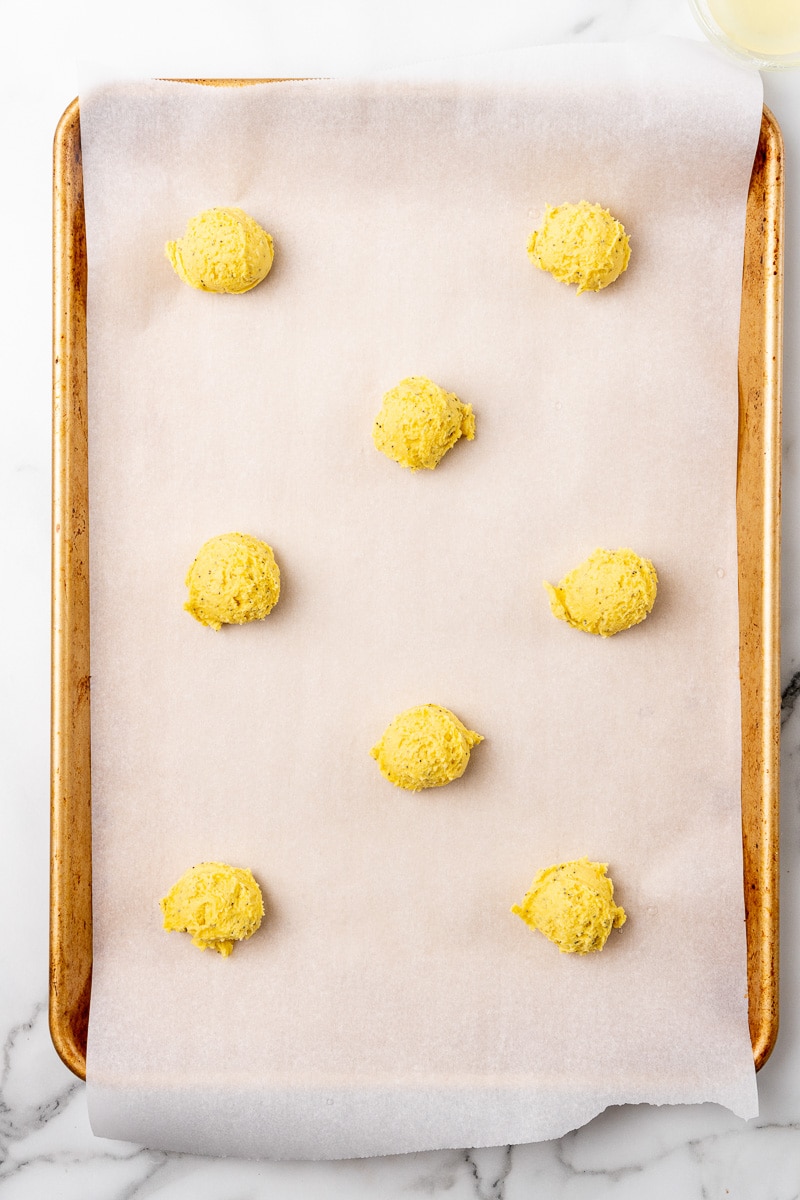 While the cookies are baking, prepare the glaze by mixing the powdered sugar and lemon juice together until smooth. Use more or less juice depending on the desired consistency.
Once the cookies are done, allow them to cool completely before drizzling or piping the glaze over the top. And that's it! You now have delicious lemon poppy seed cookies to enjoy.
(Scroll down to the recipe card for more detailed instructions, measurements, and step-by-step images.)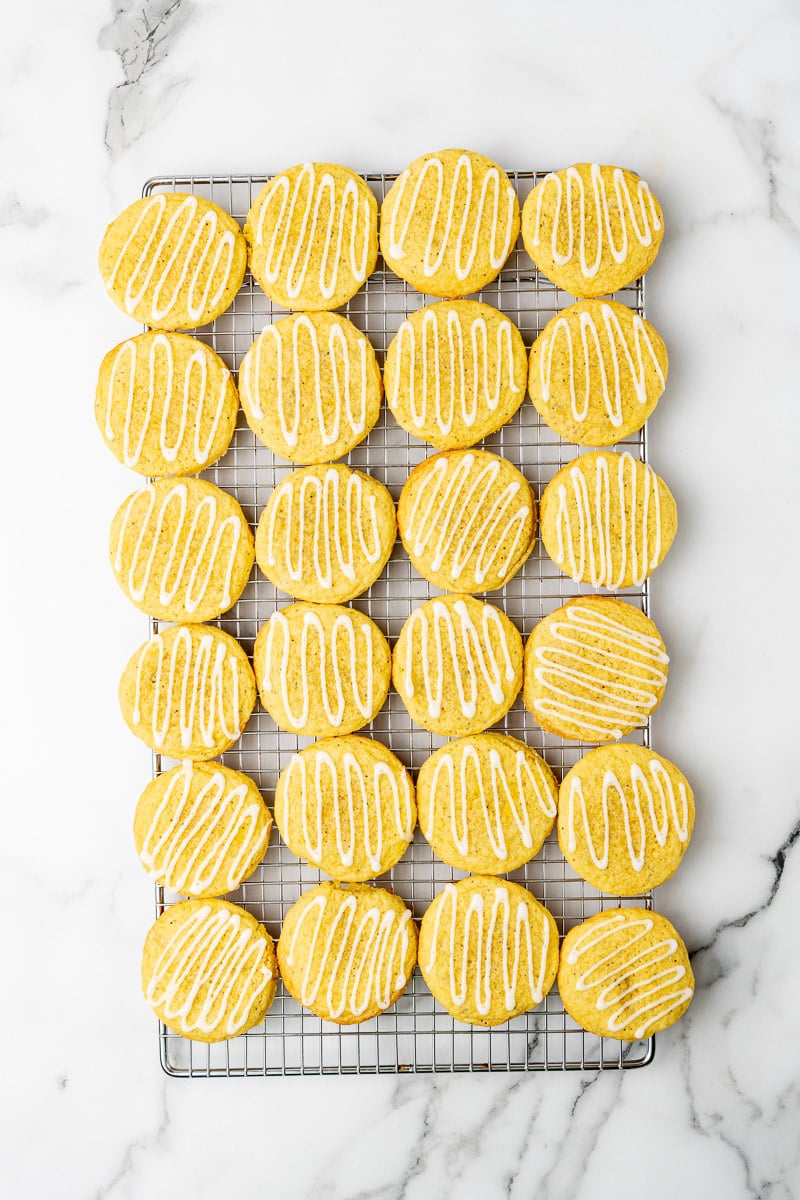 Helpful Tips & Tricks
Use fresh lemon!
It might be tempting to use bottled lemon juice or skip the zest, but trust me, the fresh lemon flavor is worth it. It only takes a minute to zest a lemon - just do it.
Don't overmix.
When adding the dry ingredients, mix them in slowly and just until the dough comes together. Overmixing can lead to tough cookies. And if you're having trouble with the dough sticking to your hands, try dusting them with a little flour.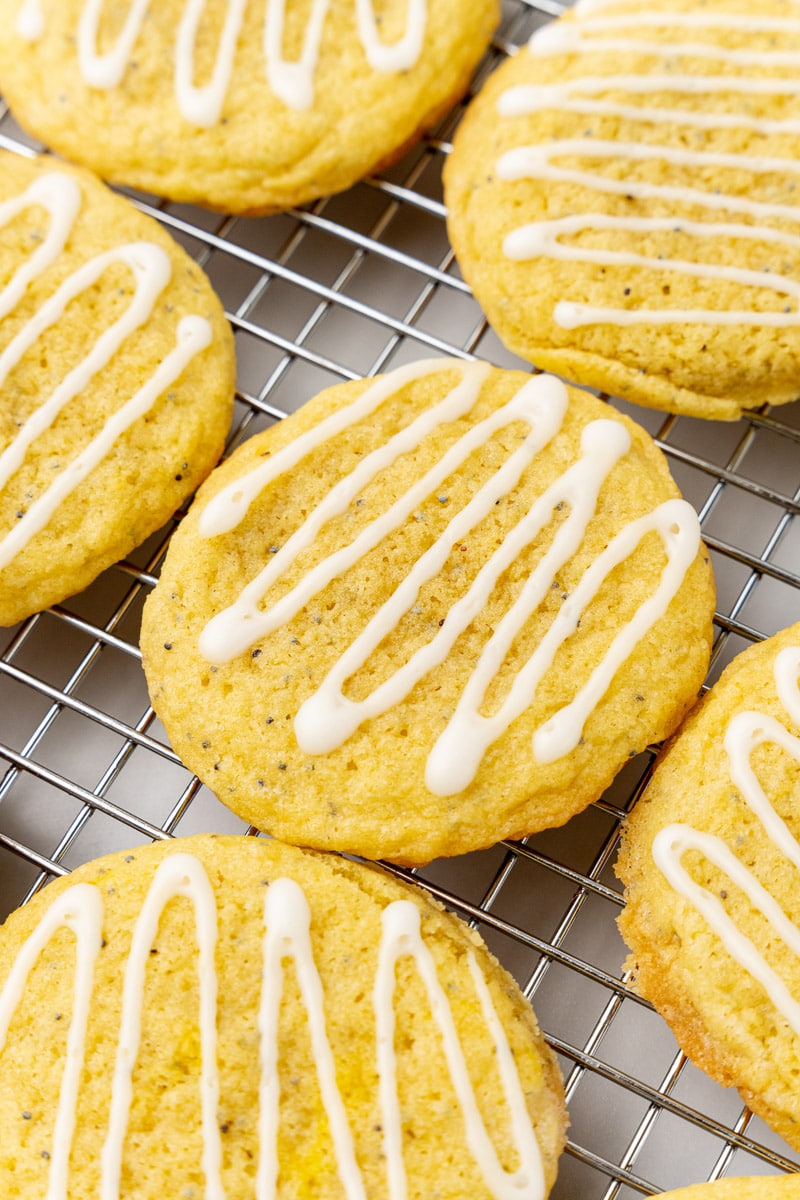 Storing the Cookies
If you plan on eating your cookies within five days, simply store them in an airtight container at room temperature. This will keep them fresh and prevent them from getting stale.
If you want to keep your cookies for longer than five days, you can freeze them. First, let the cookies cool completely to room temperature. Then, store them in a freezer-safe container for up to three months. When you're ready to enjoy them, simply thaw them at room temperature for a few hours.
Alternatively, you can freeze the cookie dough for baking later. Roll the dough into balls and freeze in a single layer on a baking sheet. Then transfer to freezer bags or another airtight container for storage.
If you're storing multiple layers of cookies in the same container, make sure to separate them with a layer of parchment paper. This will prevent them from sticking together and getting damaged.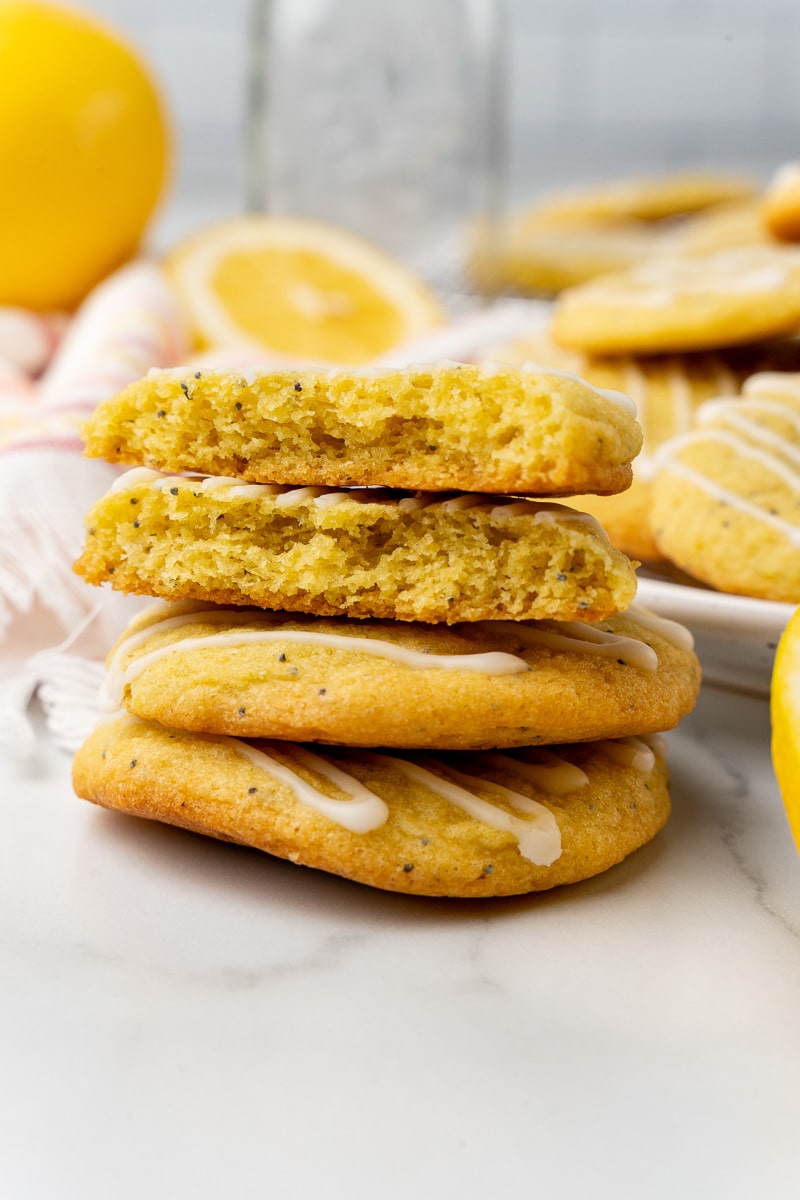 Variations & Substitutions
Add mix-ins.
These cookies are delicious as is, but you can also try adding in some chopped nuts, dried cranberries, or even chocolate chips.
Try it with orange zest.
Substitute the lemon juice and zest for orange juice and zest for a new citrusy twist.
Add almond flavor.
Try adding 1 tsp of almond extract and chopped almonds for an Almond Poppy Seed Cookie.
Make it gluten free.
If you're gluten intolerant or just prefer to avoid gluten, you can easily make these cookies gluten-free by using a 1:1 gluten-free flour blend instead of all-purpose flour.
Make it dairy-free.
To make these cookies dairy-free, simply replace the butter with a vegan butter substitute or coconut oil. You can also use non-dairy milk, such as almond or soy milk, instead of regular milk.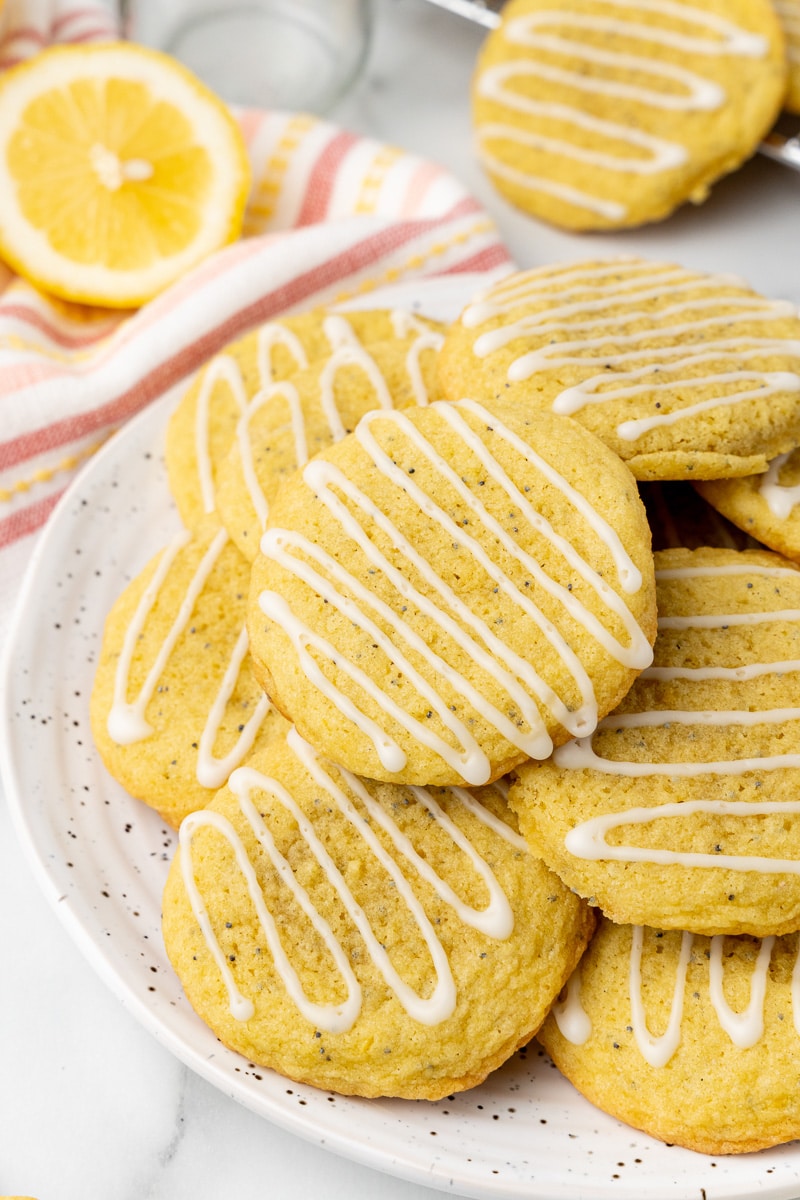 More Tasty Treats
If you love these Lemon Poppy Seed Cookies, be sure to check out these other delicious ideas: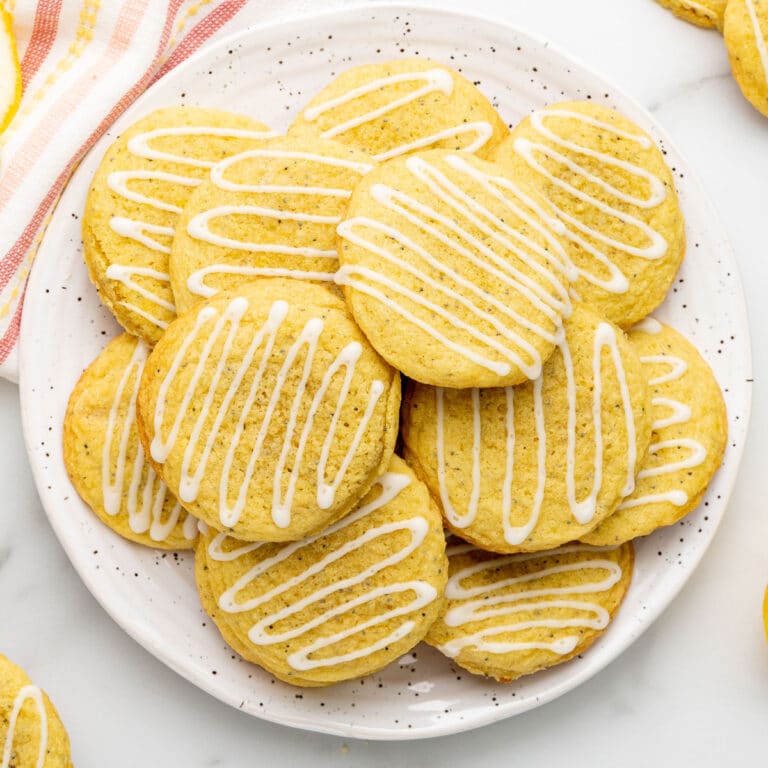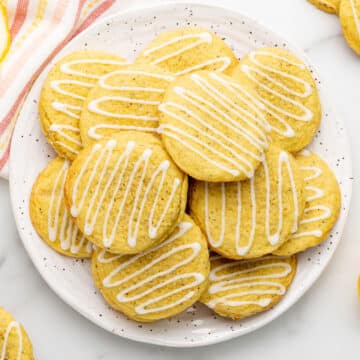 Lemon Poppyseed Cookies
These Lemon Poppy Seed cookies are packed with crunchy poppy seeds and topped with a sweet and sticky glaze. And they're easy to make in just 30 minutes!
Instructions
Preheat oven to 350 F, line a baking sheet with parchment and set aside

In a medium bowl, whisk together the flour, baking soda and salt and set aside

In the bowl of a stand mixer fitted with the paddle attachment, beat the butter and sugar until light and fluffy

Add the eggs, lemon zest, lemon juice, and vanilla and beat again

Add the flour in 2-3 smaller additions, mixing well after each addition

Stir in the poppyseeds

Drop the cookies by healing tablespoon onto prepared baking sheet 2 inches apart

Bake in preheated oven 8-10 minutes, or until slightly golden around the edges

Meanwhile prepare the glaze by mixing the powdered sugar and lemon juice together until smooth (use more or less juice depending on the desired consistency)

Allow to cool completely before drizzling/piping the glaze over the cookies
Nutrition
Calories:
134
kcal
Carbohydrates:
20
g
Protein:
1
g
Fat:
6
g
Saturated Fat:
3
g
Polyunsaturated Fat:
0.4
g
Monounsaturated Fat:
1
g
Trans Fat:
0.2
g
Cholesterol:
23
mg
Sodium:
107
mg
Potassium:
19
mg
Fiber:
0.3
g
Sugar:
12
g
Vitamin A:
171
IU
Vitamin C:
0.5
mg
Calcium:
8
mg
Iron:
1
mg