Easter egg decorating has always been something I look forward to every Easter. There is something really fun and enjoyable about dipping eggs in little cups of dye. Until this year, my version of creative Easter egg decorating amounted to dipping one egg into several different colors to achieve a striped or tie-dyed look.
And that was fun... but it just wasn't exciting. Different. Creative.
I never really thought much more about how I could expand on that idea. Nor did I think beyond the store-bought dye packages that are mass marketed every Easter season. But really, those store-bought egg dyes kept me from being creative.
Really, why should we put all our eggs in one basket? Get a little artsy. Get a little craftsy!
So... this year was the exception, and I did the most creative Easter egg decorating that I have ever done.  I mean, look: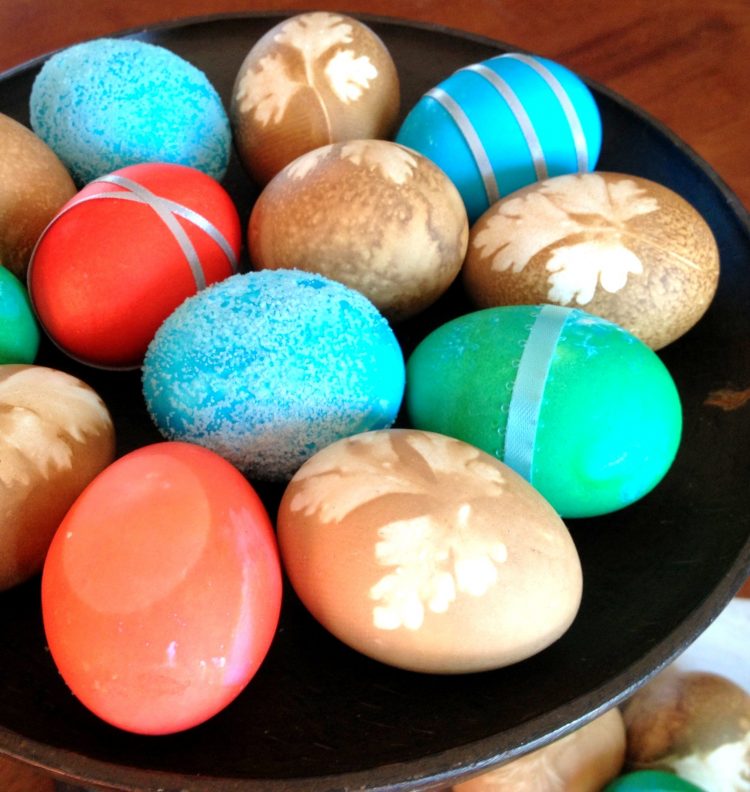 Fresh on the heels of my new and creative Easter egg decorating blitz, I wanted to put together a post to inspire those of you who feel like you're also stuck in a bit of an Easter egg decorating rut.
3 Simple Ways to Dress Up Easter Egg Decorating
Stickers- Add some fun stickers to dyed eggs. This is so simple, but stickers can add something special to "plain" dyed Easter eggs.
Ribbons- Simplistic and gorgeous!  Glue or even hide a piece of tape to the back of the egg to keep the ribbon in place. Another version of this is to wrap yarn all the way around the egg, covering the entire surface (this is really pretty with yarn that slightly varies in color).
Salt- Roll a still-wet-with-dye Easter egg in a coating of salt.  Let dry overnight and then rub off excess salt.
5 Ideas for Unique Easter Eggs
If you want to get creative and make unique Easter egg designs, the Internet is your friend! Pinterest and YouTube are treasure troves of unique Easter egg ideas. I've rounded up a few unique Easter egg ideas for you here (just do a quick search online for tutorials), but definitely do your own research to see what you can find.
Crafty Leaf Print Easter Eggs, specifically the brown eggs with leaf prints. These were dyed in coffee.
Pysanka, also referred to as a Ukranian Easter egg, is an amazing Easter egg design that uses a method called "wax-resist." The designs are made on the eggs in beeswax and then the eggs are dipped into dyes. Even if you don't try to make your own Ukranian Easter eggs, look these up because the results are gorgeous (and inspiring!).
Break out the chalkboard paint and coat your Easter eggs with it. Wait for it to dry and then get creative with your designs. (This is a kind of forgiving method since you can erase your mistakes!)
Treat Easter egg decorating like a crafting project. By that I mean get out felt, pipe cleaners, fabric, pom poms, and the like, and really dress up your Easter eggs. A few ideas: make them into bunnies, birds, farm animals, people... you're only limited by your imagination.
Decorating eggs Fabergé style is another option. You'll have to carefully hollow your eggs before decorating so they can be preserved. Fabergé eggs are designed to last forever, so they're fun to make yearly and save, one for each year.
This is just a small list of some of the creative Easter egg decorating ideas out there. There are so many ways to decorate Easter eggs, why not try something new this year?
How Are You Decorating Your Easter Eggs This Year?
I'm excited to find some new ideas, and there is still time to try them out this year. Share your ideas in the comments. I would love to try out some more creative Easter egg decorating, highlight some of those ideas and link back to your posts. Share a comment with a link to an Easter decorating post that you have done.
What is your favorite way to decorate Easter eggs?
How To Make Crafty Leaf Print Easter Eggs