***Don't forget to PIN this Easter Egg Recipe so you have it on your Easter Pinterest board to use every year! While you're at it, go ahead and follow us on Pinterest and Facebook. We are constantly sharing fun new ideas.***
Last week I stumbled on an inspiring leaf print pictorial that I attempted to recreate using store-bought herbs. I haven't seen greenery outside in what seems like forever.
Making leaf print Easter Eggs is fairly simple. Honestly, the most difficult part for me was finding leaves that I could use. I'm planning to do this project again with different colors, but first I want to find a variety of leaves. We used parsley and dill leaves for these eggs.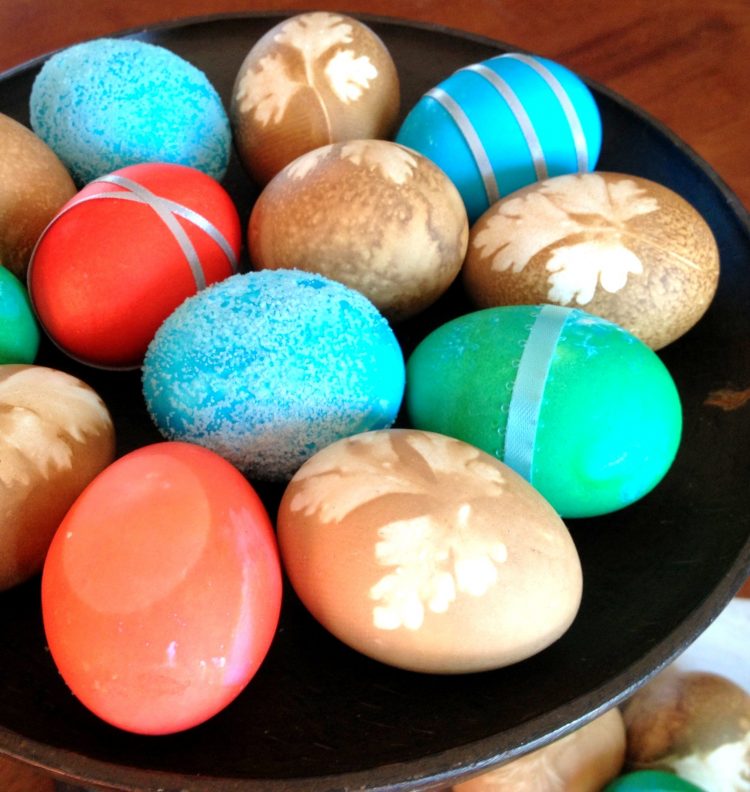 Supplies
Hard-boiled eggs (learn how to make the PERFECT hard-boiled eggs in our how to make hard-boiled eggs instructional post)
Leaves
Pantyhose
Twist tiesor thread/needle
I dyed these eggs in coffee. I've been buying store bought Easter egg dye kits for years and never knew that I could dye eggs without doing that.
Recipe for Coffee-Dye
1 cup strong coffee
2 teaspoons vinegar
Directions
Press the leaf onto the egg and flatten with a 4 square inch piece of pantyhose. Use a twist tie or sew the pantyhose together so that the leaf is pressed down snug against the egg and no dye can leak under it.
Submerge the egg and let it sit for at least 10 minutes. The longer it sits, the darker the color will be. I let my eggs sit for a couple hours, but next time I will likely let some of the sit overnight to have a very deep color contrast with the leaf imprint.
Remove the eggs from the dye mixture and sit on paper towels on wire rack to drip dry. Let dry for several hours.
Take the pantyhose off the egg and if the egg is still wet, continue to let dry.
Remove leafs from eggs.
If planning to eat these decorative eggs, they will need to be stored in the refrigerator during the drying process. It is recommended that hard-boiled eggs sit out for no longer than two hours if they are going to be consumed.
My leaf print Easter eggs are strictly for decorative purposes, although I do think they'd look pretty fancy served at a brunch and would go perfectly with a banana muffin.
How are you decorating Easter Eggs this year?

You might also like: