This Dorito Chicken Casserole is so simple to throw together and bake for dinner. Shredded chicken, cheese, black beans, and Tex-Mex flavors combine in this dish—all topped with crunchy Doritos.
This recipe is my go to chicken casserole for busy weeknights. Throw it together, then watch the whole family gobble it up!
Other quick weeknight dinners include vegetarian Chickpea Curry and Chili Mac. Or you can just download my cookbook, Weeknight One-Pot Vegan Cooking.
Why you will love this Dorito Chicken Casserole…
Great way to use up pre-shredded or leftover chicken
Crispy Doritos in every bite
Kid-friendly flavor
Simple prep
Oven-baked for a hands-off dinner
Stores well
Get the latest scoop on all the recipes I'm whipping up in the kitchen by following along with All She Cooks on Facebook, Instagram, and Pinterest. Also, don't forget to join my Facebook Group where you can share your favorite blogger recipes: Easy & Delicious Recipes.
How to Make Dorito Chicken Casserole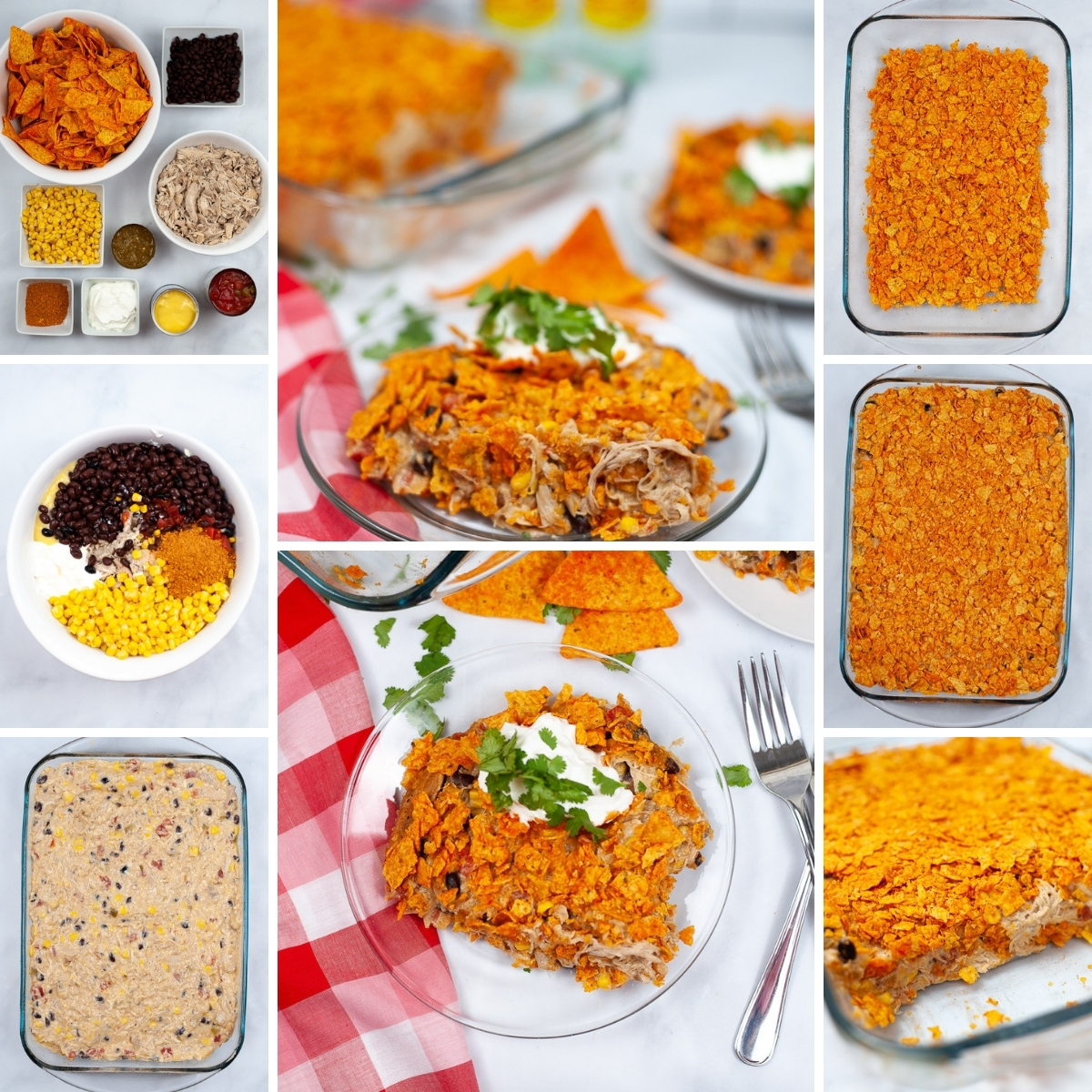 Start by preheating the oven and greasing your pan.
Add some crushed chips into bottom of pan.
Mix up the cheesy chicken filling in a bowl.
Pour into the casserole dish, and bake as directed.
Near the end of cooking, remove and top with the remaining chips.
Toss back into the oven to finish. Once done, remove, and dish up this cheesy Dorito casserole.
The full directions for this cheesy Dorito Chicken Casserole recipe are in the printable recipe card below.
Tips & Tricks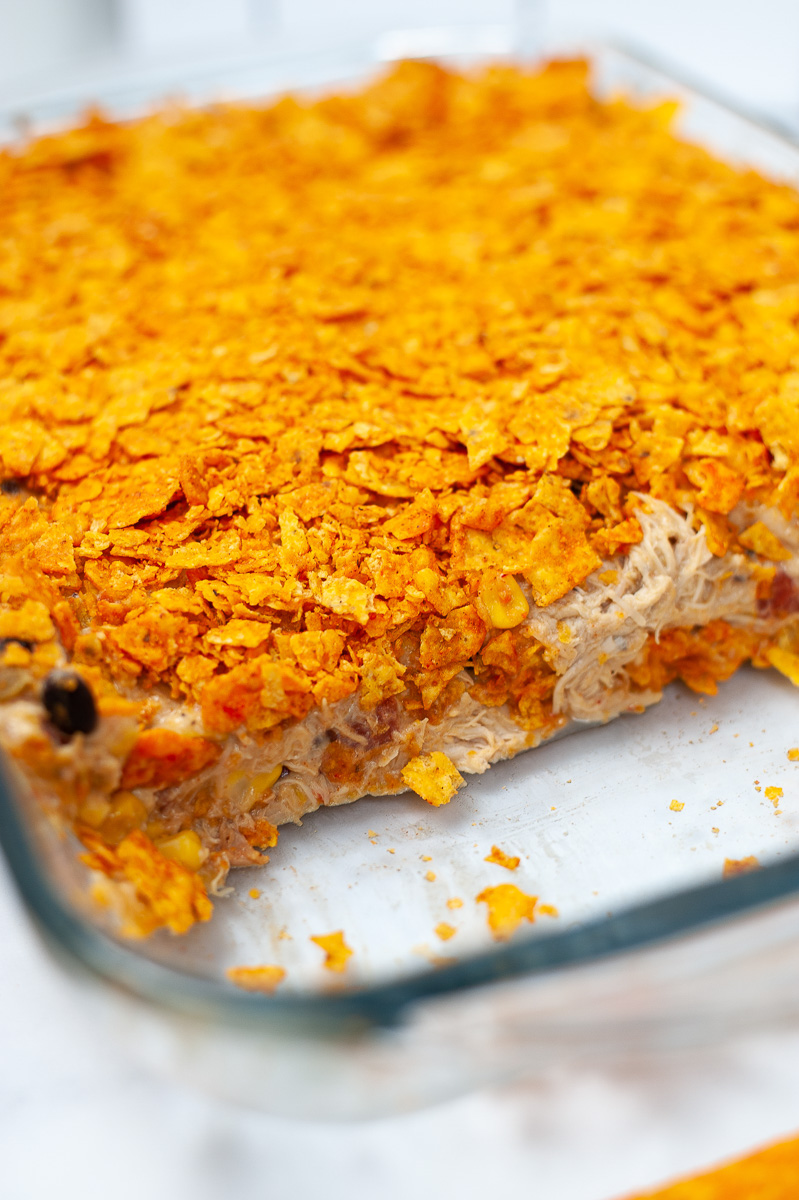 Shredded Chicken
Reach for leftover rotisserie chicken, store bought chicken, or shred your own. You can even use diced chicken pieces as well. Just make sure the chicken is fully cooked.
Dorito Chips
Nacho cheese-flavored Doritos are what we prefer, but you could reach for taco flavored, cool ranch-flavored, etc.
Just know that the flavor of chips will change the flavor of the casserole a bit.
Wait Till The End
You don't want to top your casserole with chips at the beginning of baking in this recipe. If you do, your chips on top will over-bake.
Cook your casserole as directed, and wait till the end to top it with the final layer of chips. Then finish baking.
Variations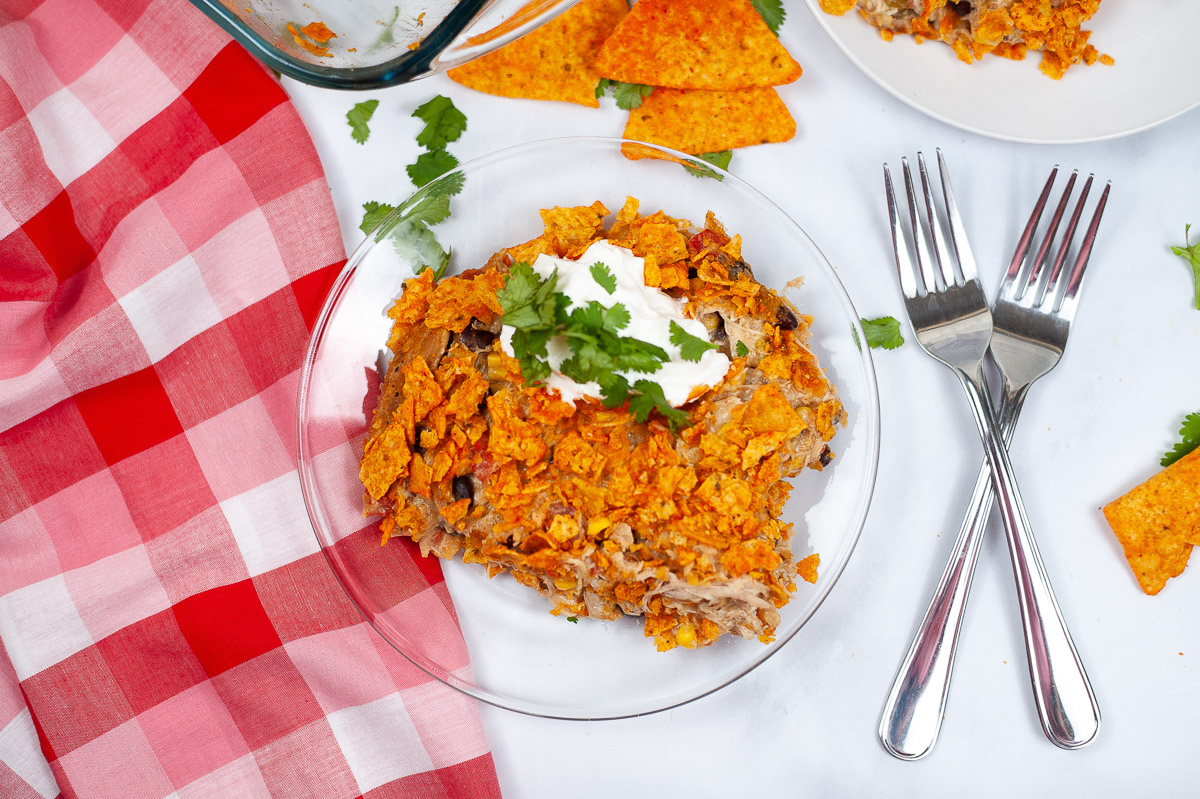 Ground Beef
Swap the chicken for cooked ground beef. It will change up the flavor a bit, but it is oh-so-good. You could also use ground chicken, turkey, pork, etc.
Sweet Corn
If you don't love corn, leave it out. The corn adds some nice flavor but can ultimately be omitted, if you prefer.
Add Veggies
If you want add in a few more veggies, either dice them and add them raw or sauté them first in a pan to soften them up.
Peppers would be a tasty addition, and sautéing onions give them different flavor. Get creative and add whatever vegetables are your favorite!
Dorito Chicken Casserole FAQs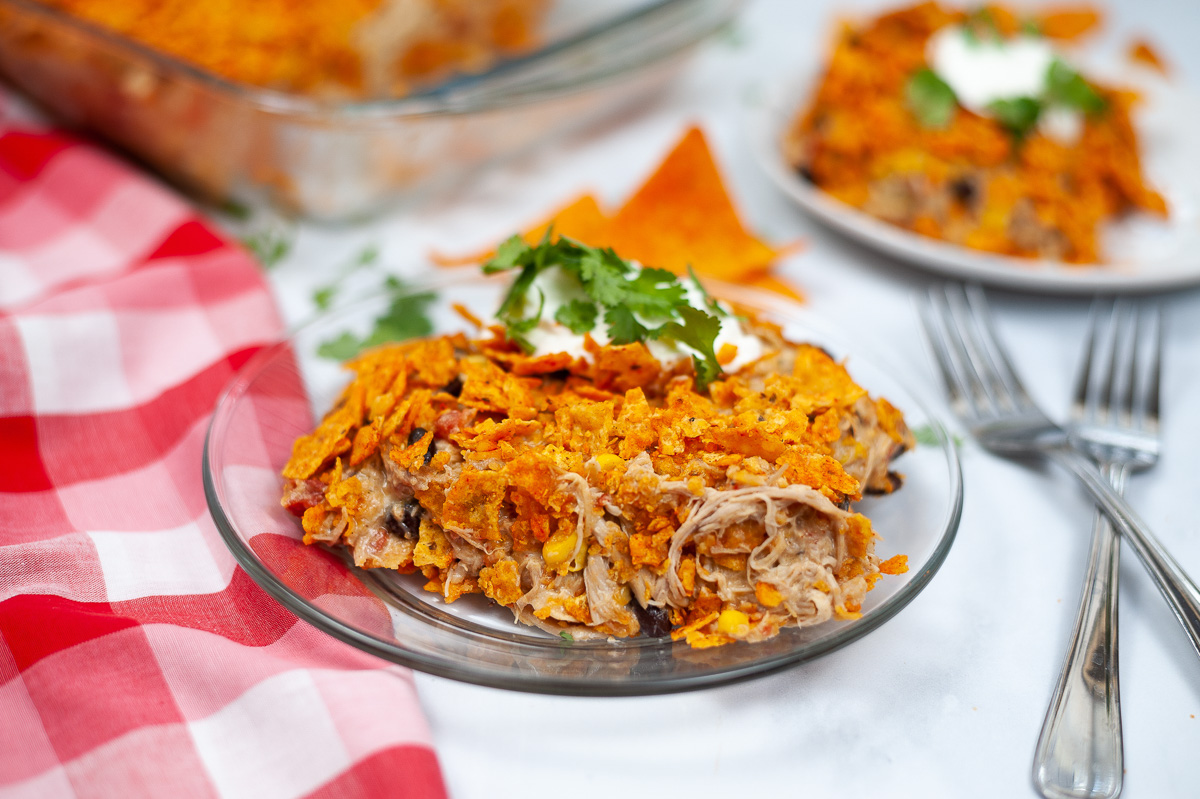 What to Serve With Casserole?
Reach for your favorite side dish, like a veggie tray, salad, rolls, etc. We tend to eat this casserole with salad or a vegetable side dish to balance it out.
Or, you can simply eat this casserole on it's own!
Can you freeze Dorito casserole?
Go right ahead and freeze this casserole if you would like. Just make sure that you leave off the chips on top. The topping layer of Doritos will become soggy if they sit in the freezer.
This casserole can freeze up to 3 months. Cover with tinfoil to reheat, and bake as you would normally. The last 20 minutes, remove foil to brown up and top with final layer of chips.
Can you make this casserole in advance?
You can make Dorito Chicken Casserole up to 5–6 hours in advance. Any more than that will make the bottom chips too mushy. Just remember to keep the chips off the top and don't add them on till after you have cooked the casserole for a while.
Recipe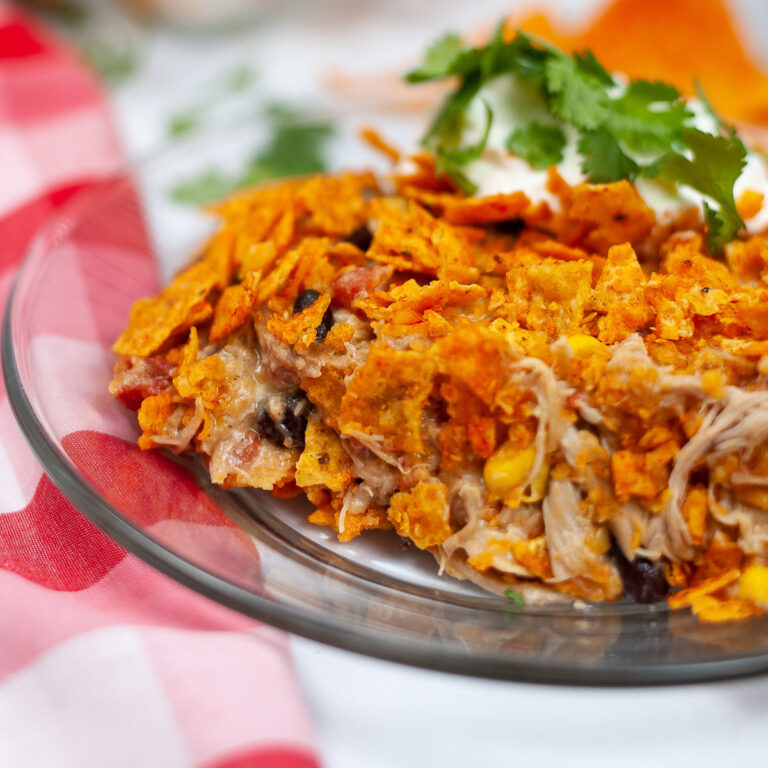 Dorito Chicken Casserole
This Dorito Chicken Casserole is so simple to throw together and bake for dinner. Shredded chicken, cheese, black beans, and Tex-Mex flavors combine in this dish—all topped with crunchy Doritos.
Ingredients
14.5

oz

bag nacho cheese-flavored Doritos chips

15

oz

can black beans

drained and rinsed

15

oz

can corn

drained, or 1 ½ cups fresh or frozen corn kernels

4

oz

can green chilies

10.5

oz

can cream of chicken soup

10

oz

can Rotel diced tomatoes

3

cups

cooked shredded chicken

can use rotisserie chicken

1

tablespoon

taco seasoning

½

cup

sour cream

olive oil cooking spray
Instructions
Preheat the oven to 350°F.

Crush chips in bag to make small pieces.

Spray the bottom of a 9x13 baking pan with cooking spray.

Cover the bottom of the pan with half of the crushed chips

In a mixing bowl, mix all of the remaining ingredients except for the remaining chips.

Fill the pan with the chicken mixture, and spread out evenly.

Bake in oven for 20 minutes.

Remove from the oven, and top with the remaining chips.

Bake for 5 more minutes.
Nutrition
Calories:
534
kcal
Carbohydrates:
83
g
Protein:
24
g
Fat:
12
g
Saturated Fat:
4
g
Cholesterol:
66
mg
Sodium:
981
mg
Potassium:
554
mg
Fiber:
6
g
Sugar:
61
g
Vitamin A:
358
IU
Vitamin C:
8
mg
Calcium:
82
mg
Iron:
3
mg