Summer salads often are enjoyed outdoors with a big group of people, and this Broccoli Bacon Salad is no different. Potlucks are one of our favorite ways to enjoy food with friends. But, keeping a broccoli salad cool enough isn't always possible to the degree of coolness it needs to be kept--and if you're serving salads with mayonnaise it is essential to keep it cool.
We don't like to risk mayo in a salad we like to serve outdoors, so this Easy Broccoli Bacon Salad without Mayo is the perfect solution.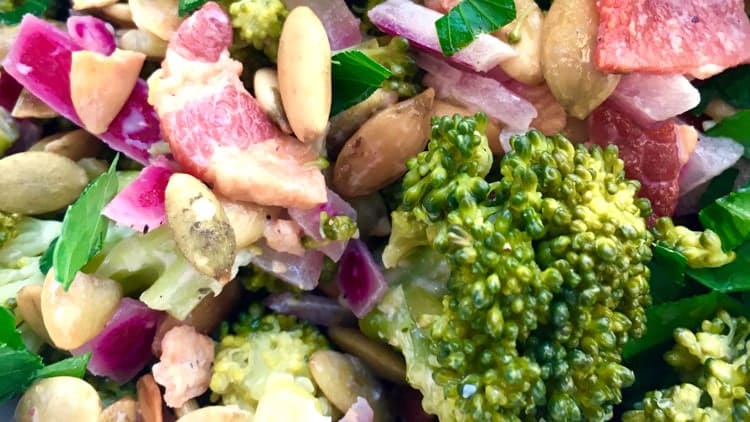 Mayo-Free Broccoli Bacon Salad with Toasted Pumpkin Seeds
We're loving the ease of making this salad. It's super simple, which means it is great for making when you don't have a ton of time and want to take something with you to a friend's cook out. Let's face it, even when someone tells you that you don't have to bring anything, most of us don't want to show up empty handed.
This lightly dressed, chilled broccoli salad is great for picnics, potlucks, and other casual get-togethers. The mayonnaise-free dressing adds a boost of bright flavor thanks to the fresh lemon juice and zest, while the crisp-tender broccoli and pumpkin seeds add a satisfying crunch.
If you're planning to make more than one salad for your cookout, we also favor an Italian Chopped Salad, Heirloom Tomato Salad, and Deli Crab Salad.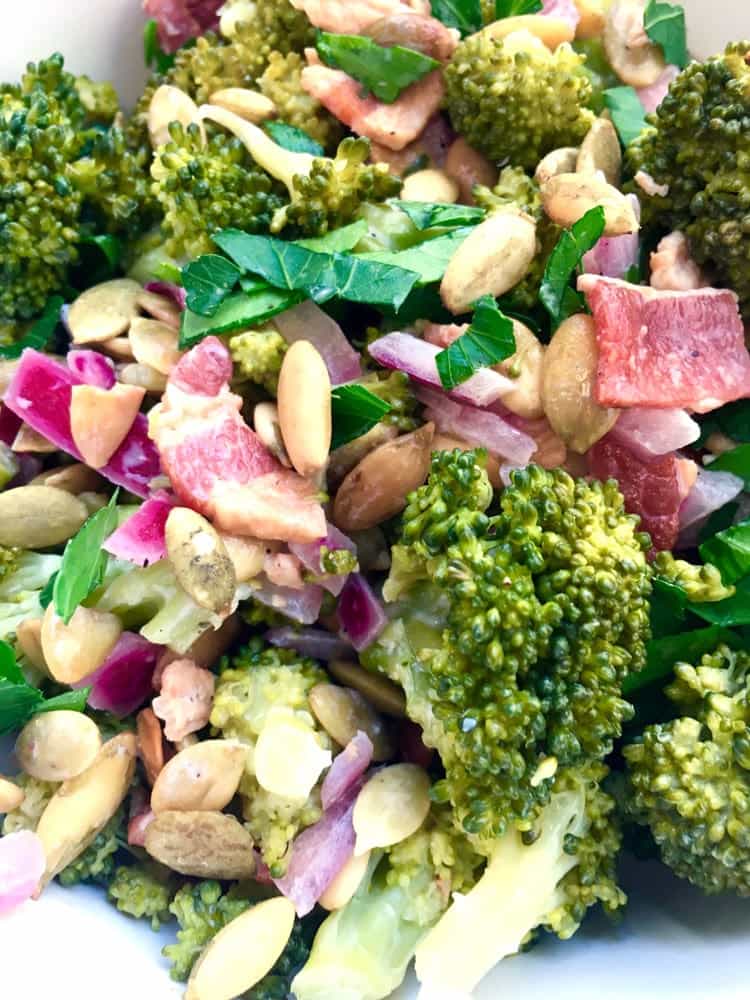 If you have the time, you can make this recipe the night before, because the extra time will allow the flavors to blend more thoroughly. The melding of flavors adds another layer to the taste that you'll want to savor.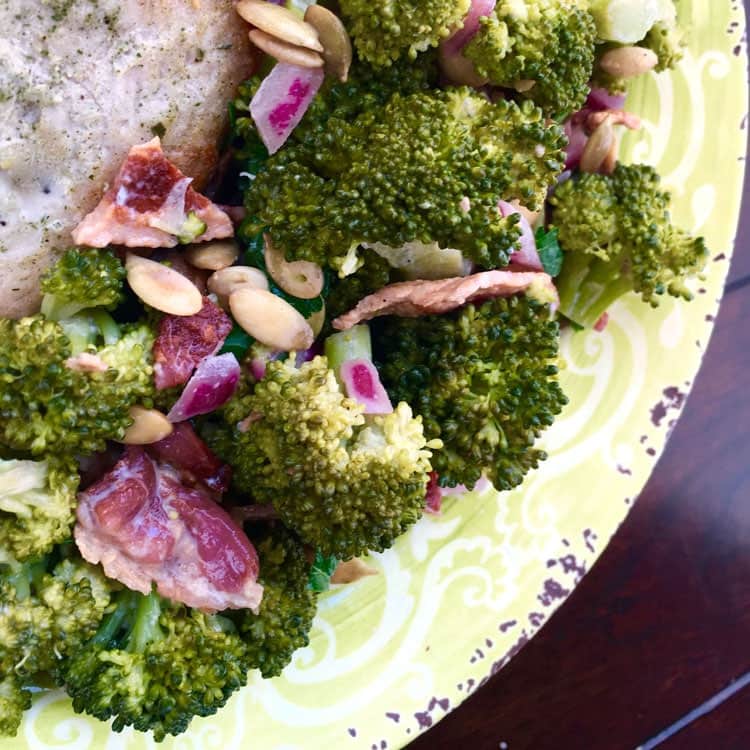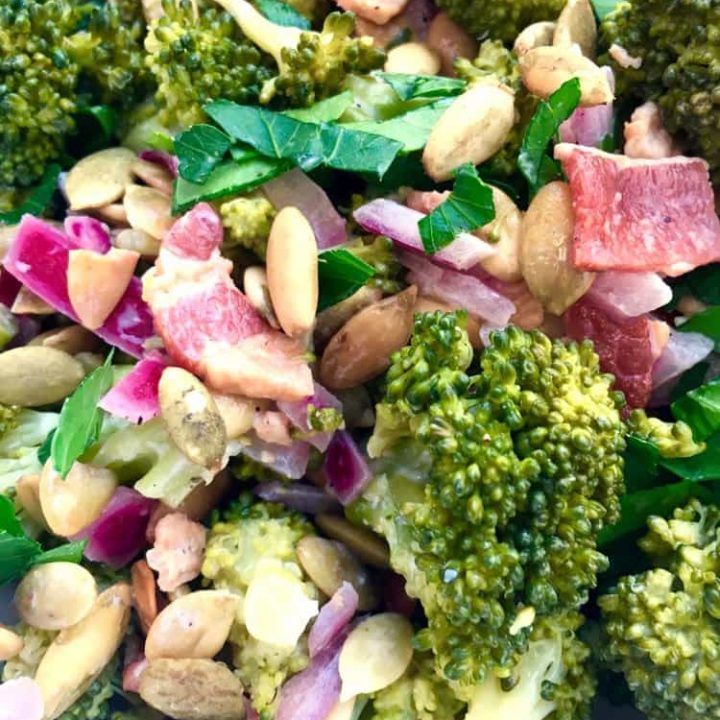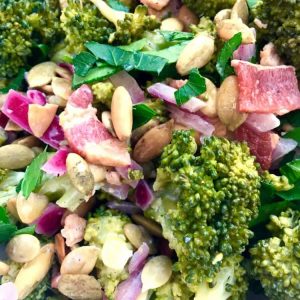 Easy Broccoli Bacon Salad No Mayo
Enjoy this No Mayo Broccoli Salad at a cookout or potluck. It's the perfect salad recipe to serve outside.
Instructions
Tip: To remove the harsh bite from the red onion, add slices to a bowl of water or white vinegar for approximately 15 minutes. Remove from liquid and pat dry before using.

To make the dressing, combine the Greek yogurt, honey, and lemon juice in a small bowl. Season with salt and pepper, to taste. Set aside.

Add the broccoli florets to a large, microwave-safe dish and add 2-3 tablespoons water. Cover and microwave on high for 4-5 minutes, or until florets are crisp tender. (Check after 3 minutes and adjust cooking times accordingly).

Remove from microwave and drain excess liquid. Set aside, uncovered, and allow steamed florets to cool.

In a large glass or other non-reactive bowl, combine the red onion, broccoli, crumbled bacon, and fresh parsley. Toss gently to combine. Top with ½ Greek yogurt dressing and toss again until ingredients are thoroughly coated. Cover and refrigerate 30 minutes or overnight before serving. Cover and reserve remaining dressing, as well.

Toss chilled salad with remaining dressing right before serving, or serve on the side for those who prefer a little extra dressing.  Sprinkle with the toasted pumpkin seeds right before serving to keep them crunchy.

*1 tablespoon of honey contains up to 17 grams of carbs, or approximately 4¼ grams per serving. If this is too high for your needs, you can use a very small amount of stevia powder or liquid as a substitute.