This post and our Heirloom Tomato Salad recipe have been sponsored by Meijer and it's Simply Give program, which has helped neighborhood food pantries keep their shelves stocked since November 2008.
It's easy to support a program that has generated more than $26 million in the name of helping to feed hungry families. The Meijer LPGA Classic has been a huge part of that, with previous tournaments raising more than $2.1 million for the program, enabling them to restock food pantry shelves across the Midwest.
This year's Meijer LPGA Classic will once again coincide with the spring Simply Give campaign that will run from May 14 through June 18. Meijer is truly committed to the cause of hunger relief because many families across the Midwest continue to struggle to put food on their tables.
Win Tickets to the Grand Taste event and Meijer LPGA Classic!
As part of our celebration for the good works that the Simply Give program does, we're hosting a giveaway for 2-4 Grand Taste event tickets for one of our readers (which also include tournament access). This is a fun event that you will really enjoy! The Grand Taste event features celebrity chefs, so you won't want to miss it. The event is held in Grand Rapids, Michigan, so if you are close to that area or going to be in the area around June 17-18th, leave a comment below telling us who you would bring! This will serve as your contest entry.
Note: Giveaway is only for Grand Taste/Meijer LPGA Classic admission (value $50/ticket) and does not include transportation, lodging or incidentals.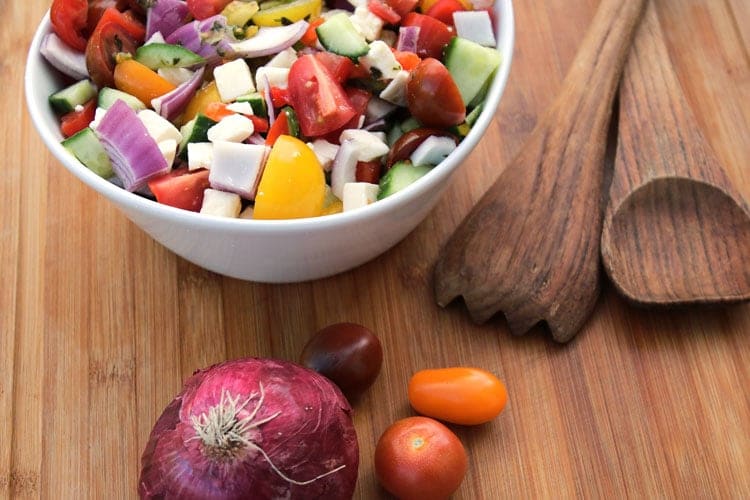 We decided to create a fun, flavorful and easy salad recipe that is perfect to share with family, friends and neighbors, or can be enjoyed all by itself as a main course. Chop up some vegetables and make enough to double this recipe—share the extra bowl with a family you know who is struggling.
Pair it up with a dish of our Baked Spaghetti or a pot of our Zuppa Toscana if you want to make this salad as a side dish instead of a main dish meal. Remember, a friendly gesture is often all it takes to lift someone's spirits.
Remember, we're all neighbors. Always remember to give back.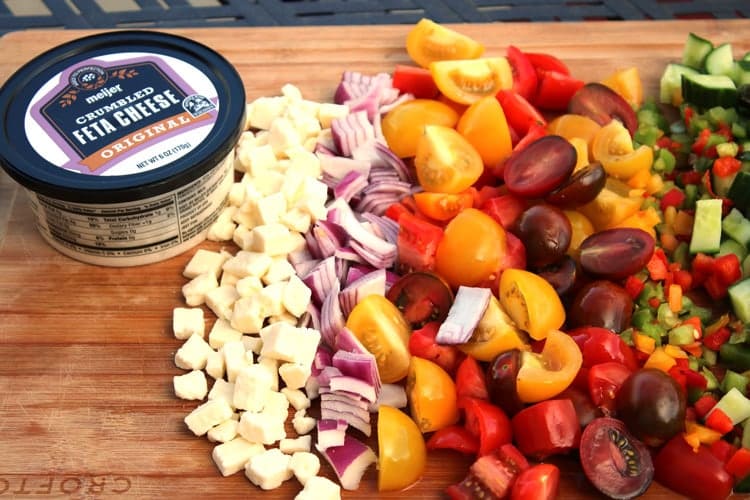 Cucumber, Feta Cheese and Heirloom Tomato Salad
It's difficult to come up with the perfect name for a salad without naming its ingredients. And really, the best way to describe a salad is by saying what's in it. Or by showing a photo of it…which obviously, we do often when writing up a recipe for All She Cooks.
Words and photos. Descriptive ingredients essential for any type of blog, but when it comes to food blogging, the combination of those two details help bring meals to tables across continents.
One of the things that makes this summer salad recipe so beautifully indulgent are the heirloom cherry tomatoes. Whether you find them in cherry or grape size, the unique flavor of heirloom tomatoes not only makes for a showy presentation, but the culminates in a color explosion that pops when plated.
Pair up these gorgeously purple to red to orange bite-sized juicy fruits with the generously ripe greens of an English cucumber, the purple and white flesh of a red onion (and can someone tell my why a purple onion is called red?) and you've got a phenomenal salad that is bursting with flavor you'll want to share.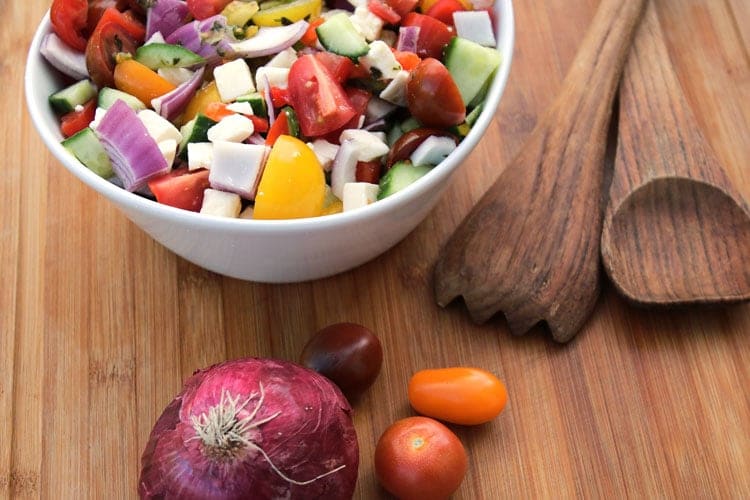 Take our heirloom tomato salad with you to barbecues and potlucks. It won't last long topped off with feta cheese and a cilantro paste that is perfect for when you want to enjoy the flavor of cilantro all year long and don't have any on hand.
Garden Fresh Salad, All Year Long
Make a delicious salad without lettuce any time of year. Until the last few years, I never would have thought about making a salad without lettuce. Except potato salad, and that was a given.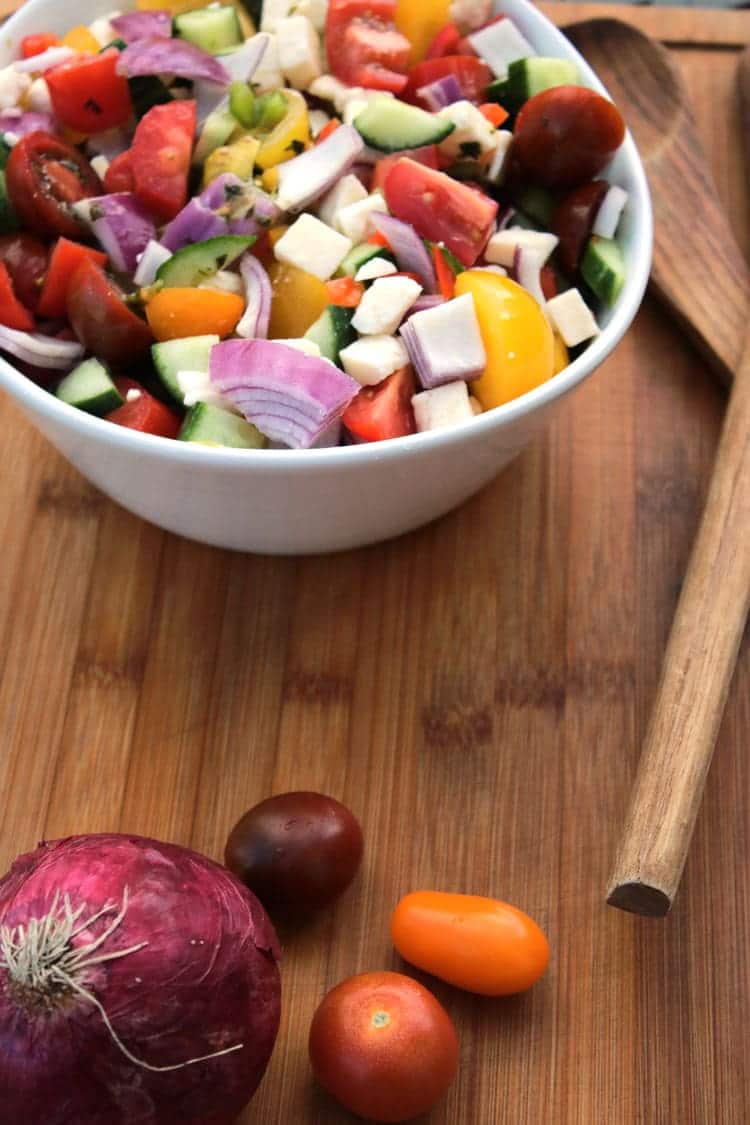 Garden salads can be made in a myriad of different ways with all variants of ingredients. Be brave, try new things and if you're creating recipes on your own… experiment!
One of the things that I love about cooking is testing out how ingredients will taste together. A perfect example of this is a blueberry cobbler I recently had the chance to taste test that was paired with a creamy lemon whipped topping that was out of this world delicious. You can bet I'm going to be trying to re-create that recipe in my own kitchen!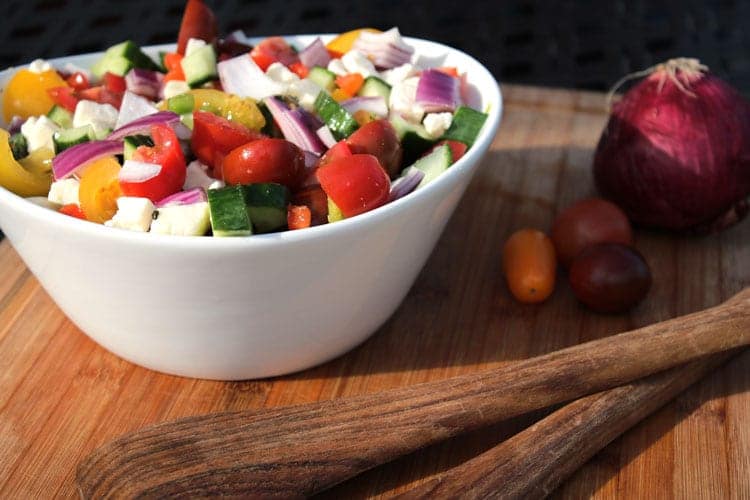 Easy salad recipes are a cinch. They are quick to throw together and if you remember to take your time, even easier to savor. Pair our feta cheese and heirloom tomato salad with a Pinot Grigio, sit outside for a family style dinner, and relax and enjoy! We're pretty sure you'll enjoy this delicious creation as much as we do.
Recipe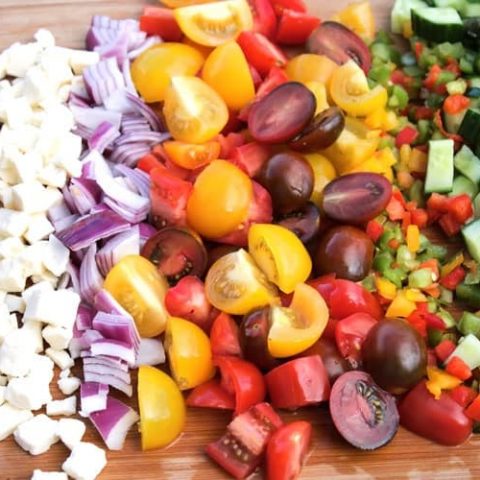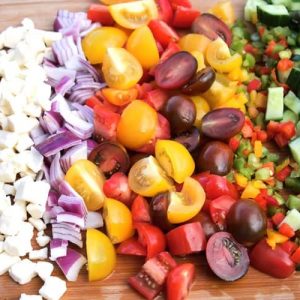 Heirloom Tomato Salad
Heirloom tomato salad is a colorful summer salad full of garden fresh vegetables and feta cheese. This is a great salad to bring to a potluck or summer barbecue.
Ingredients
1

English cucumber

diced

1 ½

cups

heirloom tomatoes

grape or cherry, cut in half or quarters depending on size

½

red onion

chopped

½

cup

diced red

green and yellow peppers (we picked up a container with pre-diced peppers at Meijer)

¾ to 1

cup

feta cheese

crumbled

1

tablespoon

cilantro paste

salt and pepper to taste
Instructions
Prepare all ingredients as directed. Mix together in a salad bowl, serve and enjoy!
Nutrition
Calories:
71
kcal
Carbohydrates:
6
g
Protein:
4
g
Fat:
4
g
Saturated Fat:
3
g
Cholesterol:
17
mg
Sodium:
213
mg
Potassium:
213
mg
Fiber:
1
g
Sugar:
3
g
Vitamin A:
831
IU
Vitamin C:
23
mg
Calcium:
106
mg
Iron:
1
mg