Looking for that perfect crunchy snack to satisfy your cravings? Easy Keto Cheese Crisps have easily become my go-to snack lately. These parmesan cheese crisps are baked in the oven and can be topped with any of your favorite spices or herbs.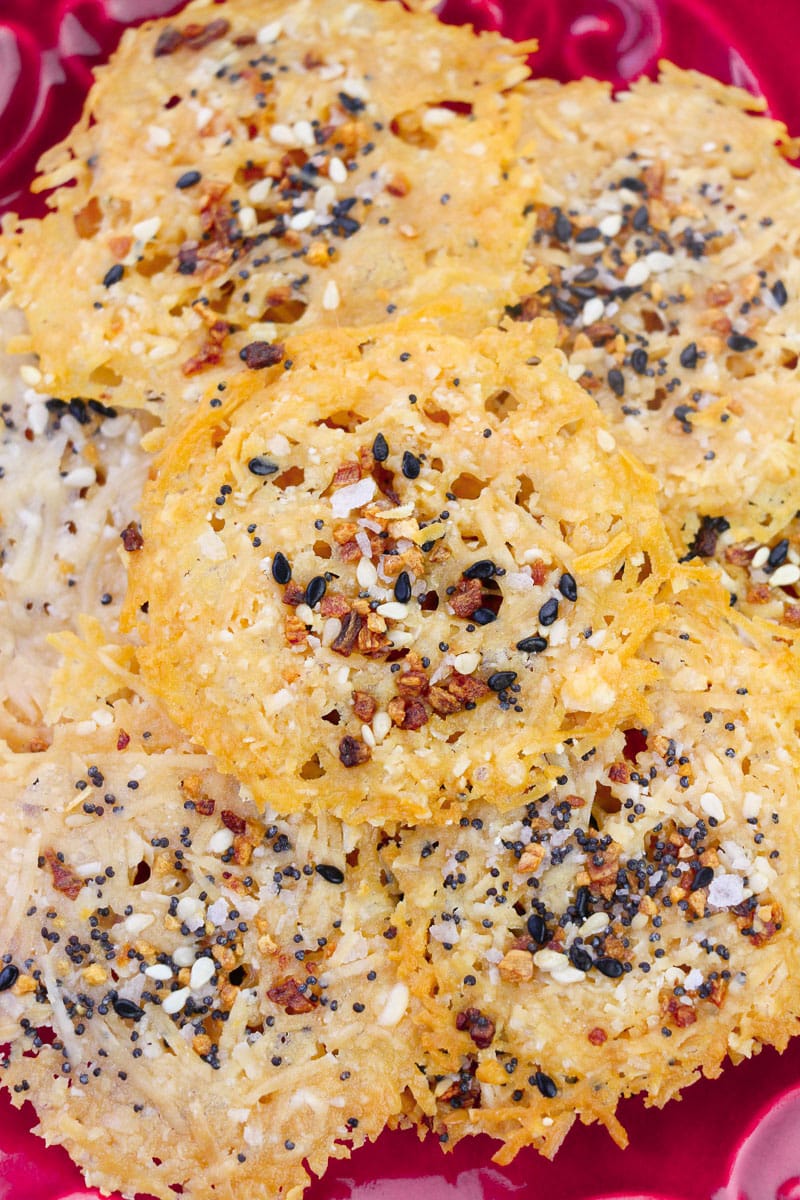 In this Article:
This crunchy snack is a keto-friendly substitute for chips. They're so easy, you can even make these crisps in the microwave instead of the oven! This low carb snack is definitely one to try out.
Best of all, learning how to make cheese crisps is easy. I used Everything-But-the-Bagel Seasoning, but you can honestly use any spices you like—or leave your crisps plain.
This Easy Keto Cheese Crisps recipe is...
Easy to make
Cheaper than storebought crisp
Made with 2 ingredients
Keto and low carb
Satisfying
Crunchy
How to Make Easy Keto Cheese Crisps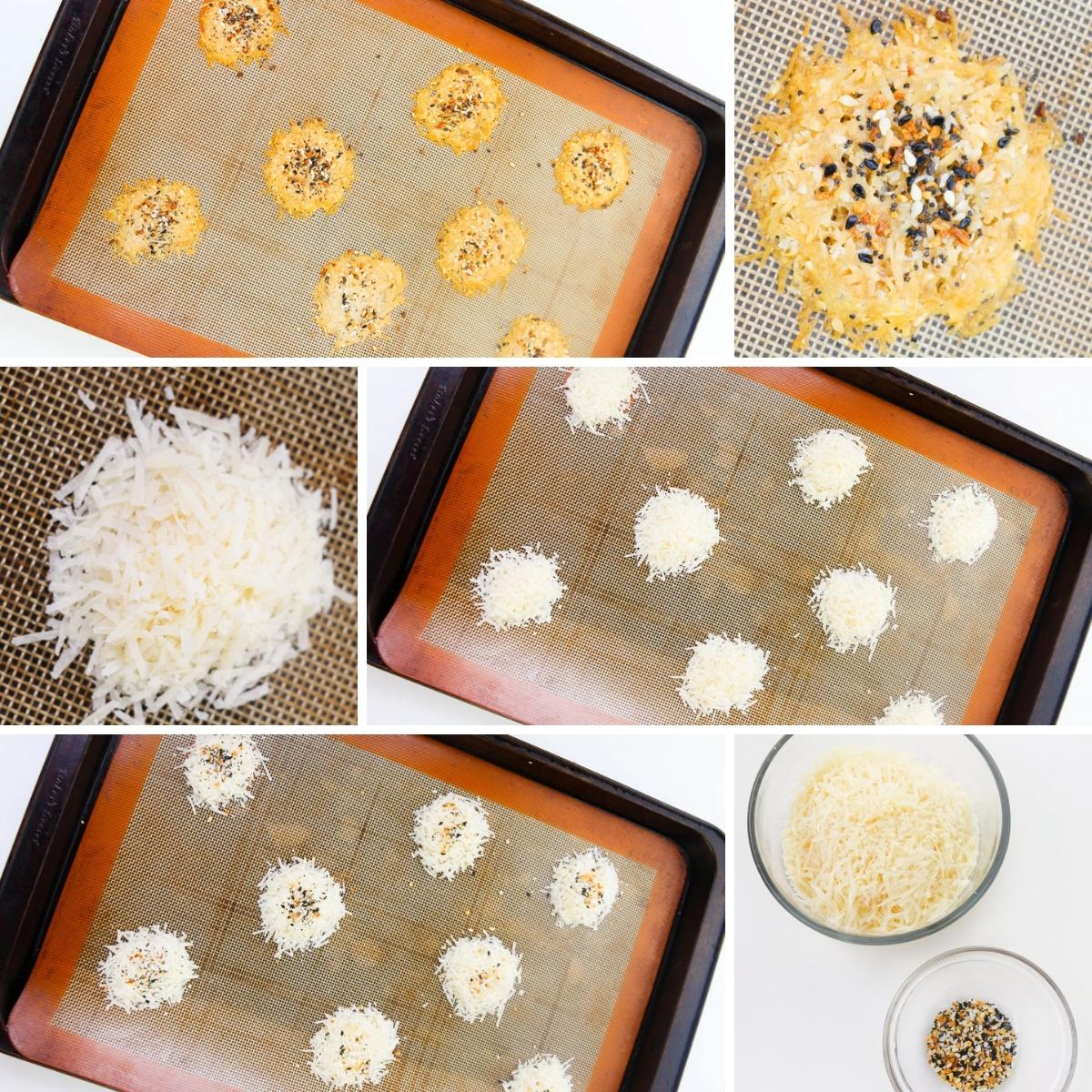 Preheat oven and line baking sheet.
Create piles of parmesan cheese on baking sheet.
Sprinkle with the EBTB seasoning.
Bake as directed.
Remove and allow to cool, then enjoy!
Full directions for how to make Easy Keto Cheese Crisps are in the printable recipe card at the bottom of the post.
How to Make Cheese Crisps in the Microwave
Place a pile of cheese between two pieces of parchment paper on a microwave-safe plate.
Add seasonings on top of the cheese piles.
Microwave cheese for 2 minutes, then let it sit in the microwave for a minute.
Remove cheese from the microwave and allow to cool to create crisps.
Tips & Tricks for Wasy Keto Cheese Crisps
Prep the Pan
It's very important that you prep your pan. Having some kind of liner in your pan will help you remove the cheese crisps without breaking. Parchment paper or a baking mat used as a liner for this recipe is a must.
Grate Your Own Cheese
Using bagged, pre-shredded cheese will leave you with an oily mess. For this recipe, it's best to grate your cheese fresh off the block. Some bagged cheeses will not work for this recipe, so it's best to just avoid bagged cheeses altogether in this case.
Cook Time
Depending on how much or little cheese you use, just know the cook time will vary a bit. Remove your crisps from the oven when they are golden on the edges, flat, and have a nice crispy look to them.
Variations to Easy Keto Cheese Crisps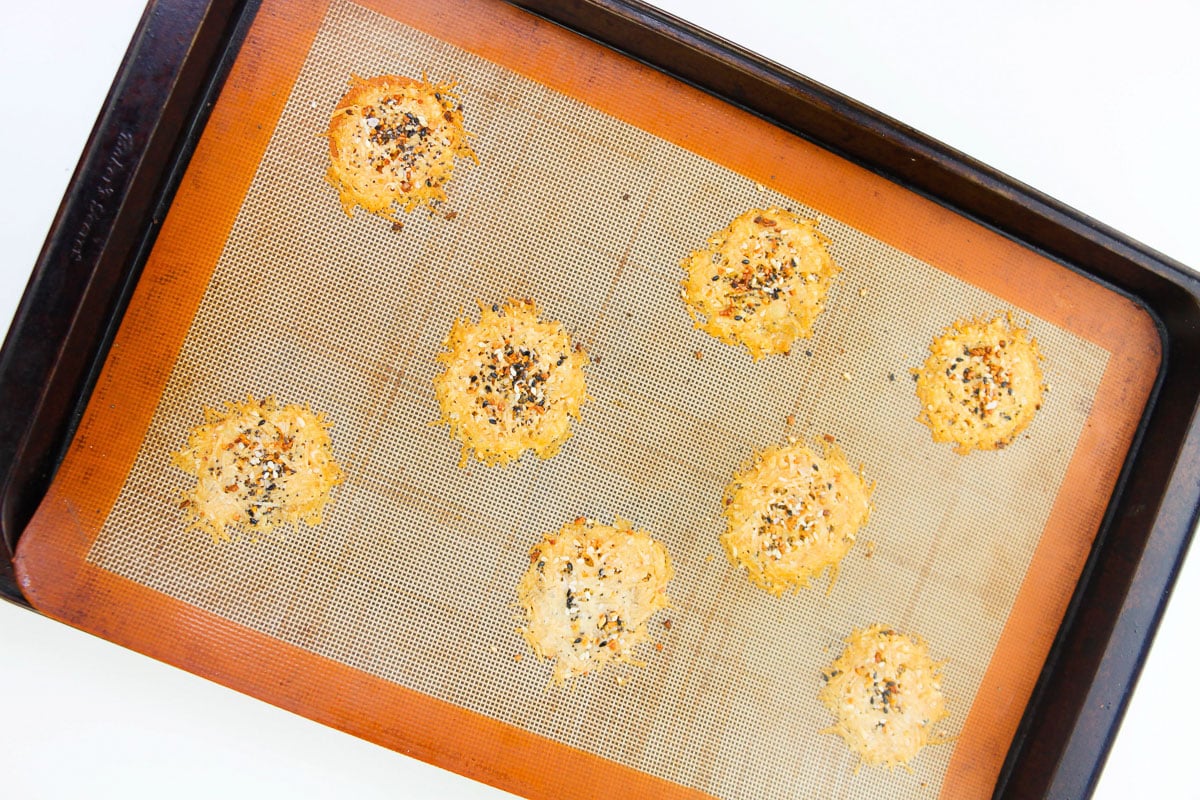 Any Cheese
You can use any flavor of cheese you want for these cheese crisps. Parmesan and cheddar are the two most popular to use. However, pretty much any cheese variety will work.
Seasonings
You can eat these crisps plain or add on any spices you want. Garlic, parmesan, Creole for a Cajun kick, salt, and pepper—you have endless ways to flavor your crisps!
Easy Keto Cheese Crisp FAQs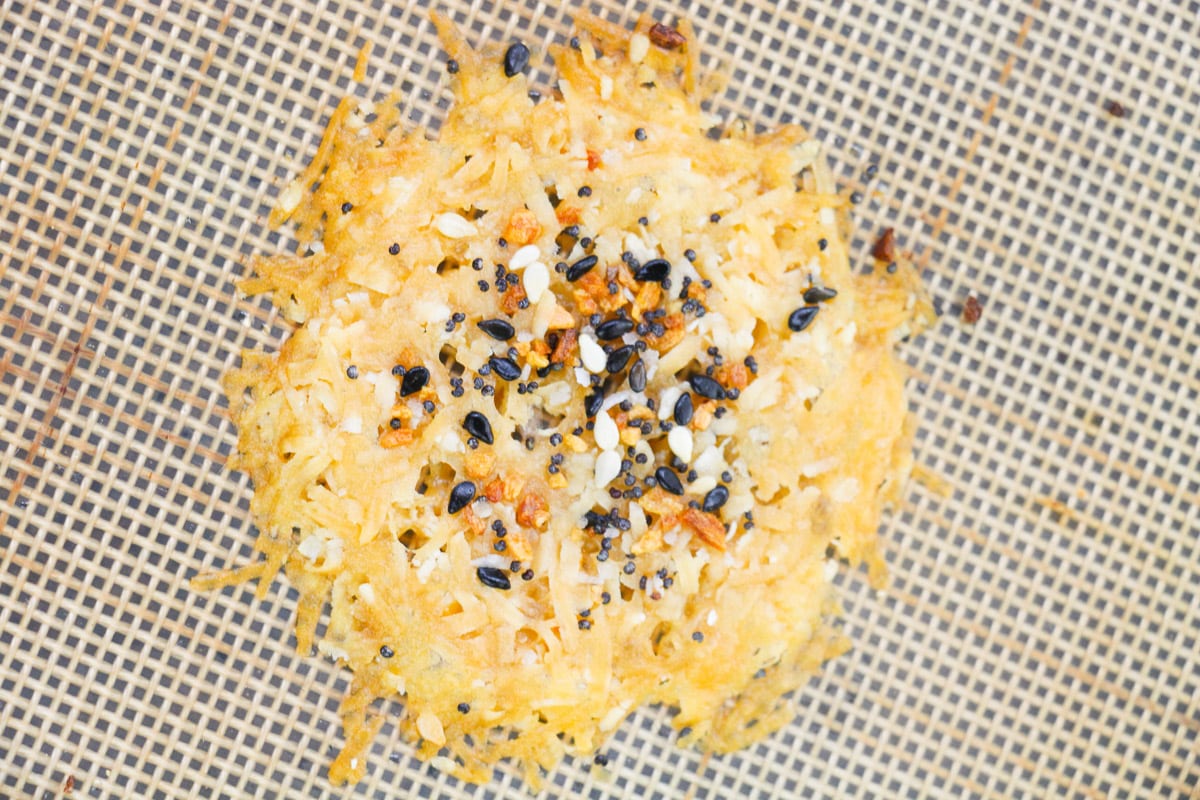 Do cheese crisps store well?
Since there aren't preservatives in these homemade crisps, you will find that they lose a bit of texture if placed in the fridge after they are cooked. When refridgerated, the crisp will kind of sog up. I tend to make these crisps right when we plan on eating them.
Why are my cheese crisps not crispy?
Baking your cheese crisps long enough is key. The other important factor is letting the crisps cool. Otherwise they will be soft instead of crispy. If your crisps don't turn out right, then one or both of the factors above might have been missed.
Are cheese crisps healthy?
These cheese crisps are a healthier alternative to chips, crackers, etc. You can even get some calcium and nutrients from the cheese! Just be careful about using too much salt or salted seasonings that will up the sodium levels. These cheese crisps are a keto and low-carb snack option.
Recipe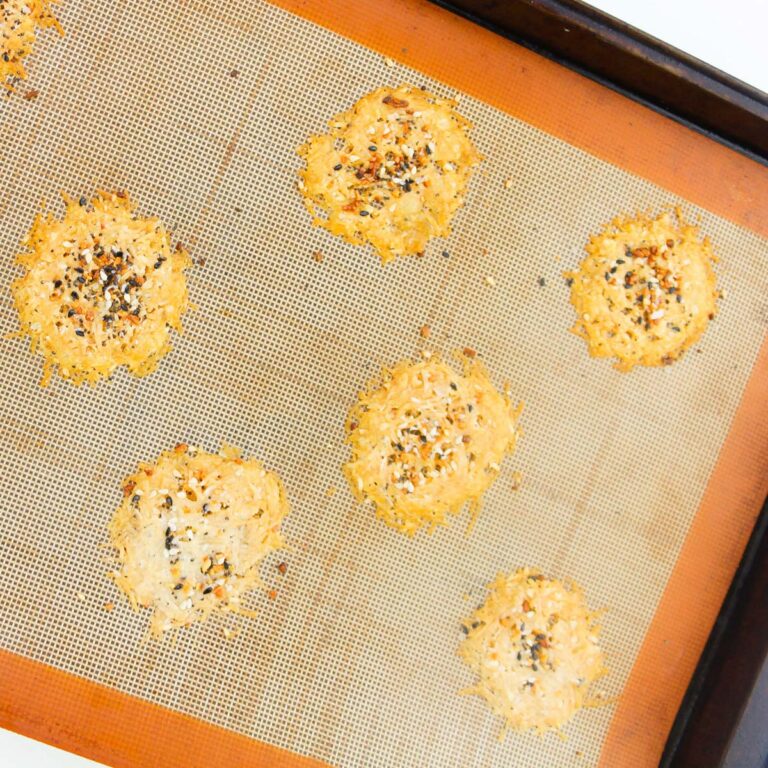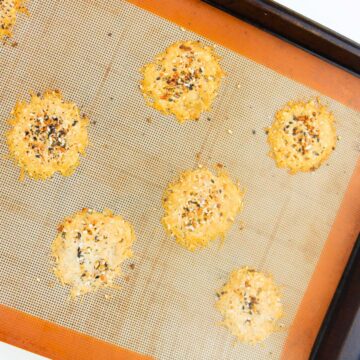 Easy Keto Cheese Crisps
Looking for that perfect crunchy snack to satisfy your cravings? Easy Keto Cheese Crisps have easily become my go-to snack lately.
Ingredients
2

cups

parmesan cheese

shredded

2

tbsp

everything-but-the-bagel seasoning

or your own favorite spices; optional
Instructions
Line two baking sheets with parchment paper or use silicone baking mats.

Arrange the parmesan cheese into little piles on the baking sheet and spread 2–3" apart. Each should be approximately 2 tbsp of cheese.

Sprinkle the everything-but-the-bagel seasoning onto each Parmesan cheese mound. This is optional—these crisps are also delicious plain or with just a little black pepper!

Bake for 6–8 minutes until the cheese crisps are flat, crispy, and golden on the edges.

Remove crisps from the oven and allow to cool before removing from the baking sheet. They will continue to crisp up for a few minutes after removing them from the oven.
Notes
This recipe was created using real Parmesan cheese that we shredded. The grated Parmesan that you buy in the the shaker cans will not work for making cheese crisps. Some pre-shedded cheeses are mixed with anti-caking ingredients to keep them from sticking together, which means they may not melt well—so fresh is always best.
These cheese crisps can be made with other varieties of cheese as well. Cheddar is another favorite of mine!
Nutrition
Calories:
54
kcal
Carbohydrates:
2
g
Protein:
5
g
Fat:
3
g
Saturated Fat:
2
g
Polyunsaturated Fat:
1
g
Monounsaturated Fat:
1
g
Cholesterol:
9
mg
Sodium:
201
mg
Potassium:
35
mg
Fiber:
1
g
Sugar:
1
g
Vitamin A:
129
IU
Vitamin C:
1
mg
Calcium:
178
mg
Iron:
1
mg