Mayo Parmesan Chicken takes minutes to prep and then toss in the oven to bake. Chicken covered in mayonnaise, Parmesan cheese, and more all topped with breadcrumbs.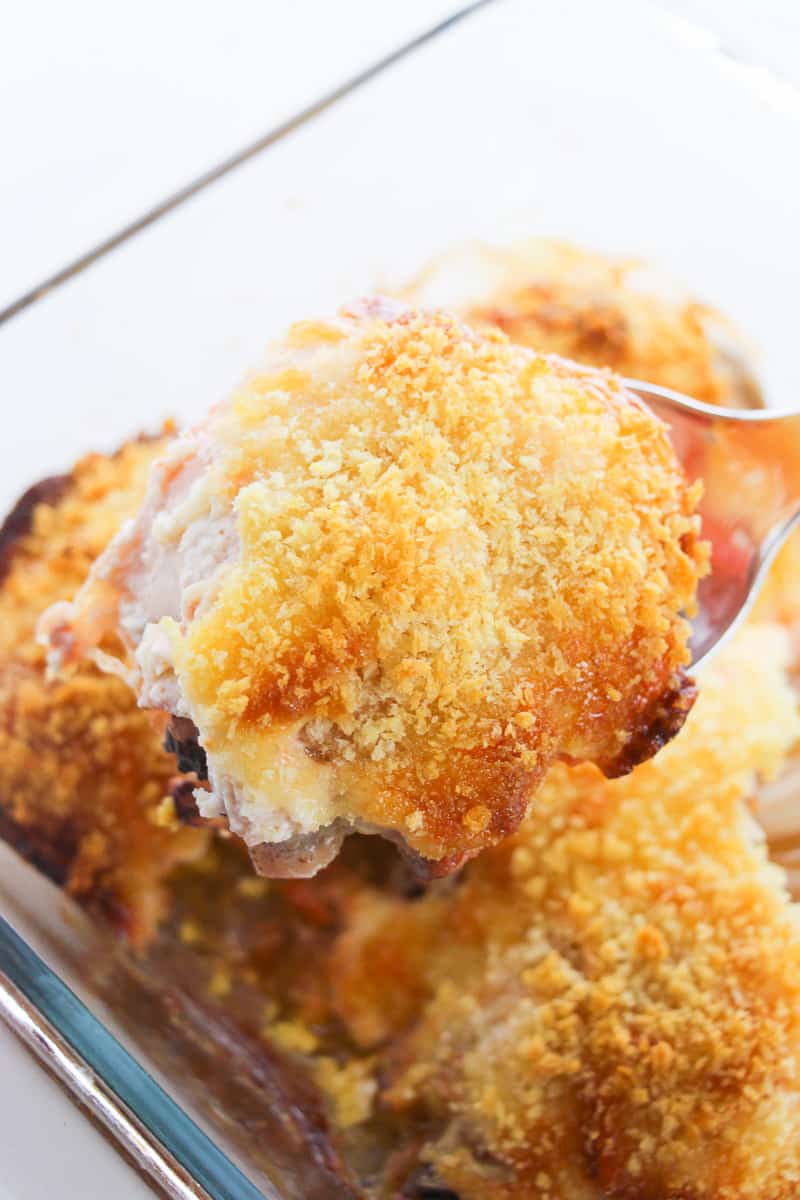 This is one of my favorite easy meal ideas. You don't need much to make the chicken, and you can tackle other things while the chicken bakes.
Make sure to check out this marinated chicken breast, or Dorito Chicken Casserome!
This Mayo Parmesan Chicken Is…
Oven baked
Juicy and flavorful
Easy prep
Kid friendly
Budget Friendly
How to Make Mayo Parmesan Chicken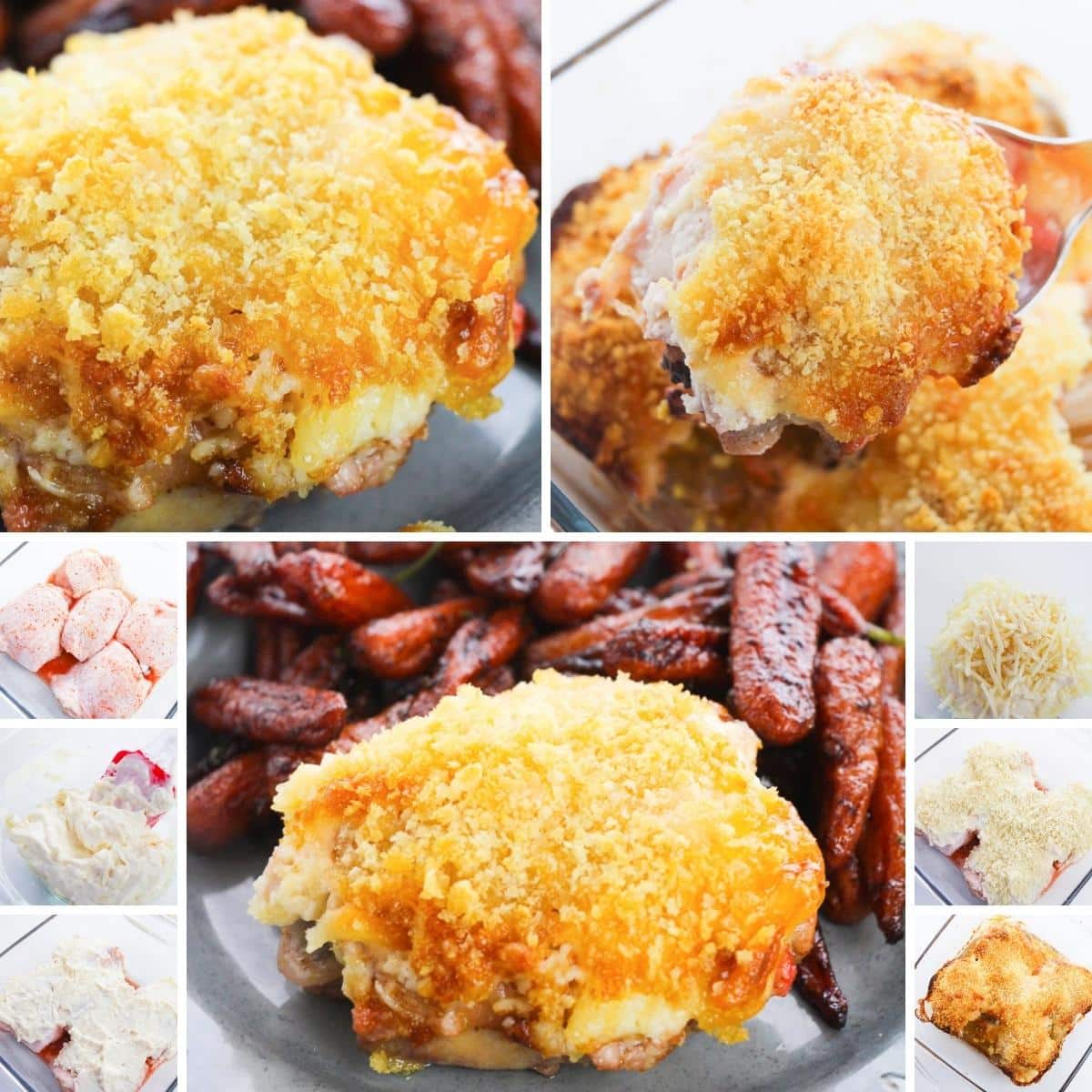 Full steps on how to make this Parmesan chicken. The full measurements and guys are at the bottom of the post.
Preheat the oven and grease a baking dish and set aside.
Next you will place the chicken thighs and hot sauce in the pan.
Mix up the Mayo sauce with spices and spread over chicken.
Top with breadcrumbs and bake.
Once chicken is done let rest 5 minutes then serve it up.
Helpful Tips for Parmesan Chicken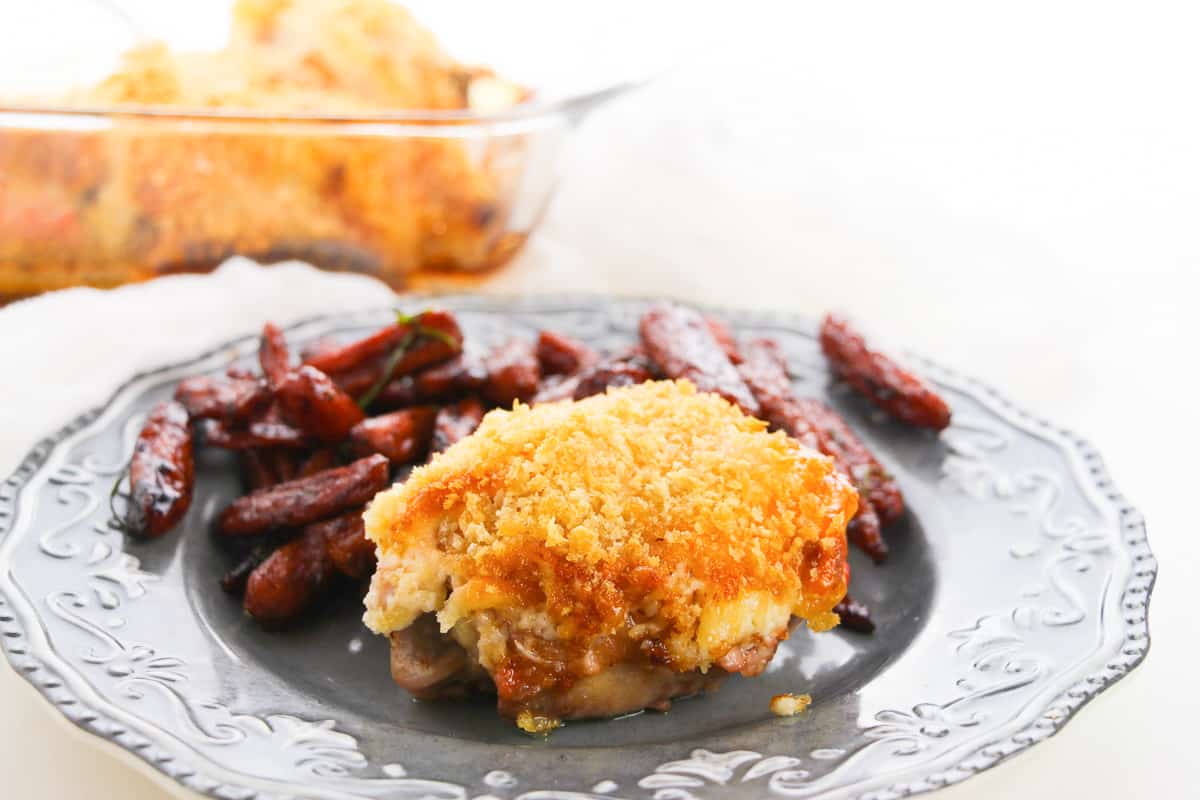 Thickness of Chicken
If your chicken is pretty thick you can always place it between two layers of plastic wrap and pound on it to thin it out a bit. This will help for a quicker cook.
Meat Thermometer
I do recommend investing in a meat thermometer to check the internal temperature of your meat. You want the internal temperature to be 165 degrees F for fully cooked chicken. Make sure to not touch the bone or it will give a higher reading.
Variations to Mayo Chicken Recipe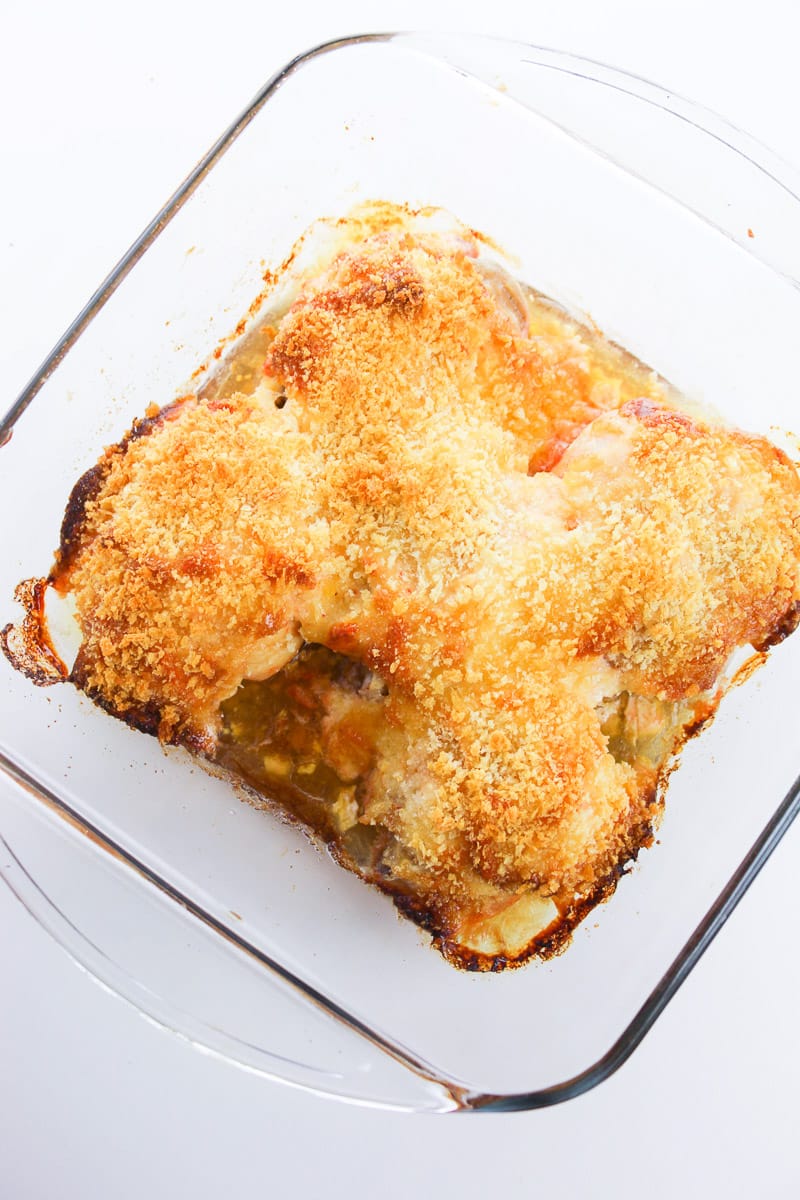 Pork Rind Topping
Instead of a keto bread crumb made with keto bread you can also buy pork rinds. You can crush pork rinds up or buy them pre-crushed.
No Topping
Skip the bread crumb topping and just do the mayonnaise and parmesan cheese mixture. It will still bake up nicely and create a golden brown color.
Seasoning
Feel free to season your chicken as you would like with your favorite seasonings. Or just do a simple salt, pepper, and garlic powder.
Mayo Parmesan Chicken FAQs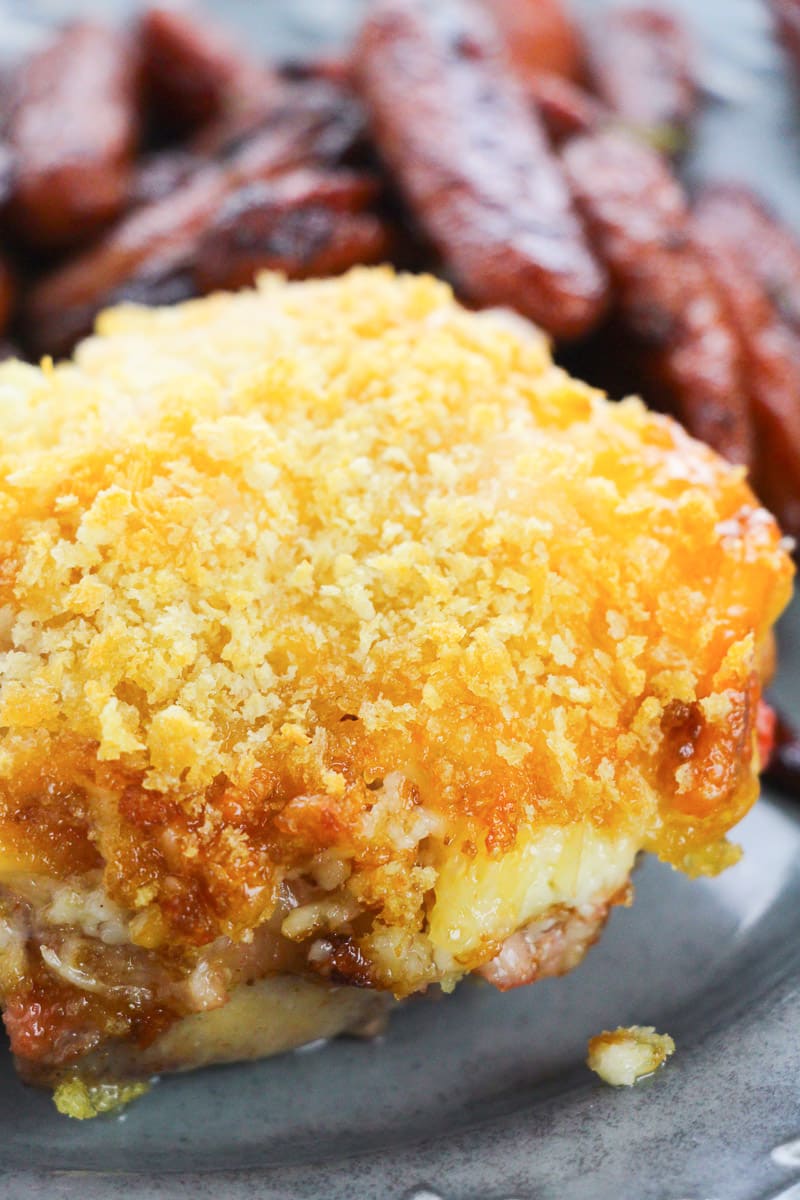 How to store leftover chicken?
You will want to store any chicken you don't eat in an airtight container for 2-3 days. Just reheat in the microwave for a quick heat. Or opt to warm it up in the oven. If you do warm in the oven, cover with foil to prevent the chicken from drying out.
Can I use bone-in chicken?
You can use bone-in chicken or boneless chicken for this recipe. The biggest thing is to cook according to the chicken. Make sure it gets fully cooked.
Can you use mayo as a binder for chicken?
So the mayo can create a binder or barrier for the chicken. The mayo creates a layer over the chicken to help keep your chicken juicy.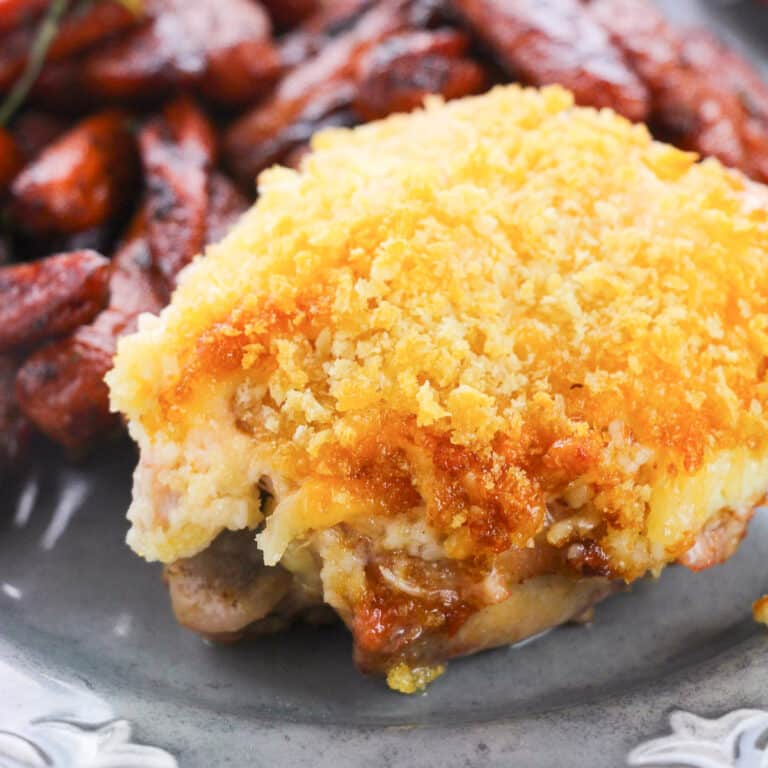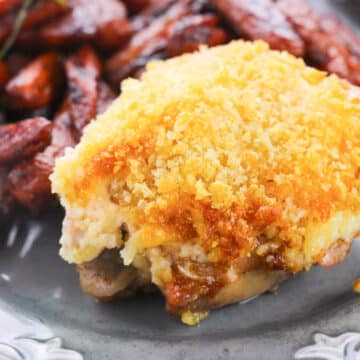 Mayo Parmesan Chicken
This Mayo Parmesan Chicken makes for a quick and easy weeknight dinner that the whole family will love! Tender chicken thighs are tossed in a creamy, cheesy sauce and topped with crunchy breadcrumbs. Yum!
Instructions
Preheat oven to 425F

Place the chicken thighs in a 8" x 8" casserole dish and cover with the hot sauce. Set aside.

In a small bowl, mix together the mayonnaise, Parmesan and garlic powder.

Spread the mayonnaise mixture over the chicken

Then top with the breadcrumbs.

Bake for 20-25 minutes, or until an inserted meat thermometer reads 165F. The top should be golden brown.
Nutrition
Calories:
117
kcal
Carbohydrates:
7
g
Protein:
3
g
Fat:
8
g
Saturated Fat:
2
g
Polyunsaturated Fat:
4
g
Monounsaturated Fat:
2
g
Trans Fat:
1
g
Cholesterol:
10
mg
Sodium:
766
mg
Potassium:
57
mg
Fiber:
1
g
Sugar:
2
g
Vitamin A:
93
IU
Vitamin C:
11
mg
Calcium:
87
mg
Iron:
1
mg