Easy Pork Chops in a Snap
You'll love this easy pork chops recipe. It is ideal for a light dinner during the warmer weather months when you can easily grill outdoors. However, you can also make this recipe any time of the year grilling right on your stove top.
Meat lover?
You might also enjoy our Grilled Ribs, Grilled Chicken Halves, and Stuffed Pork Chops recipes. They are AMAZE.ing.
Get ready for summer sun and grilling with delicious savory dishes like these.
Don't forget about finding some unique salad recipes to pair up with all your meat entrees. You have to get your veggies somehow!
Here are some more ways to get your veggies:
We like our pork chops paired up with a salsa that has just a little bit of heat. You can use a jarred salsa or you can make a fun peach salsa from scratch.
No  matter the occasion, this simple pork chop recipe is perfect for either a comfortable dinner at home or a night grilling out with friends. It would even be ideal for a more elegant dinner.

It's always a great idea to have a good protein source included in a meal. Pork chops fulfill that requirement in a lean meat option that works great for a lower-fat option that you won't want to miss.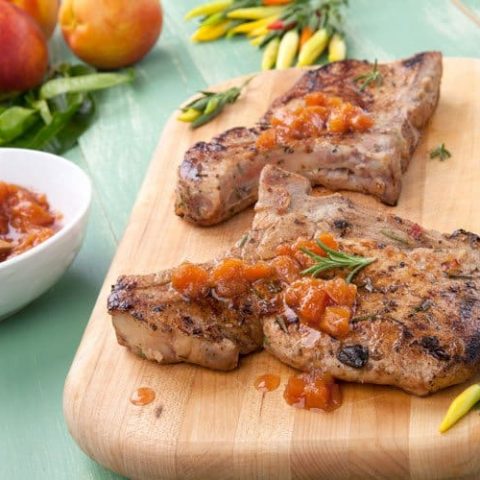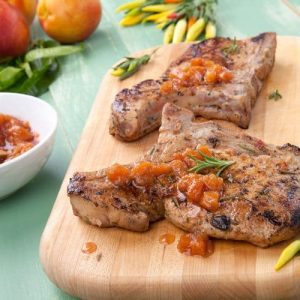 Easy Pork Chops Recipe
Instructions
Place the cumin and chili powder together in a small bowl and whisk to combine.

Rub the pork chops with the mixture on both sides.

Place the canola oil into a large skillet over medium heat and allow it to heat up.

Place the pork chops into the hot oil and brown 4 minutes.

Turn and continue browning 3 minutes.

Place the salsa, cocoa and cinnamon into another small bowl and whisk to combine.

Pour over the chops in the skillet and bring the mixture to a brisk boil.

Reduce the heat to low and cook 10 minutes or until the meat is fork tender.

Be sure to turn the chops once and stir the mixture a couple of times during cooking.

Remove the chops to a serving plate and sprinkle the cilantro and green onion over the tops.