This Homemade Pancakes Recipe Made from Scratch Rocks
We don't go to IHOP very often, but when we do, I love to order Strawberry Cheesecake Pancakes.  And why wouldn't I? I mean, the taste alone is brilliant, but when you look at all those strawberries and know that there are little bites of cheesecake just waiting to be had--well, that is entirely reason enough to indulge.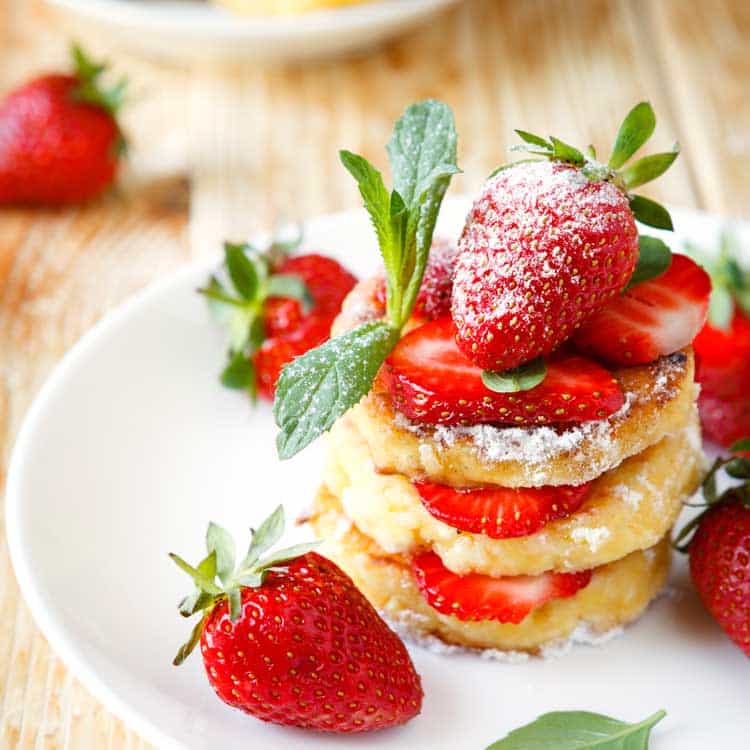 Don't get me started on how much we love pancakes around here.
We've certainly made enough of them.
Like our Pumpkin Pancakes, Carrot Pancakes and even our Ready-to-Make Pancake Mix so we can make pancakes on the fly any old time we want to.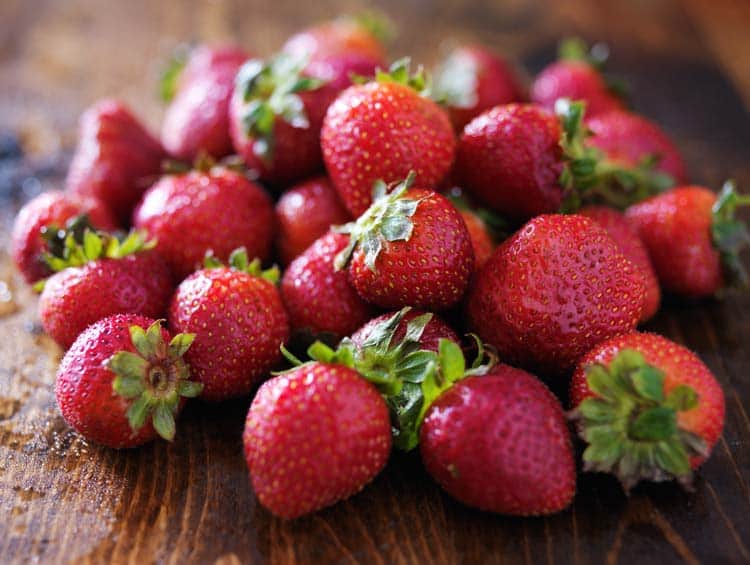 Strawberry Pancakes Your Family Will Love
Your family will adore you when you serve up these fantastic strawberry cheesecake pancakes.  And don't forget that you'll be saving money making them at home from scratch instead of spending 9 dollars a plate at IHOP.
So, go to the store to make sure you have the freshest ingredients.
Or, if you have strawberry plants at home, just go out and pick fresh berries. Trust me--your berries will taste so much fresher and sweeter than you'd get at a restaurant.
You'll probably end up wanting to have an entire bowl full of berries.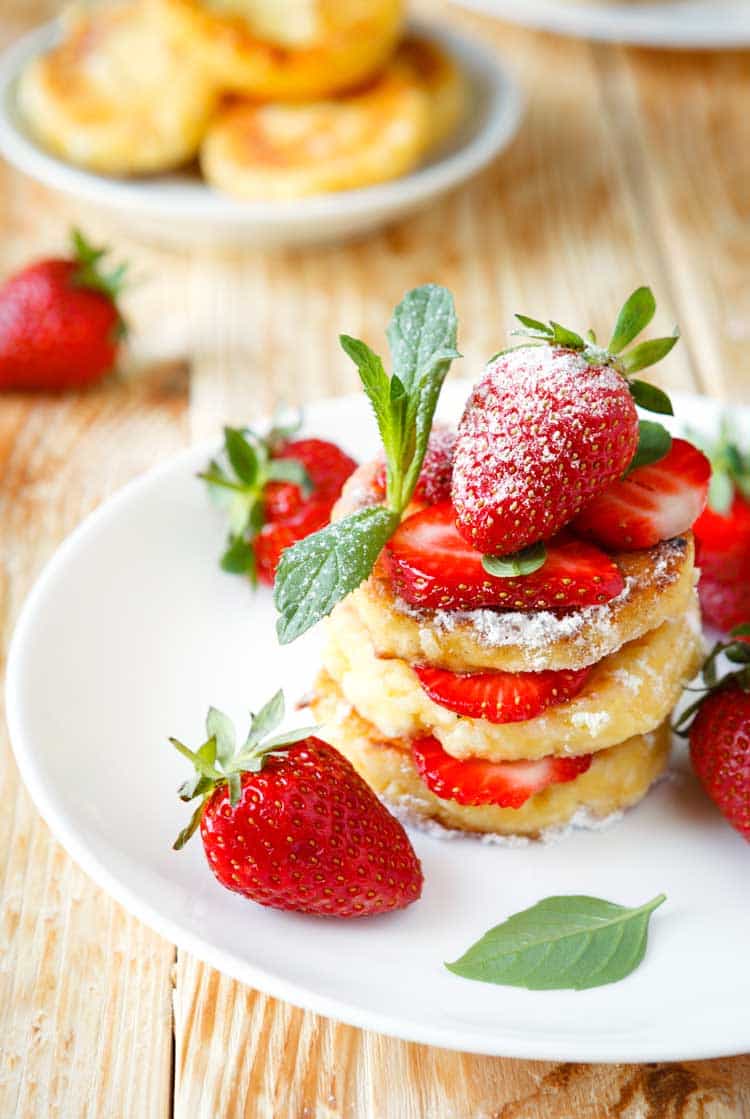 Make IHOP Recipes at Home
So, you could probably live without making these delicious pancakes--but why would you want to? Personally, I think I could have these pancakes every day for the rest of my life and be okay.
In fact, I'd probably be GREAT!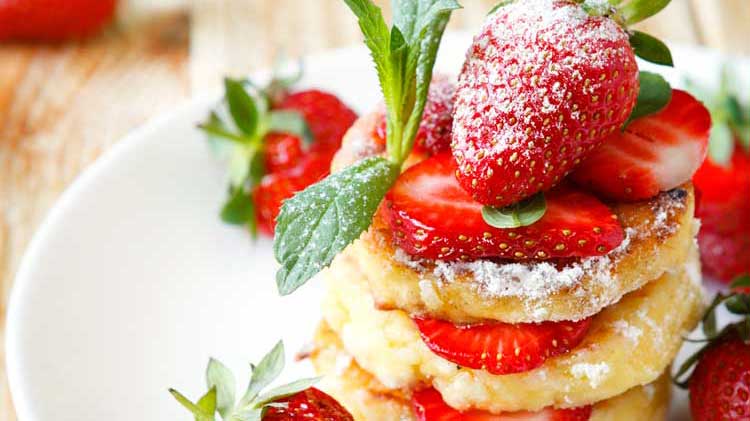 Pancake Recipe Scratch
Making pancakes from scratch is easy to do.  You really only need a bowl to stir the ingredients together in...no need to use a mixer for this easy breakfast favorite.
However, I do find it helpful to use a batter dispenser to make my pancakes evenly sized and avoid splattering batter across my electric skillet.
Because, if I don't use it--well, I tend to make a mess.
Get more amazing copycat recipes here or buy restaurant gift cards online and go out to enjoy your favorite restaurant meals.
They also make perfect gift ideas! And you can get free shipping with Amazon Prime free 30 day trial.

Take a bite out of these delicious pancakes and savor the amazing flavor!
They are SO SO good.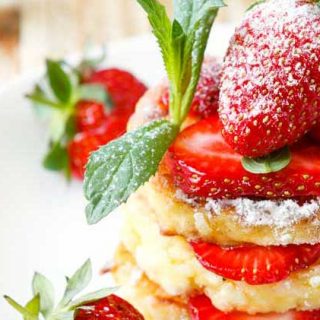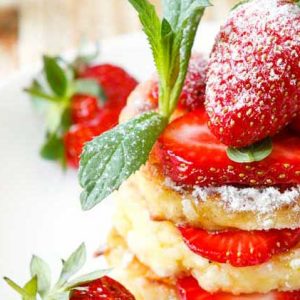 Copycat IHOP Cheesecake Pancakes
The best recipes for breakfast are Pancake Recipe Scratch recipes. Like these copycat IHOP Cheesecake Pancakes, which are amazing and easy to make.
Instructions
In a bowl; mix the strawberries, jam and 2 tablespoons warm water. Once mixed,set aside.

Preheat the oven to 200 degrees Fahrenheit.

Using a blender, pulse the flour, buttermilk, egg, vegetable oil, granulated sugar, baking powder, baking soda and salt until smooth. Transfer to a bowl. Gently stir in the cheesecake pieces, keeping them whole.

Use the cooking spray to coat a large nonstick skillet or griddle. Heat it up over medium heat.

Pour about ¼ cup batter into the skillet for each pancake, working in batches.

Cook about 4 minutes or until bubbly on top, then flip and cook about 2 more minutes or until the other side is golden brown.

Transfer the finished pancakes to a baking sheet and keep warm in the pre-heated oven.

Serve the pancakes topped with the strawberry sauce and top with whipped cream.
Nutrition
Calories:
244
kcal
Carbohydrates:
31
g
Protein:
5
g
Fat:
11
g
Saturated Fat:
7
g
Cholesterol:
39
mg
Sodium:
242
mg
Potassium:
80
mg
Fiber:
1
g
Sugar:
16
g
Vitamin A:
199
IU
Vitamin C:
11
mg
Calcium:
83
mg
Iron:
1
mg
Save
Save