Serve up this savory ham and cheese frittata for lunch, dinner or even brunch. Diced ham, eggs, and a handful of spices and herbs come together to create this sliceable frittata that is bursting with flavor and protein to fuel you.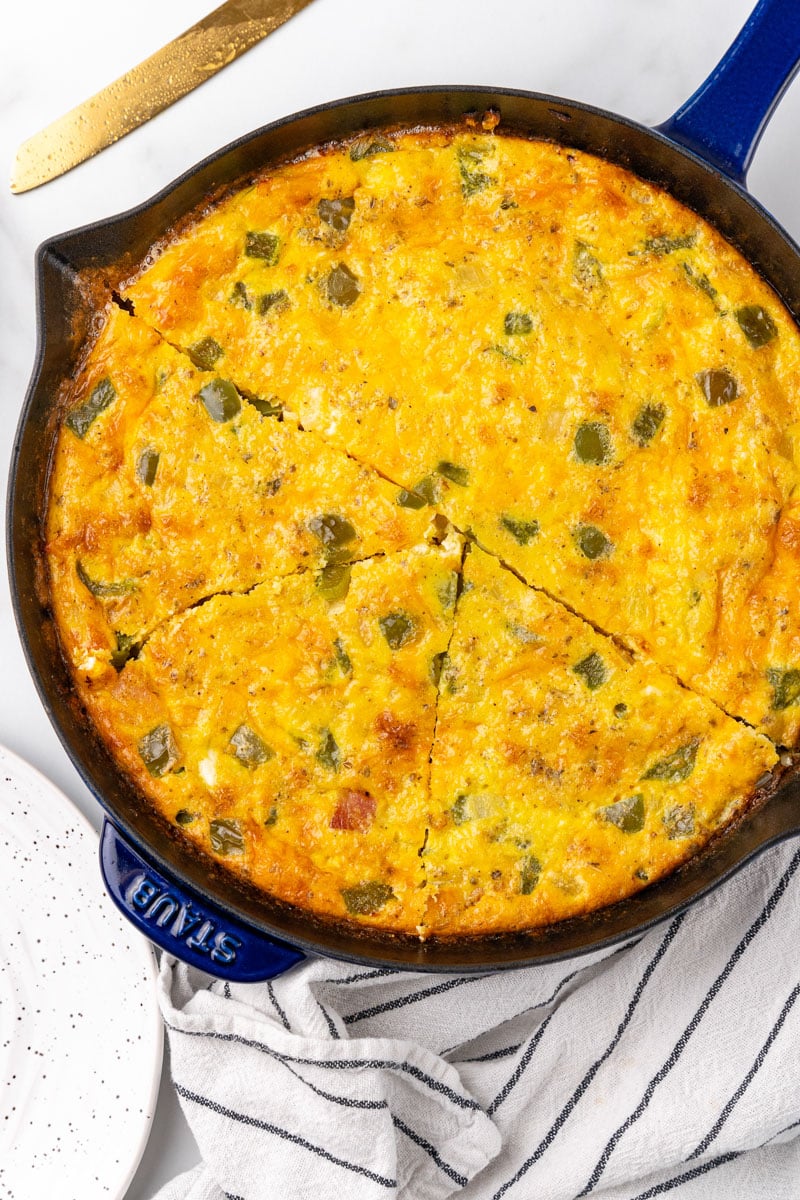 If you have never had a frittata it is an Italian-style egg dish that's similar to an omelet or a quiche. It's made by whisking together eggs with various ingredients like vegetables, meats, cheeses, and herbs, then cooking the mixture in a skillet on the stovetop or in the oven.
This ham and cheese frittata recipe is...
Made with simple ingredients you might already have on hand.
Bakes in the oven for a hands off cooking approach.
Fluffy and bursting with rich flavors.
Reheats well for an easy breakfast option the next morning.
How to Make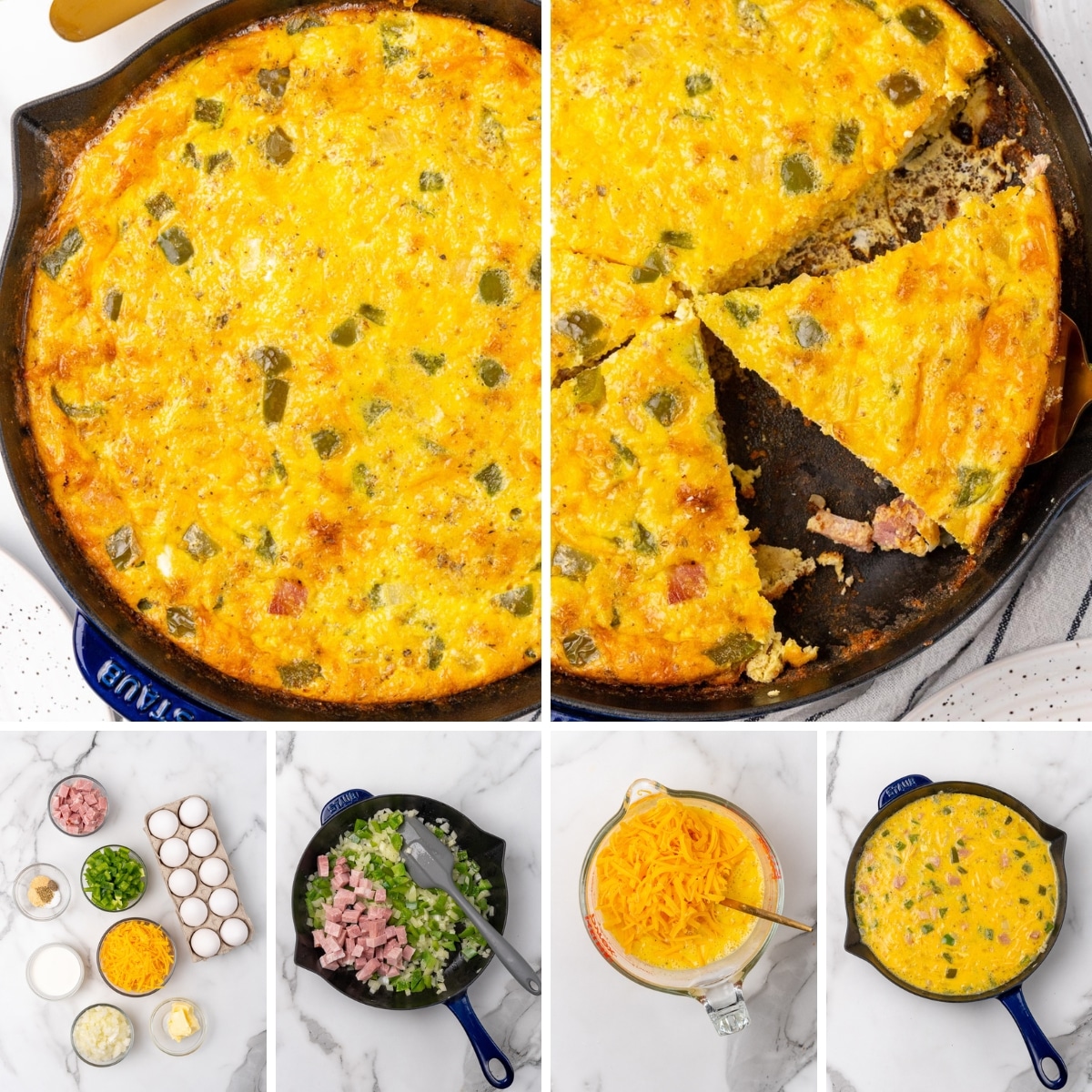 Full steps on how to make this frittata are in the printable recipe card. This is a quick walk through on how the ham frittata was made.
Preheat your oven to 400 degrees Fahrenheit.
In a large mixing bowl, whisk together the eggs, milk, garlic powder, onion powder, oregano, salt, and pepper until the mixture is smooth. Stir in the cheese and set the bowl aside.
Melt the butter in an 8-inch skillet over medium heat. Add the onion and pepper to the skillet and cook for 4-5 minutes, until the onion becomes translucent.
Add the ham to the skillet and cook for an additional 2-3 minutes.
Pour the egg mixture into the skillet and gently stir a few times to distribute the ingredients evenly.
Transfer the skillet to the preheated oven and cook for 20 minutes or until the center is firm.
Allow the frittata to cool for 10 minutes before slicing and serving. Enjoy!
Helpful Tips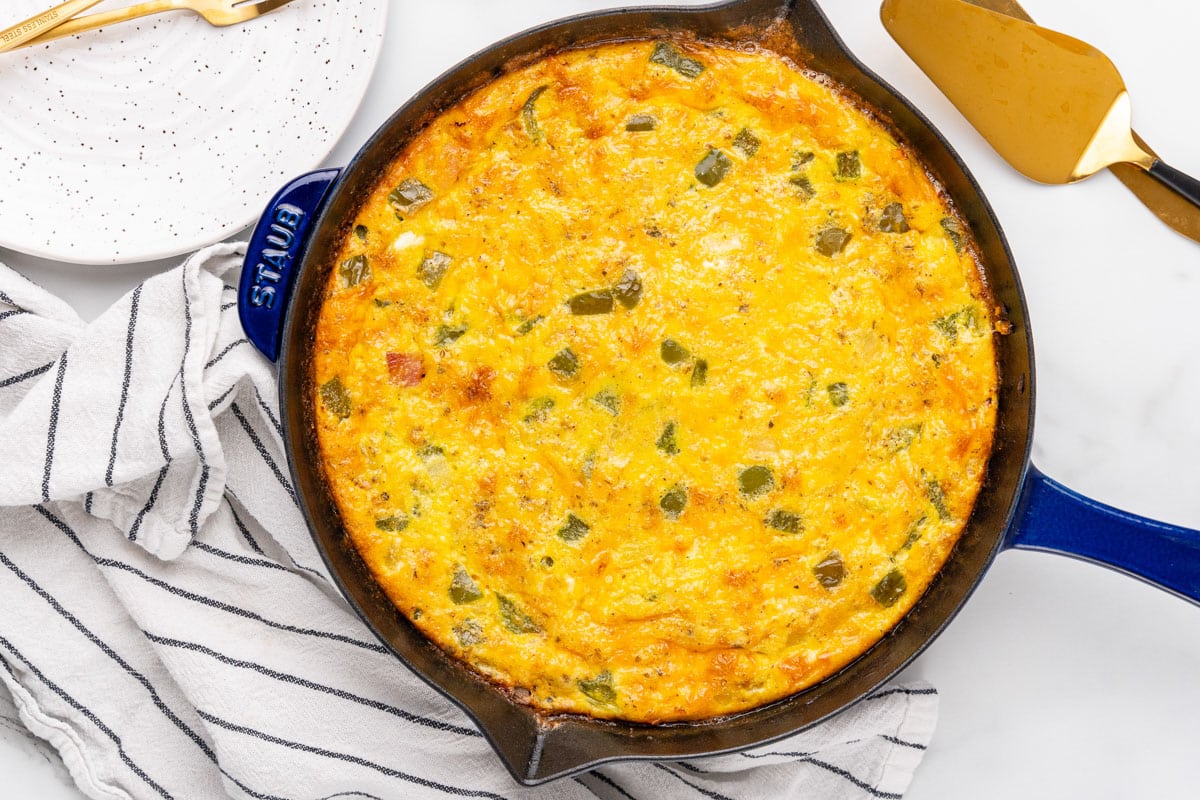 Whisk or Fork
It's important to whisk the eggs well to ensure a light and fluffy texture. Use a fork or a whisk and beat the eggs vigorously until they're smooth and frothy.
Non-Stick Skillet
To prevent the frittata from sticking to the skillet, use a non-stick skillet that's oven-safe. A cast-iron skillet is a great option, as it distributes heat evenly. You will find less quality pans can create hot spots and you will get an uneven cook on your egg dish.
Allow Frittata to Rest
Let it rest before slicing. Once the frittata is fully cooked, allow it to cool for a few minutes before slicing. This will help it to hold its shape and make it easier to cut.
Variations to Recipe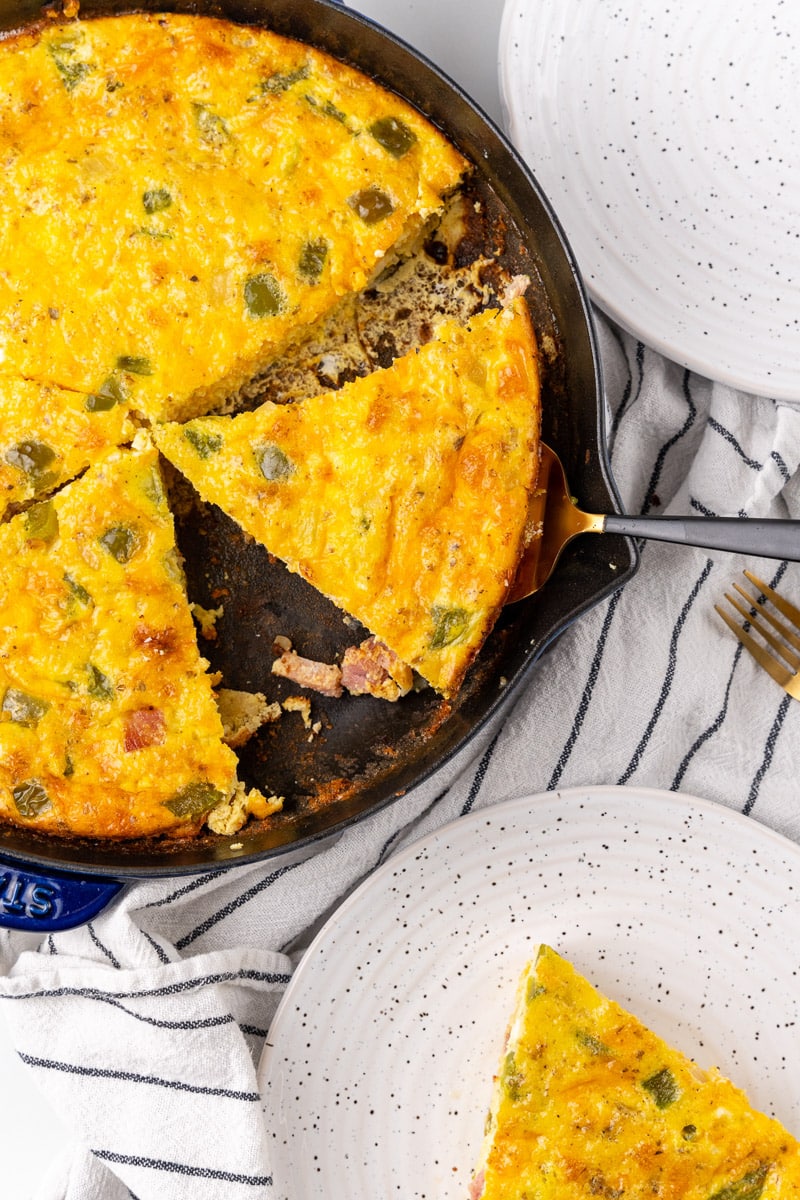 Vegetarian
Skip the ham and add your favorite vegetables, such as spinach, mushrooms, roasted red peppers, or zucchini.
Mediterranean
Add some Mediterranean flavors with feta cheese, sundried tomatoes, and olives. Modify the recipe as you wish to create new flavors for your dish.
Bacon
Substitute bacon for ham. Just make sure to pre-cook the bacon and then break it up into bite size pieces so it is easier to eat within the frittata.
Cheese
I used a cheddar cheese but swap with a Swiss, pepper jack, or even a blend of cheese. It can alter the flavor a bit and give you great flavor to pair with the ham.
Common Questions for Ham and Egg Frittata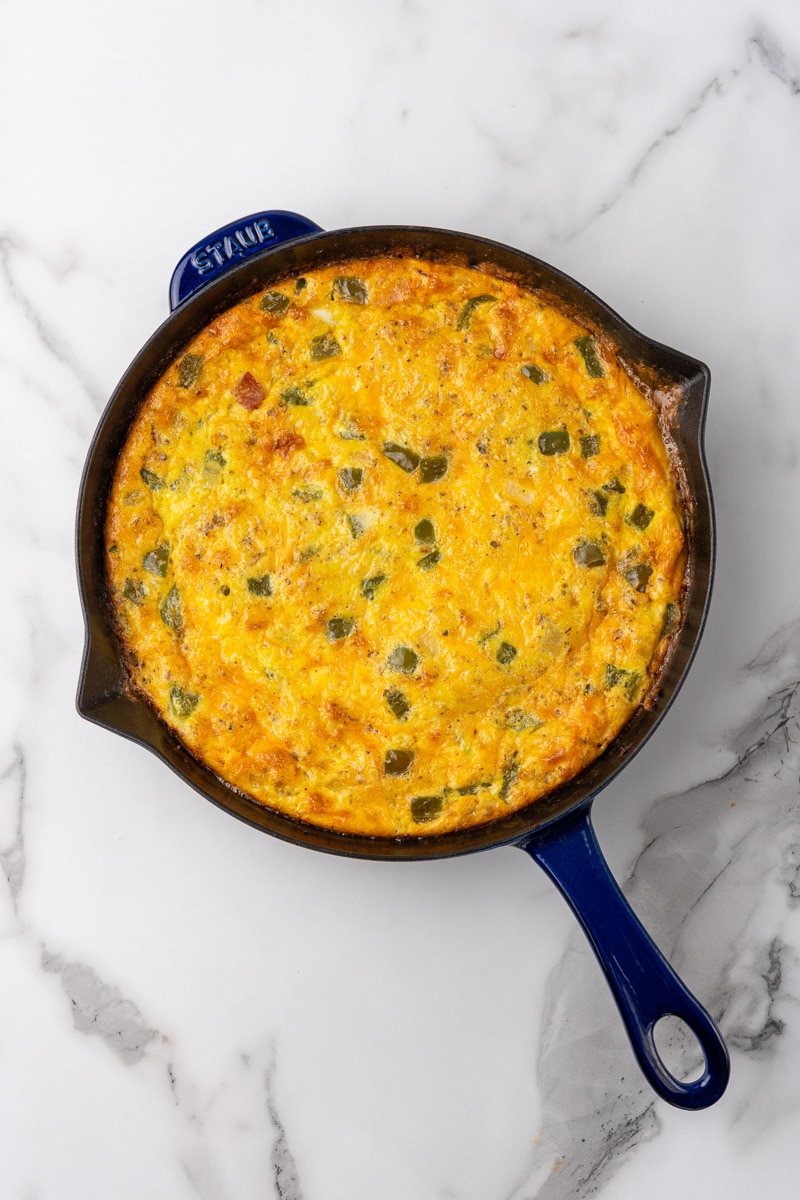 Can I make a frittata ahead of time?
Yes, you can make a frittata ahead of time and reheat it in the oven or microwave before serving. However, keep in mind that the texture may change slightly and the frittata may become denser.
Do I need to pre-cook the vegetables before adding them to the frittata?
It's a good idea to pre-cook the vegetables before adding them to the frittata, especially if they release moisture when cooking, such as mushrooms or zucchini. This will prevent the frittata from becoming watery.
How to store leftovers?
A cooked frittata can be stored in the refrigerator for up to 4 days. To reheat the frittata, remove it from the refrigerator and unwrap the portion you wish to heat. Reheat it in a microwave, oven, or on the stovetop until heated through.
Can you freeze leftover frittata?
Yes. Place the wrapped portions in an airtight container or resealable plastic bag. Label the container with the date and freeze for up to 2 months.
When you're ready to eat the frozen frittata, remove it from the freezer and let it thaw in the refrigerator overnight. To reheat the frittata, place it on a baking sheet and heat in a 350 degree Fahrenheit oven for 15-20 minutes, or until heated through.
Recipe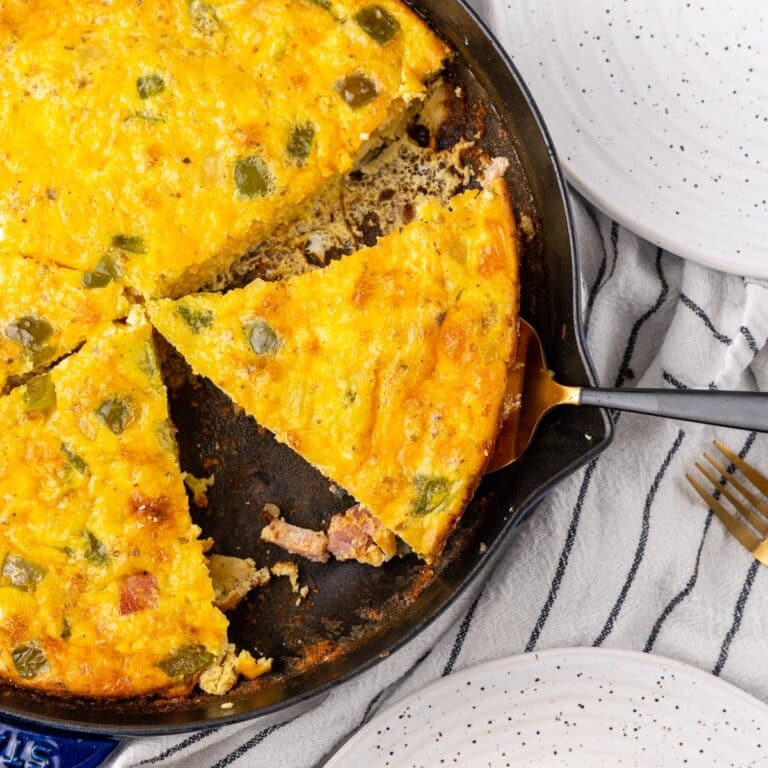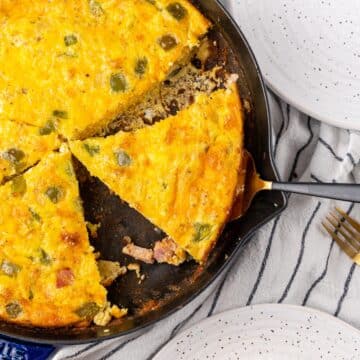 Ham and Cheese Frittata
This savory ham and cheese frittata is bursting with rich flavors of diced ham, eggs, and spices and herbs. Great for lunch, dinner or even brunch.
Ingredients
10

large eggs

¼

cup

milk

½

teaspoon

garlic powder

½

teaspoon

onion powder

½

teaspoon

oregano

½

teaspoon

salt

¼

teaspoon

pepper

1 ½

cups

shredded cheddar cheese

2

tablespoons

butter

1

small onion

diced

1

green bell pepper

diced

1

cup

diced ham
Instructions
Preheat oven to 400 F

In a large bowl, whisk the eggs, milk, garlic powder, onion powder, oregano, salt and pepper until smooth, then stir in the cheese and set aside

Melt the butter in an 8" skillet over medium heat, add the onion and pepper and cook 4-5 minutes, until the onion is translucent

Add the ham and cook an additional 2-3 minutes

Pour the egg into the skillet and gently stir a few times

Transfer teh skillet to the preheated oven and cook for 20 minutes, or until the center is no longer jiggly

Allow to cool for 10 minutes before slicing and serving
Nutrition
Calories:
263
kcal
Carbohydrates:
5
g
Protein:
20
g
Fat:
18
g
Saturated Fat:
8
g
Polyunsaturated Fat:
2
g
Monounsaturated Fat:
5
g
Trans Fat:
0.03
g
Cholesterol:
313
mg
Sodium:
741
mg
Potassium:
214
mg
Fiber:
1
g
Sugar:
3
g
Vitamin A:
781
IU
Vitamin C:
17
mg
Calcium:
269
mg
Iron:
2
mg