Baked pork chops recipes are healthy and delicious. Not only that, but they can often be 30 minute meals that keep you from spending too much time in the kitchen after a long day.
Are you ready to make baked pork chops? You're going to LOVE these easy baked thin pork chops with a tasty balsamic reduction sauce that is insanely delicious.
The trick for making the best balsamic reduction sauce is to use a high quality balsamic vinegar. You won't find it at a basic grocery store. I've linked to my favorite balsamic vinegar in the recipe card below, and trust me... it is SO delicious.
On that note, if you ever have a chance to go to a vinegar tasting-- do it! We tasted some amazing balsamic vinegar last summer when we were traveling in Europe and there is such a wide range of quality in balsamic vinegar.
Healthy Pork Chops
When contemplating how to make baked pork chops, it is important to consider the entire ingredient list and not just the meat.
Baked thin pork chops by themselves are a healthy ingredient. When you add in vegetables and fruit, you can be sure that a healthy 30 minute meal is right around the corner.
If you're a meal planner, our healthy Sweet and Sour Pork Chops is one that needs to be on your meal plan. It has pineapples and both yellow and red sweet peppers in it and is a delicious meal that is ready in under 30 minutes, filling and delicious.
Pork Chops Recipes Healthy Meal Ideas Ready in 30 Minutes or Less
If you love pork chops, you will love our Baked Pork Chops with Garlic and Broccoli, Instant Pot Pork Chops with Tomato Cream Sauce, Spinach Stuffed Keto Pork Chops, and all our other pork chop recipes. There are several.
Pork chops are a healthy protein that have many other health benefits. In addition to being a good source of protein, they also provide essential vitamins and nutrients like amino acids.
Since pork is a low carbohydrate high protein food, it is also beneficial to those on the keto diet.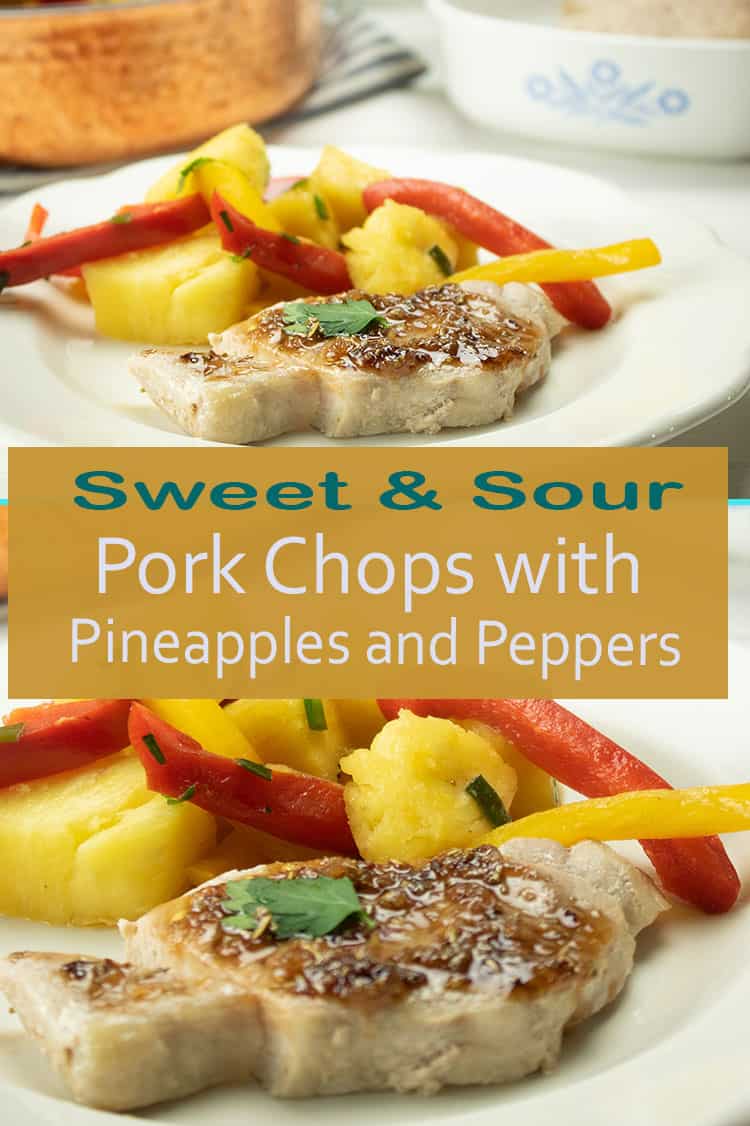 Healthy 30 Minute Meals - Easy Pork Chops
Pork is extremely easy to work with.
Sear pork chops on both sides before baking. This locks in the flavor, and makes for a juicier pork chop.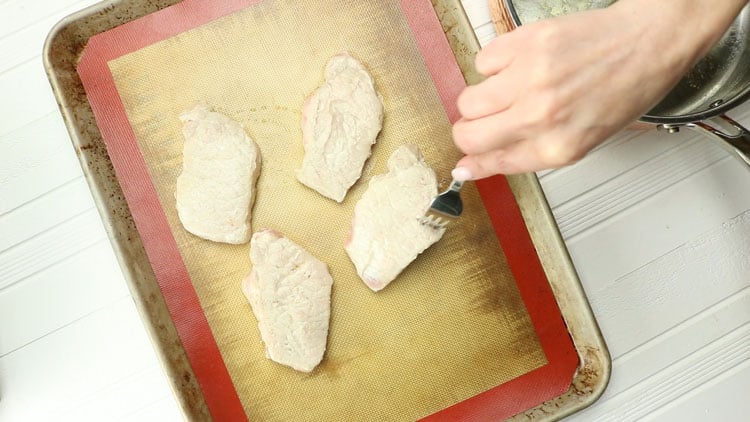 How to Cook Pork Chops
There are many ways to cook pork chops. Methods include stove-top cooking, searing on the stove and then baking in the oven (the method we used for this recipe), grilling, broiling and more.
Depending on the thickness of the pork chop used, there are also recipes that call for cooking pork chops in a slow cooker or a pressure cooker.
Whichever cooking method ends up your favorite, rest assured many pork chop recipes await to tempt your taste buds.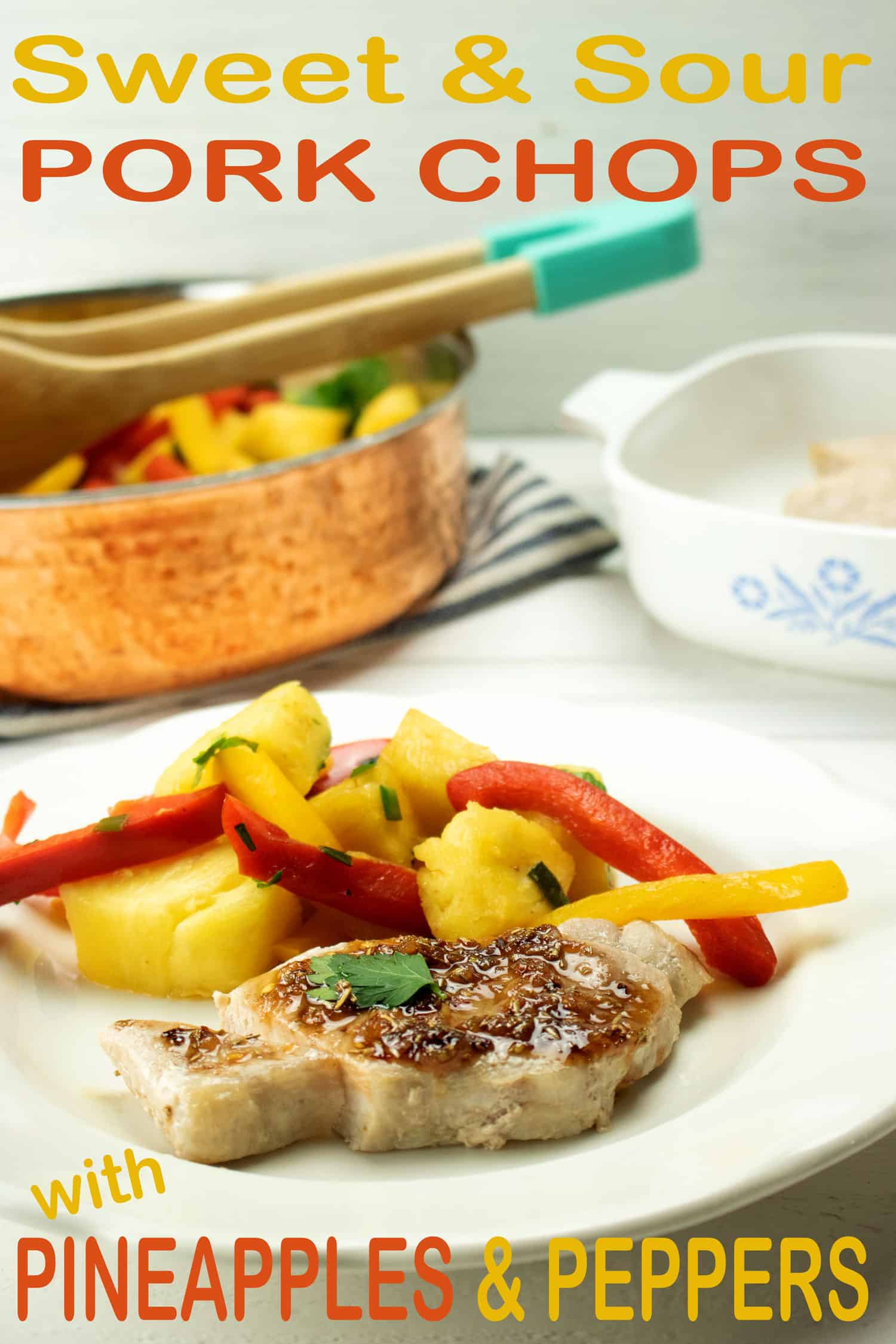 Easy Baked Pork Chops Healthy Recipe
Our easy baked pork chops are healthy and topped with a delicious balsamic vinegar reduction sauce, highlighted in the photos below, as well as in our video.
In the first photo, we added vinegar and maple syrup to our saucepan. To that, add minced garlic. Garlic provides a strong flavor that melds well with the sweetness of the maple syrup.
After the garlic, mix in seasonings and heat the sauce until it thickens. This is later spread over the top of the pork chops.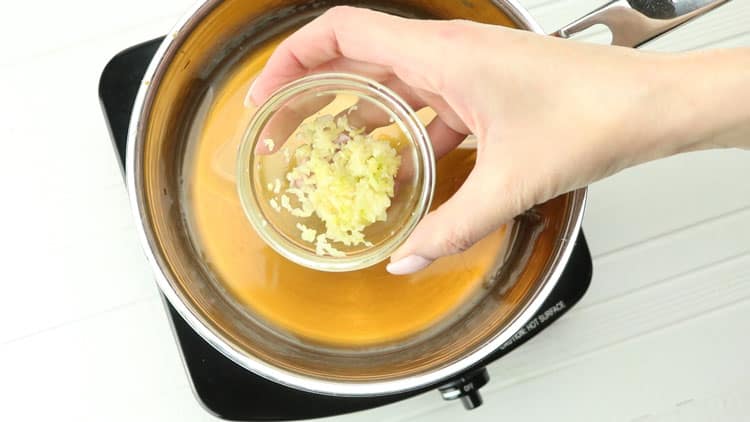 While the pork chops bake in the oven, the vegetables and pineapples cook in the same skillet that was used to sear the pork chops.
Simply add a dash of high quality extra virgin olive oil and let the flavors in the pan simmer together.
The vegetables and pineapples can either be served on the side of the pork chops, or over the top. It's really up to however you'd like to serve them.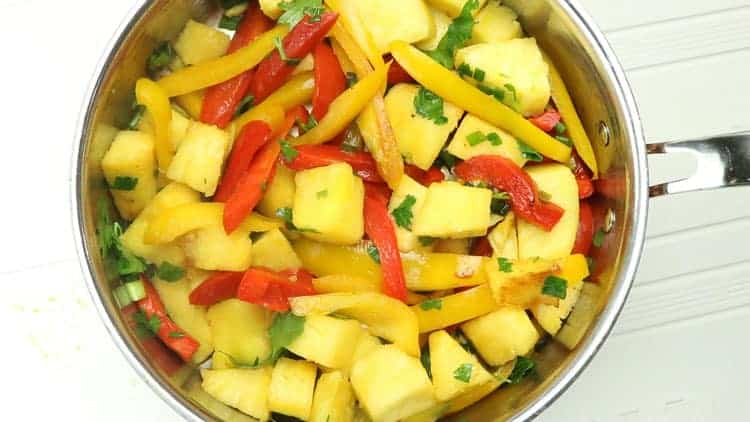 Healthy pork chops are just 30 minutes away with this easy weeknight meal recipe.
Stressed out about what to make for dinner? Pin this recipe for later so you can put it on your meal plan.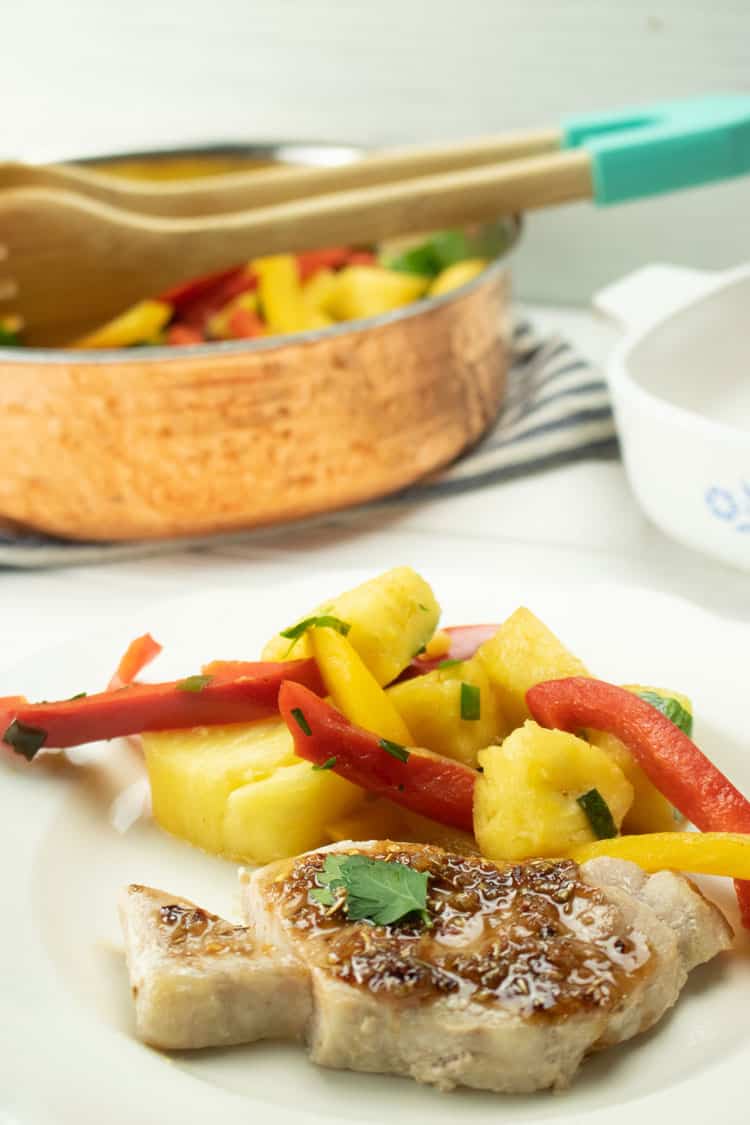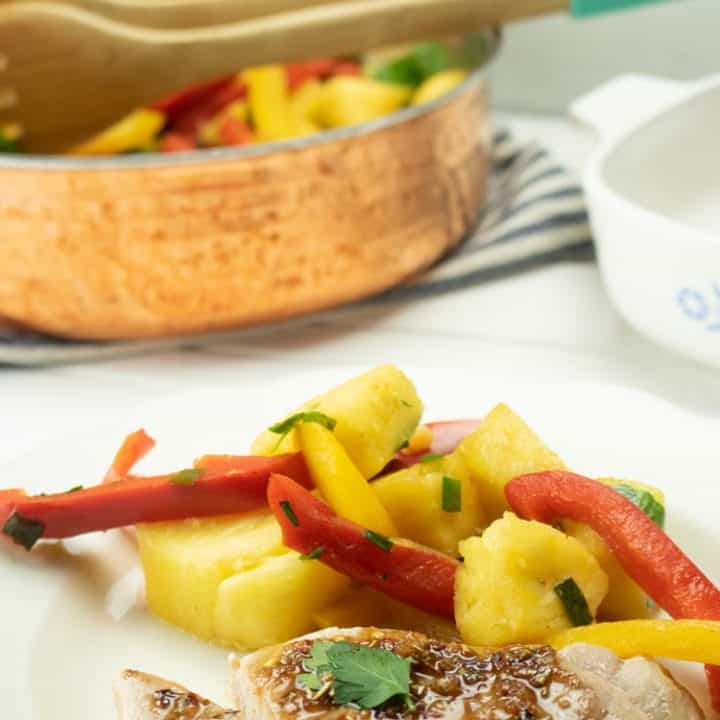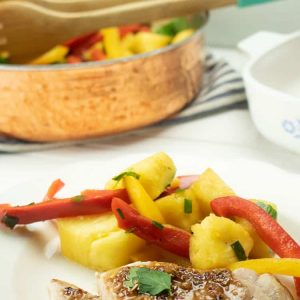 Easy Pork Chops Recipe - Sweet and Sour Pork Chops
Healthy 30 minute meals are easy when you make baked pork chop recipes like our Sweet & Sour Baked Thin Pork Chops with Pineapples and Peppers. If you're looking for recipes to add to your meal plan that are ready in 30 minutes or less, you'll want to add this easy baked pork chops recipe. 30 minute meals are perfect when you're in a time crunch.
Instructions
Pre-heat oven to 400°F and line a large, rimmed baking sheet with parchment paper or a Silpat® baking mat. Set aside.

Heat one tablespoon olive oil in a large skillet over medium-high heat. Add the pork chops and sear on both sides, approximately 1-2 minutes per side. Season with salt and black pepper, to taste, on each side while cooking.

Remove from heat and transfer the browned pork chops to the prepared baking sheet. Place in the pre-heated oven to roast until cooked through, approximately 12-15 minutes.

While the pork chops roast, combine the vinegar, maple syrup, garlic, rosemary, and red pepper flakes in a small saucepan over medium heat. Season with salt and black pepper, to taste, and cook, stirring occasionally, until slightly thickened, approximately 5 minutes. Reduce heat to low and continue to simmer, stirring occasionally, until ready to serve.

Meanwhile, add the remaining olive oil and the sliced peppers to the skillet used to sear the chops and place over medium-high heat. Season with salt and black pepper, to taste. Cook, stirring occasionally, until the peppers soften and develop a bit of color, approximately 6-8 minutes.

Add the pineapple and continue cooking until heated through, approximately 2-3 minutes. Stir in the green onion and parsley, and remove from heat.

To serve, pour the glaze over the pork chops and serve alongside the peppers and pineapple. Enjoy!
Nutrition
Serving:
1
g
Calories:
545
kcal
Carbohydrates:
43
g
Protein:
38
g
Fat:
26
g
Saturated Fat:
8
g
Polyunsaturated Fat:
17
g
Cholesterol:
103
mg
Sodium:
206
mg
Fiber:
3
g
Sugar:
36
g