Baked Pork Chops with Garlic and Broccoli is an easy and healthy one-pan meal that will be ready for dinner in only 40 minutes.
This baked pork chops recipe is perfect for those nights when you want a quick, healthy dinner with minimal clean-up. By baking the pork chops in the same pan as the broccoli, the crisply roasted broccoli absorbs the flavorful juices from the pork chops.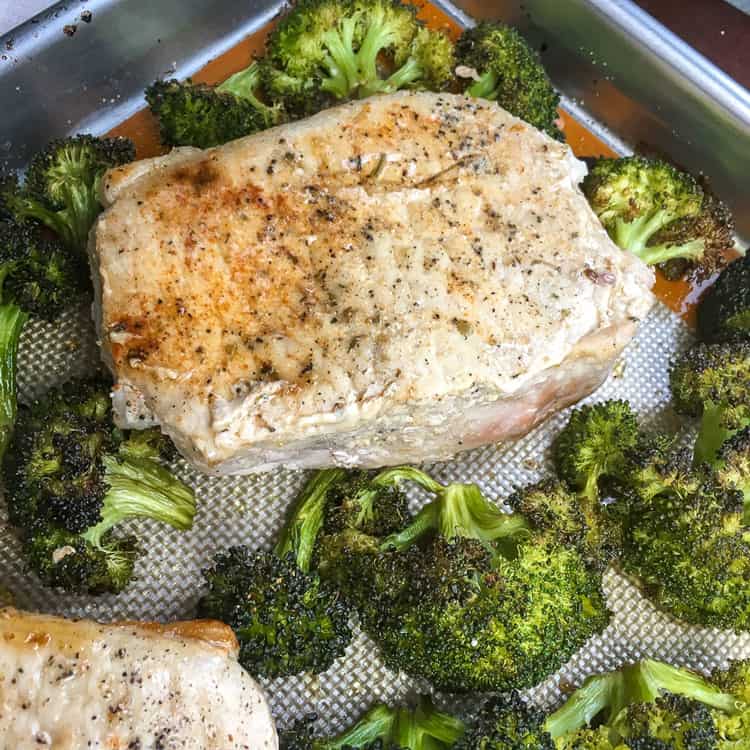 Even better, this recipe is deliciously seasoned with garlic cloves, olive oil, salt, pepper, paprika, onion powder, Italian seasoning, and garlic powder. Your kitchen will smell amazing when these pork chops are done!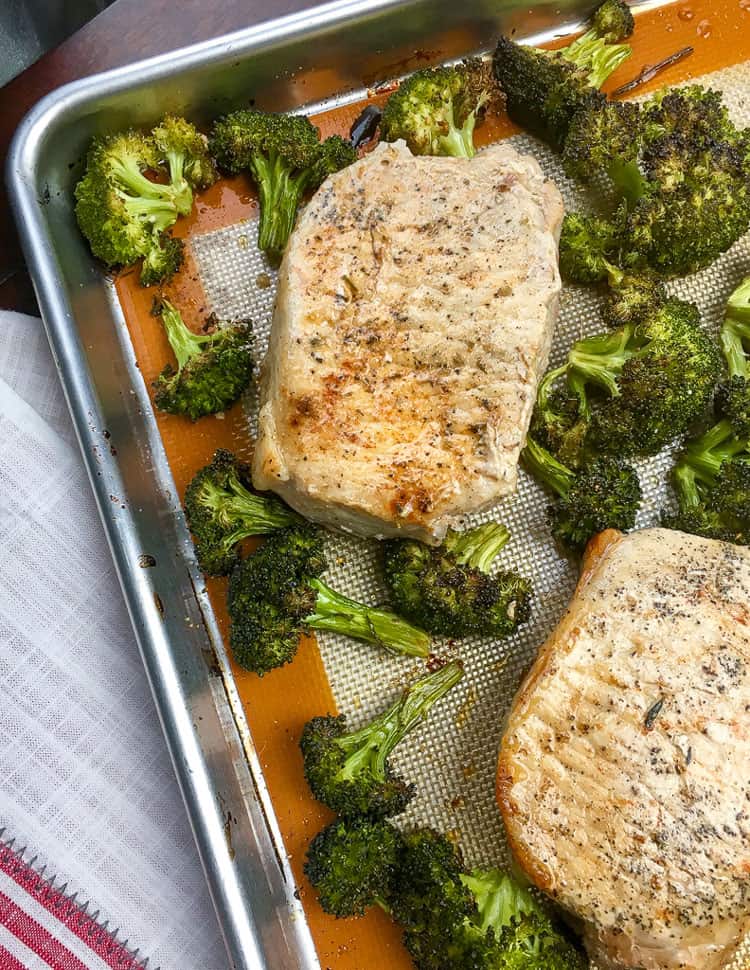 Tip: Always Cook Baked Pork Chops by Temperature, Not Time
The cook time for this recipe is 23-28 minutes, but keep in mind this will vary based on a number of factors, such as:
The internal temperature of the pork chops when you begin the cooking process
Individual differences in oven temperature
Size of the pork chops
Thickness of the pork chops
Other items that may be cooking in the oven
This is why you should always use a meat thermometer when cooking pork chops or any meat. So what's a safe internal temperature for pork chops? According to the USDA, pork chops should be cooked to a "minimum internal temperature of 145 °F as measured with a food thermometer before removing meat from the heat source."
(See the "Kitchen Tools You'll Need for This Oven Roasted Pork Chops Recipe" section below for my meat thermometer suggestion if you don't already have one. It's inexpensive and highly rated!)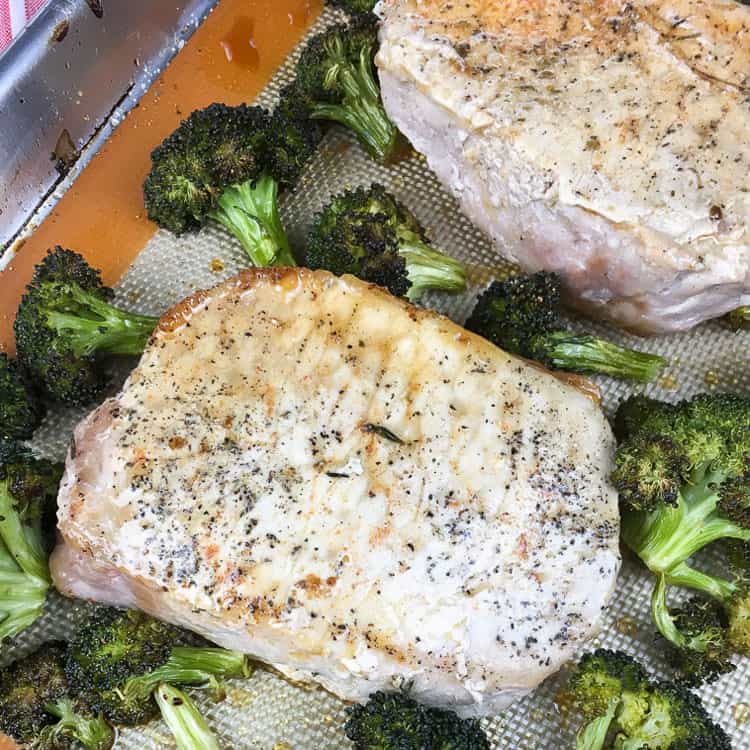 Tip: Always Let Your Pork Chops Rest Before Serving
It's not because being cooked is hard work... it's because the pork chops will taste so much better if you allow them to rest before serving. The USDA recommends at least 3 minutes, but I suggest up to 5-10 minutes.
By allowing the pork chops to rest, you give the meat fibers time to relax. Relaxed meat fibers = more tender meat. It's tempting to dig in right away, but trust me, it's worth the wait!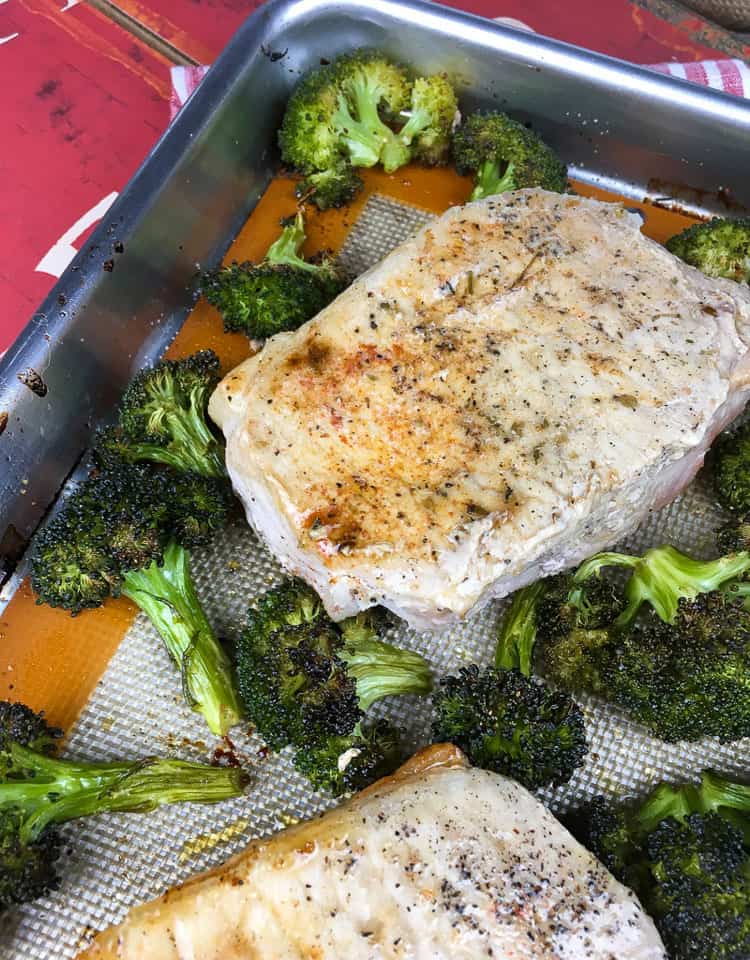 Kitchen Tools You'll Need for This Oven Roasted Pork Chops Recipe
To make this recipe, I highly recommend the following kitchen tools:
Meat thermometer: You'll need to check the internal temperature of the pork chops to ensure they've cooked through. I love this convenient thermometer that gives you an accurate reading in just a few seconds (so you can start eating as soon as possible!).
Silpat® baking mat: A silicone baking mat is a must-have for any kitchen because it makes clean-up a breeze. They're perfect for one-pan meals like this one.
More Pork Chop Recipes
If you would like more pork chop recipes like these easy Baked Pork Chops with Garlic and Broccoli, try the following recipes:
I hope you enjoy this baked pork chops recipe. It will easily become a new family favorite!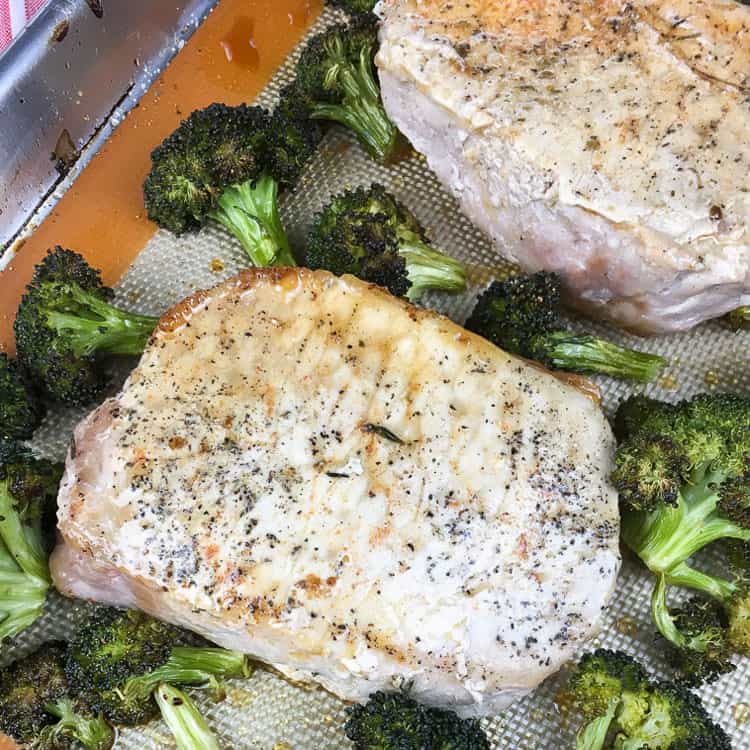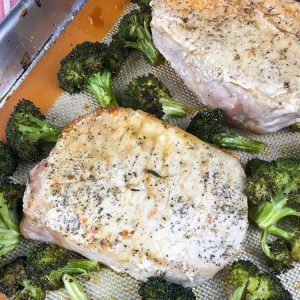 Baked Pork Chops with Broccoli and Garlic
This tasty pork chops recipe will become a new family favorite!
Instructions
Preheat oven to 400°F. Line a large, rimmed baking sheet with a silicone baking mat.

Add pork chops to baking sheet. Drizzle with olive oil, approximately 2 tablespoons across all 6 pork chops.

Combine paprika, onion powder, garlic powder, and 1 tsp Italian seasoning in a large mixing bowl. Rub the mixture on both sides of the pork chops and return to the baking sheet. Season with salt and pepper to taste.

Add broccoli to the same bowl and drizzle with remaining olive oil. Add minced garlic and remainder of Italian seasoning to the bowl. Toss to fully coat the broccoli, and season with salt and pepper to taste.

Place broccoli on baking sheet around the pork chops in a single layer. Roast baking sheet in the oven for 23-28 minutes. During the baking process, turn the pork chops once and stir the broccoli once. Baking is done when the pork chops are cooked through (test with a meat thermometer) and the broccoli is browned.

When the baking is done, remove the pan from the oven. Transfer broccoli and pork chops to a serving platter and allow the pork chops to rest for 5-10 minutes. After 5-10 minutes, serve and enjoy!
Notes
Always cook meat to temperature, not by time.
The broccoli should be spread out in a single layer without crowding. If necessary, use a three-quarter sized sheet pan.
Nutrition
Calories:
316
kcal
Carbohydrates:
6
g
Protein:
31
g
Fat:
19
g
Saturated Fat:
5
g
Cholesterol:
90
mg
Sodium:
86
mg
Potassium:
722
mg
Fiber:
2
g
Sugar:
1
g
Vitamin A:
556
IU
Vitamin C:
55
mg
Calcium:
54
mg
Iron:
2
mg