This post has been sponsored by Crystal Farms® Cheese. We love cheese. I mean, come on now…we live in Wisconsin, after all. Cheese and Wisconsin go hand in hand like, well, anything else that makes sense and melds together perfectly. Like brats and beer. Like football and Sundays. And yes, even like PB&J.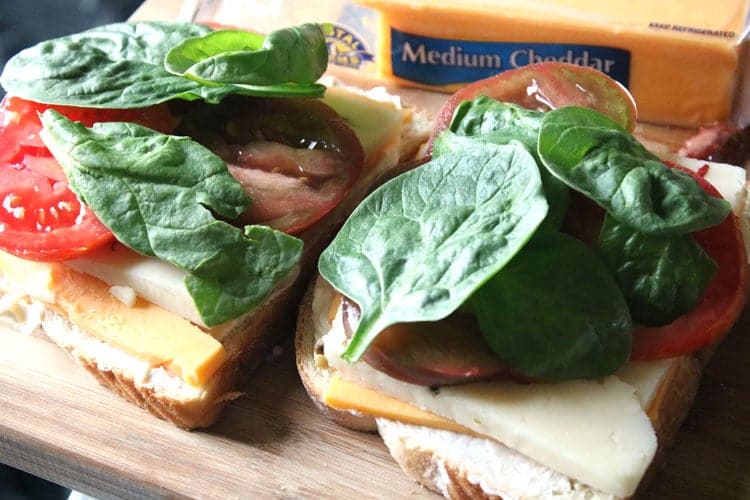 We're talking sandwiches today, because sandwiches are often the meaning of comfort food.
They are typically easy to make, don't take a ton of ingredients and can be built as tall as you'd like them to be.
Layer upon layer of tasty ingredients means making a sandwich that has multiple flavors that inevitably blend together to make something all new.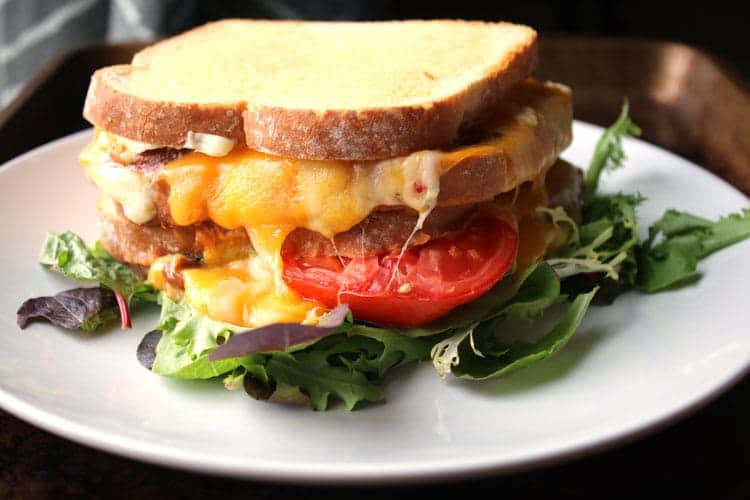 And, let's face it… when we're talking about developing a recipe that results in complex layers of flavors…it's pretty much essential to add in some worthy cheese.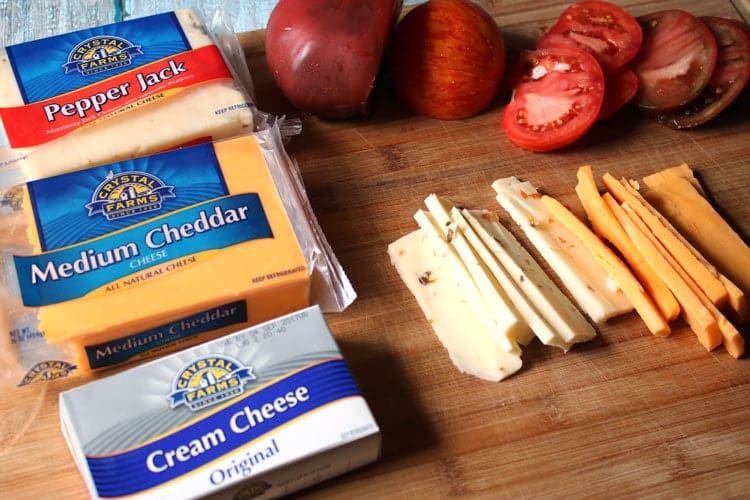 We're connoisseurs of every fine gourmet grilled cheese sandwich we can sink our teeth into, so when we were tasked with creating a new sandwich recipe for Crystal Farms® Cheese (which has been around since 1926!), it really didn't take long to come up with a delicious twist on a Grilled 3-Cheese and Tomato Sandwich we created years ago.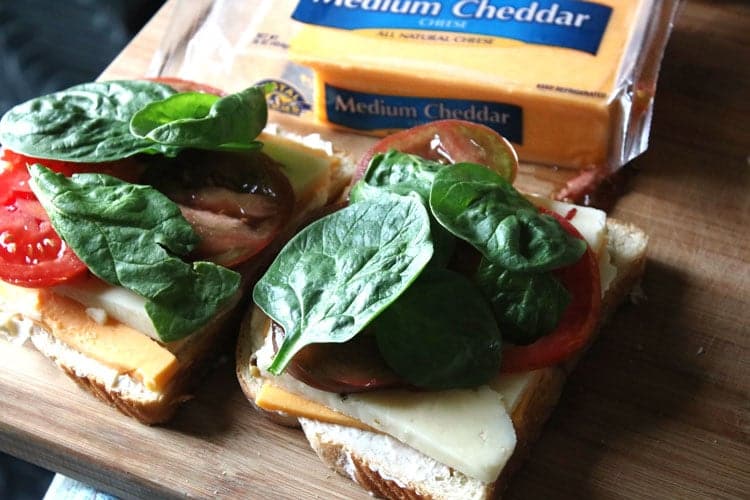 We strive to consistently use delicious products on All She Cooks, and that is certainly easy to do with Crystal Farms® Cheese products. We're talking about natural products with few preservatives that are rich in calcium.
A couple things I love about Crystal Farms® Cheese (located in the refrigerated dairy section) is that all their products are gluten-free and lactose tolerant, which both make a huge difference for shoppers with those requirements.
Knowing that a brand consistently offers products that meet those criteria means less time reading labels and more brand confidence.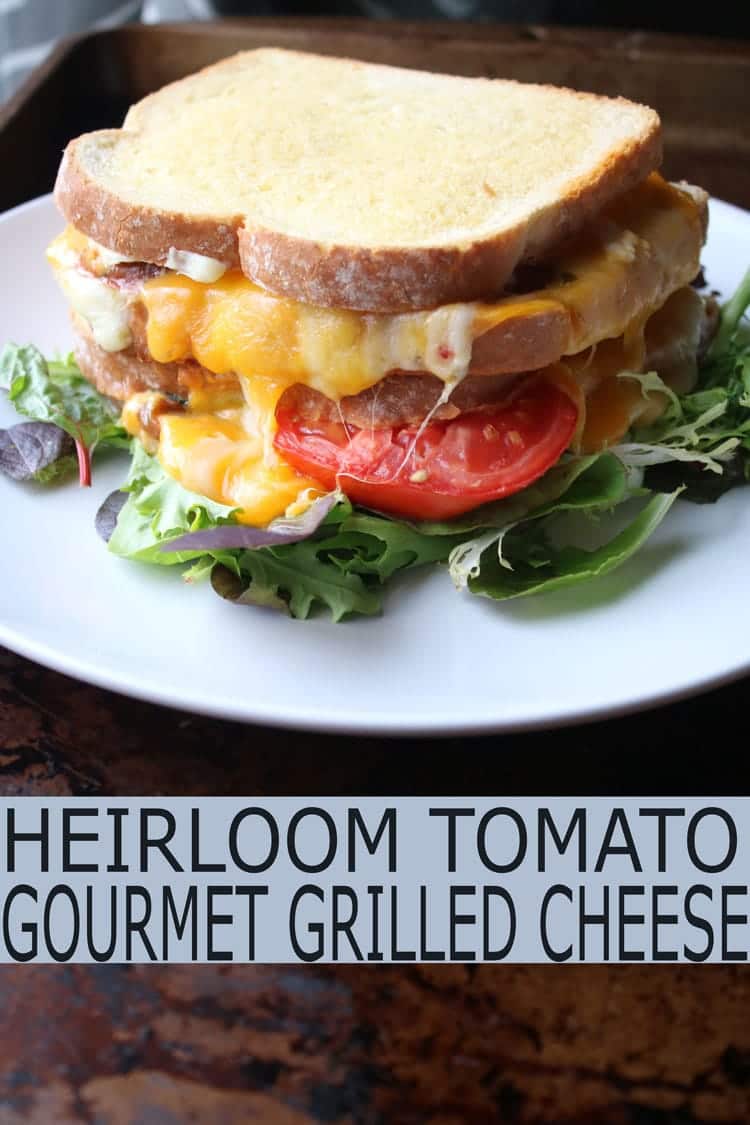 The sweet twist with our new sandwich, the Heirloom Tomato, Spinach Grilled Cheese Sandwich is the combination of exquisitely shaded and flavored tomatoes that are a far cry from a Big Boy or Roma tomato.
We're not just talking about ripe and juicy tomatoes here. We're talking about years of breeding and creating new tomato plants from the seeds of the award-winning tomatoes that have come before them.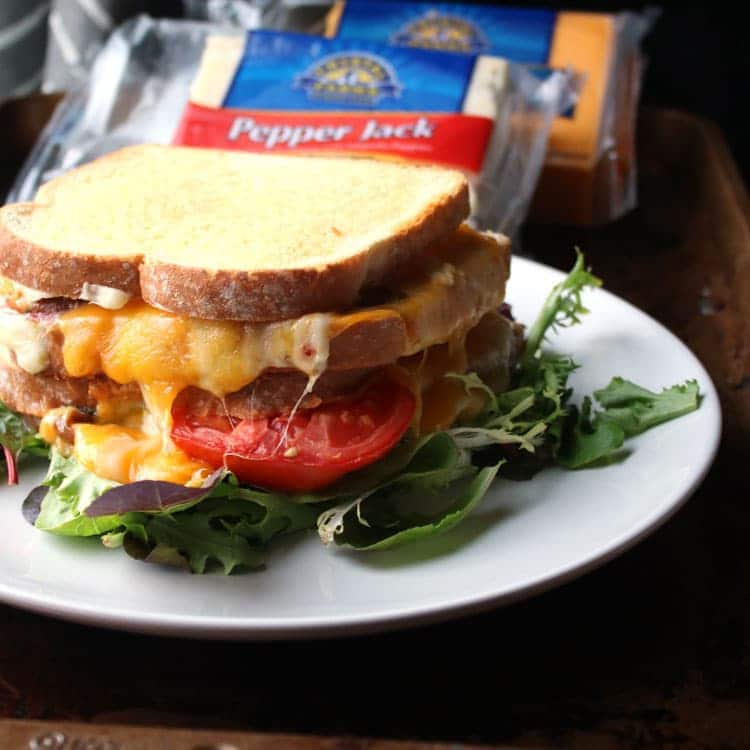 But the secret ingredient that this delicious sandwich could not be created without is with absolute certainty the blend of 3 Crystal Farms Cheese varieties that we've used and melted together to make the perfect combination of cheesy goodness.
Added to the tasty toppings on our Heirloom Tomato sandwich is a bit of spinach, because…spinach.
It really needs no explanation other than that it is absolutely delicious and putting this leafy green on a bed of cheese just makes sense.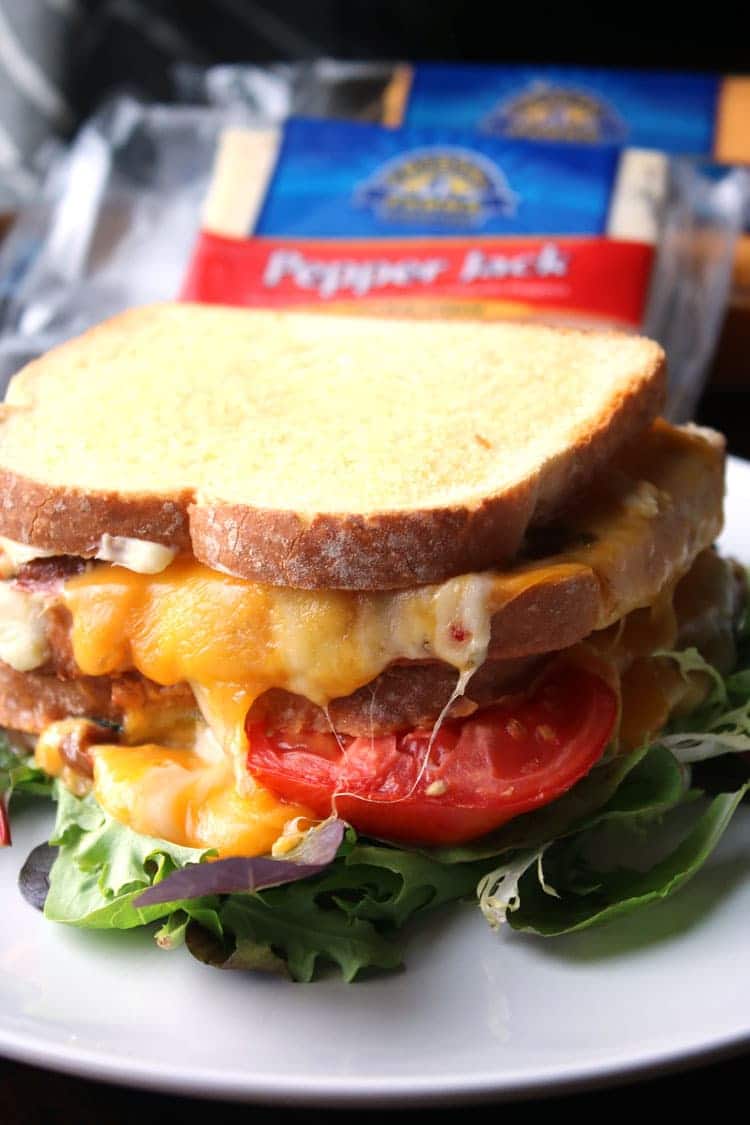 Serving up a hot and ooey gooey stringy sandwich of cheese goodness atop a mound of mixed greens makes all the sense in the world.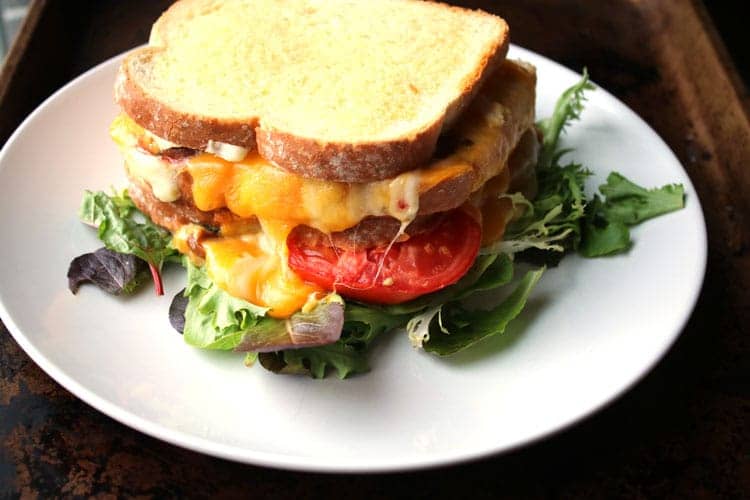 Recipe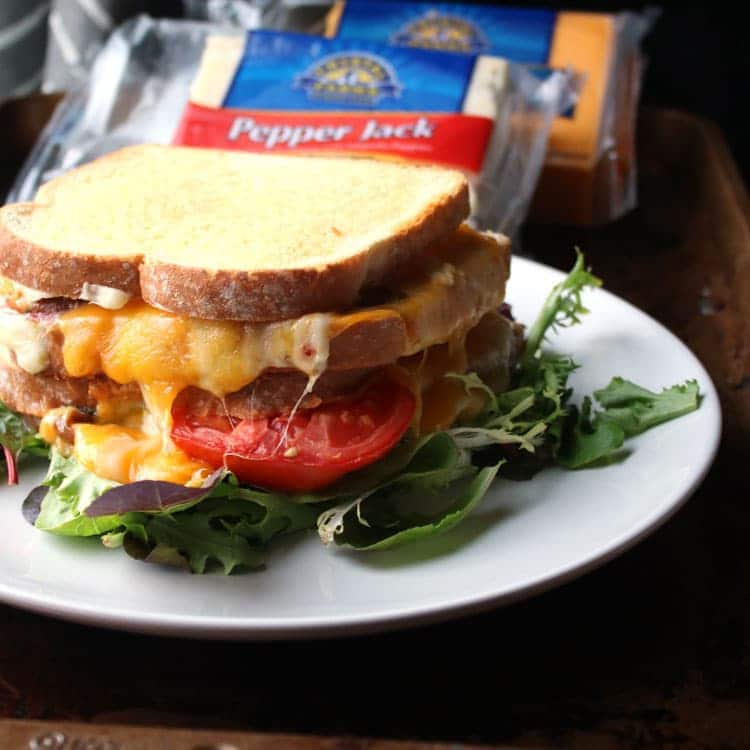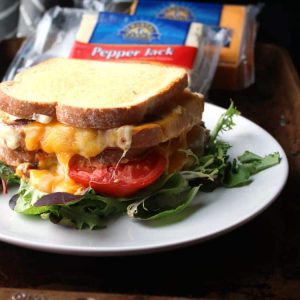 Crystal Farms Heirloom Tomato and Spinach Grilled Cheese Sandwich and Giveaway!
Delicious gourmet grilled cheese with heirloom tomatoes and three varieties of cheese.
Ingredients
4

slices

of bread

buttered on one side

Pepper Jack cheese

Cheddar cheese

Cream cheese

Heirloom tomatoes

Spinach leaves

Mixed salad greens
Instructions
Preheat oven to 350 degrees. Butter one side of 4 slices of bread. Spread 1-2 tablespoons of softened cream cheese on each of 2 slices of bread. Top with slices of Pepper Jack and Cheddar cheese. Add heirloom tomatoes and spinach leaves to the top of the cheese. Finish sandwiches with slice of bread, buttered side up.

Place sandwiches on baking sheet and bake for 20-25 minutes, or until cheese has melted and bread is lightly toasted, flipping halfway through.
Nutrition
Calories:
151
kcal
Carbohydrates:
28
g
Protein:
6
g
Fat:
2
g
Saturated Fat:
1
g
Sodium:
291
mg
Potassium:
102
mg
Fiber:
2
g
Sugar:
3
g
Calcium:
77
mg
Iron:
2
mg