Kick up the heat with our Homemade Spicy Chicken Tenders! Perfectly crispy on the outside and juicy on the inside, these tenders are so much better than the takeout version. Bring the sizzle straight to your dinner table!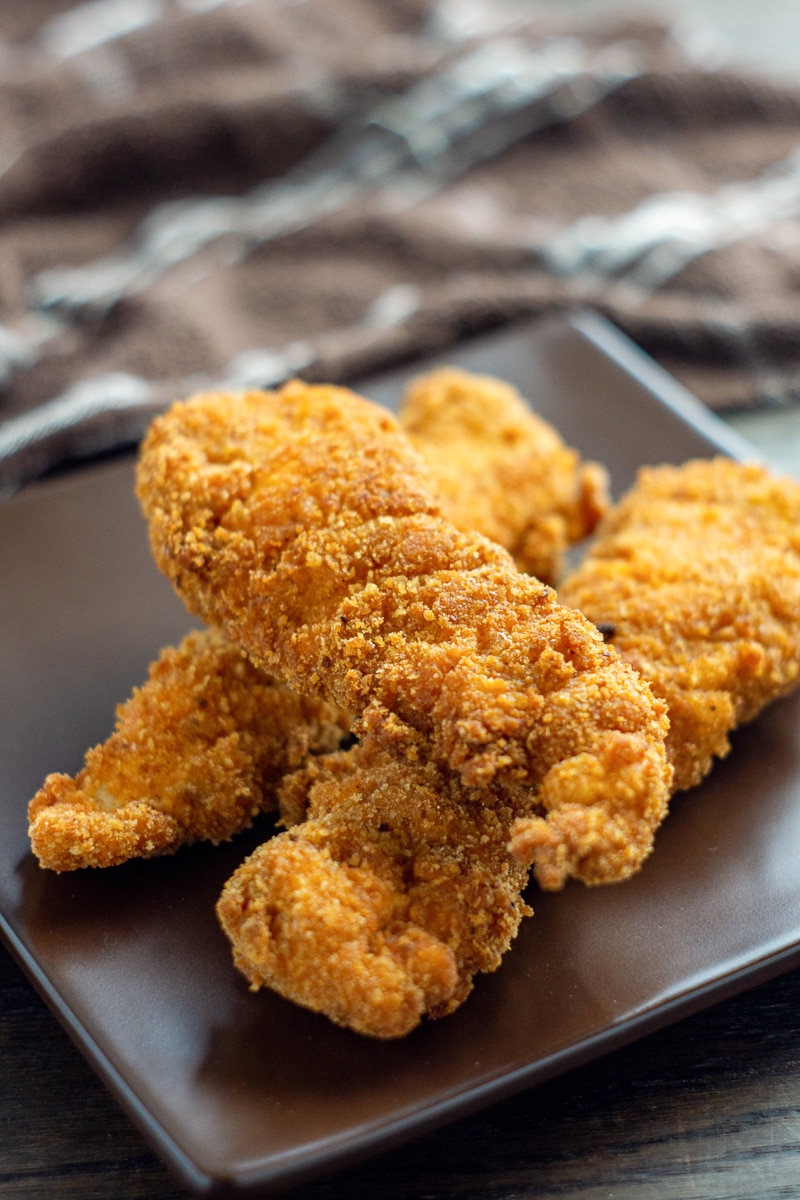 These homemade spicy chicken tenders are the perfect way to kick that takeout craving. But without the inflated prices and unhealthy ingredients of restaurant food. My son is a big fan of the spicy chicken tenders from Chik-fil-A and KFC, but he's an even bigger fan of this recipe right here.
I especially love how easy and versatile this recipe is. Whether served as a snappy appetizer, a saucy main course, or a companion to a late-night movie binge,- these spicy chicken tenders are always a crowd pleaser!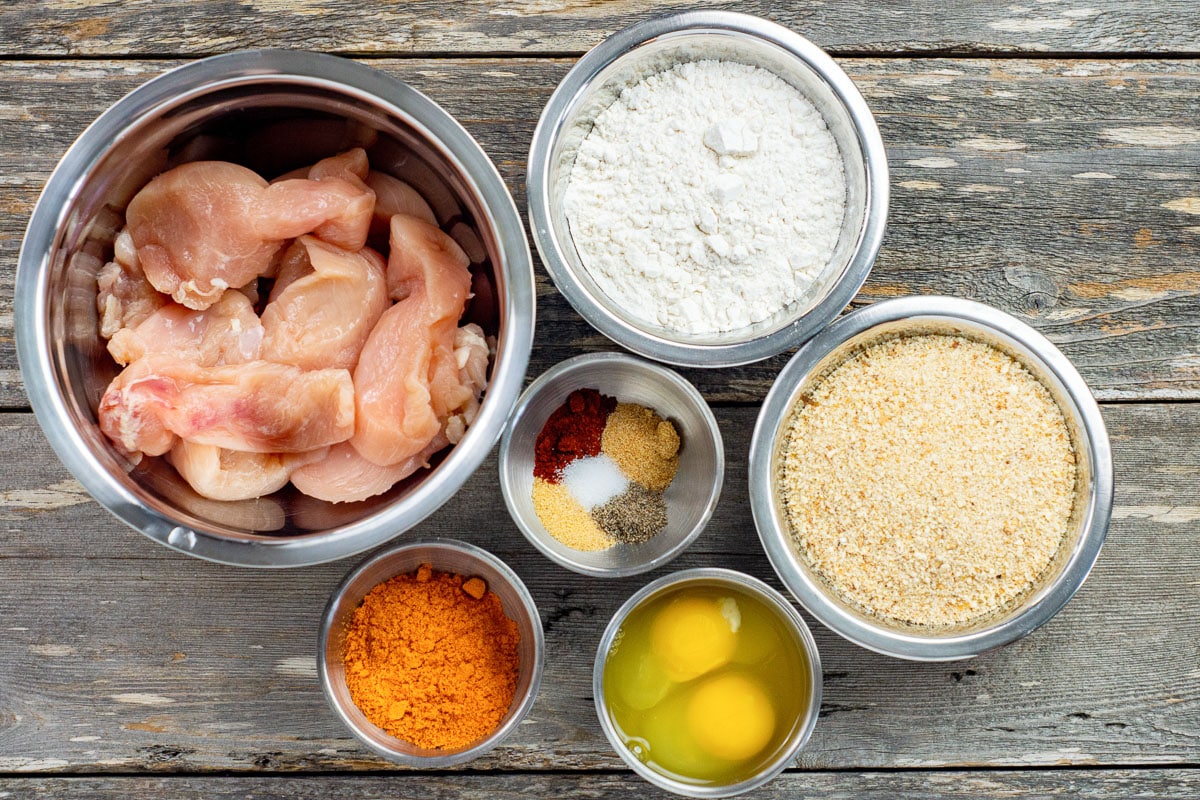 Helpful Tips
Start with room temperature chicken.
You will get the best crispy finish on your chicken tenders if you start with meat that has come to room temperature. Obviously, you can't let raw chicken sit out too long, but I like to set mine out on the counter for about 20 minutes before I start cooking.
Use a wire rack to let the excess oil drain.
This will help your chicken tenders stay crispy longer.
Safety comes first when cooking chicken.
Always ensure your chicken tenders are fully cooked through to prevent food poisoning. A good rule of thumb: it should no longer be pink in the middle when cut through.
Adjust the spice level.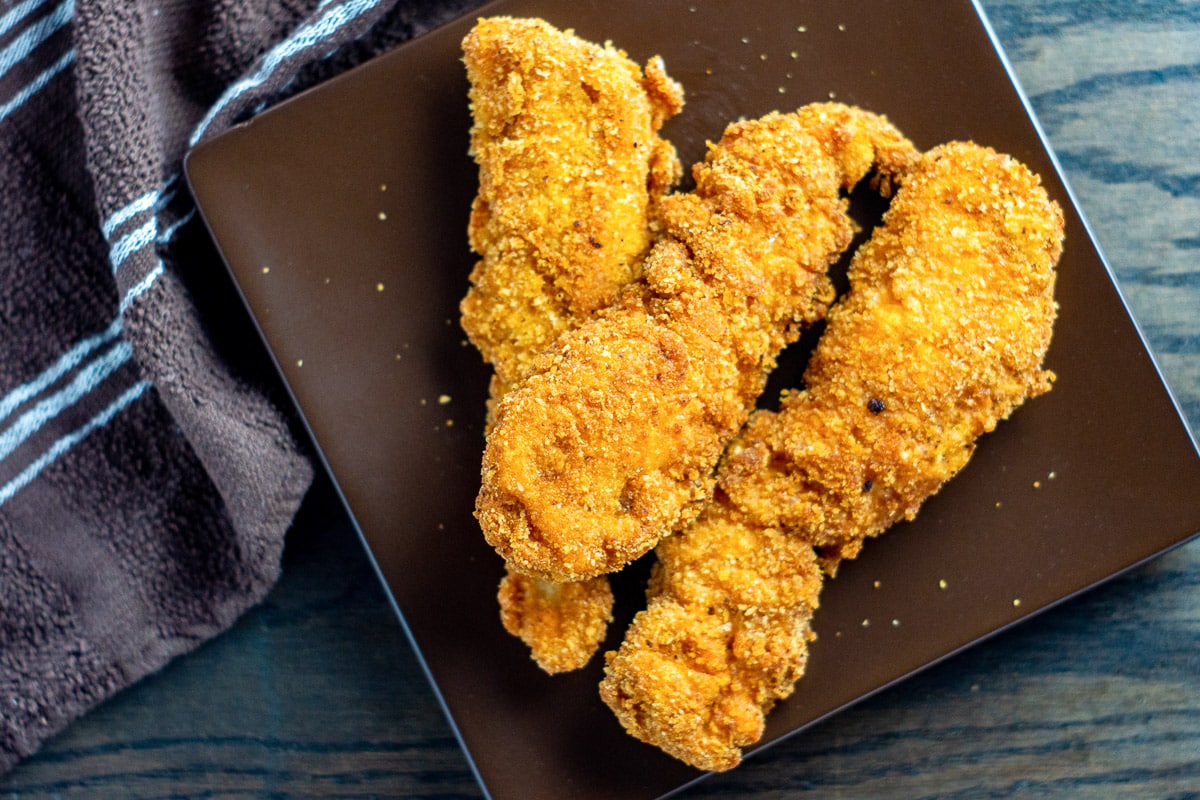 If you're not a fan of spicy food, you can reduce amount of Frank's Red Hot seasoning to suit your palate.
Storing & Reheating Leftovers.
You can store leftover chicken tenders in a covered container or wrapped in foil, in the fridge, for 2-3 days. Reheat them in the oven for 10-12 minutes, to bring back some of the crispy exterior.
Serving ideas for chicken tenders.
Of course you can serve these tenders all on their own, with your favorite dipping sauce. But they are also great as fillings for a sandwich or wrap, chopped to make chicken salad, or tossed into a fresh green salad.
Frying Oil.
I used vegetable oil for frying. Any neutral oil, such as canola, will work just fine.
Variations
Tennessee Hot Chicken Tenders.
If you feel the need for even more spice, you can add up to a ½ teaspoon of cayenne pepper to the seasonings. Be careful - this can get dangerously spicy.
Honey Sesame Chicken Tenders.
Add sesame seeds to the breadcrumb mix and drizzle on a bit of honey after frying for a sweet and savory crunch.
BBQ Chicken Tenders.
Mix BBQ sauce in with the eggs before dredging the chicken to provide a smoky flavor.
Cheesy Delight.
Before the final dip in bread crumbs, roll the chicken tenders in shredded cheese for the ultimate in gooey goodness.
Italian Chicken Tenders.
Mix breadcrumbs with Italian seasonings like rosemary, thyme, and oregano for an herb infused version. Yum!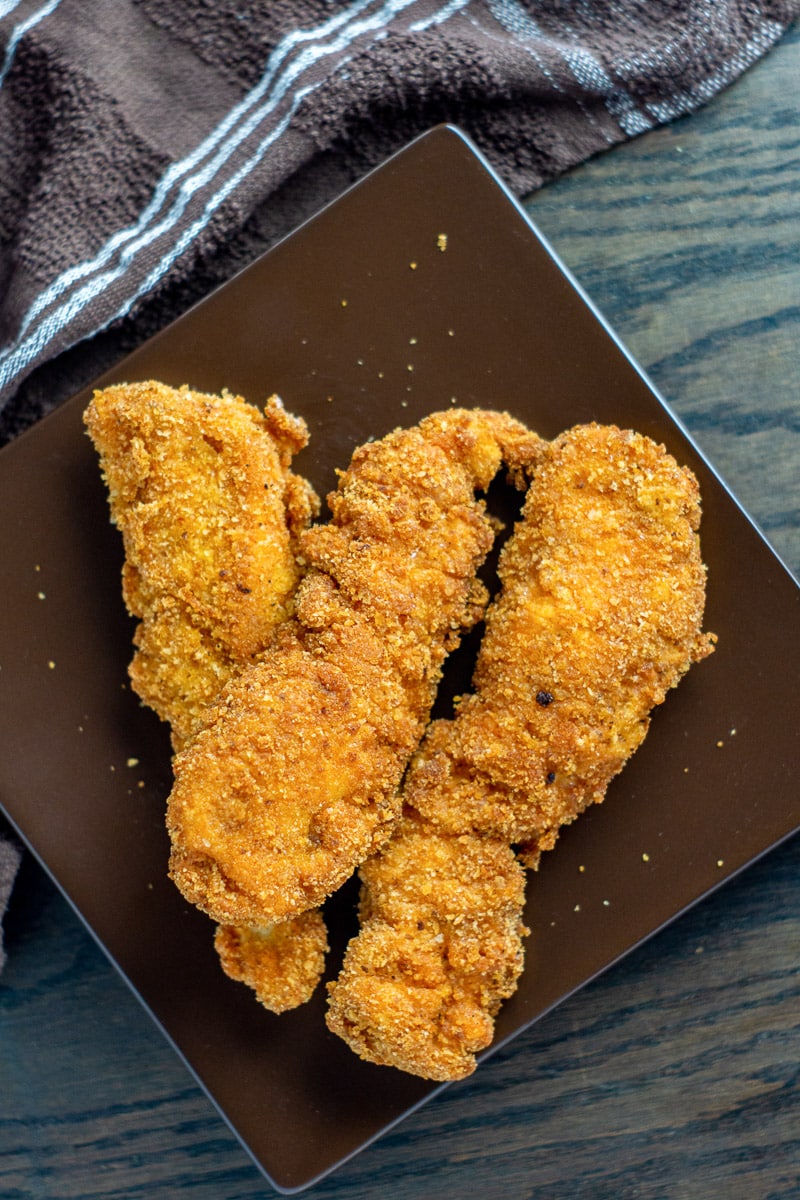 More Tasty Ideas
If you love these Spicy Chicken Tenders, be sure to check out these other delicious ideas:
Recipe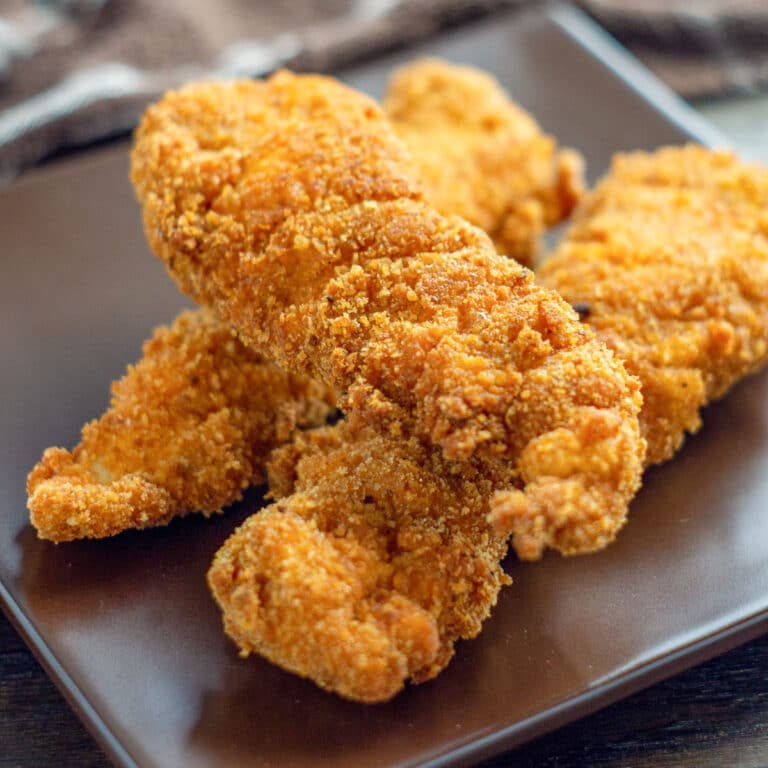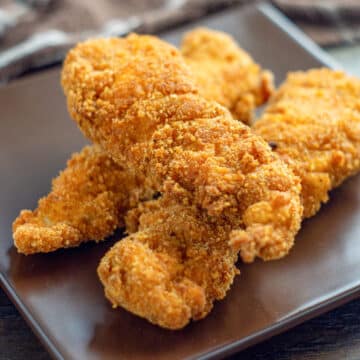 Homemade Spicy Chicken Tenders
Our Homemade Spicy Chicken Tenders is perfectly crispy on the outside and juicy on the inside, and so much better than the takeout version.
Instructions
Heat the oil in a large skillet over medium-low heat

Whisk the flour in a shallow bowl with the onion powder, garlic powder, paprika, pepper, salt, and Frank's Red Hot seasoning powder

In another bowl, beat the eggs

Place the bread crumbs in a third bowl

Coat the chicken by dredging in the flour mixture, then the eggs, then the breadcrumbs, then back to the eggs, and finally in the bread crumbs again

Fry in the prepared oil for at least 3-5 minutes on each side, making sure the chicken is cooked through

Place the chicken strips on a wire rack to let the excess oil drain

Serve warm with your favorite dipping sauce
Nutrition
Calories:
400
kcal
Carbohydrates:
48
g
Protein:
34
g
Fat:
7
g
Saturated Fat:
2
g
Polyunsaturated Fat:
2
g
Monounsaturated Fat:
2
g
Trans Fat:
0.02
g
Cholesterol:
154
mg
Sodium:
654
mg
Potassium:
589
mg
Fiber:
3
g
Sugar:
2
g
Vitamin A:
309
IU
Vitamin C:
4
mg
Calcium:
121
mg
Iron:
5
mg