Cooking burgers on the stove is so easy! Today I want to walk you through the process of how to make burgers on the stove, so you can create delicious burgers any day of the week!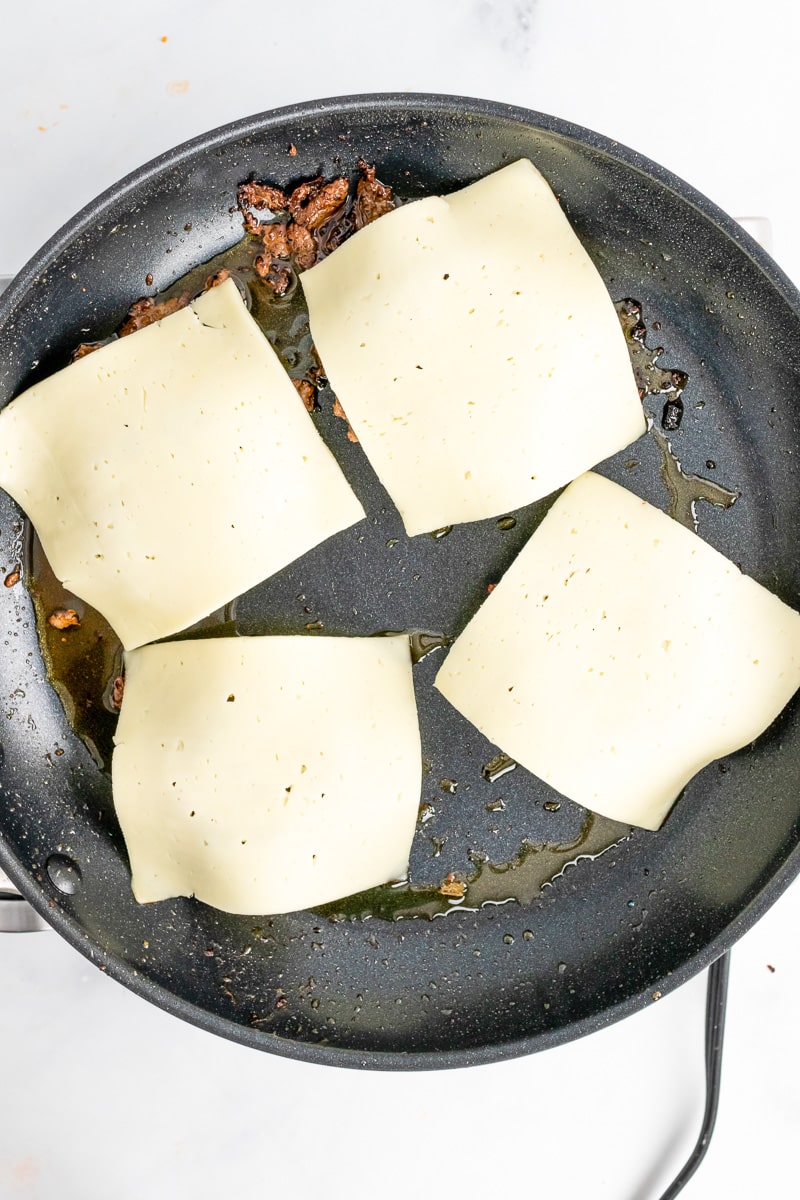 In this Article:
Cooking hamburgers on the stove doesn't mean you have to eat dry burgers. Let me share some tips and tricks to set you up for success!
Cooking Burgers on the Stove is…
Easy to make
Quick
Doable with premade, homemade, or frozen patties
Delicious
How to Make Burgers On Stove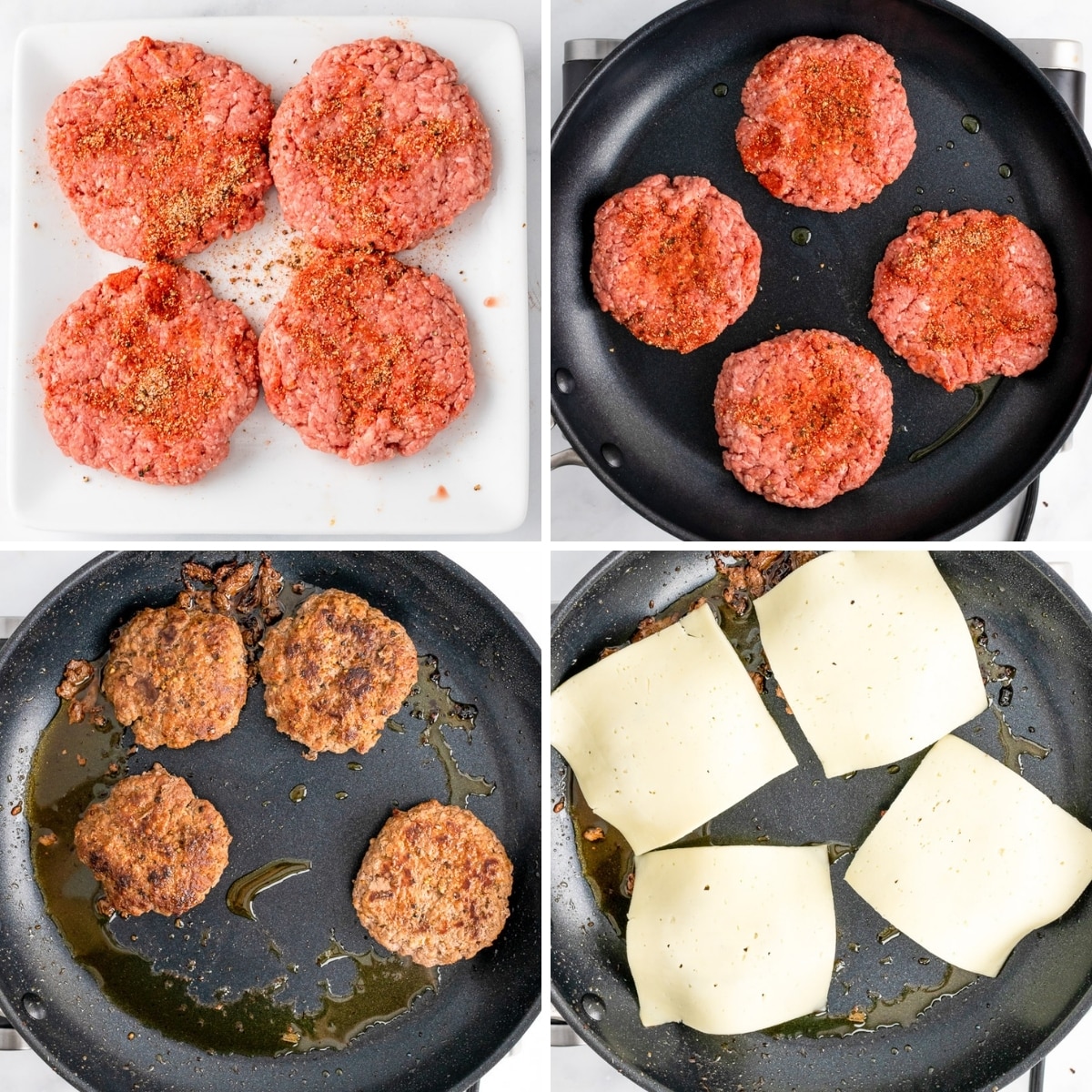 Season ground beef with spices and Worcestershire.
Shape into patties.
Cook burgers on medium heat on the stove.
Cook patties until cooked through.
Add cheese and toppings, and enjoy!
Note: If you are using frozen patties, make sure to add extra time for your meat to cook all the way.
Full directions for how to make burgers on the stove are in the printable recipe card below.
Tips & Tricks for How to Make Burgers on the Stove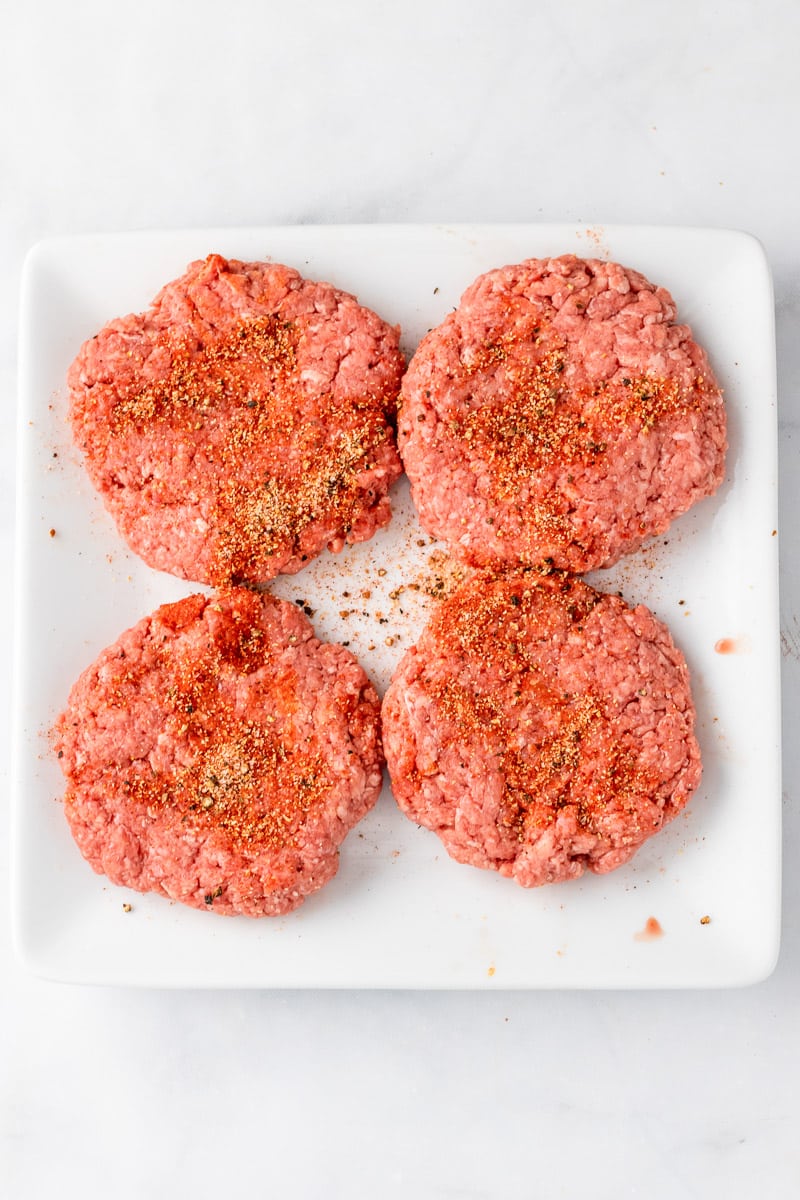 Forming Patties
If you are making your own burger patties, make them all similarly sized. Otherwise, the cooking times for each patty will vary quite a bit, and you will risk over- or under-cooking.
Also, make sure to not to press your patties too much, or else they will have a hard, rubbery texture. Lightly form your patties to ensure they hold their shape but aren't packed too tight!
Cooking from Frozen
You can defrost your patties or toss them in the pan frozen. Just make sure you add additional cooking time for the frozen patties. This will give your meat time to thaw before it begins cooking.
Cooking Time
The cooking time will vary depending on the thickness of your burgers. Make sure to pull your hamburgers from the skillet once they are done. This will help keep them from drying out.
Quality Skillet
Using a cast iron or other high-quality skillet is key. High-quality skillets will cook all of your burgers evenly. Lower quality pans and skillets can have hot spots that either burn or undercook your burgers in different areas.
Variations to How to Make Burgers on the Stove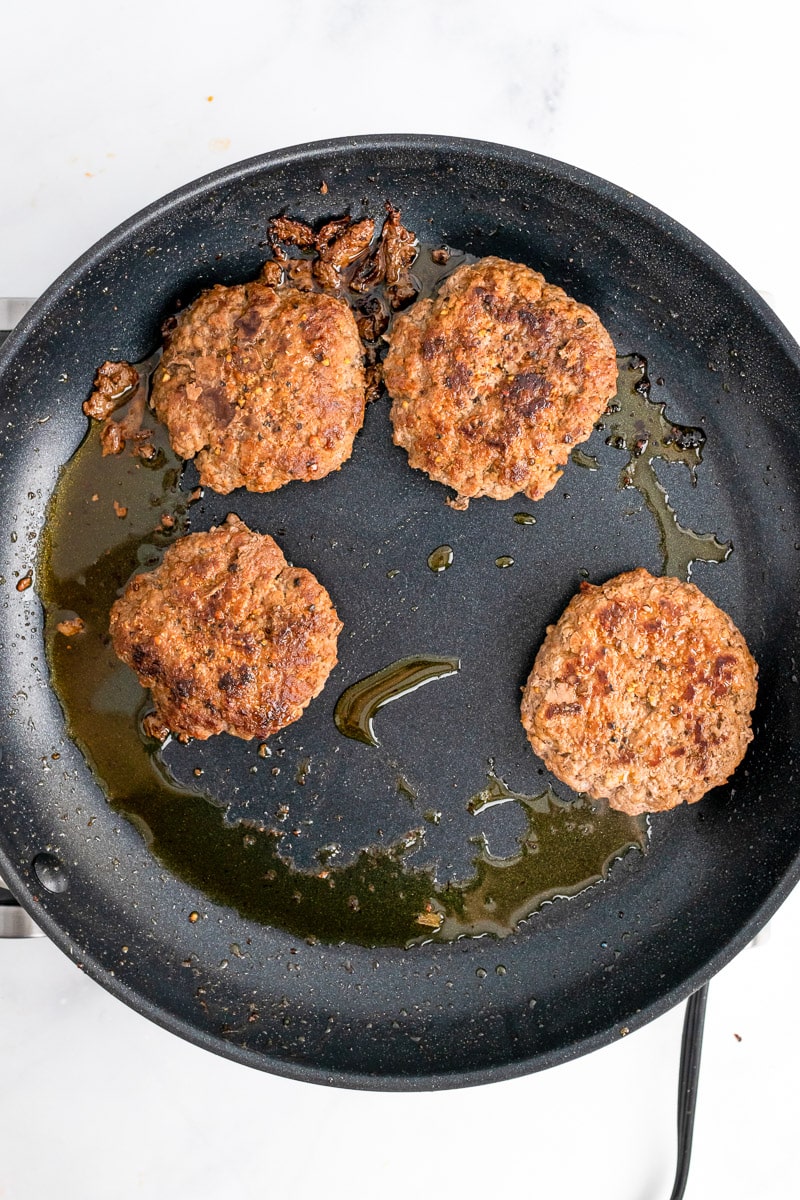 Seasonings
You can add in any spices or seasoning blends you would like. I love using our burger spice blend in the recipe card below, but feel free to change up the spice to whatever you like.
For a store bought burger seasoning, I'm a fan of this one from Red Robin.
Bacon
Try topping your burgers with some bacon. Cook some up in a separate pan until done to your preference. Then rest the bacon on a paper towel until you're ready to use it, to drain off some of the grease.
How to Make Burgers on the Stove FAQs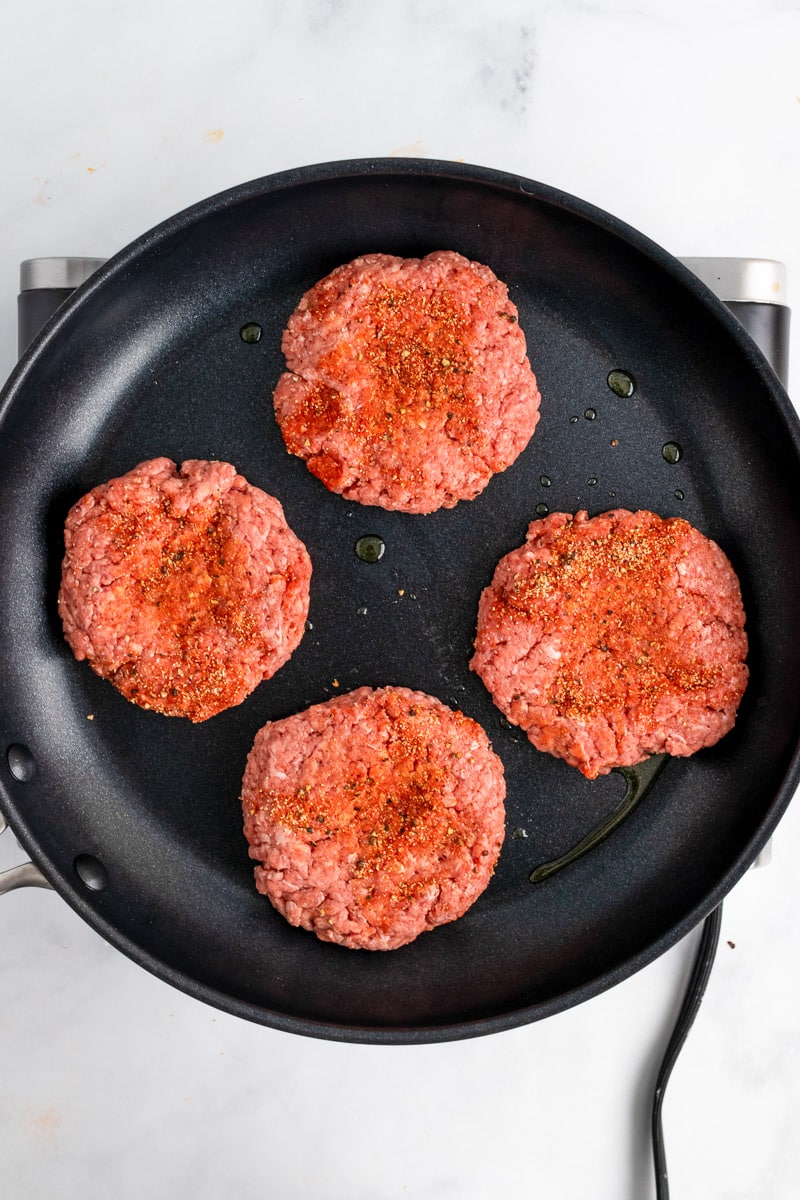 How long should you cook your burgers on the stove?
I usually cook my burgers 8-10 minutes per side on medium heat. Depending on how thin or thick your patties are, the cooking time can vary.
How to know when hamburgers are done?
Burgers are done when the internal temperature reads 160°F - for a well done burger. Some people prefer a little pink in their burgers, and ultimately the desired doneness of your burgers is up to you.
How can I prevent my burgers from shrinking as they cook?
If you place your thumb in the center of the patties and make a little well in the top, that will help your burgers to not shrink as bad. I have done this for years and it works like a charm!
More Tasty Recipes
Recipe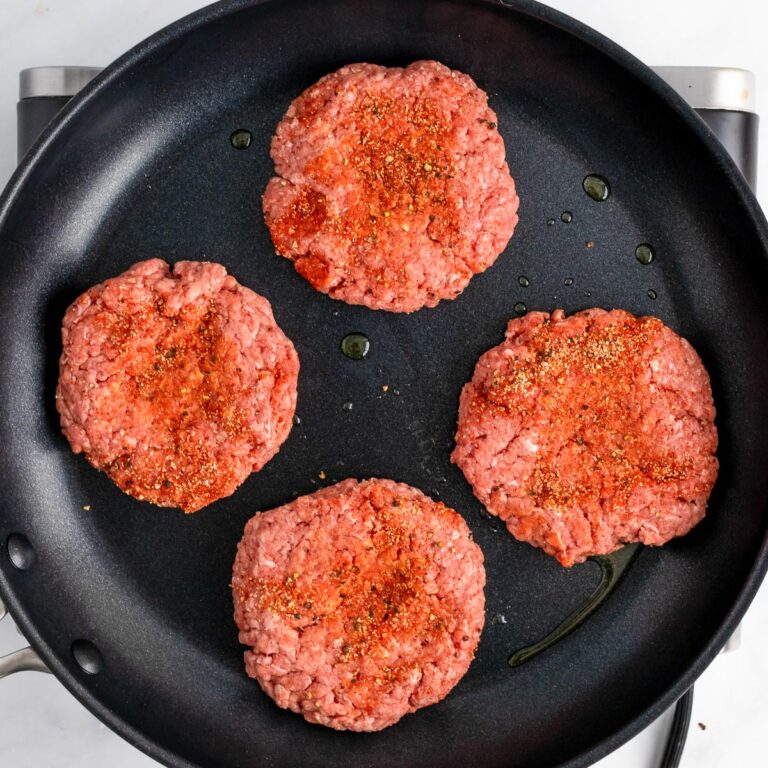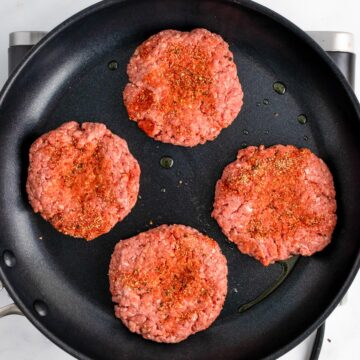 How to Make Burgers on the Stove
Today I want to walk you through the process of how to make burgers on the stove, so you can create delicious burgers any day of the week!
Instructions
Preparing Fresh Burger Patties
Place the ground beef in a large mixing bowl. Add the salt, pepper, garlic powder, paprika, brown sugar, and worcestershire sauce.

Use your hands to mix the ground beef with the seasoning, mixing until well combined.

Divide the ground beef into 8 equal portions, and form each into a patty.
Cooking Burgers on the Stove
Heat a skillet on the stove over medium heat.

Place the burgers in the skillet, and cook for 8–10 minutes per side or until cooked through.

Serve burgers on buns with your favorite toppings!
Notes
If using frozen burger patties, you will need to add additional cooking time per side.
Nutrition
Calories:
300
kcal
Carbohydrates:
1
g
Protein:
20
g
Fat:
23
g
Saturated Fat:
9
g
Polyunsaturated Fat:
1
g
Monounsaturated Fat:
10
g
Trans Fat:
1
g
Cholesterol:
101
mg
Sodium:
396
mg
Potassium:
340
mg
Fiber:
1
g
Sugar:
1
g
Vitamin A:
94
IU
Vitamin C:
1
mg
Calcium:
28
mg
Iron:
2
mg