Game day appetizers could start and end with stuffed jalapeno poppers. As in, there have never been a more delicious concoction created.
Easy appetizer recipes are the perfect recipe for party success.
We're talking about cheesy goodness stuffed into peppers for the ultimate treat. You can make these hot or or a little bit cooler by scraping out all the seeds.
You'll love this appetizer recipe. It's one of our favorites. You might also enjoy Stuffed Mushrooms, Dill Pickle Dip or Creamy Chicken Dip.
Lose Weight by Eating (the cookbook) isn't a new idea. In fact, there is great logic in the idea of losing weight by eating healthier foods…whether you're counting calories or sticking to foods that you know are low fat.
We love this Jalapeño Poppers with Cool Dip recipe. It's just one of many great recipes you'll find in
Lose Weight by Eating
.
Serving size: 1 jalapeno popper and 3 tablespoons dip Per serving: calories 52; fat 2.5 g; fiber 0.5 g; protein 3.5 g; carbohydrates 4 g
These jalapeño poppers are low calorie and delicious. You can make them mild, medium, or hot. To make them mild, remove all the seeds and ribs (the white membranes). For medium, take out all the seeds and half the membranes, and to make them hot, only remove the seeds.
Enjoy this recipe for a tailgate party, the big game, or any other gathering. Easy appetizer recipes are the perfect recipe for party success. You won't regret it!
Print
Jalapeno Poppers with Cool Dip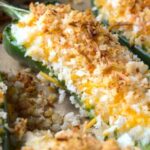 Ingredients
Prep time: 15 mins, Cook time: 15 mins, Total time: 30 mins, Serves: 8
Jalepenos
4 large jalapeños
1/8 cup finely shredded sharp cheddar cheese
1 teaspoon garlic powder
2 tablespoons panko bread crumbs
4 tablespoons soft cream cheese
Cool Dip
1/4 cup Greek yogurt
2 tablespoons unsweetened almond milk
1/2 teaspoon garlic powder
1/4 teaspoon onion powder
1?8 teaspoon kosher salt
2 tablespoons chopped fresh cilantro
1 sprig fresh dill
1 teaspoon chopped fresh parsley
Instructions
Preheat the oven to 425?F.
Cut the jalapeños in half lengthwise and use a paring knife to remove the seeds and ribs.
In a small bowl, combine the cheese, garlic powder, and bread crumbs.
Lay the jalapeño halves cut side up on a rimmed baking sheet. Spread 1/2 tablespoon of the cream cheese in each one and top with the cheesy bread crumb mixture.
Bake the poppers for 15 minutes, or until the cheese has melted and the bread crumbs are golden brown.
For the dip, blend all the ingredients in a blender or food processor until smooth.
Serve the poppers with the dip on the side.
NOTE: You can make the Cool Dip the day before. To store the dip, pour in a plastic container and cover with plastic wrap. Push the plastic wrap over the surface of the dip and push out all the air bubbles. Cover with the lid and store for up to 48 hours in the fridge. I like to use any leftovers as a yummy veggie dip.

The following two tabs change content below.
Latest posts by Jessica McCoy (see all)