Lemon cream pie gives you a tart and sweet lemon flavor in every single bite. This lemon cream pie is topped with meringue, which is so fluffy and light. The meringue adds so much texture to this pie recipe.
This lemon cream pie recipe is my go-to lemon pie I make. You use minimal ingredients, it comes together fast, and you have a homemade pie to serve up to guests.
Lemon Cream Pie
This recipe is so popular I have had friends and family ask for the recipe. When I share it with it, they are shocked. It is crazy simple to make, and it always shocks people at how little ingredients are used. 6 basic ingredients are needed for this easy lemon pie recipe.
Can I Make This Lemon Cream Pie Without Meringue
Absolutely. You can serve it without anything on top, or top with whipped cream. Whether you make homemade whipped cream or store bought, it is a simple way to add more flavor to the lemon pie.
To make homemade whipped cream put your mixing bowl in the freezer for around 30 minutes. Remove it and pour in 1 cup of heavy whipping cream, two tablespoons of sugar and a teaspoon of vanilla. Then whip on high until it forms stiff peaks.
What Type Of Pie Crust Do You Use For Lemon Pie
I used a flour pie shell but you are welcome to use graham cracker if you would like as well.
We find the regular pie crust pairs nicely with the lemon filling and meringue. Also, I used a store bought pie crust, but you can easily swap with homemade if you prefer.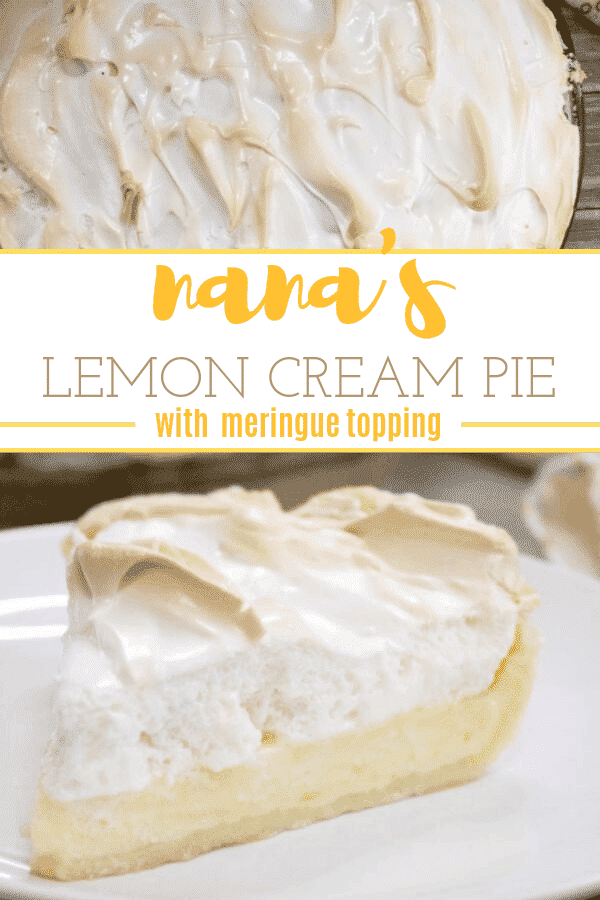 How to Blind Bake a Pie Crust
What is blind baking a pie crust?
If you haven't heard of it before, blind baking a pie crust means pre-baking the pie shell before adding a filling to it that requires less of a baking time. The best way to blind bake a pie shell is to prick fork holes along the bottom of the pie crust and add pie weights on top of the crust before baking.
I found my favorite pie weights on Amazon. The weights are ceramic.
Already purchased and wondering how to use pie weights? Prepare the pie crust as you normally would, prick air holes on the bottom of the pie crust with a fork, and then place the pie weights on top of that. The reason is to hold the bottom of the pie crust down so it doesn't bubble up.
After you have done those steps, you are ready to blind bake the pie crust according to your pie crust recipe instructions.
If using a store bought ready-made pie crust, the package should have instructions for pre-baking a pie shell for a cream pie.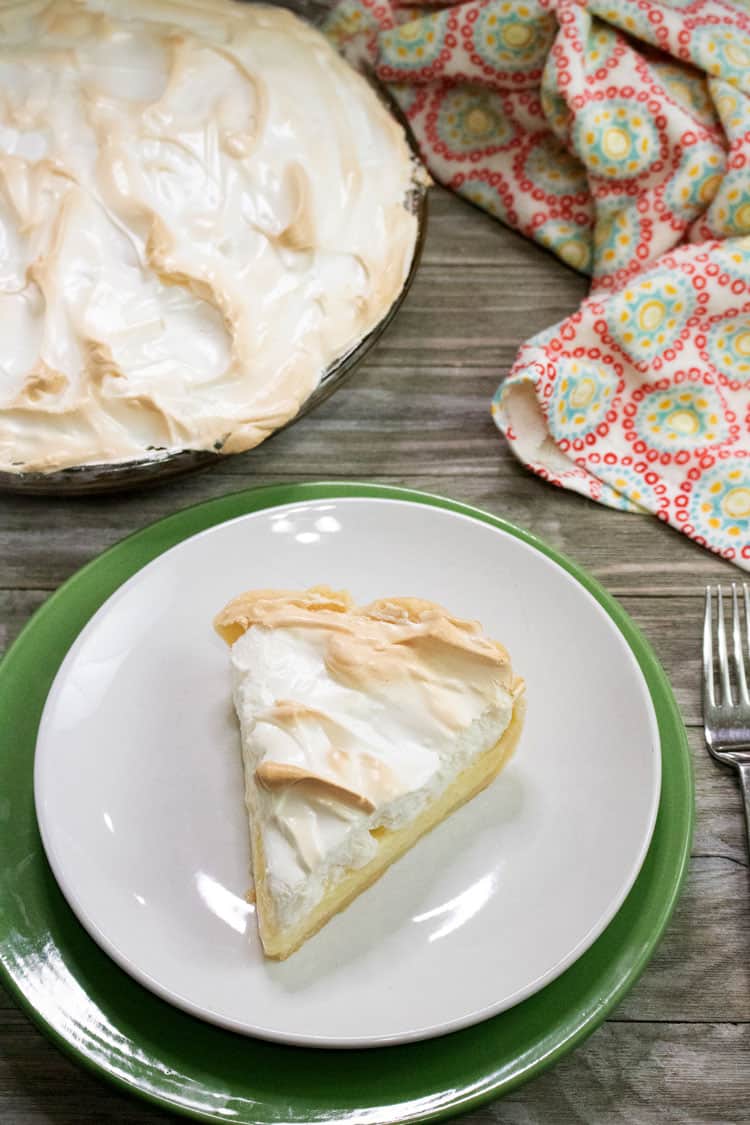 Pro Tip For Meringue
One really handy tip I have found is to get a higher meringue you want to add an additional 3 eggs whites, 1 teaspoon cream of tartar, and ⅓ cup of sugar.
It will be extra full if you add that add to the recipe. Or if you don't want it to be fuller, follow the regular recipe!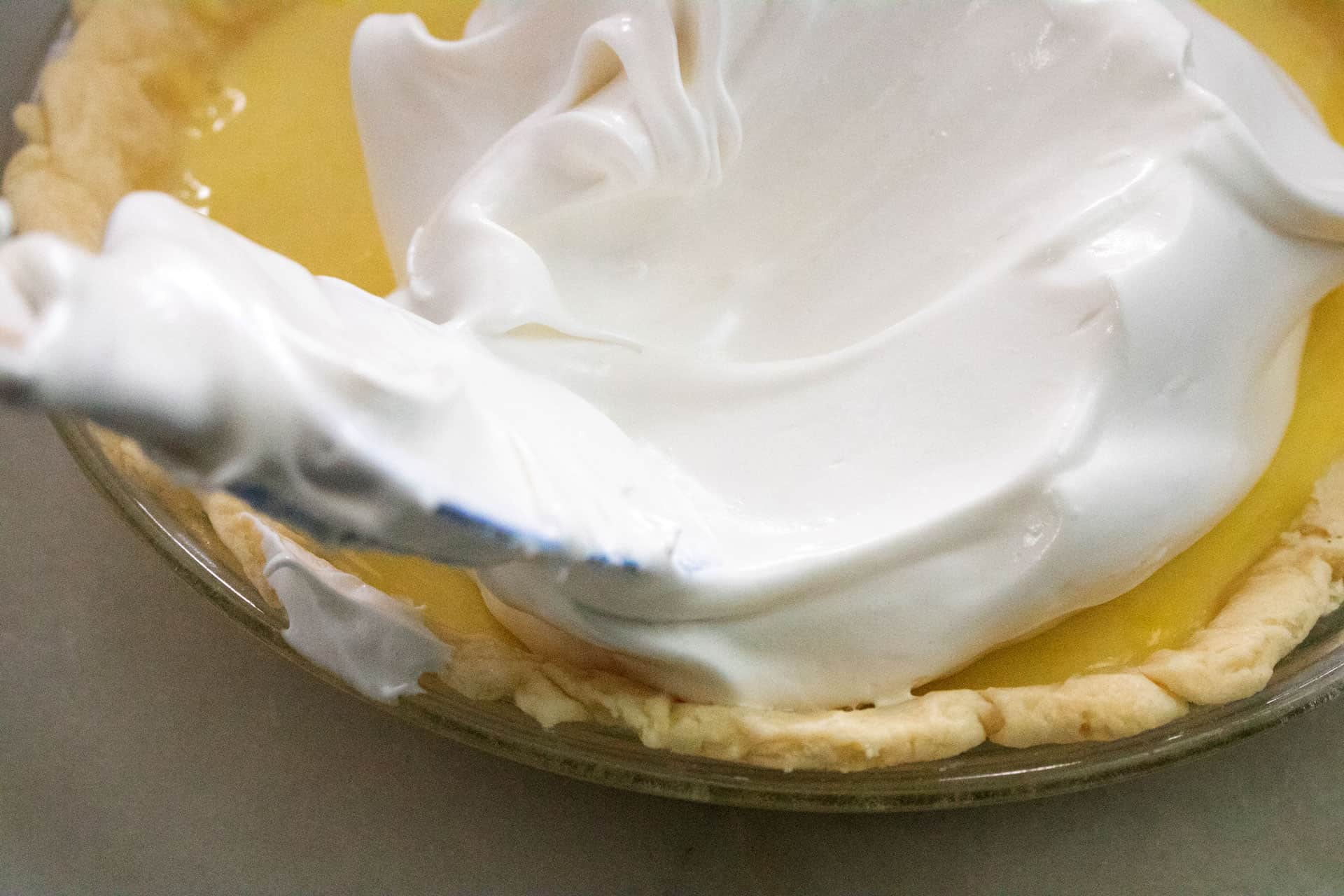 How Long Should You Refrigerate Pie Before Serving
I recommend chilling your lemon pie with meringue in the fridge for up to four hours before serving.
The reason being is, if you go and slice into the pie and the meringue is warm as well as lemon filling, it will kind of fall.
Now, if that is chilled when you slice and remove the piece of pie it stays in place.
Variations To Lemon Cream Pie
Whipped Cream | As I mentioned before, leave the meringue off and do whipped cream instead. This is just as tasty and offers a creamy texture to the pie.
Blueberries | Add a few fresh blueberries on top of the pie for added flavor and color. I love lemon and blueberries together. You could use any other fruit as well.
Lemon Zest | Zest a lemon and add a dusting of lemon zest on top of the pie for a kick of flavor in each bite.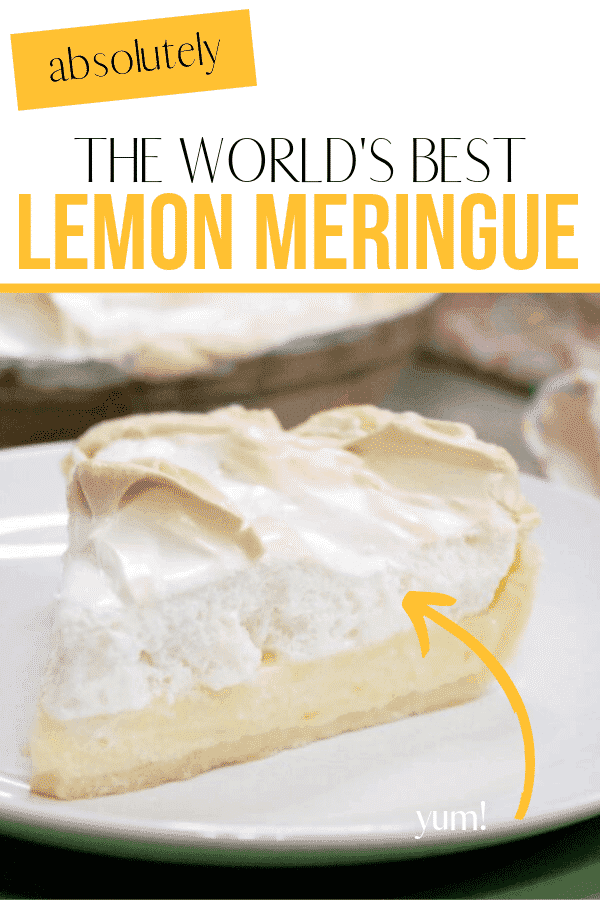 How Long Will Lemon Cream Pie Last In Fridge
You can keep your lemon pie in the fridge for up to 4-5 days. Anything after you will want to use your best judgment as to if the pie has gone bad or not.
Can I Make This Lemon Pie with Meringue Into Cupcakes
Absolutely. You are welcome to use a muffin tin and place your pie crust in each tin, and then fill partly with lemon filling and the followed by meringue.
You will, of course, need to adjust the cooking time, so make sure to watch your pies closely.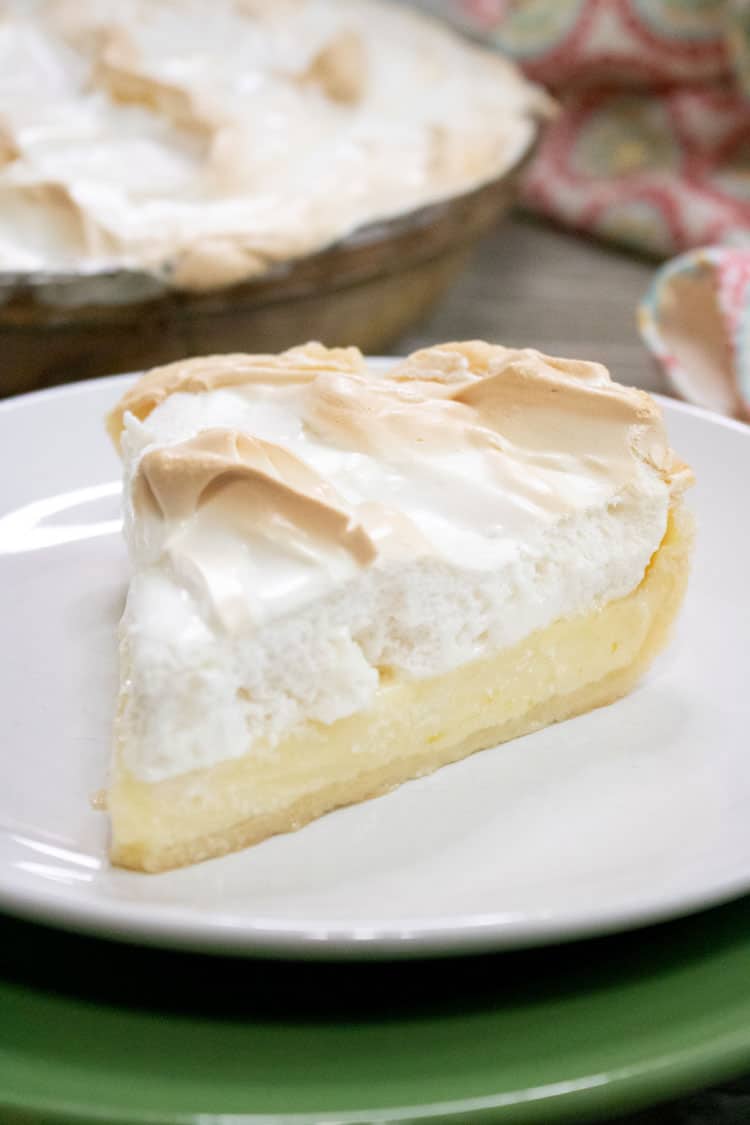 If you want more pie recipes, check out these
Chocolate Cream Pie | Serve up this classic recipe that any and everyone loves. A creamy fudgy chocolate pudding based pie topped with chocolate shavings and a dollop of whipped cream.
Pina Colada Pie | This recipe is one of my favorites for summer. Bursting with tropical flavors, and it is incredibly easy to whip up.
Key Lime Pie | If you love lemon you might just fall head over heels for this key lime pie. Tangy, tart, and just enough sweet that leaves you reaching for one more bite.
Give this lemon cream pie recipe a try today. This is my tried and true recipe I have made for years.
Essential Tools for Baking a Lemon Meringue Pie
Pie Weights | Pie weights are needed for blind baking pie crusts. This is what it is called when you pre-bake a pie crust without filling. The weights hold down the crust so it doesn't puff up.
Pie Dish with Cover | Covering up a pie in the refrigerator is a must, and this pie dish with cover makes it so easy to do because it is domed and won't squish the meringue you worked so hard to perfect.
Pie Server | If you want to cut and serve pie slices without leaving crust on the bottom of the pan, using a pie server (instead of a fork or other utensil) is needed.
Stand Mixer | Egg whites need to be whipped at high speed to achieve the needed consistency for meringue. You can get that with a hand-held mixer, but it is much easier to do with a stand mixer.
I've been using my Kitchen Aid mixer for 12 years now and it's the best kitchen appliance I've ever purchased. Not only do I use it on a regular basis, but the mixer I bought was a refurbished model and it is still going strong after 12 years!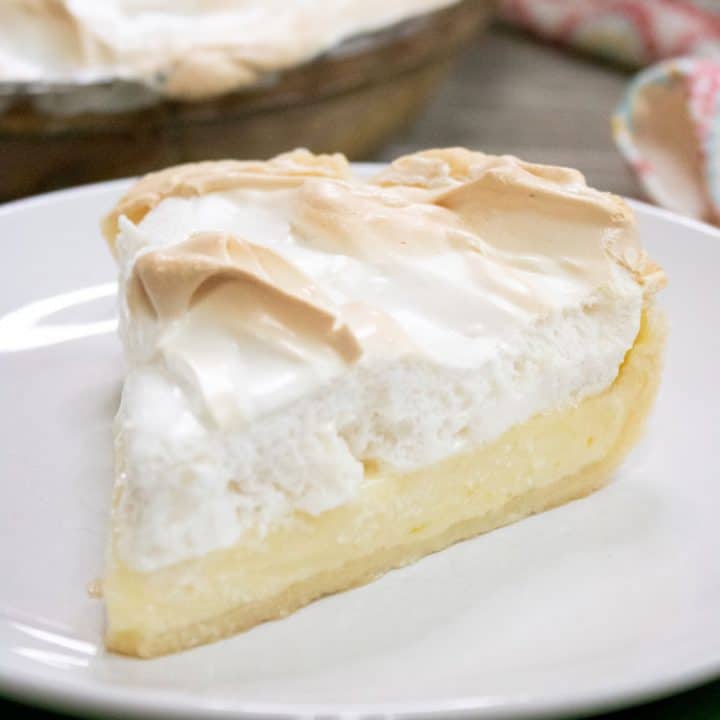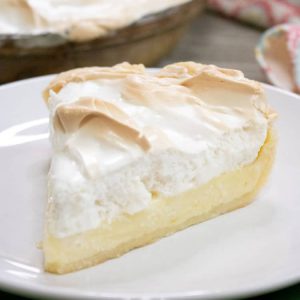 Lemon Pie with Meringue
Lemon Cream Pie with Meringue is a light and tasty pie recipe. You can serve it all year long, and it's also a wonderful holiday pie recipe.
Ingredients
1

pie crust

3

eggs

separated

14

ounce

can sweetened condensed milk

½

cup

lemon juice

1

teaspoon

cream of tartar

⅓

cup

sugar
Instructions
Combine egg yolks, sweetened condensed milk and lemon juice and mix together well. Pour into pre-baked pie crust. 

To make the meringue, add egg whites, sugar and cream of tartar and beat all three ingredients together until still and able to form peaks. 

Spread meringue over the top of the pie to the edge of the crust, sealing the pie.  

Bake in preheated 350-degree oven for 15 minutes. 

Chill prior to serving. 
Notes
Note: to make a higher meringue, use an additional 3 egg whites, 1 teaspoon cream of tartar and ⅓ cup of sugar. 
Nutrition
Calories:
317
kcal
Carbohydrates:
47
g
Protein:
7
g
Fat:
11
g
Saturated Fat:
5
g
Cholesterol:
78
mg
Sodium:
174
mg
Potassium:
305
mg
Fiber:
1
g
Sugar:
36
g
Vitamin A:
222
IU
Vitamin C:
7
mg
Calcium:
154
mg
Iron:
1
mg