This recipe is part of our monthly recipe series sponsored by Pick 'n Save. Follow along with All She Cooks on Pinterest and Instagram.

I love Wisconsin.  Whether its the gorgeous outdoors in one of our state parks, listening to the water and laughter while lounging around at one of our many water parks, or enjoying Wisconsin produce–there is just so much to enjoy.  We've got it made Wisconsinites.  We've got beaches, we have small cities, opportunity and so much to do.  And scenery.  I can't talk about all that I love about Wisconsin without mentioning the gorgeous scenery.  From the rolling hills to farmland ripe and lush with cabbage greens, corn, eggplant and bell peppers; there is so much to relish in the landscape that is Wisconsin.
It probably goes without saying that I'm really enjoying cooking with those Wisconsin-grown vegetables.  Who wouldn't?  And it was that inspiration that had me dreaming of Mexican Rice with Mexican-Style Stuffed Peppers.  This is a meal that has protein and fiber, all in one yummy dish.  I can't imagine anything that could be wrong about a meal so ideal.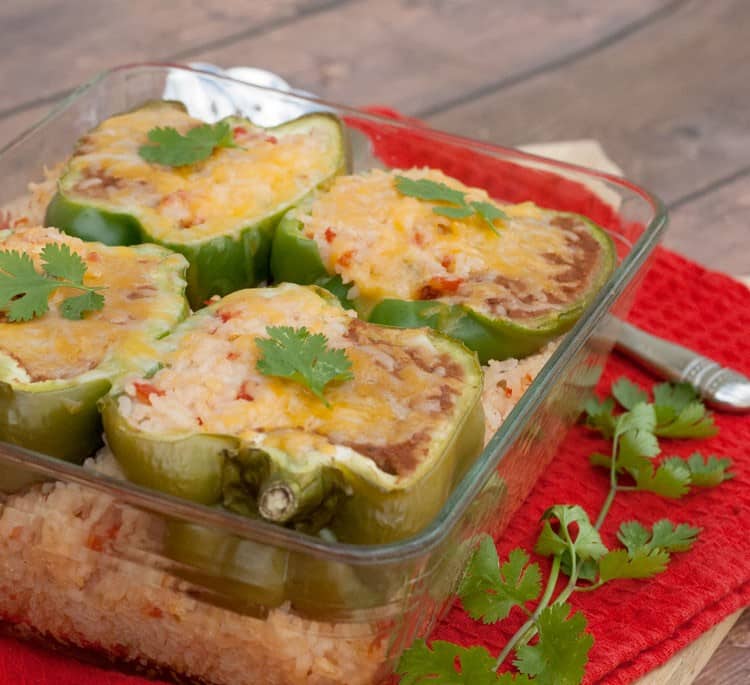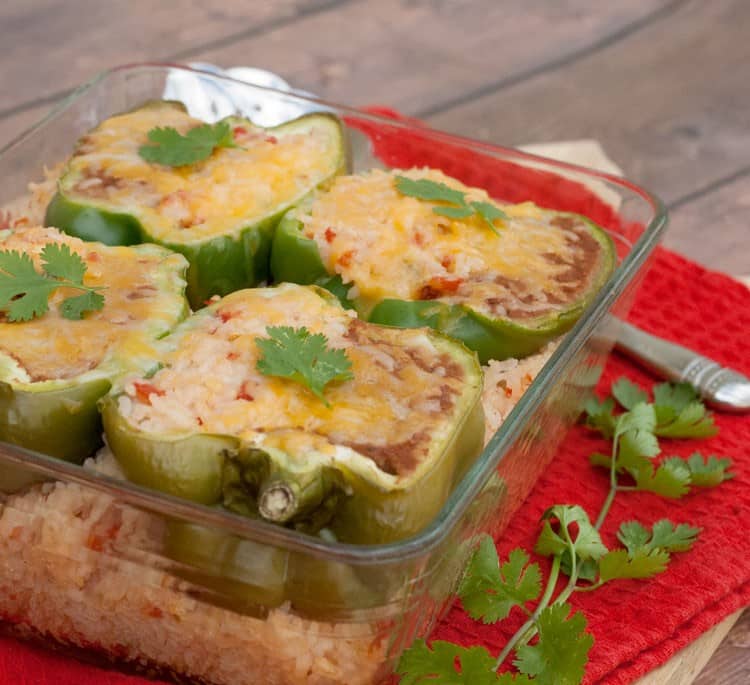 Since local produce is the best produce, that is what I always try to use.  The freshness of local means that produce is super fresh and at is optimal nutritional value for you and your family.  Not to mention the FLAVOR.  (Okay..so I just mentioned it, but hey–the flavor!!) Well, you know that its a dish well served when you have something that is fresh, nutritious and flavorful.  Win, win and win.
And Mexican Rice with Stuffed Peppers?  Give me a margarita and I'm set!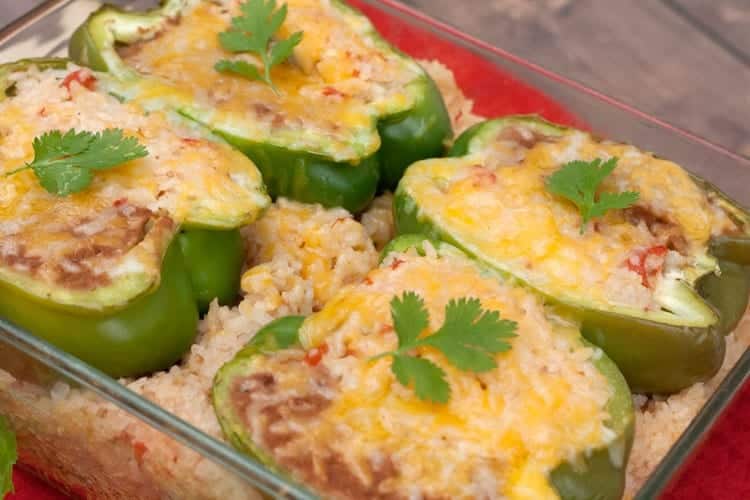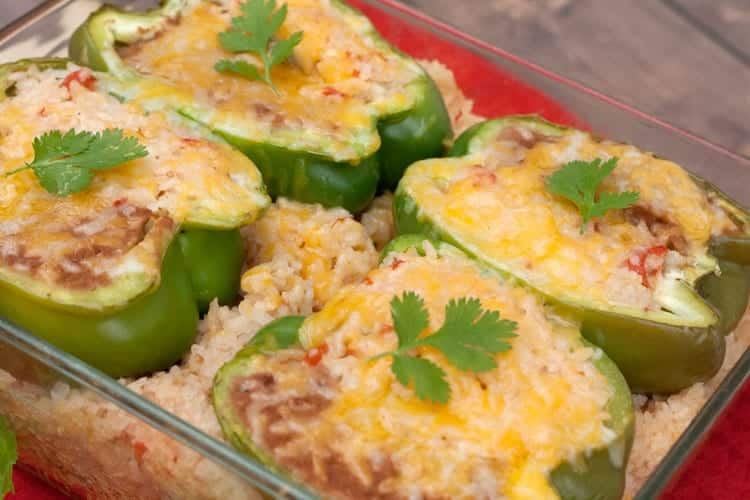 This recipe is a little bit more time-involved than what I normally go for, but is worth it.  The Mexican Rice alone is the perfect accompaniment to any Mexican recipe you want to cook up.  The Stuffed Peppers- well, those are just plain easy.  Seriously.
Once you've followed the directions for cooking up the Mexican Rice (see recipe below) all that's left to do is slice open and seed the peppers, fill half of each pepper portion with refried beans and the other half with Mexican Rice.  Pop them in the oven, with or without the rest of the rice.
A variation on this recipe that would cut your cooking time in half–which might very well be worth it for busy weeknight cooking–would be to fill the peppers with only refried beans and then top with cheese for the last 5-7 minutes of the baking time.  You could still serve them on top or on the side of the Mexican Rice for the same great flavor.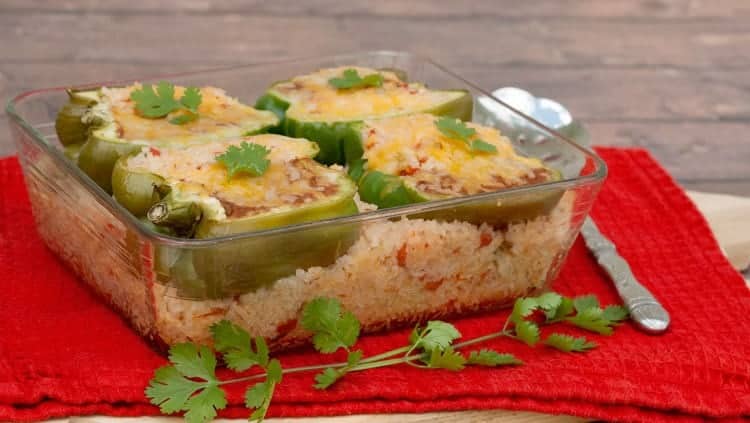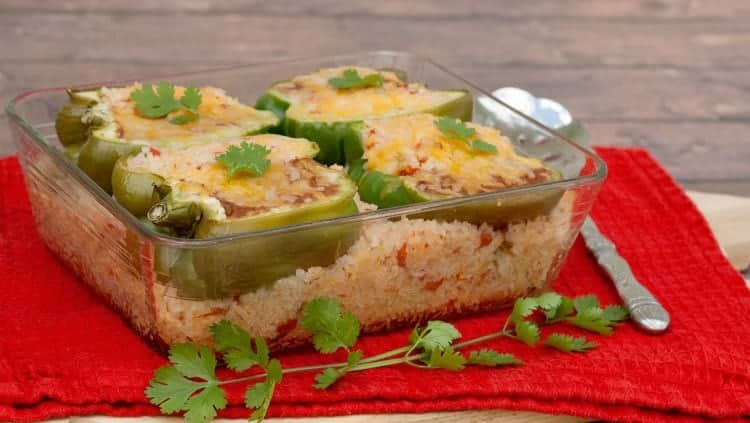 Pick 'n Save is Wisconsin's biggest single buyer of local produce.  Which means they are supporting Wisconsin farmers, which is such an amazing thing for our state's economy.
Through its long-standing relationships with farmers, as well as its partnership with the Wisconsin Food Hub Cooperative, Pick 'n Save works with over 100 local farmers, offering Wisconsin customers the best in locally grown produce. You can read more about Pick 'n Save's Wisconsin farmers here: http://www.picknsave.com/locallygrown.
Be on the lookout for nutritious and delicious locally grown vegetables that should be hitting Pick 'n Save in early August: Cabbage greens, corn (which is actually in stores this week!), eggplant and green bell peppers. Yum, yum, yum and yum.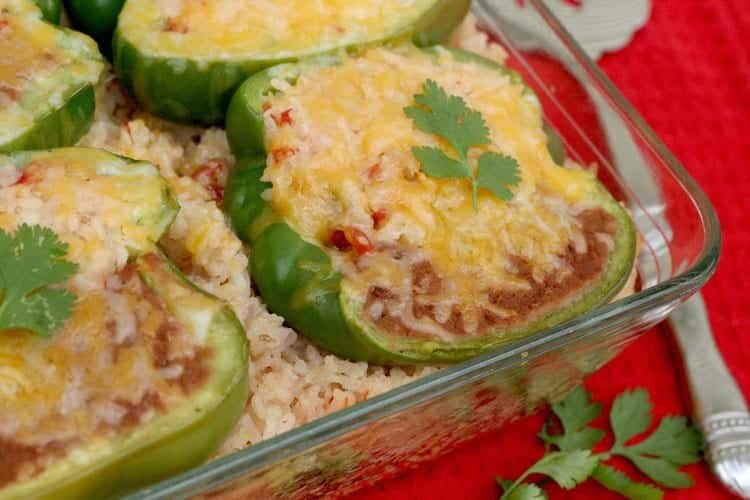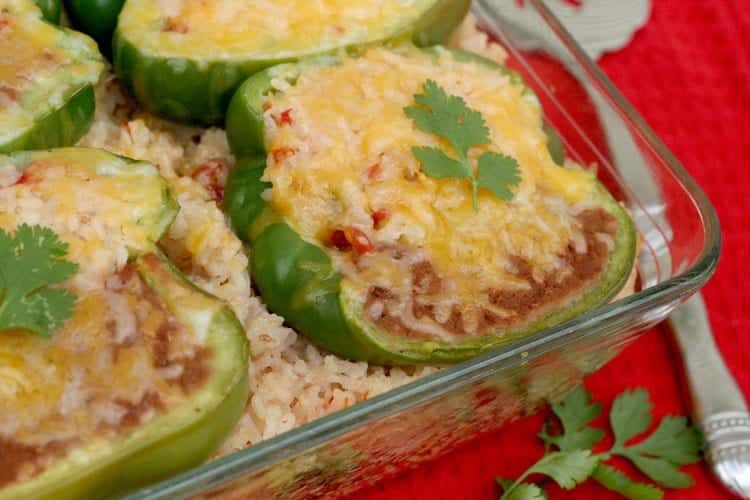 There really is no way to go wrong with locally grown veggies.  Cook them up, eat them raw, but either way- enjoy!
Print
Mexican Style Stuffed Peppers with a Twist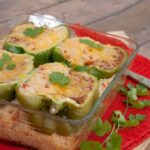 Prep Time:

5 minutes

Cook Time:

1 hour

Total Time:

1 hour 5 minutes

Yield:

6
Ingredients
Mexican Rice
2 cups uncooked white rice
1 tablespoon olive oil
1/2 jalapeno, sliced
1 (10 ounce) can diced tomatoes with peppers with liquid
4 cups chicken broth or stock
Stuffed Peppers
2 large bell peppers, cut in half lengthwise and seeded
1 (16 ounce) can refried beans
1/2 cup shredded Mexican-blend cheese
Instructions
Prepare Mexican rice by combining olive oil, uncooked rice, and sliced jalapeno in a skillet over medium heat. Stir on and off for about 10 minutes until slightly browned. Add diced tomatoes with peppers, including liquid, and chicken stock. Cover and cook over medium low heat for about 15 minutes. Time will vary depending on the type of rice used, so look at package directions for time.
To prepare stuffed peppers, cut in half lengthwise and seed. Add refried beans to fill one side of each pepper half, and then fill the other side of each pepper half with some of the Mexican rice. Layer a baking dish with the remaining Mexican rice and then top with stuffed peppers. Cover with foil. Bake on 350 for 30 minutes. Add shredded cheese to the top of stuffed peppers and bake for an additional 5-7 minutes.
Visit http://www.picknsave.com/ambassadors to learn more about the ambassador program and discover new recipes from other Wisconsin bloggers.
We'd love to see what you're whipping up in the kitchen!  Share your creations with #MyPicknSave.
The following two tabs change content below.
Latest posts by Jessica McCoy (see all)