If you're looking for weight gainer shakes, I have just the recipe for you! Mom's Famous 1,000-Calorie Chocolate Peanut Butter Milkshake recipe is packed with 1,400 calories and it tastes great, unlike some weight gainer shakes out there.
In efforts to help my son gain weight, I decided to try to create a weight gainer shake at home. My goal was to pack as many calories as I possibly could into a liquid food that I know my teenage son will actually drink. All. The. Way. Down. Because he LOVES milkshakes.
Before I came up with this recipe, he tried a few of the pre-packaged weight gainer shakes out there and was not a fan.
Some of the popular brands tasted awful — chalky, overly sweet, and highly artificial. We ended up dumping a lot of them down the kitchen sink (and did I mention how expensive they are?!).
This weight gainer shake (I call it Mom's Famous 1,000-Calorie Chocolate Peanut Butter Milkshake) is simple and is packed with plenty of calories.
The "1,000-Calorie" name is a bit inaccurate... this "1,000-Calorie Shake" actually has a whopping 1,400 calories!! Insane, right?
The funny thing is his friends love them too. Now... I don't make them quite as protein-packed when the friends are over, so they aren't jammed with as many calories, but they still love them. When teenage boys love a food, you know it's a winner!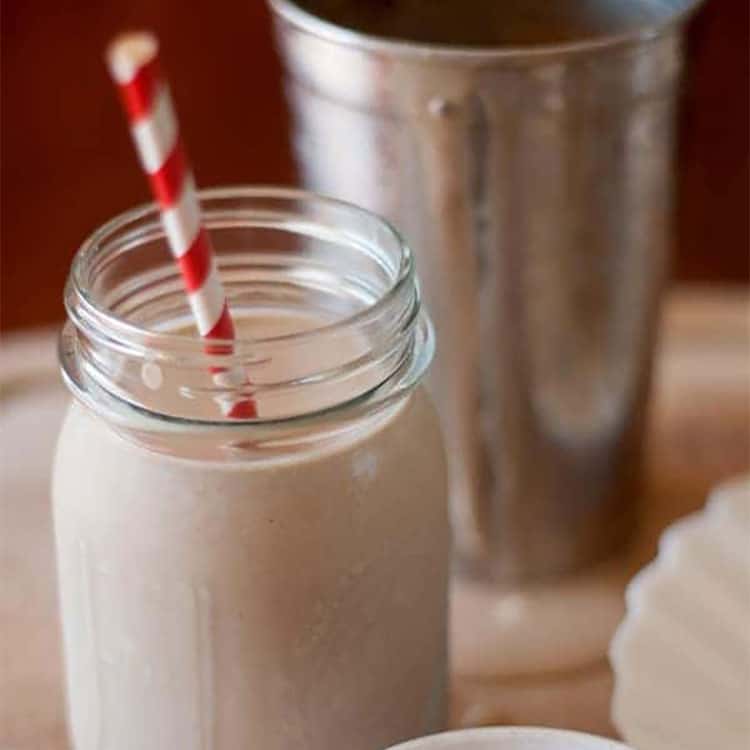 Weight Gainer Shakes - Disclaimer
I am not a doctor and am NOT offering medical advice. If you or your child is underweight and/or are trying to gain weight, please consult a doctor or nutritionist to discuss healthy ways to gain weight.
This self-made weight-gainer shake is not meant to be a shake to use for anyone who happens to be underweight, or to be used on a daily basis.
It has protein, but it has sugar too. There are pros and cons. In our case, the pros outweigh the cons, and our son has these shakes on occasion.
He also drinks whole milk with Carnation Breakfast Essentials every day in an attempt to up his caloric intake.
Tips for Making Weight Gainer Shakes Like This One
This makes a BIG 1,000-calorie shake. It can either be shared between two people, or if a person is trying to gain weight, they might want to have the entire 1,000-calorie shake for themselves.
Add some spinach or cauliflower for a veggie boost. I know that might sound crazy, but you can add some frozen spinach or cauliflower to weight gainer shakes without impacting the flavor. (The color is another story... the spinach will, of course, turn the shake a bit green!) Don't add too much; start with ½ cup for the entire recipe, and if that's tolerated, increase it to 1 full cup.
Feel free to switch up the ingredients a bit. Try a different flavor of ice cream or a different flavor of Carnation Breakfast Essentials. Unless you have a peanut allergy (or just hate peanut butter), I don't suggest using a different nut butter. The creamy peanut butter adds a really nice consistency and it's not quite the same with a nut butter like almond butter.
Add protein powder for a protein boost. If you want to increase the protein in this recipe, try adding a scoop of protein powder.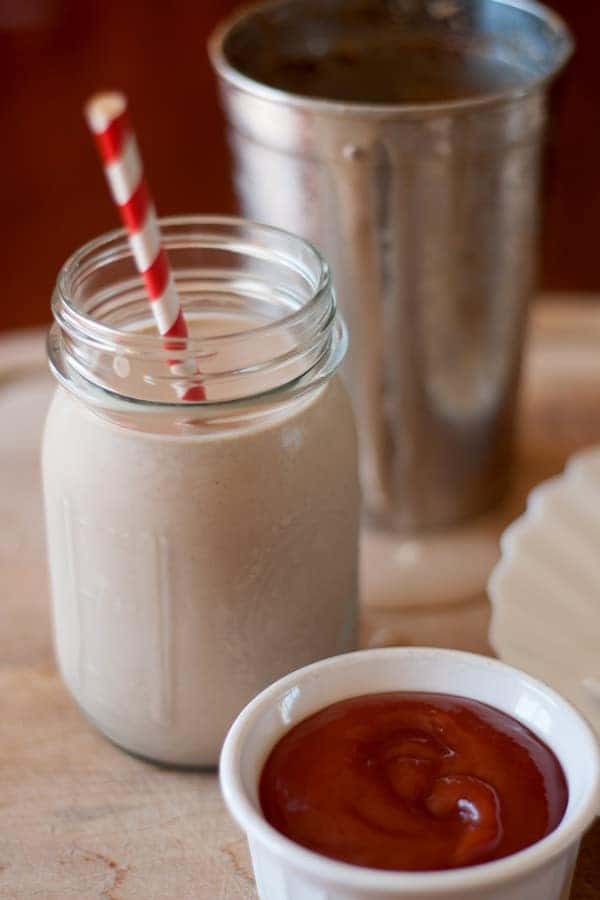 Want More Smoothie and Milkshake Recipes?
They aren't 1,000-calorie shakes, but they still taste great!
Enjoy! I hope you find this 1,000-calorie shake (er, 1,400-calorie shake!) helpful.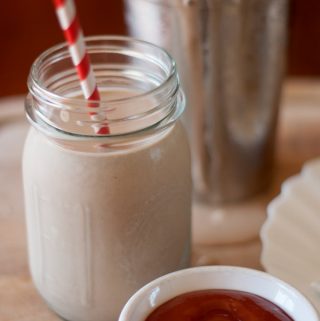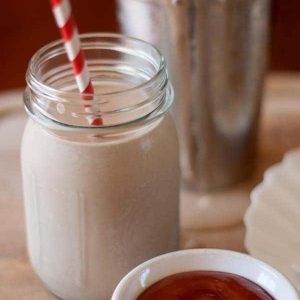 Mom's Famous 1000 Calorie Chocolate Peanut Butter Milkshake Recipe
Enjoy this sweet, addicting Chocolate Peanut Butter Milkshake!
Instructions
Mix everything together in blender or drink mixer.
Nutrition
Calories:
1422
kcal
Carbohydrates:
98
g
Protein:
46
g
Fat:
102
g
Saturated Fat:
36
g
Cholesterol:
105
mg
Sodium:
834
mg
Potassium:
1554
mg
Fiber:
11
g
Sugar:
78
g
Vitamin A:
1130
IU
Vitamin C:
1
mg
Calcium:
516
mg
Iron:
3
mg