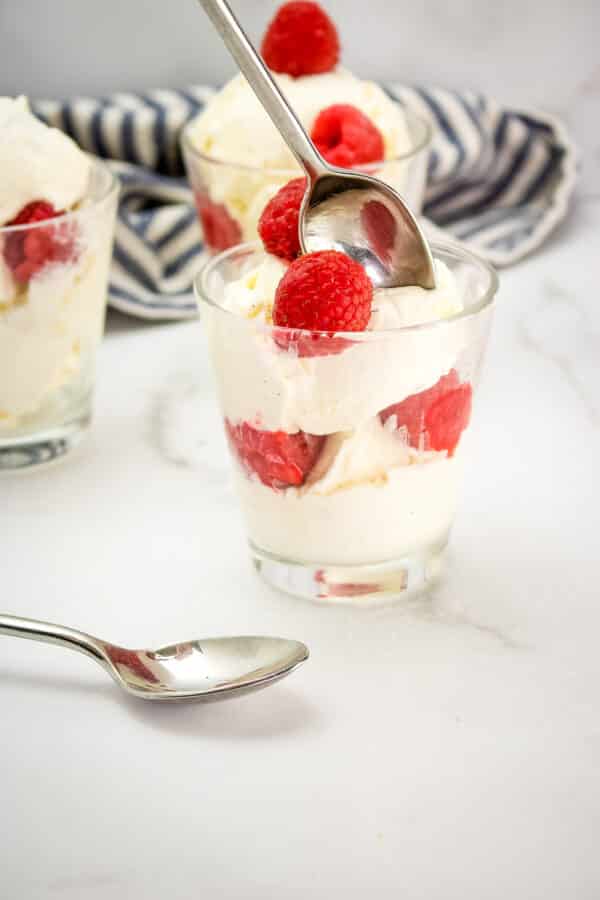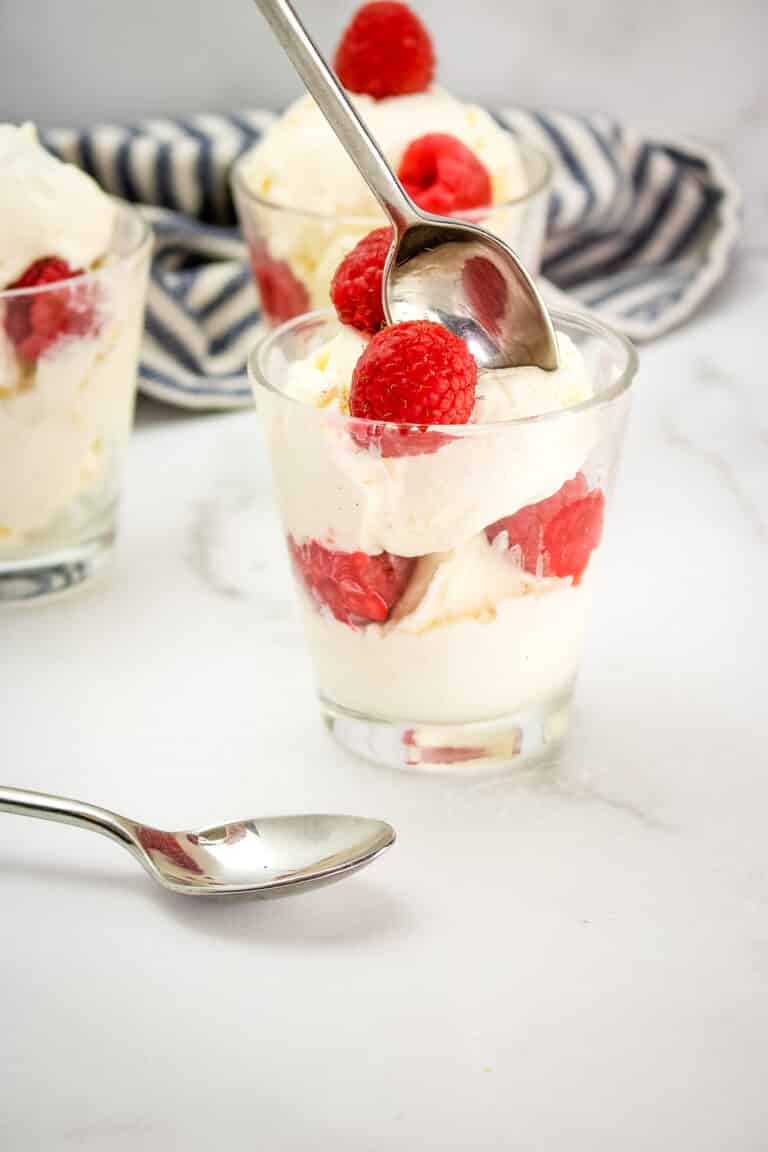 No-Churn Vanilla Bean Ice Cream is smooth, flavorful and the perfect dessert or special treat after a long day. With just three ingredients you can make your own Vanilla Bean Ice Cream at home. If you don't have vanilla bean, you can opt for a Nutter Butter No-Churn Ice Cream or one of our other no-churn ice cream recipes.
This delightful dessert can be enjoyed with fresh fruit mixed in and perhaps a little chocolate fudge drizzled over the top. Serve your no-churn vanilla bean ice cream in single-serve cups and watch as your family enjoys every bite.
The key ingredient that makes Vanilla Bean Ice Cream so special is the vanilla bean. Vanilla beans are an expensive ingredient that are best ordered in bulk on Amazon.
The reason for this is that you can get 25 beans for about $1.44 each instead of a single vanilla bean (2 if you're lucky) for upwards of $8-10.00. If you use a lot of vanilla extract, you can use some of these to make homemade vanilla extract, which is the best tasting you will ever taste.
Try These No Churn Ice Cream Flavors
What does no-churn mean?
The term no-churn means that you don't need an ice cream maker. Whether you're living on a budget or have a small kitchen, being able to make no-churn vanilla bean ice cream is an excellent way to enjoy your favorite ice cream flavor without purchasing a bulky ice cream maker.
What makes ice cream creamy?
No Churn Vanilla Bean Ice Cream uses heavy cream, like other no-churn ice cream recipes. The heavy cream makes ice cream smooth and creamy. Beating the heavy cream with your hand-held or stand mixer makes for a thick and creamy ice cream.
Why is homemade ice cream grainy?
If your homemade no-churn vanilla bean ice cream is grainy then it probably melted too much before freezing again. Large or small ice crystals occur when your homemade ice cream is allowed to melt before placing it in the freezer again.
To reduce the risks of grainy homemade ice cream you'll need to limit the length of time you leave your homemade ice cream out of the freezer during serving time.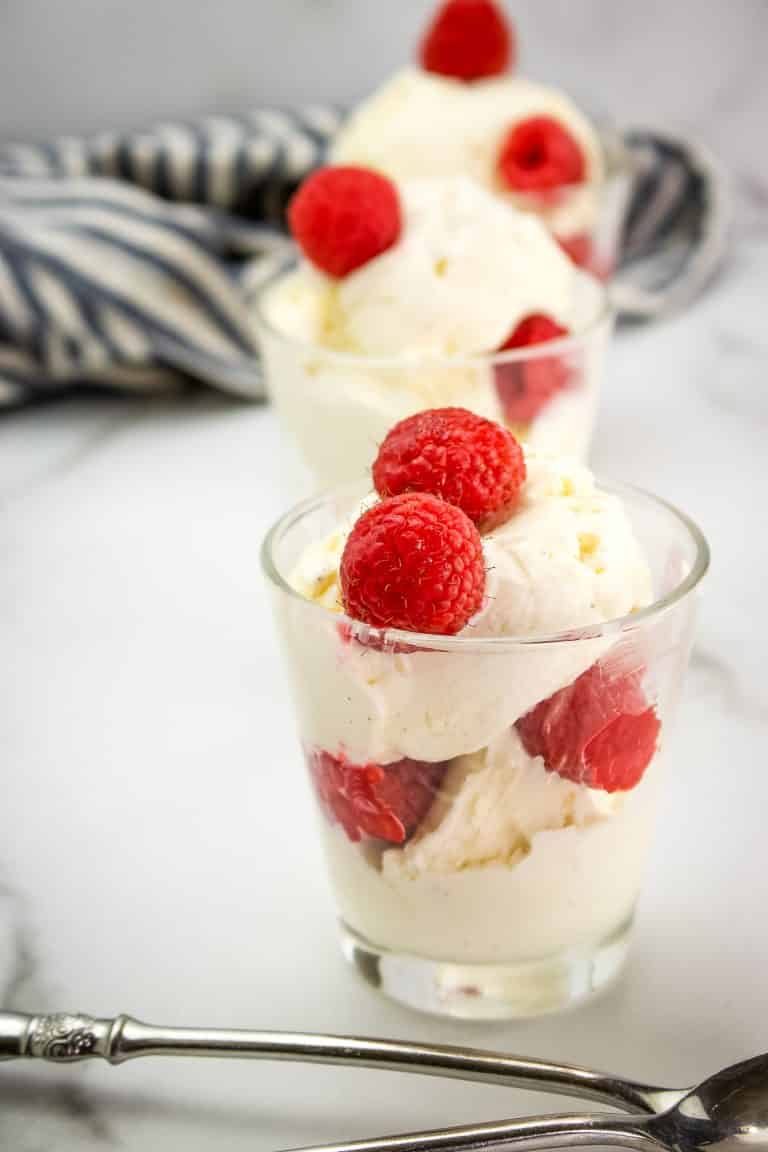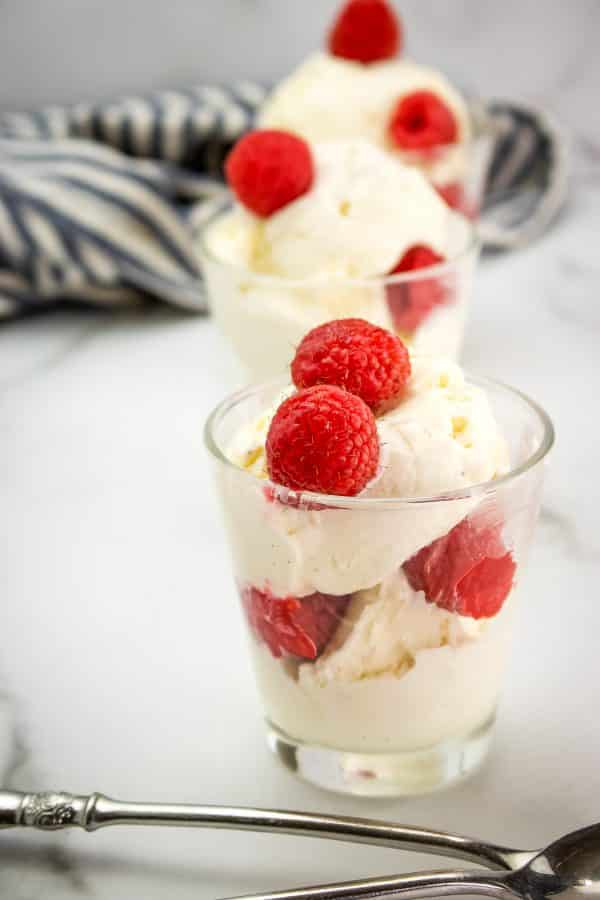 What is the difference between vanilla ice cream and vanilla bean ice cream?
Perhaps you're wondering what the difference between vanilla ice cream and vanilla bean ice cream is. 
No-Churn Vanilla Bean Ice Cream is flavored using vanilla beans. That's where the flavor definition of "vanilla bean" comes from, and is the major difference between plain vanilla ice cream and vanilla bean ice cream.
Most people have a preference of which style no-churn vanilla ice cream they like based on childhood. Some adults may have grown up enjoying a French vanilla ice cream flavor or a vanilla bean ice cream flavor. Each offers a subtly different flavor combination for your taste buds to enjoy.
Is vanilla bean sweet?
I love making no-churn vanilla bean ice cream as it has almost a hint of flavor that reminds me of coffee. Vanilla beans have a sweet aroma with a hint of a woodsy or almost smoky flavor. That's why I often associate a vanilla bean flavor with coffee. Vanilla bean is a similar flavor of coffee with a hint of sweetness.
You can find vanilla beans at most grocery stores. They're usually located in the baking or spice/seasoning aisle of the grocery store, but like I recommended earlier...if you use vanilla bean frequently, you should consider buying bulk vanilla beans on Amazon.
For this no-churn ice cream, you can add in different flavors such as fresh fruit, ice cream toppings or sprinkles to make a special single-serve no-churn vanilla bean ice cream sundae to enjoy with your loved ones.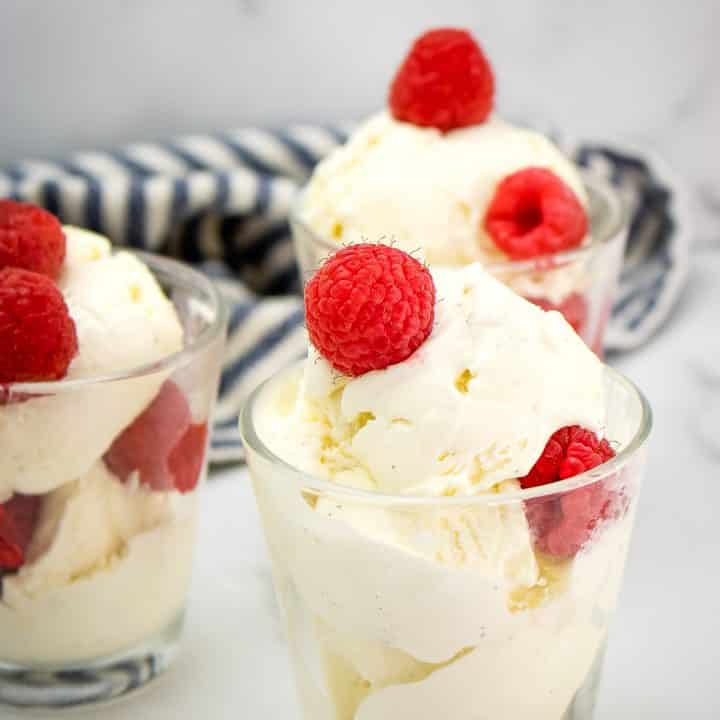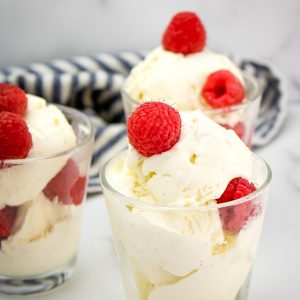 No-Churn Vanilla Bean Ice Cream
No-Churn Vanilla Bean ice cream is an easy no-churn ice cream recipe that uses just three ingredients. It's a fun dessert to make for the warmer months and is easy to add in flavors to make variations.
Instructions
In a large mixing bowl, beat the heavy
cream at high speed until stiff peaks form.

Pour in the sweetened condensed milk.

Carefully slice open the vanilla bean pod (lengthwise), and scoop out the vanilla beans. Add to the cream mixture.

Stir the whipped cream, condensed milk and vanilla to combine.

Pour into a bread pan or a freezer-safe container. Cover and freeze for 4 hours or overnight.
Nutrition
Serving:
1
g
Calories:
417
kcal
Carbohydrates:
38
g
Protein:
7
g
Fat:
27
g
Saturated Fat:
17
g
Polyunsaturated Fat:
8
g
Trans Fat:
1
g
Cholesterol:
90
mg
Sodium:
101
mg
Sugar:
38
g
Check Out Our Latest Recipes