You only need 5 ingredients to make these homemade Oreo Popsicles! These cookies-and-cream popsicles are a deliciously cool dessert to serve up this summer.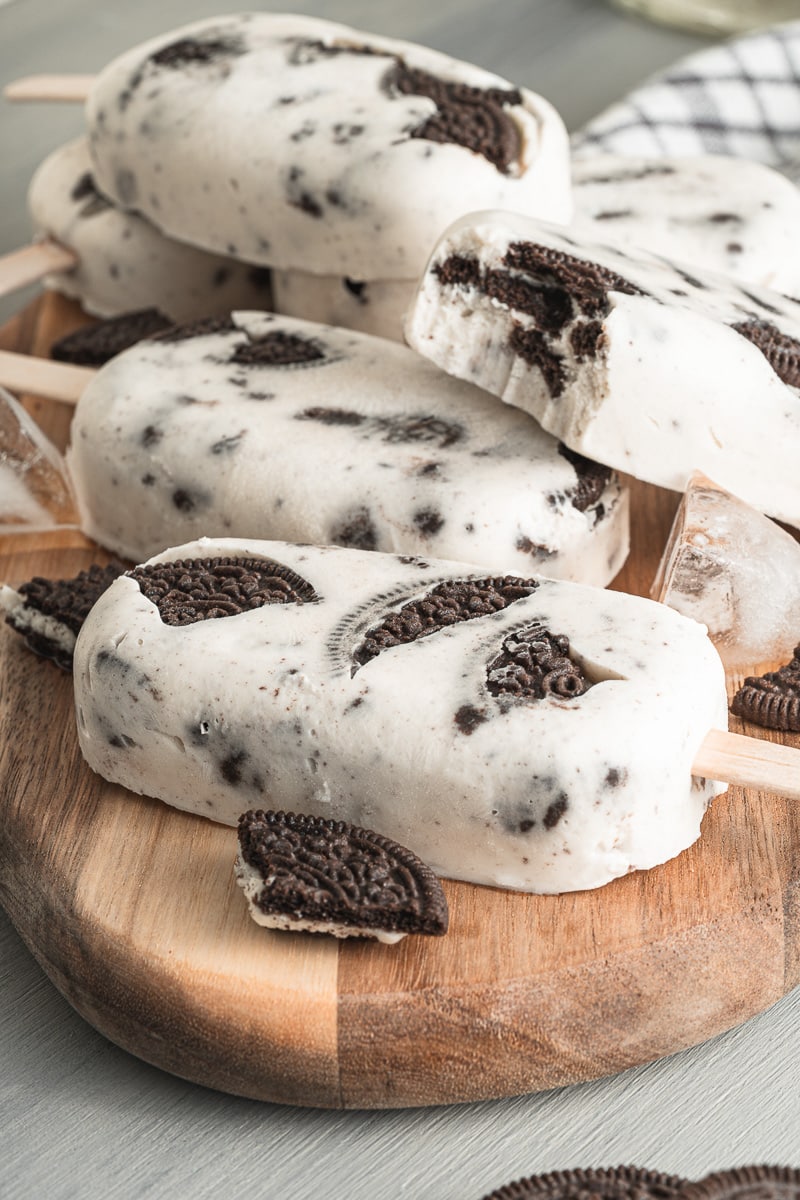 Who doesn't love Oreo cookies? They're probably the most classic cookies in the US! Besides Oreos, one of my favorite treats are popsicles and ice pops. I am a huge fan of making homemade popsicles for my family to enjoy. Combine the two and you get Oreo Popsicles!
I love the creamy texture and crunch from the Oreo cookies along with the cool, chilled texture of the popsicles. You will find that this is a decadent dessert that is going to give you an ice cream flavor in a creamy frozen treat.
If you'd like to make more traditional ice cream this summer, try mixing up this No-Churn Salted Caramel Pecan Ice Cream or this Copycat Ben & Jerry's Cherry Garcia Ice Cream! But if you really just want more Oreos, go for this cookies-and-cream filled poke cake.
But for beating that summer heat, there's really nothing better than a portable, creamy Oreo Popsicle!
This Oreo Popsicles recipe is...
Made with 5 ingredients 
Simple to prepare
Easily stored in the freezer 
Made with simple ingredients 
A make-ahead dessert 
How to Make Oreo Popsicles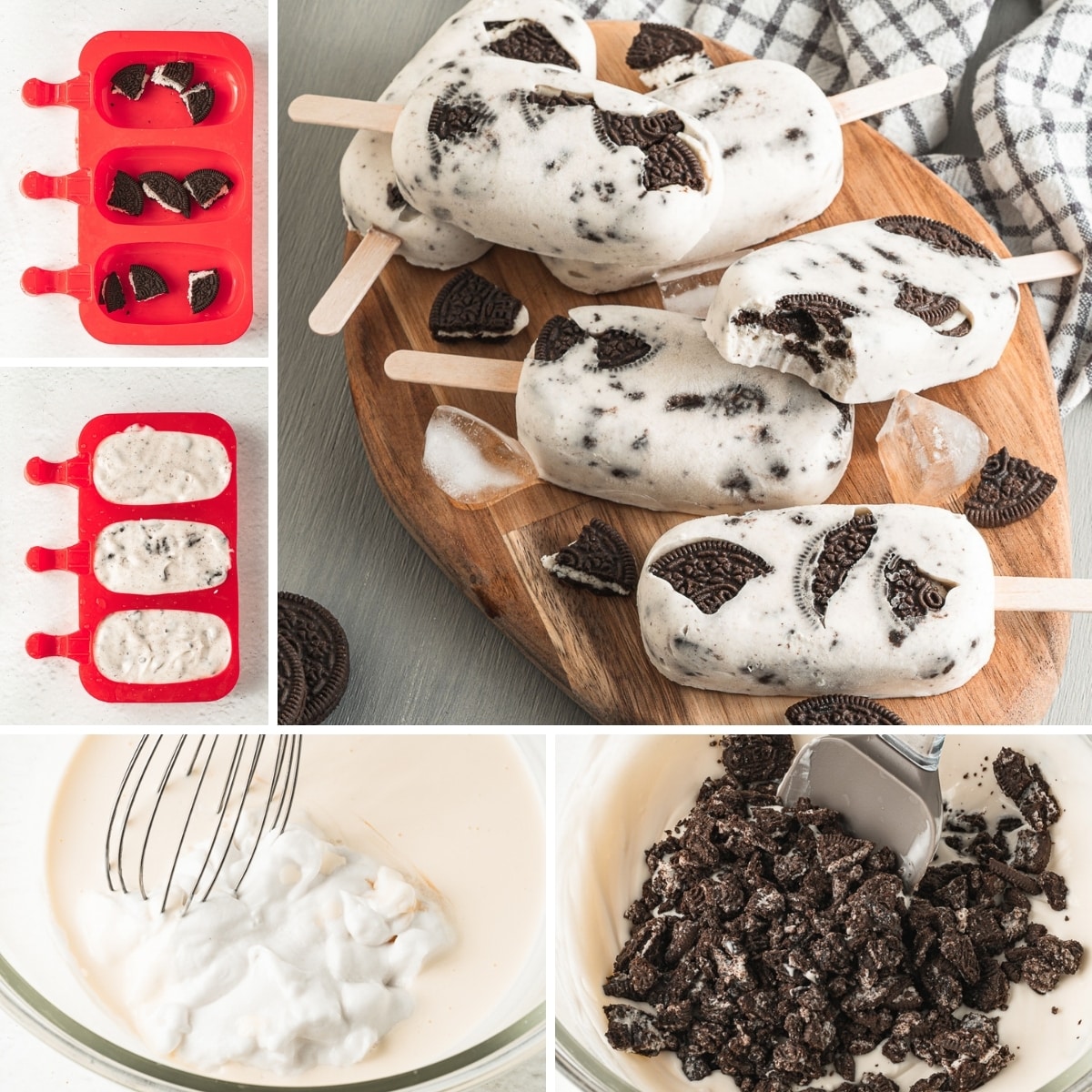 Crush Oreo cookies in a bag to make them cookie crumbles. 
Then mix up the popsicle mixture and add in extra cookies. 
Pour into popsicle molds and freeze as directed. 
Once frozen, these easy Oreo Popsicles are ready to eat! 
The full directions for this Oreo Popsicle recipe are in the printable recipe card below. 
Tips & Tricks for Oreo Popsicles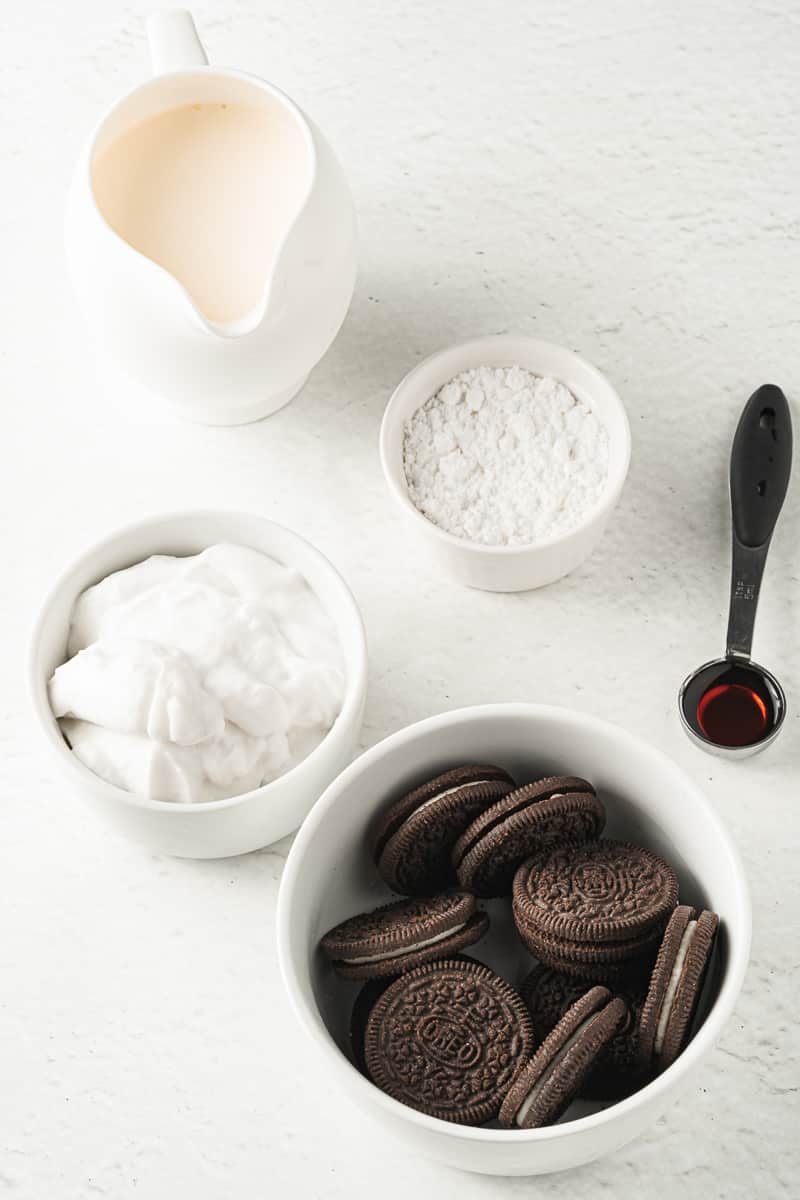 Cookies
For this recipe, you mix Oreo cookie crumbles into the batter. Then you break up larger cookie pieces to add more texture and aesthetic appeal to the popsicles. Make sure to add the larger cookies as they give your popsicles a nice look and added flavor. 
Popsicle Molds
Use any of your favorite styles of popsicle molds. Just note that the amount of filling you pour into each mold will depend on the size of your molds. Additionally, popsicles in smaller molds will freeze faster than larger ones. 
Variations To Oreo Popsicles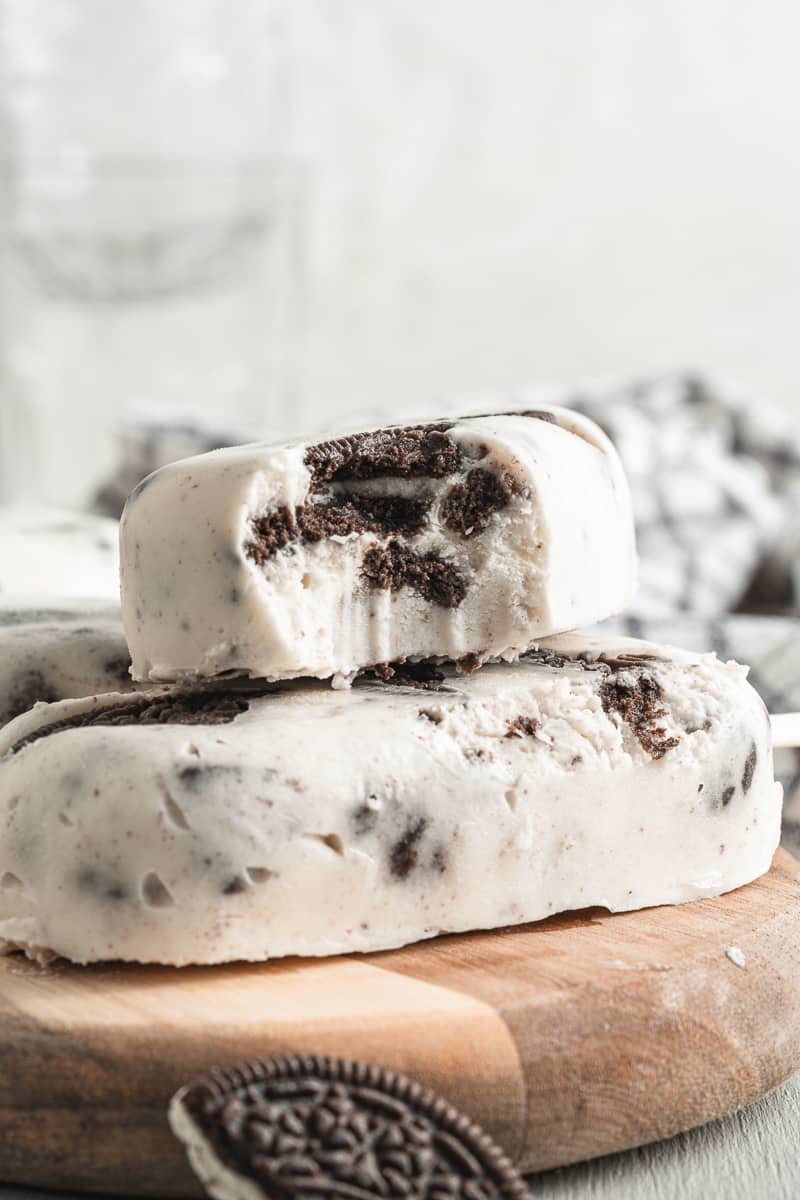 Cookies
I used Oreo cookies, but you can get creative and use any flavor of cookie you want! Chips Ahoy cookies would make a tasty popsicle. Or simply try a different flavor of sandwich cookie. 
Lower Fat Popsicles
Want to lessen the fat in these popsicles? Use ½ cup of heavy cream and 1 ¼  cup of yogurt instead. Any kind of yogurt will work, including low fat yogurt and Greek yogurt. 
Stir in Ingredients
Add more flavor to your pops by mixing in a little peanut butter, hot fudge, sprinkles, or nuts! This is a great way to make this recipe your own or to customize popsicles if you have little helpers in your kitchen, too.
Oreo Popsicles FAQs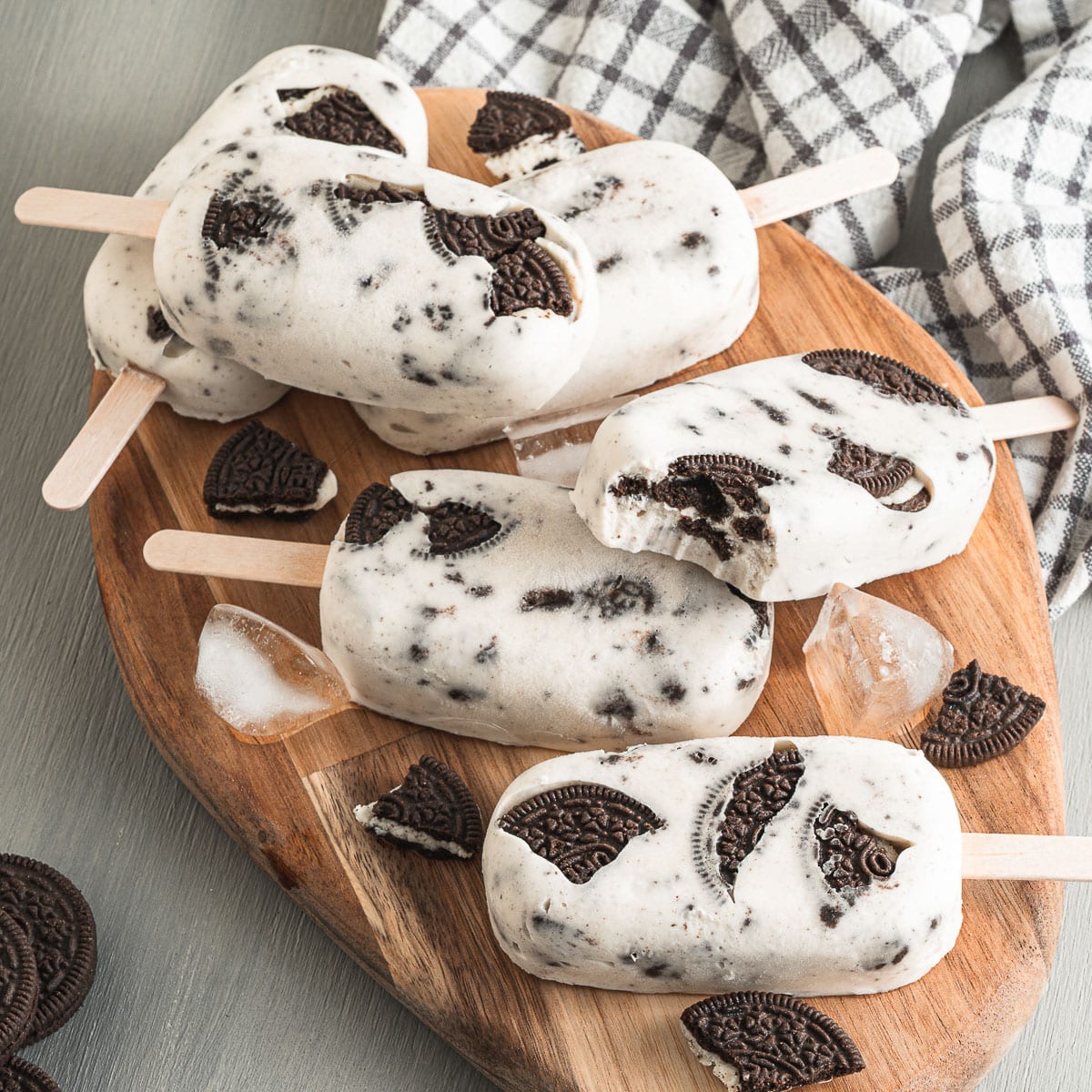 How to remove popsicles from molds?
If you are struggling to remove the popsicles, run the molds under warm water. The popsicles should slide right out! Just make sure to not get the top of the popsicles wet! 
Also, only leave the popsicle mold under the hot water for a short bit of time.If you overheat the mold, it will melt the popsicles. 
How long will these popsicles last in the freezer? 
These popsicles can be stored for an average of 2 months in the freezer. Just make sure your popsicles stay covered and in the molds. If you don't cover your Oreo freezer pops in the freezer, they may get freezer burned.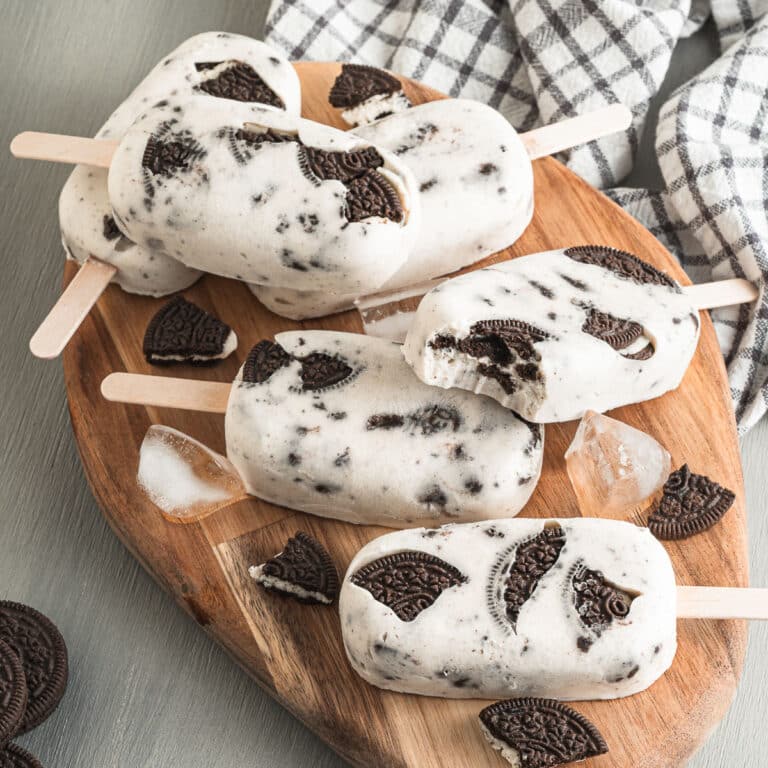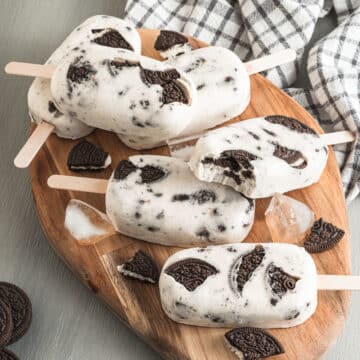 Oreo Popsicles
You only need 5 ingredients to make these homemade Oreo Popsicles! These cookies-and-cream popsicles are a deliciously cool dessert to serve up this summer.
Instructions
Place approximately 10 Oreo cookies in a small bowl and roughly crush them. You need about 1 cup of crushed cookies.

In a separate bowl, mix the heavy cream with plain yogurt.

Then add the caster sugar and vanilla extract. Stir to combine.

Add the crushed cookies and stir again until the mixture is well combined.

Take 4 to 5 additional cookies and chop them into bite-sized pieces. Place them in the base of the popsicle molds. (This makes them look super pretty – but it is optional!)

Spoon the mixture into the popsicle molds until they are filled. Don't forget to add the popsicle stick!

Freeze for at least four hours, or until completely frozen.
Notes
These popsicles last in the freezer for up to 2 months.
For low-fat popsicles, change the amount of heavy cream. Use ½ cup of heavy cream and 1 ¼ cup of yogurt instead.
Nutrition
Calories:
298
kcal
Carbohydrates:
25
g
Protein:
3
g
Fat:
21
g
Saturated Fat:
11
g
Trans Fat:
1
g
Cholesterol:
58
mg
Sodium:
152
mg
Potassium:
136
mg
Fiber:
1
g
Sugar:
16
g
Vitamin A:
614
IU
Vitamin C:
1
mg
Calcium:
69
mg
Iron:
2
mg