I fell in love with Orzo Pasta Salad on a trip to New York City. We'd happened upon a small chicken restaurant that was absolutely phenomenal and one of the most amazing salad recipes I've ever had the pleasure to experience.
Orzo Pasta Salad is One of Our Favorite Party Food Recipes
I ordered a plateful of roasted chicken that was served with a couple of side dishes, one of which was the first Orzo Pasta Salad that I'd ever had. I've been searching for and trying to replicate that recipe ever since. Now...any orzo salad that I have will always be a far cry from that salad I enjoyed in NYC. Let's be real, sometimes enjoying food is all about the experience, and location can have a lot to do with that.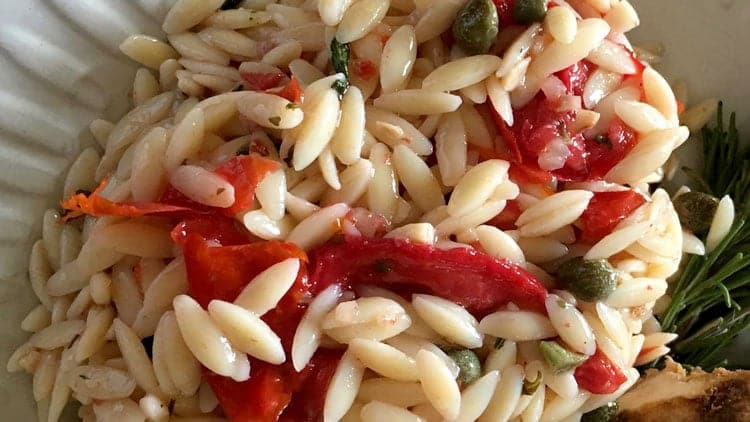 Party Food Recipes You'll Want to Try
That's why a backyard Shrimp Boil just doesn't taste the same inside, and Grilled Split Chicken Halves enjoyed at a cabin up North will always be savored in a different way than when they are made on the grill at home.
The same can be said for the time I made Sausage Gravy from Scratch with Drop Biscuits on a tiny stove in a quaint cabin a couple summers ago. Sure, the sausage gravy and biscuits taste just as good when I make them for a lazy weekend breakfast during the winter at home--but they always come complete with the memories of making that combination together at the cabin.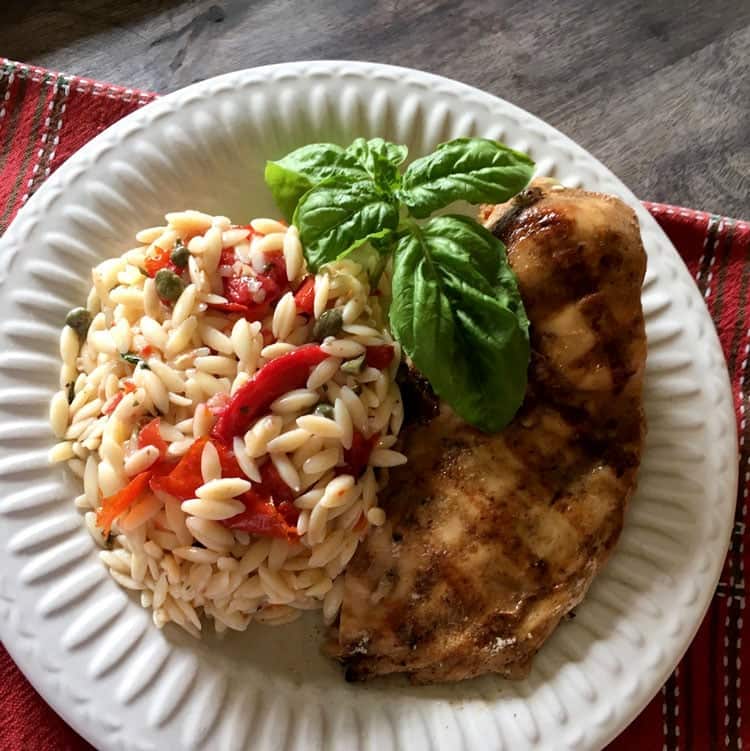 Of course, when we're talking about food to bring to a party, you'll want to make sure you check out our Loaded Baked Potato Salad, Mediterranean Pasta Salad, and Herbed Red Potato Salad.
What is Orzo Pasta

Orzo is a short form of pasta that is shaped to look like a large grain of rice. The first time I enjoyed an Orzo Pasta Salad, I wasn't sure if it was pasta or was in fact a larger rice variety.
Of course, I researched orzo right away and found out that it was indeed pasta and started searching for pasta recipes for orzo that I could start experimenting with.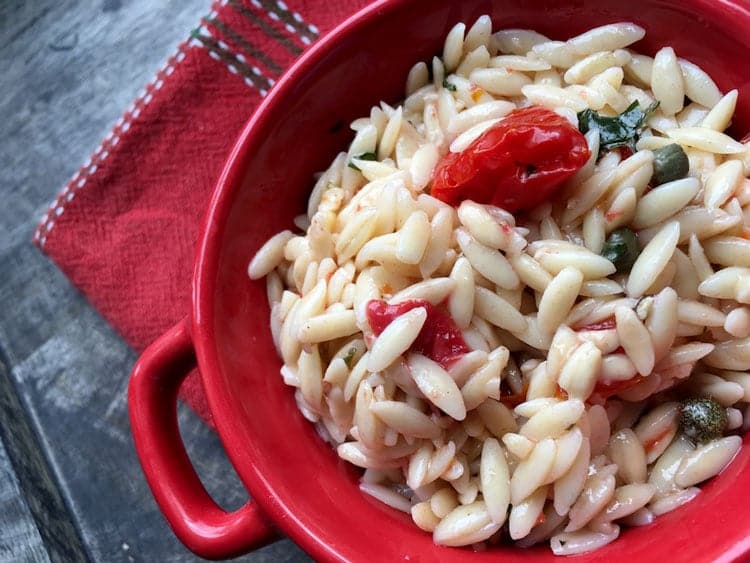 Orzo Salad with Tomatoes and Capers - Food to Bring to a Party
This chilled pasta salad is a great way to keep cool on a hot day. This delicious side dish tastes even better after the flavors have a chance to mingle, so make it a day or two in advance to take to your next picnic or casual get-together.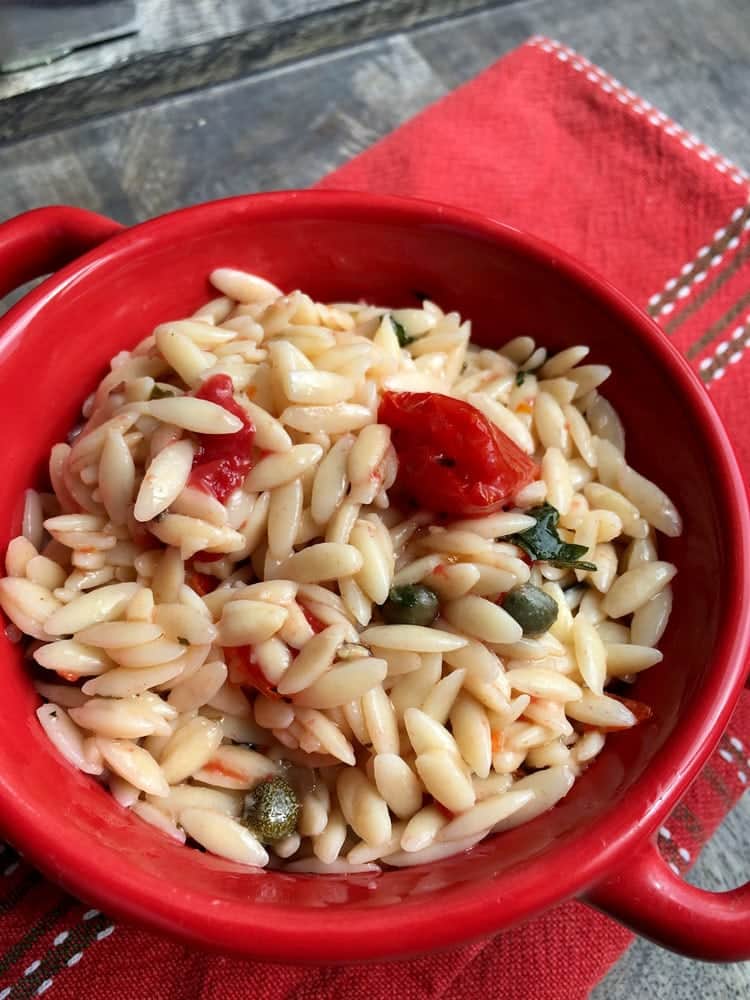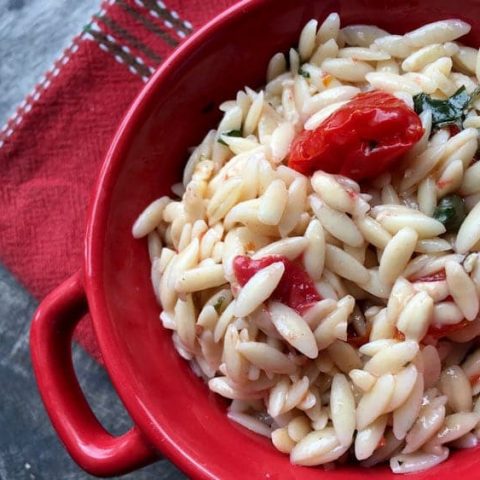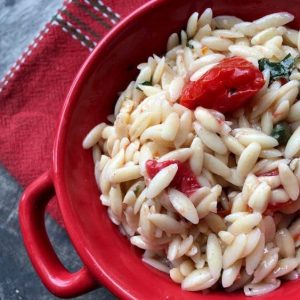 Orzo Pasta Salad - Party Food Recipes
This Mediterranean Pasta Salad is perfect to have on hand for party food recipes. This is a tasty salad recipe you'll love.
Ingredients
2

tablespoons

olive oil

3

cloves

garlic

peeled and finely minced

1

large or 2 medium tomatoes

washed and chopped, seeds and excess liquid discarded

1 ½

cups

dried orzo

cooked according to package directions and cooled

2

tablespoons

capers

1

tablespoon

caper liquid

1

tablespoon

fresh lemon juice

1

tablespoon

fresh thyme

stems removed and chopped

1

tablespoon

fresh parsley

stems removed and chopped

Salt and pepper

to taste
Instructions
Add olive oil and minced garlic to a cold skillet and turn heat to medium high. Sauté for 2 minutes, then add tomatoes and cook for an additional 2-3 minutes (until tomatoes become soft). Remove from heat and set aside.

In a large bowl, combine the cooked orzo, capers and liquid, lemon juice, thyme and parsley with the tomato and garlic mixture. Toss until thoroughly combined. Season with salt and pepper, to taste.

Cover and refrigerate for at least one hour or overnight. Stir and serve chilled with grilled chicken breasts or your favorite main dish.
Nutrition
Calories:
284
kcal
Carbohydrates:
45
g
Protein:
8
g
Fat:
8
g
Saturated Fat:
1
g
Sodium:
172
mg
Potassium:
218
mg
Fiber:
3
g
Sugar:
2
g
Vitamin A:
424
IU
Vitamin C:
11
mg
Calcium:
26
mg
Iron:
1
mg