Like this Refreshing Avocado Salad Recipe with Pasta
Avocado salad recipes are like none other. 
There is just something about that green superfood that is an avocado that can make any recipe more spectacular. If you like avocados, you probably already enjoy guacamole. But what about the occasional Chilled Tomato Soup with Guacamole, Avocado Soup with Feta or Avocado Mango Salad. Aside from the soup, salad and appetizer route, one of my favorite dinners to pair up with some sliced avocado is Chicken Enchilada Casserole.
So, you get the idea–quick avocado recipes are second to none.  Avocados are loaded with health benefits, because that little green fruit is a superfood.  Yes…and I'm not just saying that. Avocados are know to have many health benefits, including lowering cholesterol, reducing belly fat, increasing heart health and many more.
That's why I like to toss avocados into recipes you might not normally think of them being in… like a turning a pasta salad recipe into an avocado salad recipe. It works, right?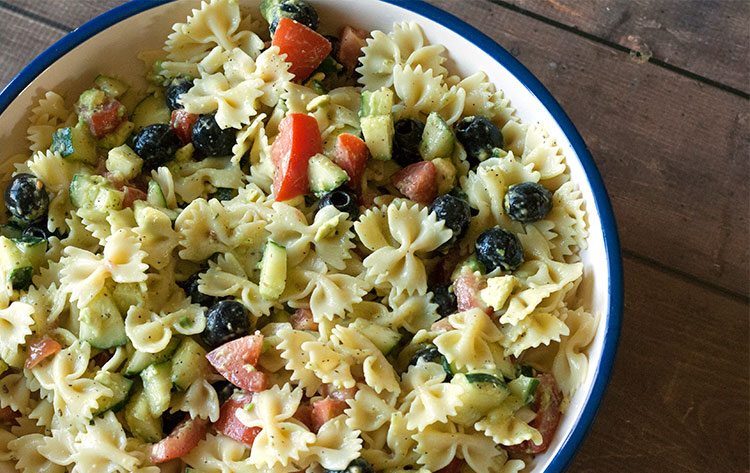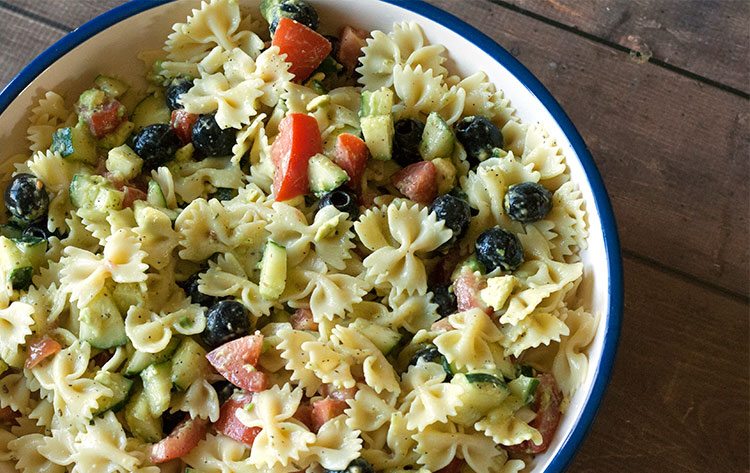 Besides being a spoonful of gorgeous, tasty delight, our Pasta Avocado Salad Recipe takes a wonderful photo. And when it looks so good, and tastes so good…it's just right.
Avocado Pasta Salad Recipes
For this recipe we mixed together bowtie past, black olives, chopped cucumbers and tomatoes; and then mashed up some avocado along with a splash of olive oil, salt and pepper and stirred it all together.
The result was a perfectly scrumptious pasta salad perfect for potlucks, a main dish or a side.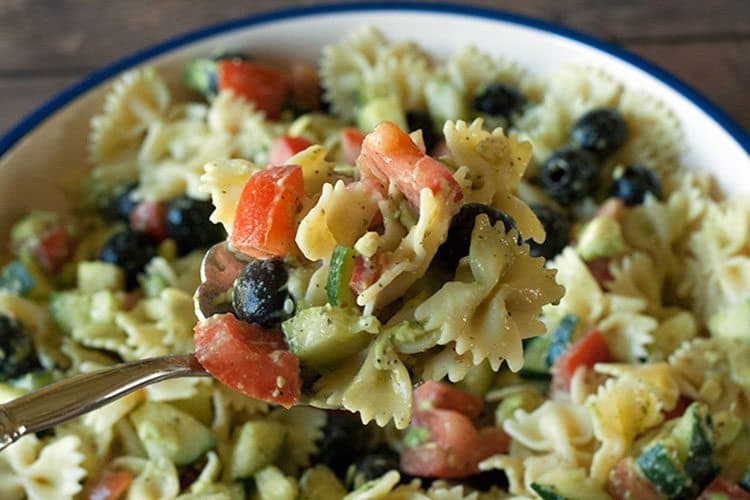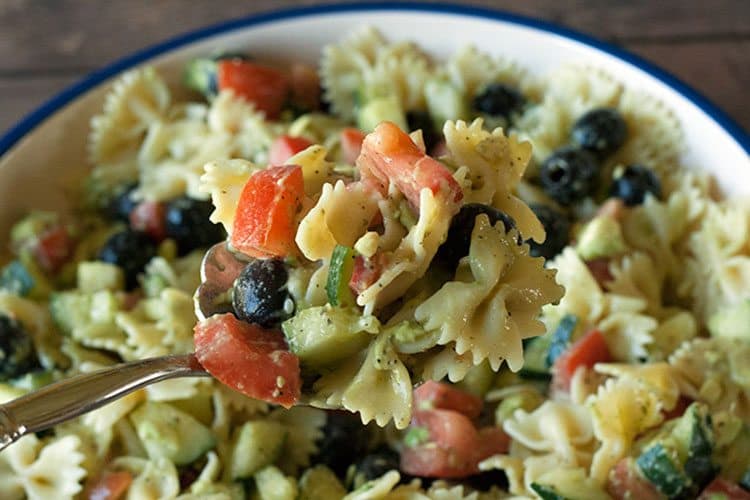 So, confession time.  In between all the cooking and food staging I do for All She Cooks, and my son leaving dishes in his room all the time–somehow, our house has been devouring our spoons. I'm not sure if they've accidentally been thrown away over time or what… but its come to the inevitable conclusion of having to invest (once again) in a good set of silverware. Because who wants to not have a complete set of silverware.
It pains me, because well–where did the spoons go?
But, whatever the case, I have my eye on this set of flatware that I think would look amazing in food photos. Not to mention on a set table, right?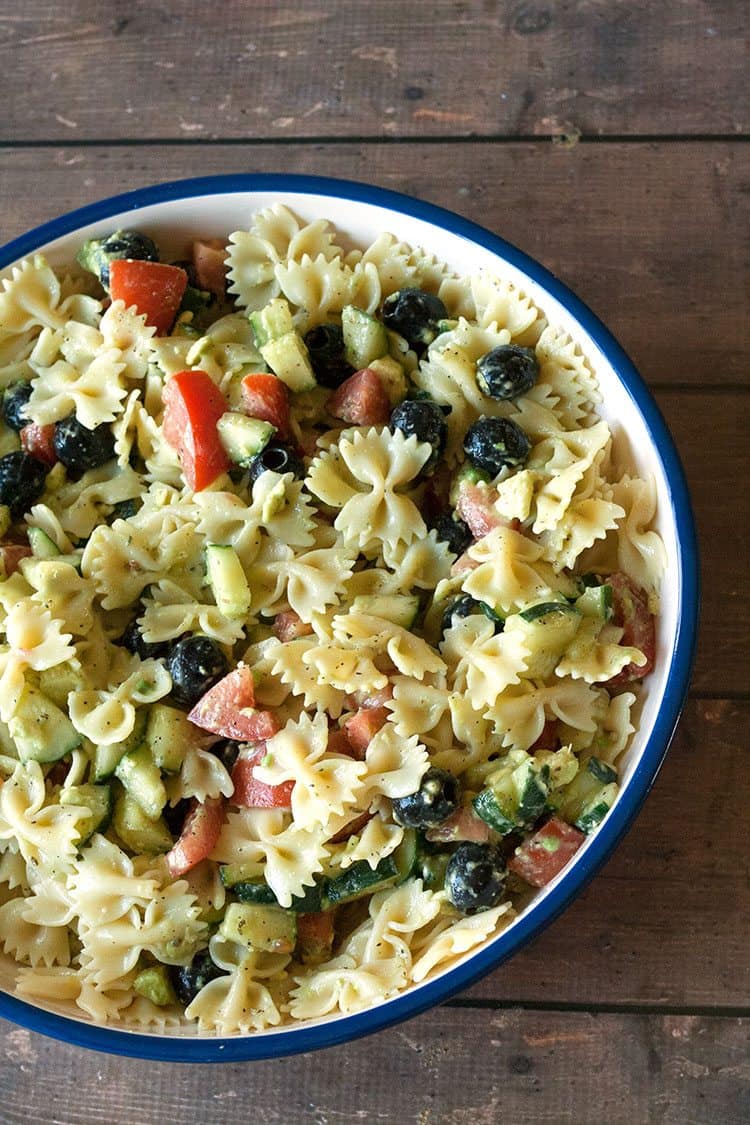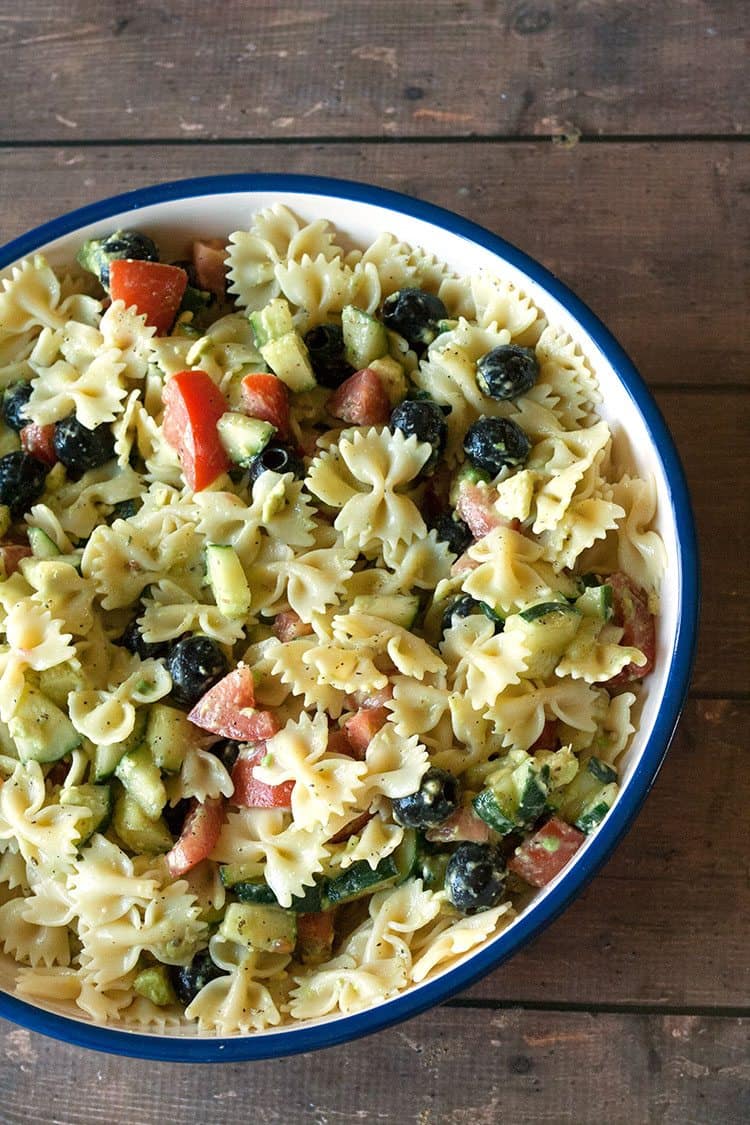 How Make Money Blogging — Why I want to learn how to make YouTube videos
One of the things that most serious bloggers have in common is that we know how to blog to make money. After all, for us fulltime bloggers, it is our livelihood. Most of us earn an income through a variety of means–brand ambassadorships, sponsored posts, ad revenue, products and more. Affiliate income is also a good source of income for many bloggers.
Being a food blogger, and taking lots of food photos means that my eyes are always zeroing in on what other people in our industry are doing. And having teenagers makes me aware of how the younger generation thinks and how they get their information. Basically–it's all YouTube baby.  Well, that and various social media sites, but if teenagers these days (and tweens for that matter and younger too!) want to know how to do something–they are turning to YouTube. Why read about it when you can watch a video?
So…this year on All She Cooks, we're going to be adding a YouTube channel. We're not there yet, but we will be. And it will be a family effort. My 15 year old son is phenomenal at editing video, so once his computer is completely built and we get the right tools, we'll be ready to go. I'd like to get the right video editing software and maybe the Canon EOS Rebel T6i video creator kit, which looks like the best camera making YouTube Videos fun and easy to create–and then we'll have the perfect setup to develop professional high quality YouTube videos.
I'll be able to embed the videos on All She Cooks AND promote them via all my social channels.  And we all know that people like to share contagious viral videos.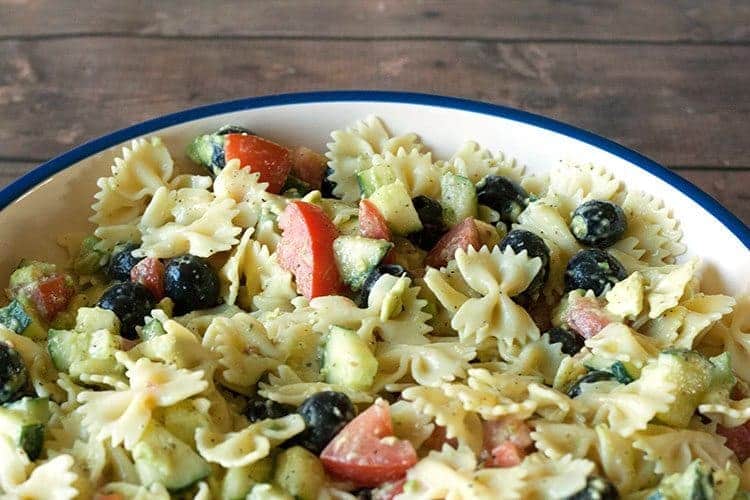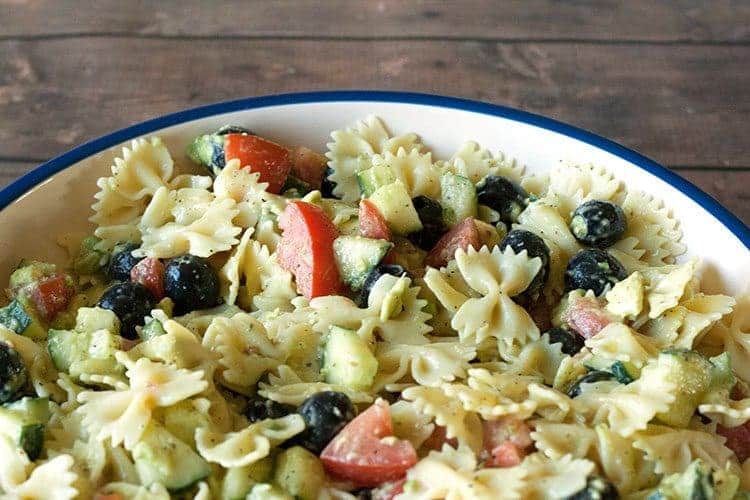 And to think, it all started with an amazing Avocado Salad Recipe! Delish, brain power and lots of innovative business-growing motivation. Love it!
Hope you enjoy this recipe as much as we did.
Print
Pasta Avocado Salad Recipe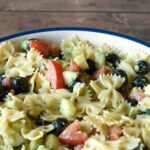 Ingredients
1 16 ounce box bowtie pasta, prepared according to package direction, drained
2-3 Roma tomatoes chopped
1 can whole black olives
1 cucumber chopped
1 avocado, mashed
salt and pepper to taste
splash olive oil
Instructions
Rinse prepared pasta with cold water. Drain. Add to salad bowl.
Chop tomatoes and cucumber.
Drain olives.
Add those three ingredients to salad bowl with pasta.
Mash avocado and mix together with splash of olive oil and salt and pepper to taste.
Stir together and serve.
The following two tabs change content below.
Latest posts by Jessica McCoy (see all)