Looking for moist and fluffy pancakes that also pack a bit of a veggie punch? Try these Carrot Pancakes. Don't be fooled by the name — these carrot pancakes have a sweetness to them that is reminiscent of carrot cake!
What's for breakfast today? Make-ahead breakfast ideas are a go-to time saver for me because — let's face it — I am not a morning person and have to force myself to roll out of bed to make my family breakfast.
It's not that I don't love them, because I LOVE them, it's just that I'm a night owl and I find it hard to go to bed at a decent time. Which makes getting up in the morning even harder.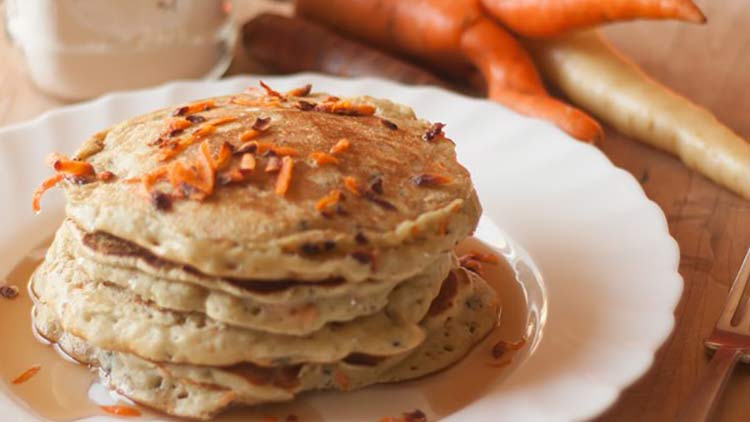 Carrots. While they might be a root vegetable that are typical of a late summer to early fall harvest, they also scream Spring. As in, bunnies munching on carrots and Easter bunnies.
Yeah, I know — a tad bit stereotypical of a bunny chowing down on a carrot, but there you go.
Why Cook with Carrots?
Cooking with carrots is something I really enjoy doing because I know that our meal will be fortified with powerful nutrients.
Some of the benefits of carrots include better vision and anti-aging benefits (due to beta-carotene); cancer, heart disease, and stroke prevention; as well as healthy teeth and gums…when eating raw carrots.
With health benefits like that, we should all be eating more carrots! Even if they're in the form of a pancake.
Carrot Pancakes — Great for Adults and Kids!
I love taking food photos, in case you hadn't noticed. There's something about a photography subject that can't talk back.
As in, if my kid were in the picture, he might be asking why you can see gorgeous shreds of carrots. Only they probably wouldn't be referring to a vegetable as gorgeous.
Well — truth be told, these pancakes were made expressly by me for me. I mean, sometimes a woman's got to serve herself up a golden superstar breakfast, right?
However, if you'd like to make the carrots disappear inside the batter (like my child probably would), simple precook the carrots and mash or grate them finely.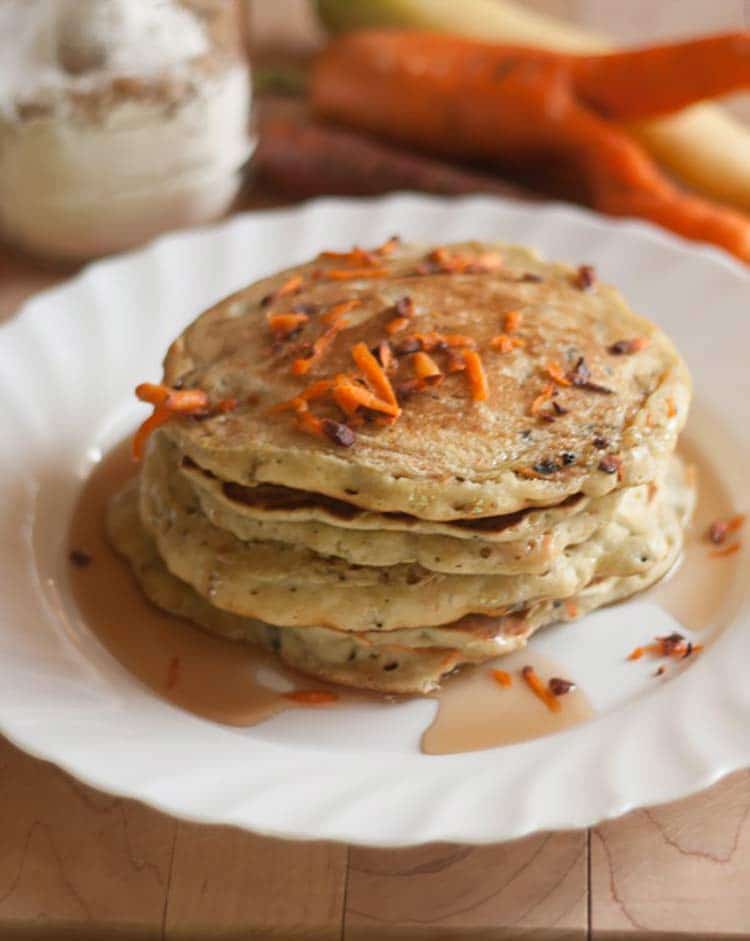 Carrot Pancakes are a Quick and Easy Meal!
Notice the jar of dry ingredients in the photo below? I use this starter mix with a variety of pancakes. It is perfect for a mostly make-ahead breakfast… and is a great time saver.
Whether you want carrot pancakes, Hearty Pumpkin Pancakes, applesauce pancakes, banana pancakes, or even banana chocolate chip pancakes… you can make them up with this recipe starter.
All you need in your premixed jars are: flour, baking powder, salt, and a little brown sugar. See the recipe below for exact measurements.
Carrot Pancakes take all of five minutes to throw together in the morning, and another few minutes if you didn't already make up the make-ahead pancake mix.
It's just as fast as getting a box of pancake mix and throwing your wet ingredients together with it, except #1: you know where your ingredients came from and #2: no preservatives.
I try to cook from scratch as often as possible while still counting on a quick, easy meal. And like I said before, breakfast is a rush at my house, so this no-hassle, throw-it-all-together-in-a-hurry breakfast works well for us.
Toppings for Easy Carrot Pancakes
As you can see in the photos, I topped my Carrot Pancakes with shredded carrots and a small amount of pancake syrup. You can also add toppings such as:
Chopped walnuts
Coconut oil
Butter
If you really want to take these pancakes to the next level, consider adding a bit of Easy Cream Cheese Frosting on top.
Carrot pancakes + cream cheese frosting = a match made in foodie heaven! (Not super "healthy," but everything in moderation!)
How to Modify Carrot Pancakes
These pancakes can be easily modified!
The ¾ cup of mashed or grated carrots can be substituted with many things, including pumpkin, apples or applesauce, and bananas.
Add nuts or chocolate chips as desired for extra flavor and texture.
If you're here planning your Easter breakfast or brunch, be sure to check out all my favorite Easter recipes here!
Recipe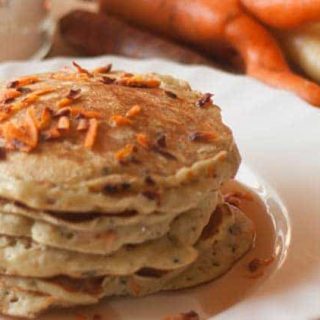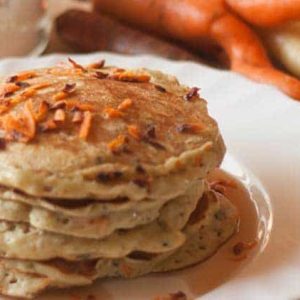 Carrot Pancakes
Carrot Pancakes are packed with flavor and taste a little like carrot cake!
Ingredients
Wet Ingredients-
1

egg

¾

cup

milk

¾

cup

mashed or finely grated carrots

2

tablespoons

vegetable oil
Instructions
Combine all ingredients in mixing bowl and stir until well combined.

For a make-ahead breakfast option, measure out single-recipe portions of the dry ingredients into several mason jars and put lid on to keep them fresh. Tape a list of the wet ingredients that are needed to mix up the recipe. Remember, the ¾ cup of mashed or grated carrots can be substituted with many things, including pumpkin, apples or applesauce, and bananas.

Add nuts or chocolate chips as desired for extra flavor and texture.

Pre-heat electric skillet to medium heat. Pour pancake bater onto skillet in ⅓ cup scoops. Cook for 1-2 minutes on each side, or until cooked through.

Serve with syrup and enjoy!
Nutrition
Calories:
126
kcal
Carbohydrates:
17
g
Protein:
3
g
Fat:
5
g
Saturated Fat:
3
g
Cholesterol:
23
mg
Sodium:
278
mg
Potassium:
93
mg
Fiber:
1
g
Sugar:
5
g
Vitamin A:
2071
IU
Vitamin C:
1
mg
Calcium:
96
mg
Iron:
1
mg