Roasted Tomato Soup with Grilled Cheese Croutons
Tomato soup has always held a spot in my heart. It's one of those comfort food with memories that link back to childhood. And Roasted Tomato Soup has found a new spot in my heart, snuggled right in next to that old childhood favorite.
Grilled cheese and tomato soup on cold winters day when we would be lucky enough to get an early release from school. It was like playing hooky.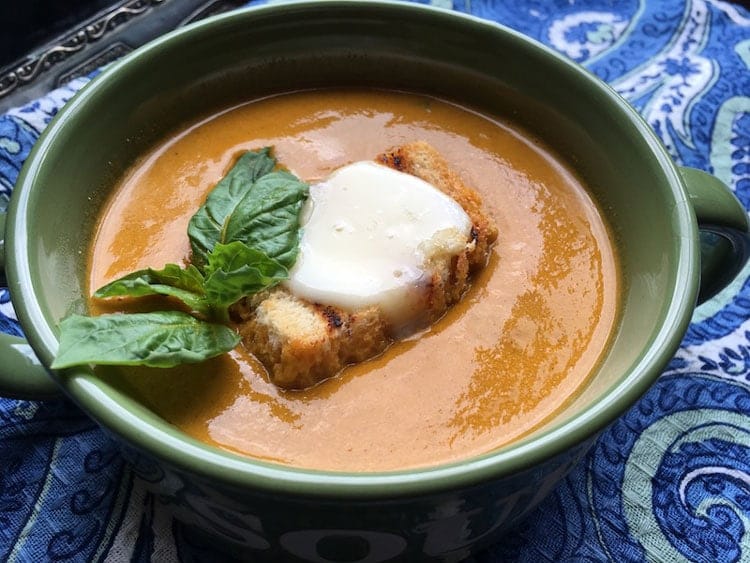 This tomato soup is to traditional tomato soup the way our Gourmet Grilled Cheese sandwiches are to a quick slice of Kraft singles between two slices of Wonder bread. Not saying the original isn't phenomenal, because it always will be…but the grown-up twist on foodie perfect speaks for itself.
Grown up food is always good. That's why we make things like Tomato and 3 Cheese Grilled Cheese and Mediterranean Inspired Pizza with Homemade Pizza Dough. Our tastes have evolved from childhood.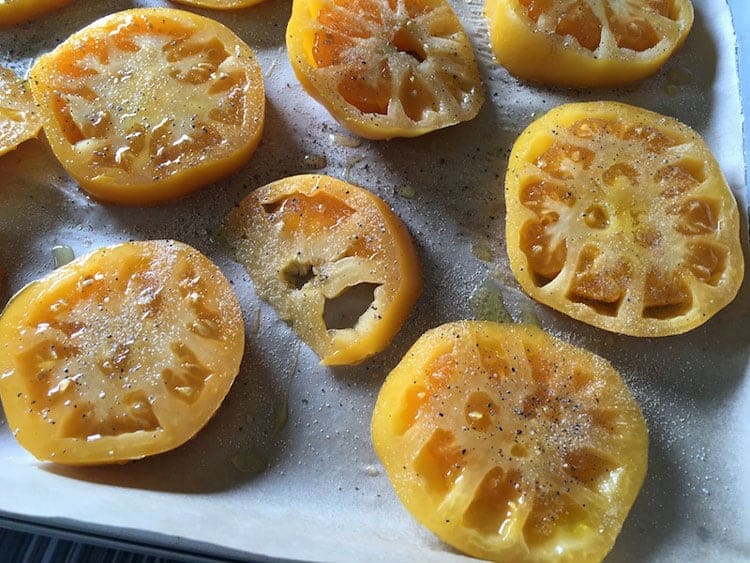 Roasted Tomato Soup is Fresh and Delicious
With garden-fresh tomatoes in abundance, summer and fall are ideal times to enjoy this quick and easy roasted yellow tomato soup. What I love most about this recipe is that although its an amped up version of its predecessor, it still doesn't take a lot of time to make this homemade creation from scratch.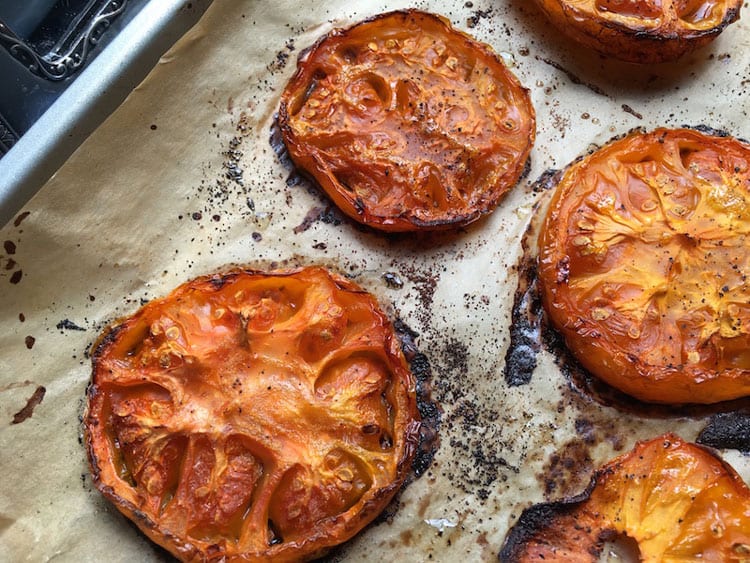 Yes it does take more time than opening up a can of a childhood favorite, but the layers of flavor in this exquisite recipe make it more than enough reason to indulge in a little fun in the kitchen.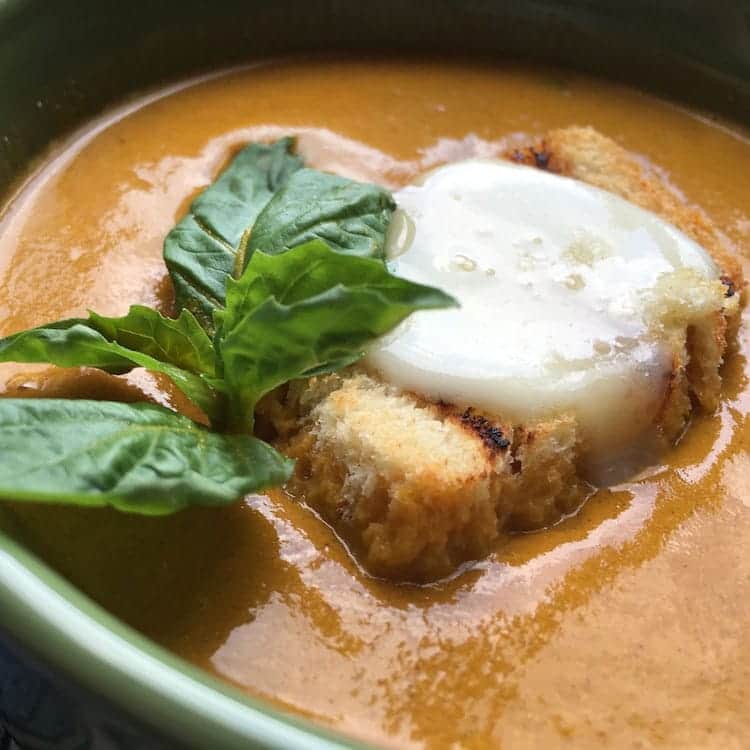 This recipe is versatile enough to be enjoyed on warm summer days or cool fall evenings, depending on how you serve it. Following are two variations – a lighter presentation for warm summer days and another for when you're craving something a little heartier.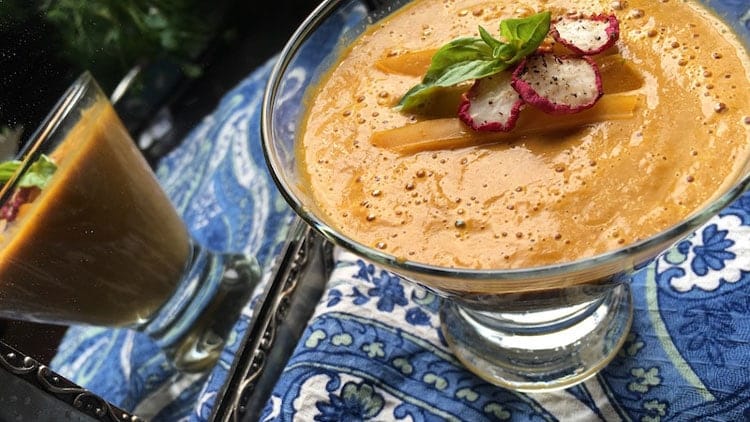 For a nicer look, use tomatoes of the same color. If you mix yellow and red tomatoes, the end result is a strange, not-found-in-nature hue that isn't very appetizing. Also, slow roasting your tomatoes will bring out their natural sweetness. However, the browning that occurs during this process will create a darker soup than using raw tomatoes.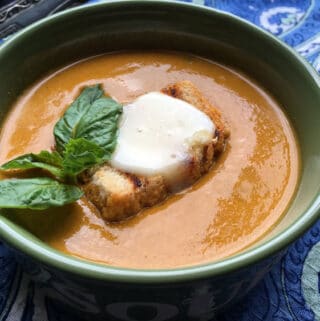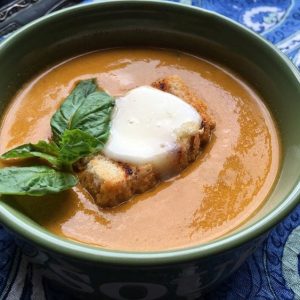 Roasted Yellow Tomato Soup
This grown up version of a classic soup recipe will have you wondering why you never tried to make tomato soup from scratch. It is delicious and refreshing.
Instructions
Directions:
Preheat oven to 300 degrees

To prepare the soup, slice yellow tomatoes into ½" slices and place on a baking sheet lined with parchment paper (or sprayed with non-stick cooking spray). Leave room between slices to prevent over-crowding. Sprinkle with salt, pepper and garlic powder.

Place baking sheet in the oven and roast approximately 2 hours or until the tomatoes are browned around the edges.

For Version 1 – wash and pat radishes dry before slicing into thin pieces. Place on a lined baking sheet and sprinkle with salt and pepper. Place in the oven with the tomatoes to save time, but be sure to check on them frequently because they will brown up much faster than the larger tomatoes.

For best results, use a Mandoline slicer to achieve even thickness. Roast until slightly browned and crispy. Reserve to garnish finished soup.

For Version 2 – remove crust from 2 slices of sourdough bread. Cut each slice into 4 equal-sized rectangles and brush one side with melted butter. Place buttered side down on a heated grill pan until browned grill marks appear. Remove from heat and flip each piece of sourdough over so the grill marks are facing up and top with a slice of Brie.

Place grill pan under a broiler right before you're ready to serve the soup and heat for approximately 2 minutes, or until the Brie is soft and starting to melt. Don't leave under too long or all the Brie will run off the bread base.
Finish Making the Soup:
Once tomatoes are done roasting, remove from oven and cool slightly. Add roasted tomato slices to high-powered blender or food-processor, along with stock, basil, onion, celery, garlic, cumin, warmed heavy cream (warmed to prevent curdling), salt and pepper. Blend on high until smooth and thoroughly combined. Taste and adjust seasonings as needed. If desired, add additional chicken or vegetable stock, 1 tablespoon at a time, and re-blend to achieve desired consistency.

To serve, top with either roasted radishes or the grilled cheese croutons and sprig of fresh basil. Enjoy!