There is something about the flavor of the South that is inspiring. Maybe it's that it is pretty much always warm down there...or perhaps more likely its the memories I have of going down to New Orleans with friends for Mardi Gras. That first crawfish boil that I ever went to...smack dab in a friend of a friend's backyard in the good ole Big Easy.
Now I'll do a shrimp boil once or twice a summer just to bring back that flavor. It's that good.
Shrimp Creole Recipe
Of course, there is always Shrimp Scampi, Broiled Shrimp and Bacon Wrappers, and even Cheddar-Shrimp Nachos. Forrest Gump anyone? Yeah...we could totally go for watching Forrest Gump right now. It's a classic.
And when you experience Southern food in the South--well, it is truly an experience. Especially when you are somewhere like New Orleans, soaking up the sounds and scents of the French Quarter, after having strolled around the garden district and hopped onto a cable car. Sigh. Someday, I'll get back there and take it all in again.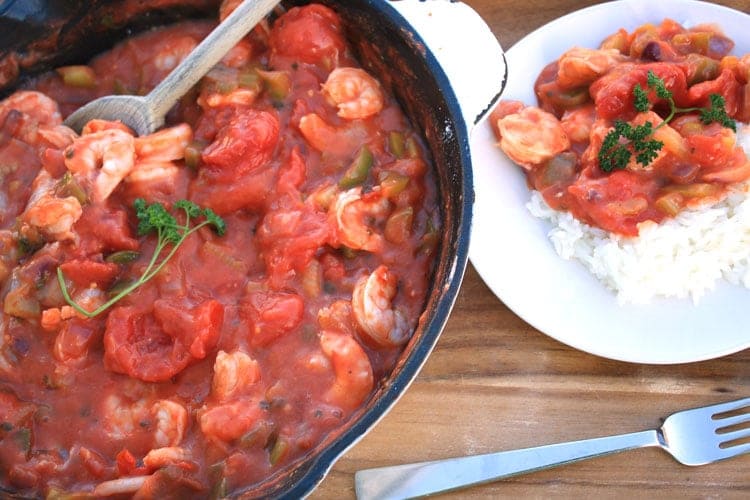 Shrimp Creole is such an amazing melding of flavors. Everything you put into this one pot of scrumptious delight blends together to form the perfect flavor. If you love spice and you're a tomato aficionado you might just find yourself falling in love with this dish.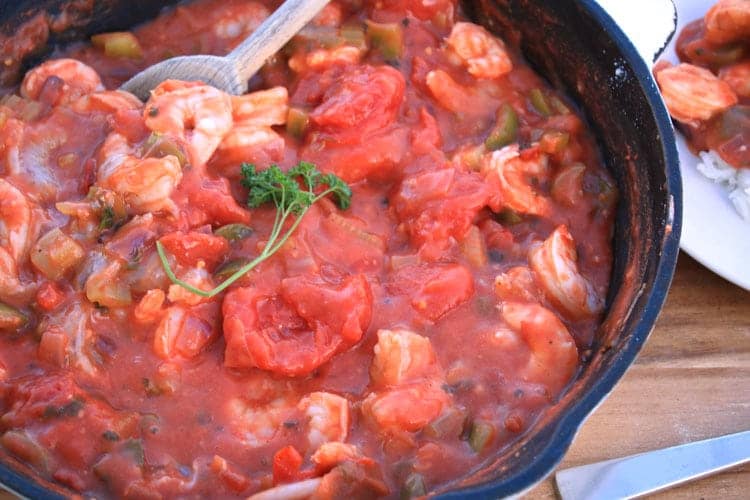 Weight Watchers Shrimp Creole? Why, Yes!
Shrimp Creole can certainly be enjoyed any time of year. What's even better, this is a Weight Watchers Shimp Creole recipe--because it's low calorie and low fat. You know, there are really SO many great recipes out there that are naturally low in calories and fat that could be classified as Weight Watchers, or Low Calorie but instead are just called GOOD!
And this recipe is everything that is good in the world of food. I promise. Because, I indulged in two small plates of it for dinner last night.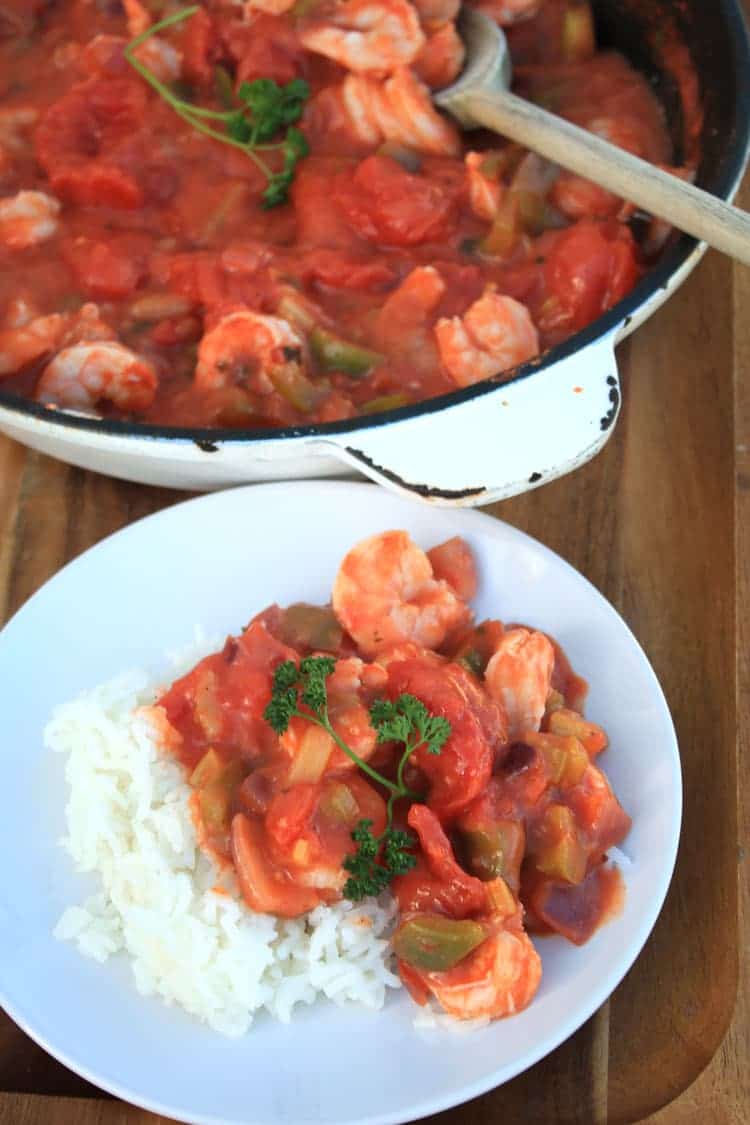 Keep the Portions Small.
The trick for not over-indulging when it comes to good food is to limit the room on your plate. Start with a small plate and there really isn't a lot of room for going overboard. Which, is exactly the method that you want to take.
When you're done with that one plate, you're done. Or, if you do decide to enjoy seconds, at least you can say that your first portion wasn't excessive. Just make sure you're not heaping food so high on your plate and making it taller than it needs to be...the point is a smaller serving, remember?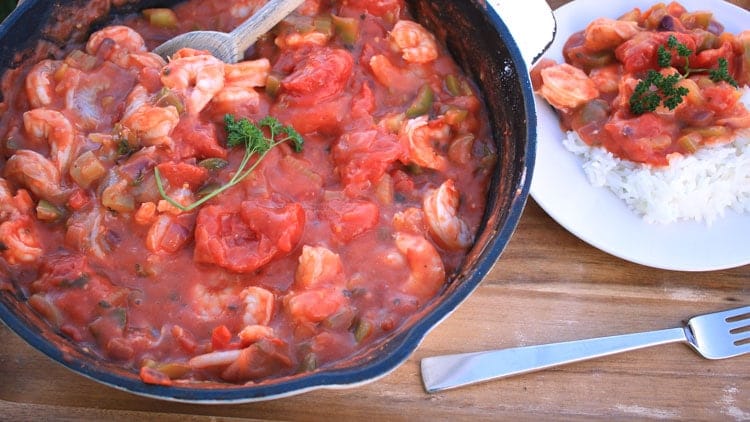 This Shimp Creole recipe is out of this world delicious. It is flavorful and pairs perfectly with a glass of Pinot Grigio.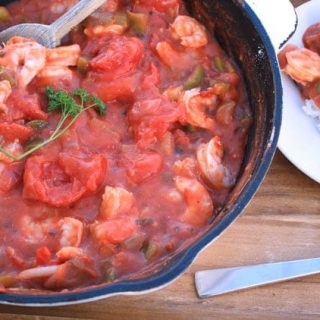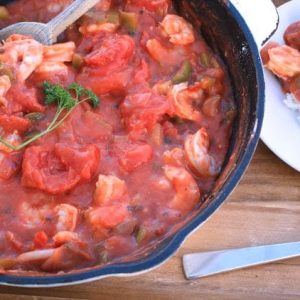 Shrimp Creole Recipe with Rice
Easy recipe for Shrimp Creole with rice. Easy one pot meal that makes enough to serve 4-6 for dinner. Healthy and flavorful shrimp recipe.
Ingredients
¾

cup

onion

chopped

1

clove

garlic

minced or pressed

1

medium green pepper

chopped

½

cup

celery

finely chopped

1

tablespoon

margarine

8

ounces

tomato sauce

½

cup

water

1

bay leaf

crumbled

1

teaspoon

parsley

chopped

½

teaspoon

salt

⅛

teaspoon

cayenne pepper

1

pound

shrimp

peeled and tails removed

3

tablespoons

all-purpose flour

⅛

teaspoon

chili powder

⅛

teaspoon

Tabasco sauce

16-20

ounce

can whole tomatoes
Instructions
In large skillet, spray pan with nonstick cooking spray (or use the 1 tablespoon margarine or butter) and saute onion, garlic, green pepper, and celery for about 5 minutes or until tender. Remove from heat. Stir in tomato sauce, tomatoes, water, bay leaf, parsley, salt, pepper, flour, Tabasco and chili powder. Simmer 10 minutes. Add shrimp. Bring mixture to a boil; cook covered over medium heat for 5 minutes. Serve Shrimp Creole over rice.
Nutrition
Calories:
213
kcal
Carbohydrates:
17
g
Protein:
26
g
Fat:
5
g
Saturated Fat:
1
g
Cholesterol:
286
mg
Sodium:
1682
mg
Potassium:
620
mg
Fiber:
3
g
Sugar:
7
g
Vitamin A:
715
IU
Vitamin C:
46
mg
Calcium:
222
mg
Iron:
5
mg