Eating healthier is a conscious choice that is worthwhile for many reasons.
Whether you're considering your overall health or are just looking at loosing weight, starting with diet is a great place to set your plan in motion.
Low Fat Meatballs Recipe
You can make a low fat meatball recipe either by using beef with a low amount of fat, or by using either a combination of 50% ground turkey and 50% low fat ground beef.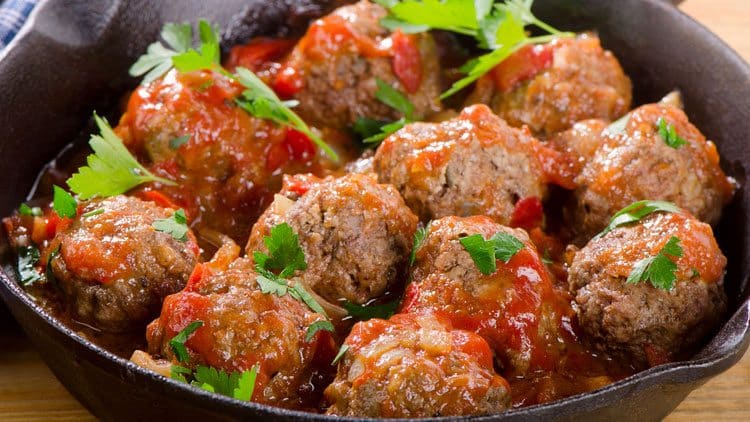 Meatballs can be a fun and easy meal. Using a meatball shaper makes preparing the perfect sized meatballs simple. Not to mention, you don't have to touch the meat when you use a meat baller.
Other low fat meals you might enjoy are: Weight Watchers Cheese Lasagna, Taco Soup, and Weight Watchers Meatloaf.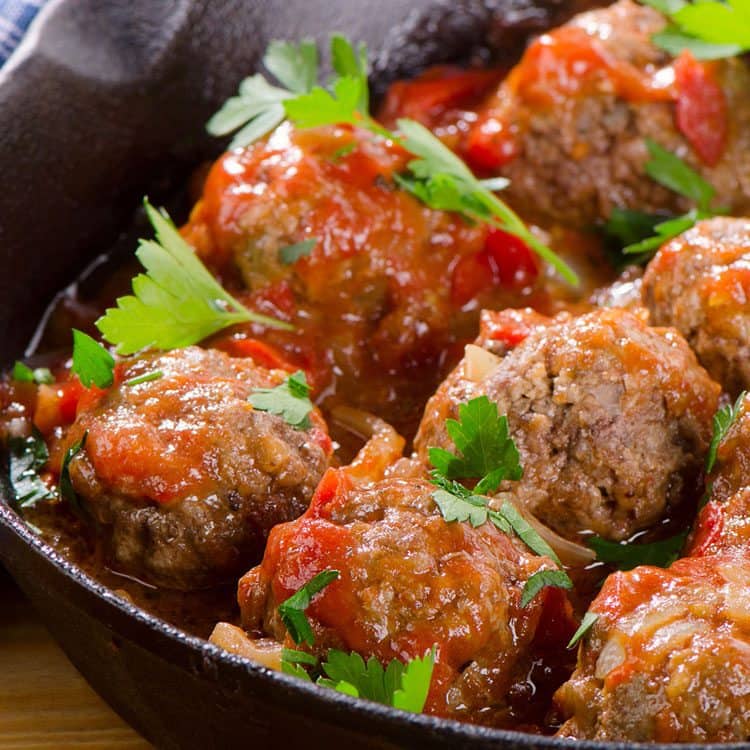 Add some tomato sauce to the meatballs for a tasty flavor, and garnish with some fresh herbs. You'll have a freshly seasoned meatball that is perfect to eat to the side of a salad or atop some whole-grain pasta noodles.
Low fat meat is the key to this recipe's success. It's got great flavor without all the fat.
We happen to think that the key to a healthy life is eating right and learning to enjoy through moderation. We love chocolate cookies in our house, but we normally only make a ½ a batch so we don't eat too many all at once. Chubby Chan: A Book About Eating in Moderation is a great resource to have if you want to get your eating under control.
These are great little meatballs, and they freeze well. You won't feel deprived when you make spaghetti! Make a couple batches ahead of time, cook them up, cool them down in the refrigerator and then freeze them for about 20 minutes on baking sheets so they don't stick together, and put in freezer safe bags.
Get the latest scoop on all the recipes I'm whipping up in the kitchen by following along with All She Cooks on Facebook, Instagram, and Pinterest. Also, don't forget to join my Facebook Group where you can share your favorite blogger recipes: Easy & Delicious Recipes.
Have you tried this recipe? Don't forget to Rate This Recipe below. While you're at it, share a picture on Instagram with #allshecooks so we can see how your recipe turned out!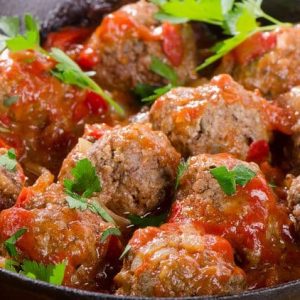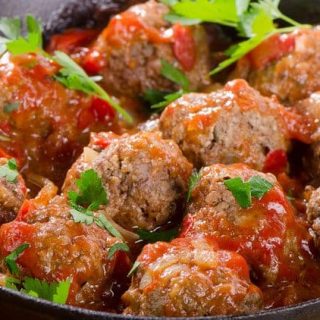 Weight Watchers Meatballs
Weight Watchers low-fat meatballs are a delicious protein recipe that is filling and tasty.
Ingredients
1

pound

93% lean ground beef

or ground turkey

1

cup

uncooked oats

I used the quick cooking kind

1

egg

1

pkg onion soup mix
Instructions
Mix and form into 42 one inch balls (about a tablespoon each). Bake at 350 for 15 minutes or until no longer pink in the middle. 2 meatballs are 1 POINT.
Nutrition
Calories:
381
kcal
Carbohydrates:
14
g
Protein:
24
g
Fat:
25
g
Saturated Fat:
9
g
Cholesterol:
121
mg
Sodium:
113
mg
Potassium:
395
mg
Fiber:
2
g
Sugar:
1
g
Vitamin A:
59
IU
Calcium:
37
mg
Iron:
3
mg
Get More Weight Watchers Recipes
Weight Watchers Chili | Get a lower calorie chili that gives the classic comfort food flavor you love, with less guilt.
Weight Watchers Meatballs| Can you say lower fat meatballs? Switch up the meat you grab for in the grocery store!
Weight Watchers Taco Soup | Load this soup up with tons of veggies for even more of a health kick.
Weight Watchers Garlic Mashed Potatoes | There's just something about garlic. And if you love garlic, you're going to adore this recipe.
Weight Watchers Banana Bread | This is a fun take on banana and pumpkin bread, and combines two of our favorites.
Weight Watchers Hash Brown Casserole | One of my very favorites. This is a serious comfort food meal.
Weight Watchers Key Lime Bars | If you like dessert, these simple and delicious bars will be a treat.
Weight Watchers Peach Cobbler | This cobbler is so amazing! Feel free to swap out the peaches for other fruits or berries.
Weight Watchers Chicken Pot Pie | A meal like no other. You simply can't have chicken pot pie without feeling savoring each and every bite.
Weight Watchers Pumpkin Pie | One of our most popular recipes-- yes, you can have pumpkin pie on a Weight Watchers diet!
Weight Watchers Mac and Cheese | For the love of mac & cheese recipes! Calling all cheese lovers, this one's for you. It's a quick and easy solution for all your mac and cheese cravings.
Weight Watchers 1 point Brownies | Who says you can't have a brownie on a diet? We say you can!
Weight Watchers Cheese Biscuits | If you like Red Lobster biscuits, you'll get the general idea of these delicious treats.
Weight Watchers Deli Crab Salad | This salad makes a great lunch or dinner. 
Weight Watchers Cheese Lasagna | Pasta on a diet? Yes, please! And cheese on top of that?
Weight Watchers Meatloaf | This is one of my very favorite meatloaf recipes. I love that I can mix up a tasty lower-calorie meatloaf.
Weight Watcher Chicken Teriyaki | If you love chicken teriyaki, this recipe is for you. Hands down, one of the best low-cal chicken recipes I've had.