This delicious Weight Watchers Hamburger Stroganoff is our favorite Weight Watchers recipe! It's a healthier spin on a traditional beef stroganoff.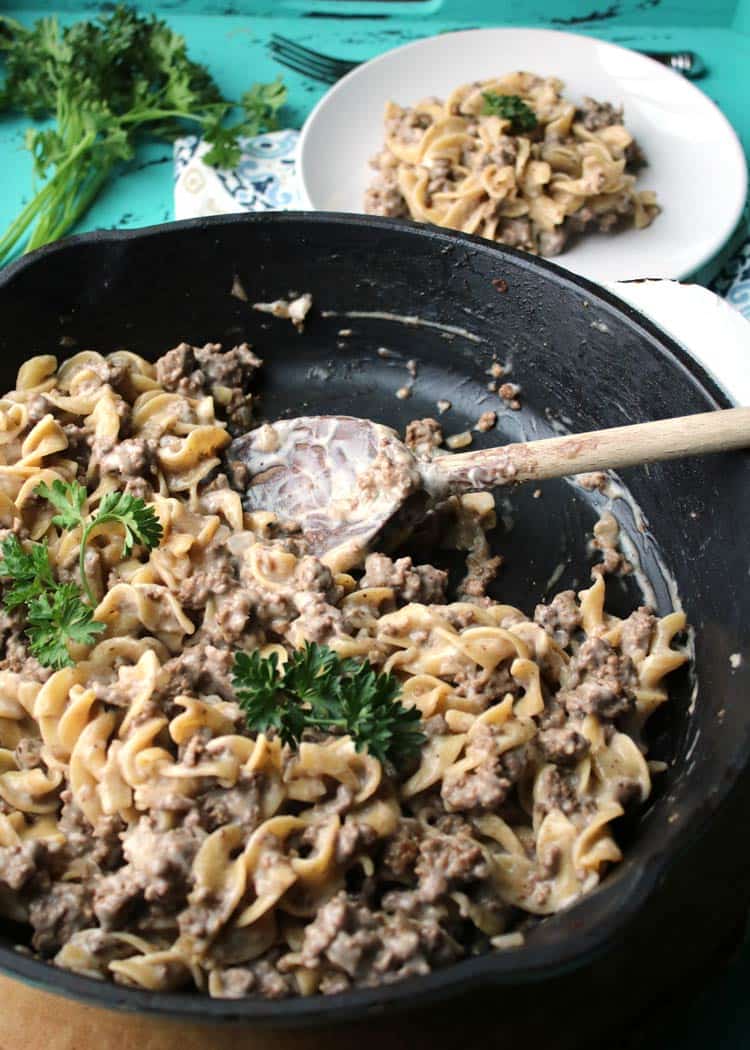 Ground Beef Stroganoff is one of those easy meals that is not only fabulous, it is a winning recipe. The flavor is sealed with sour cream which leaves an undeniable yum! with every bite. It simply can't be helped.
I remember having this savory supper several times in my childhood, but never made it as an adult until a few years. This is a classic comfort food recipe that has been around for a long time.
Hamburger Stroganoff Recipe
Hamburger Stroganoff has been around for a long time. And, if your family served Hamburger Helper growing up, there is a good chance that you even had Hamburger Helper Beef Stroganoff.
Homemade Hamburger Helper Stroganoff, as some like to call it, is SO much better than the boxed stuff. Because, when you make a meal from scratch, you know exactly what ingredients are going in it. You can also make substitutions according to your diet or likes and dislikes.
How to Make Healthy Beef Stroganoff
There are a few ways you can make Beef Stroganoff healthy.
First, use a low-fat meat. This can be using ground beef with a lower fat content, or using ground turkey or chicken, both of which are less fattening than beef. You can also use a combination of ground turkey and ground beef, which allows you to keep the beefy flavor.
Another way to reduce the calories in Beef Stroganoff and to make it into a healthier meal is to use a reduced-fat cream of mushroom soup.
If you are less worried about the fat intake and more concerned about the carb count from the pasta, you should check out Carba-Nada. It's a low-carb pasta that I have tried. It tastes as good as the original; however, with fewer carbs. It's a total win if you're trying to cut carbs but LOVE pasta.
Weight Watchers recipes with points are easy to come by, but finding comfort food Weight Watchers recipes is something to get excited about. This is one of those recipes because it has lower calories and tastes just as good as the higher fat alternative.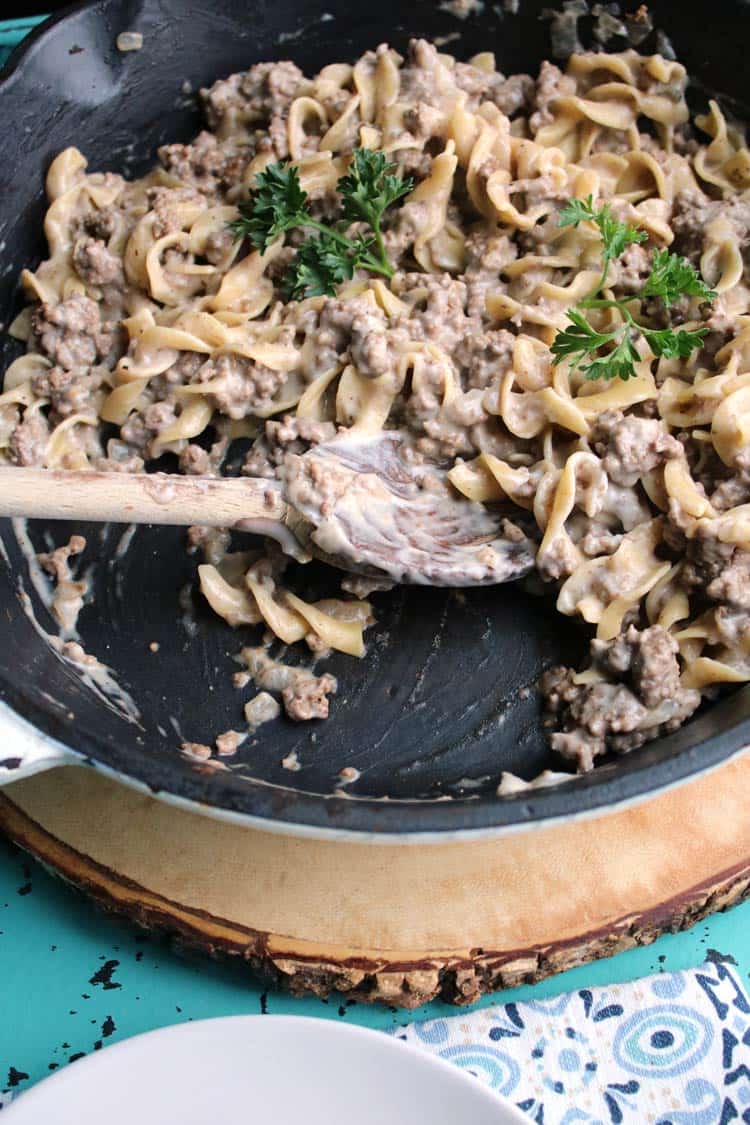 Recipes for Weight Watchers
If you're watching your weight, Weight Watchers recipes are a great way to help you watch your caloric intake even if you aren't officially a member of a Weight Watchers group.
Keeping track of the calories you ingest each day, combined with eating smaller portions over all and exercise are all great ways to get back in shape.
Here are some great resources to get started with a healthier meal plan:
Can I Make Ground Turkey Stroganoff Instead
Yes, you can certainly use ground turkey for stroganoff instead of ground beef.
However, unless you eat ground turkey frequently, I'd recommend starting with a mixture of ½ ground beef and ½ ground turkey so you keep some of that beefy flavor.
This is an especially good idea if you're trying to count calories for a loved-one and they are picky about trying lower-fat meat alternatives.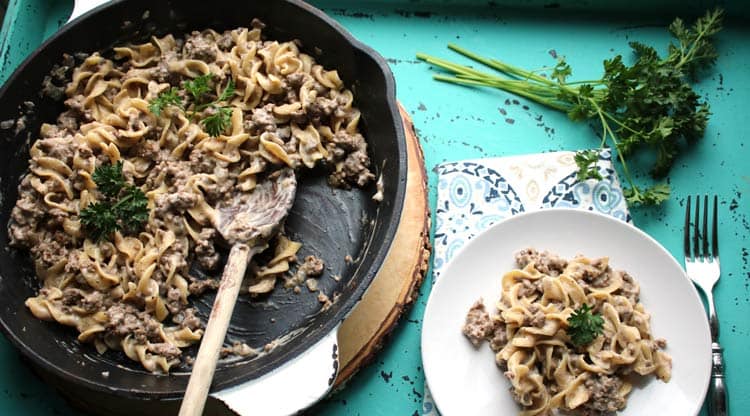 Can You Make Beef Stroganoff without Cream of Mushroom Soup
I haven't made Beef Stroganoff without cream of mushroom soup myself, but if I were going to, I would add a cup of heavy cream and some seasonings in place of the soup.
If you're on a keto diet, the heavy cream would be beneficial to you as well. You would just need to also use a Keto-friendly pasta like Well Lean.
However, if you don't want to make it using heavy cream, you could also use beef broth, and/or a store-bought package of Beef Stroganoff seasoning/sauce mix.
If your reason for leaving out the soup isn't that you don't like mushrooms, you can also add in a cup of sliced or chopped fresh mushrooms.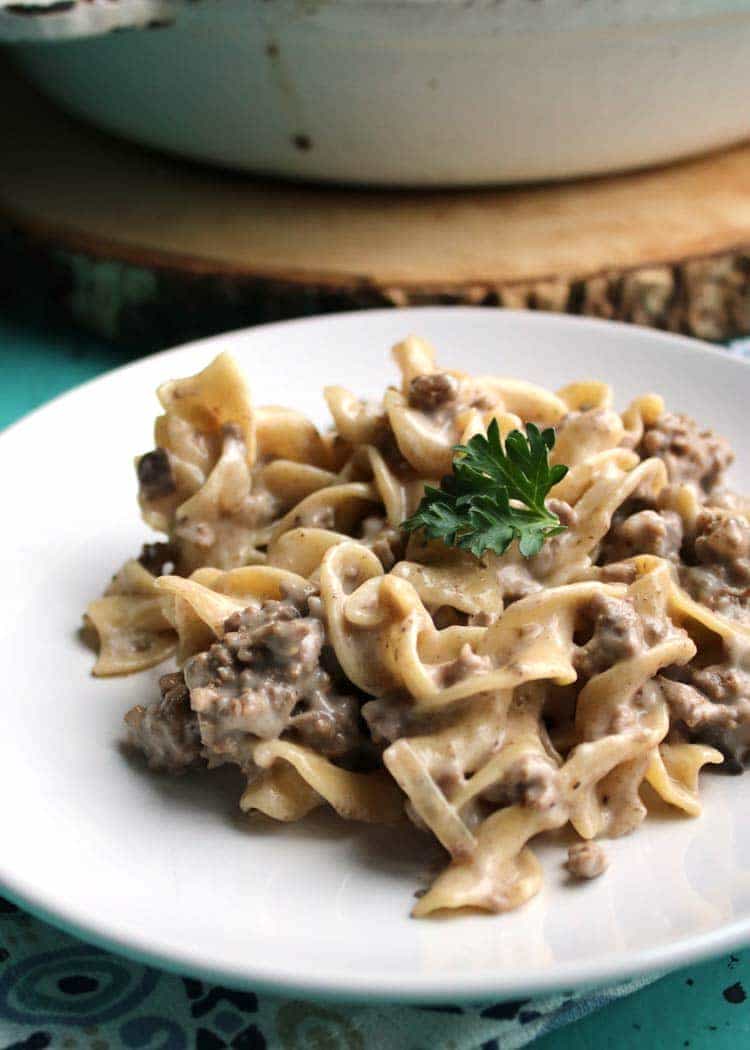 How Do You Make Beef Stroganoff without Mushrooms?
It's easy to make Beef Stroganoff without mushrooms, but the answer varies based on your reason for the substitution.
If you want to avoid processed foods in the stroganoff recipe, you can substitute the soup for 1 cup heavy cream. Adding broccoli to the stroganoff would give it more flavor and make it a one pot meal. There wouldn't be the need for a side dish.
Or, if you still want to use soup but just don't care for mushrooms, you can substitute the cream of mushroom soup for another cream based soup. The flavor would be a bit different, but cream of celery always works nicely as a substitute for cream of mushroom soup. It offers a mild flavor that won't be overbearing in the recipe.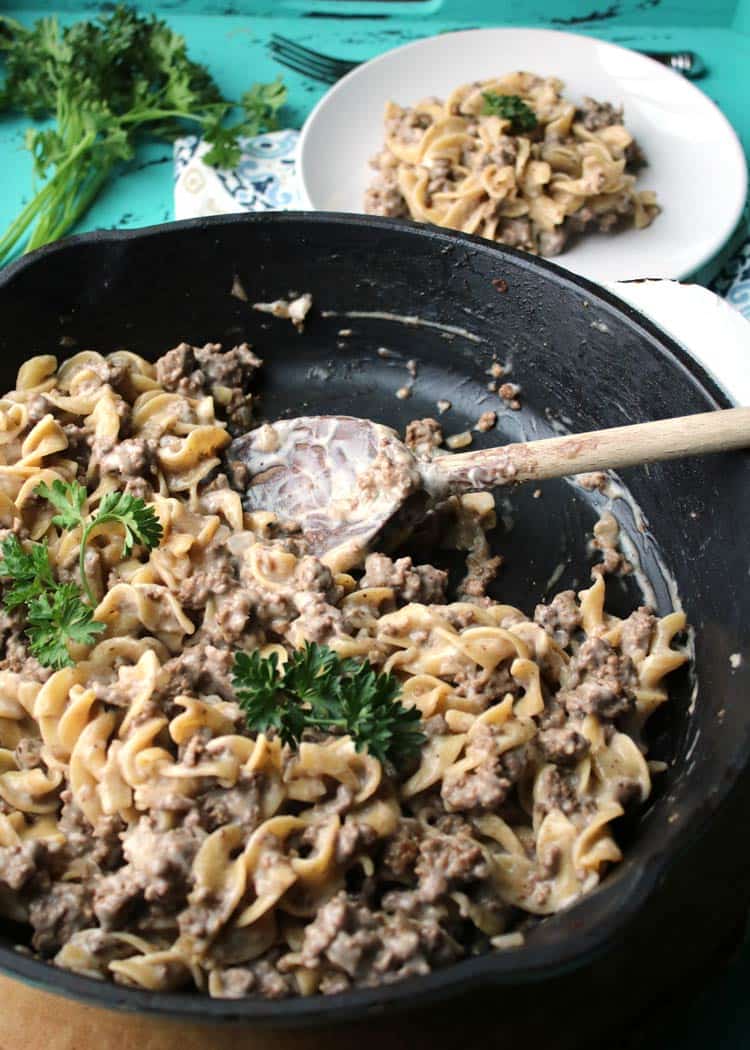 How Do You Make Beef Stroganoff with Hamburger?
It is easy to make Beef Stroganoff with Hamburger. You can watch my step-by-step video that shows how it is made if you want a visual.
First, brown the ground beef with the onion. When the meat has completely browned, drain the grease.
At the same time, bring a pot of water to boil on the stove and boil noodles.
Next, add cream of mushroom soup and mushrooms to the beef and onion mixture. Mix in the cooked and drained noodles, and then cook on low heat for 5-10 minutes.
Finally, mix in the sour cream and serve.
It really is an easy recipe.
Variations of Beef Stroganoff
Keto Beef Stroganoff | To make Keto Beef Stroganoff, you will want to use Well Lean Fettuccine, a keto-friendly pasta, instead of the regular egg noodles the recipe calls for. Substitute 1 cup heavy cream for the cream of mushroom soup, and full fat sour cream for the low-fat sour cream.
Ground Turkey and Broccoli | Switching from ground beef to ground turkey reduces the amount of fat and calories in the recipe. Add in a cup or two of cooked broccoli and you've got yourself an entire meal.
Pepper and Herb Beef Stroganoff| Swap out the ground beef for beef stew meat or sirloin, add in ½ teaspoon garlic powder, ¼ teaspoon black pepper, and then shortly before serving, add in a handful of fresh parsley. Yum!
More Ground Meat Recipes You Might Enjoy
Chili Mac | Just take a look at our Chili Mac. It's every bit as flavorful and delicious as it looks. You can lighten up the calories by using ground beef with a lower fat content, by using ground turkey, or by using a half beef/half turkey combination.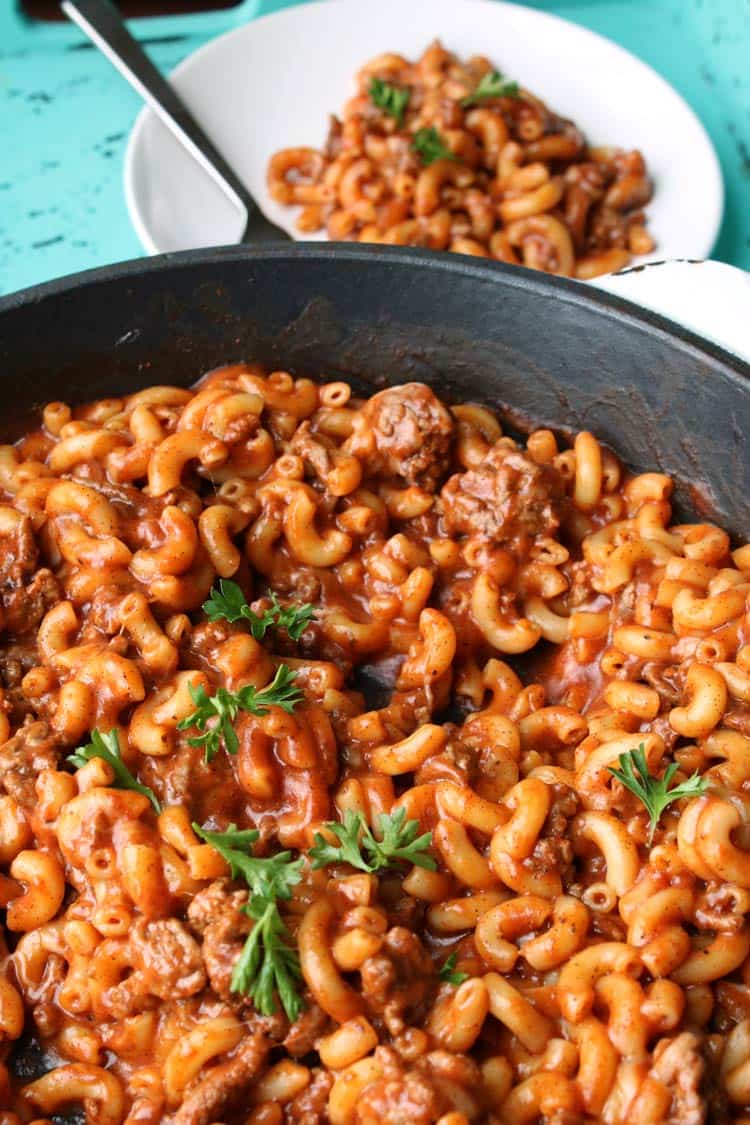 Poor Man's Soup | A hamburger and vegetable based soup that is both hearty and inexpensive to make.
Zuppa Toscana | This is a copycat classic and a must on every meal plan at least once. Zuppa Toscana is a cream based soup with Russet potatoes, Italian sausage, and kale.
Spicy Sausage Pasta Bake | Pasta lovers, unite! This recipe is a tasty twist on Baked Ziti, with two of its main ingredients, bow-tie pasta and ground sausage, taking center stage.
Essential Tools & Supplies for Cooking Hamburger Stroganoff
Collapsible Colander | Do you have enough room in your kitchen cabinets for everything? If you don't, this set of two collapsible colanders might be just what you are looking for. These would come in SO handy in my household.
Stainless Steel Spider Strainer | There has never been a better strainer for pasta, in my opinion. This large strainer eliminates the need to get out a colander to strain the pasta, which comes in really handy when the recipe calls for adding the pasta to ingredients in another pan.
Well Lean Fettuccine | This is a Keto-friendly pasta, so you can make Keto Hamburger Stroganoff with a quick little pasta substitution.
Best Hamburger Stroganoff Recipe
Get more recipes like our quick and easy beef stroganoff! We're constantly adding new recipes, so be sure to follow us on Facebook to keep up with all the new recipes we share.
More Tasty Ideas
If you love this Weight Watchers Beef Stroganoff, be sure to check out these other tasty ideas:
Recipe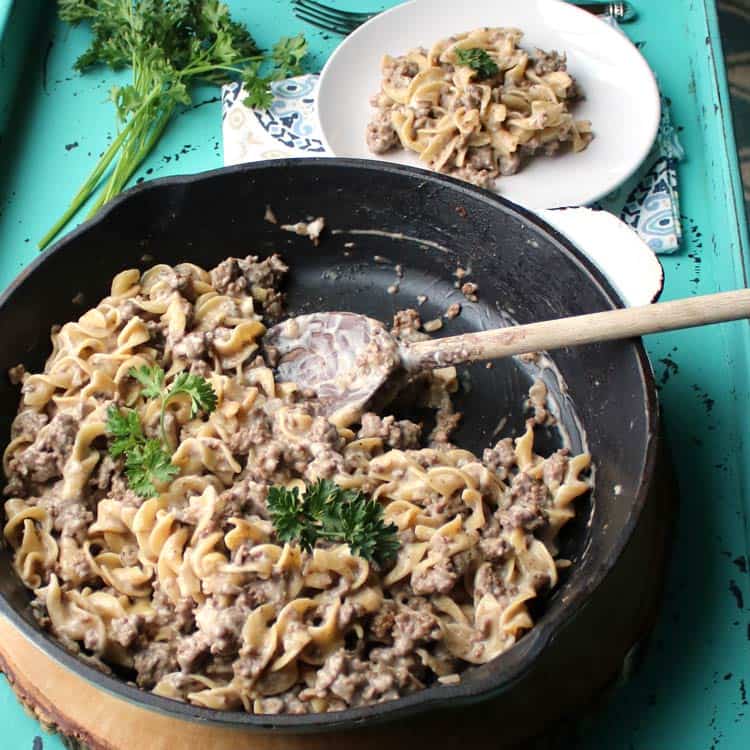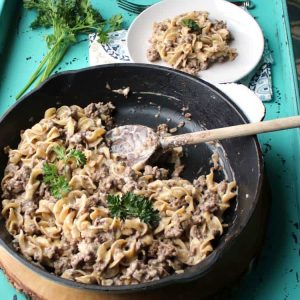 Weight Watchers Hamburger Stroganoff
Weight Watchers Hamburger Stroganoff is a healthier spin on the traditional recipe. This low-calorie version is every bit as good as the original.
Instructions
Brown ground beef and onion, drain fat.

Stir in cooked noodles, cream of mushroom soup, sliced mushrooms and salt and pepper.

Simmer about 5-10 minutes.

Remove from heat and stir in sour cream before serving.
Nutrition
Serving:
1
g
Calories:
191
kcal
Carbohydrates:
16
g
Protein:
14
g
Fat:
7
g
Saturated Fat:
3
g
Polyunsaturated Fat:
3
g
Cholesterol:
52
mg
Sodium:
125
mg
Fiber:
1
g
Sugar:
1
g