Tomato Soup Cake is a vintage recipe that originated in the United States during the Great Depression era when people had to be creative with the limited ingredients they had. The tomato soup provides moisture to the cake, and the spices added to the recipe balance the sweetness of the sugar.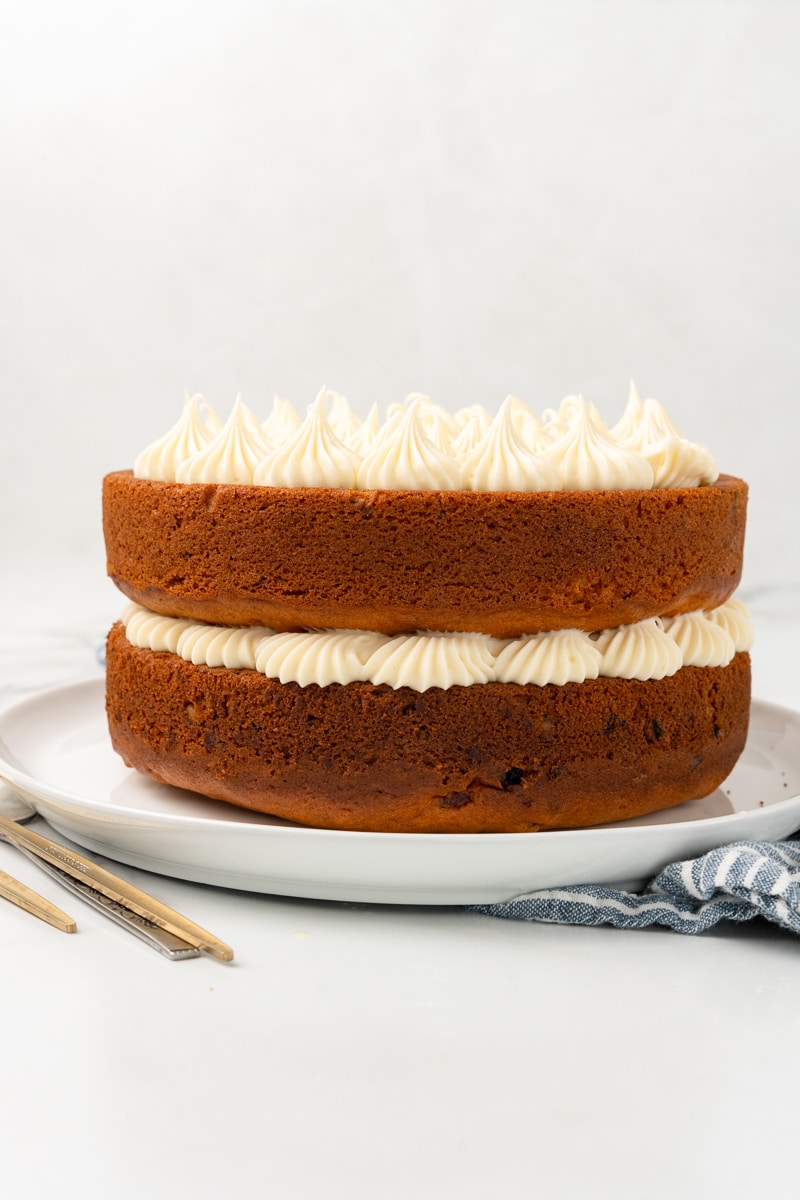 Give this decadent cake a try for a delicious and gorgeous cake to slice and serve up. This cake is perfect for a birthday bash, summer cookout or holiday event. Try my chocolate peanut butter cake or this classic white cake with buttercream frosting.
This Tomato Soup Cake Recipe Is...
Vintage Depression Era Cake
Made From Scratch
Pantry Staple Ingredients
Layered Cake
How to Make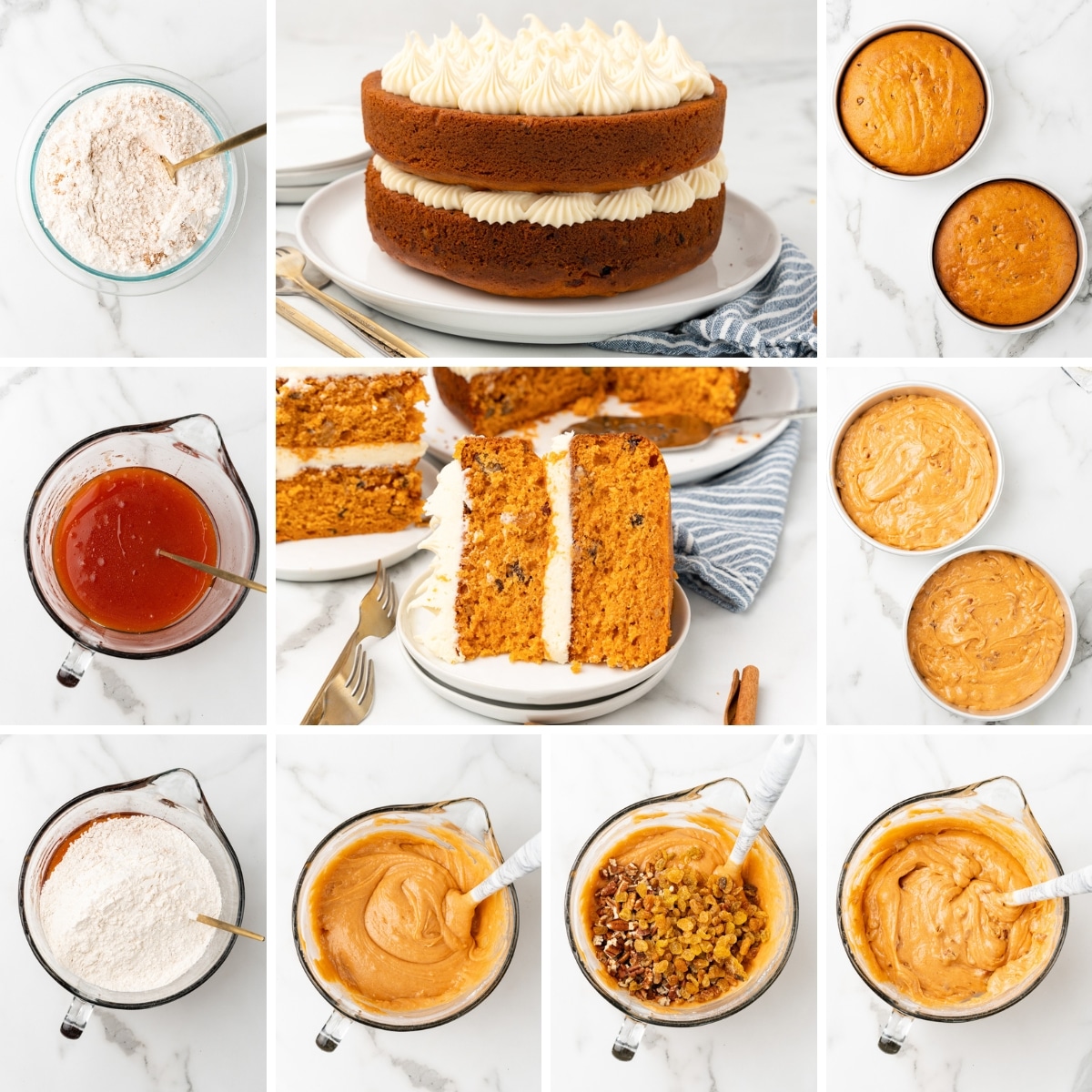 Full steps on how to make this tomato cake recipe is in the printable recipe card at the bottom of the post.
Preheat the oven and prep the round cake pans.
In a bowl add your dry ingredients in a bowl and mix.
In a large bowl mix up the wet ingredients. Then slowly mix in the dry.
Add in the nuts and raisins and stir to mix in.
Divide cake and bake as directed.
Let cool and then prep your frosting.
Next you will pipe on half the frosting and then add second layer and pipe the rest of the frosting.
Once decorated refrigerate the cake for one hour before you serve.
Tools For The Recipe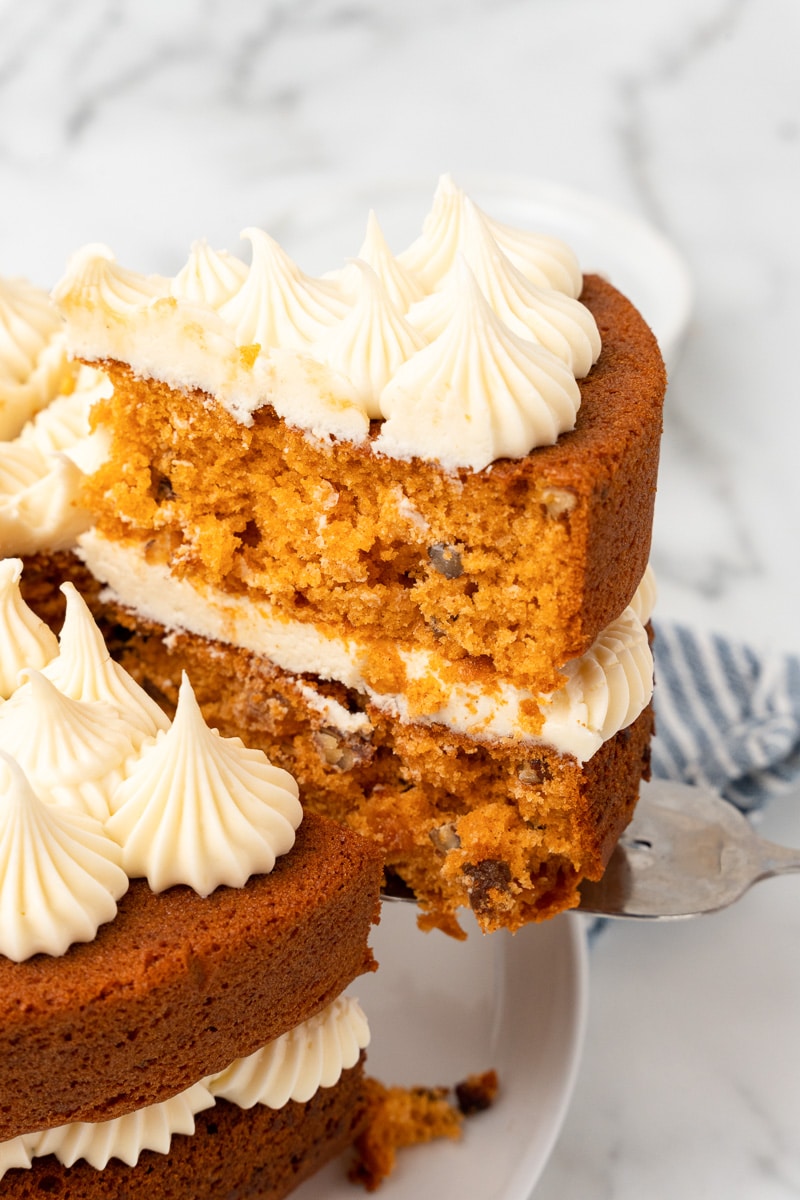 Cake Pans
I used circle cake pans for this cake. I created a layered cake but you are more than welcome to use a 9x13 pan if you would prefer.
Mixing Bowl
Feel free to use a mixing bowl or stand mixer if you would like. Feel free to use a whisk if you want for mixing up this cake.
Helpful Tips for Success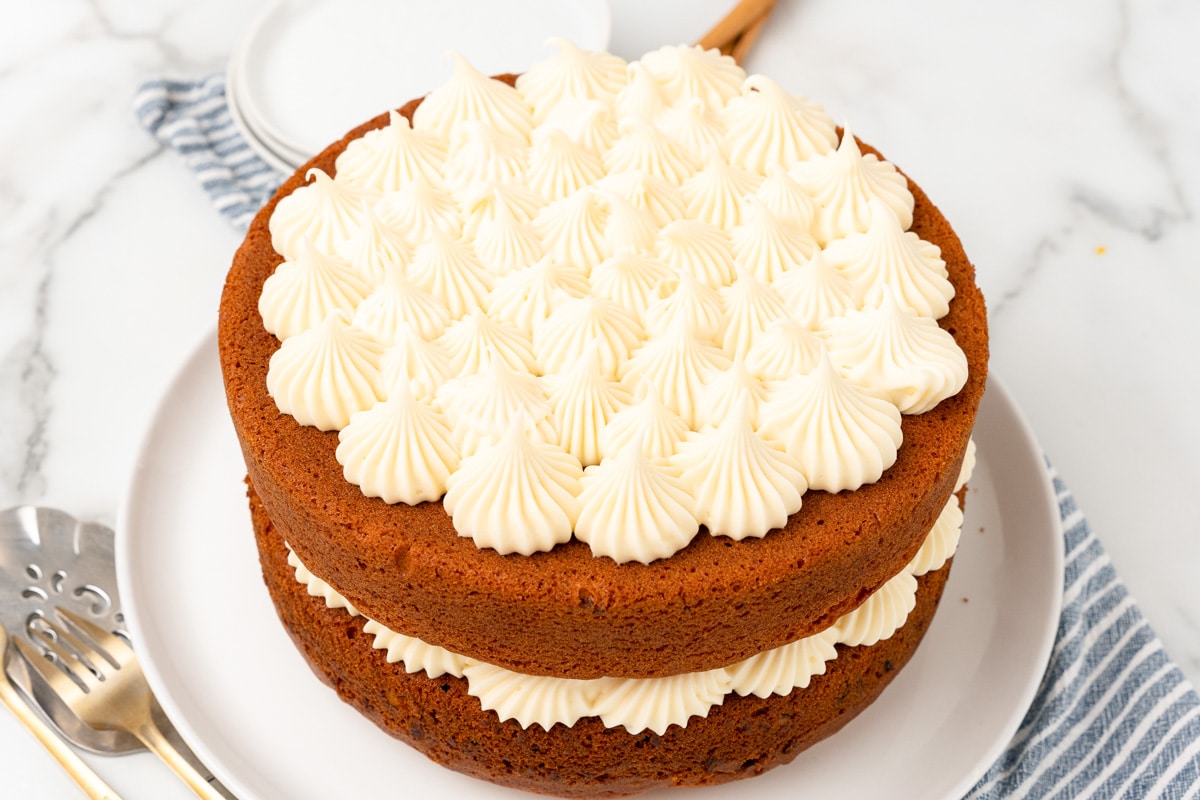 Softened Cream Cheese
Make sure you are using softened cream cheese for this frosting. If you do not soften the cream cheese first it will create more of a curdled texture and won't be velvety and creamy.
Sift Powdered Sugar
Make sure to sift your powdered sugar if it is clumpy. This will helps to really create that smooth frosting texture.
Variations For Tomato Soup Cake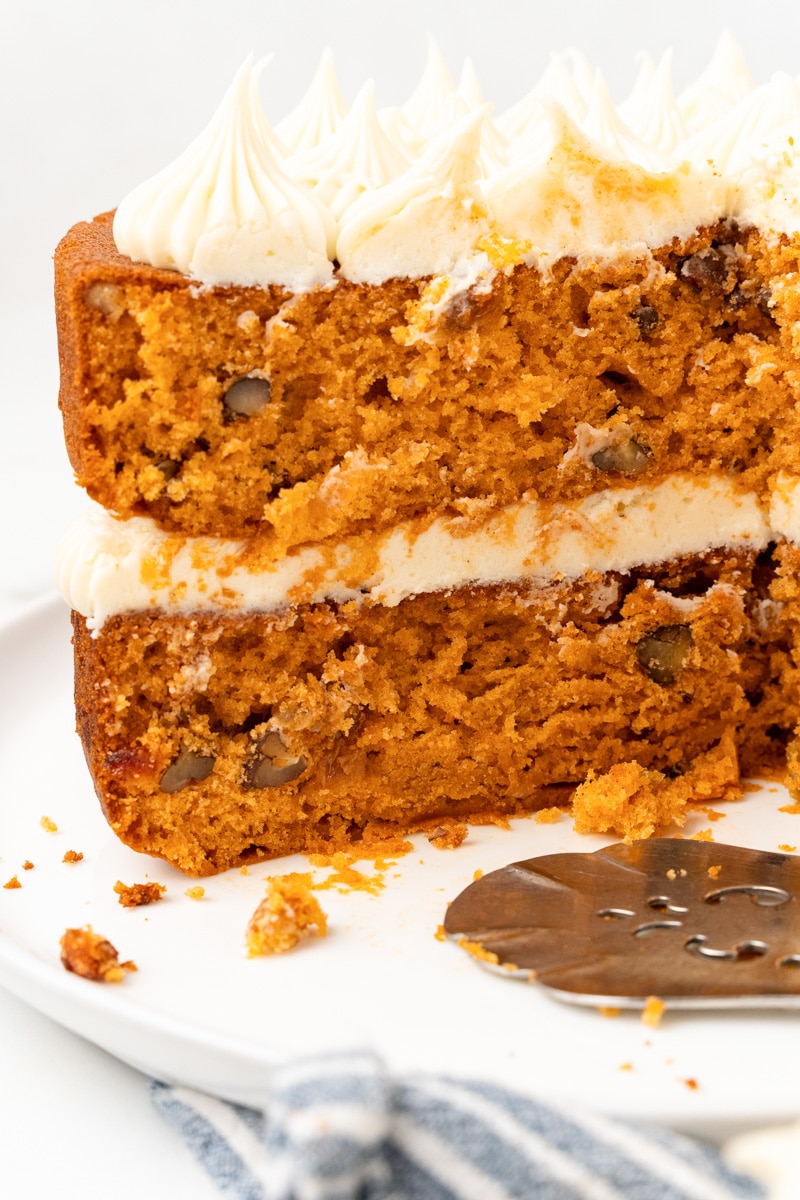 Leave out raisins
Leave out the raisins if you are not a fan of raisins. The raisins soak up the ingredients and become nice and plump.
Skip Nuts
Not a fan of nuts in cake? If not, go right ahead and leave out the nuts. Or swap the pecans with walnuts for a change of flavor.
Frosting
If you do not want to use cream cheese frosting you can swap with a vanilla frosting, your favorite buttercream, etc. Feel free to change up the frosting to what you would like.
Tomato Soup Cake FAQs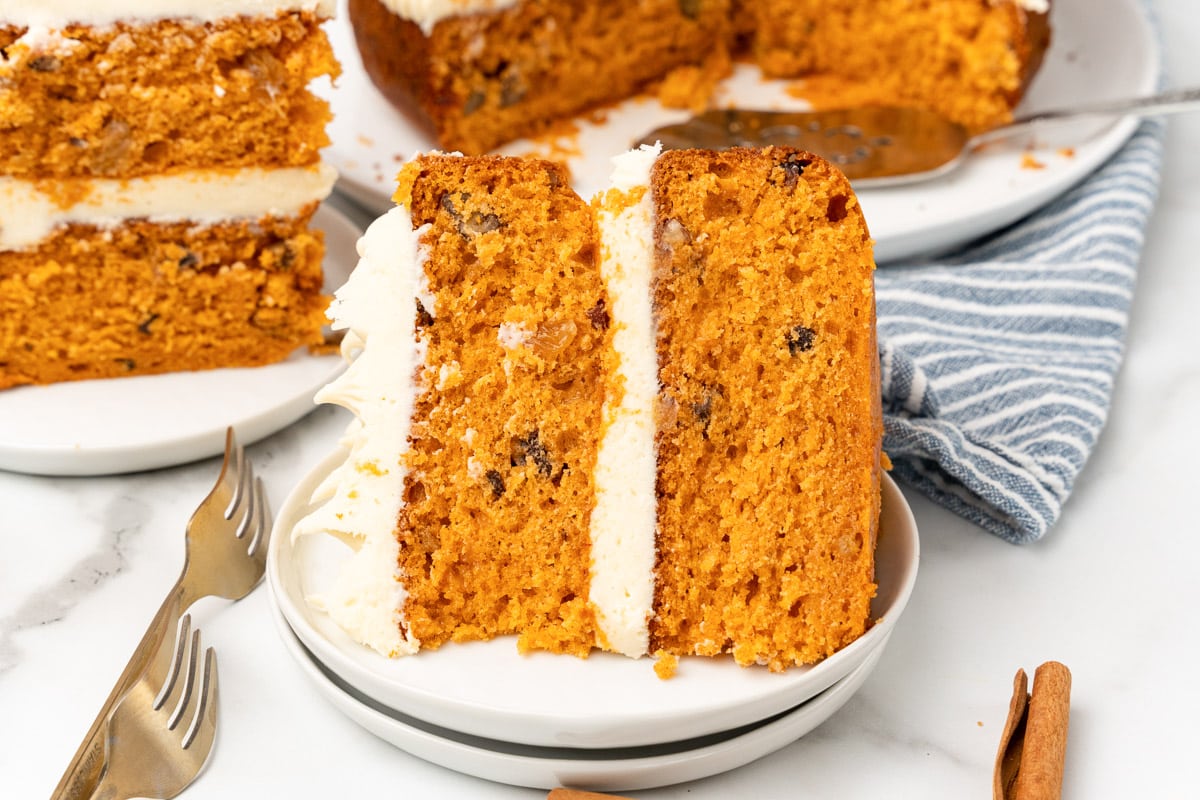 Does tomato soup cake taste like tomato soup?
No, tomato soup cake does not taste like tomato soup. The tomato soup is used as a sweetener and a moistening agent, and its flavor is not detectable in the finished cake.
Is tomato soup cake still popular today?
Tomato soup cake is not as popular today as it was in the past, but it is still enjoyed by some people as a nostalgic or unique dessert.
Do you have to refrigerate leftover tomato cake?
Yes, the cake needs to be refrigerated. Store the container in the refrigerator for up to 4 days. If you need to store it longer, you can freeze the soup for up to 3 months.
Recipe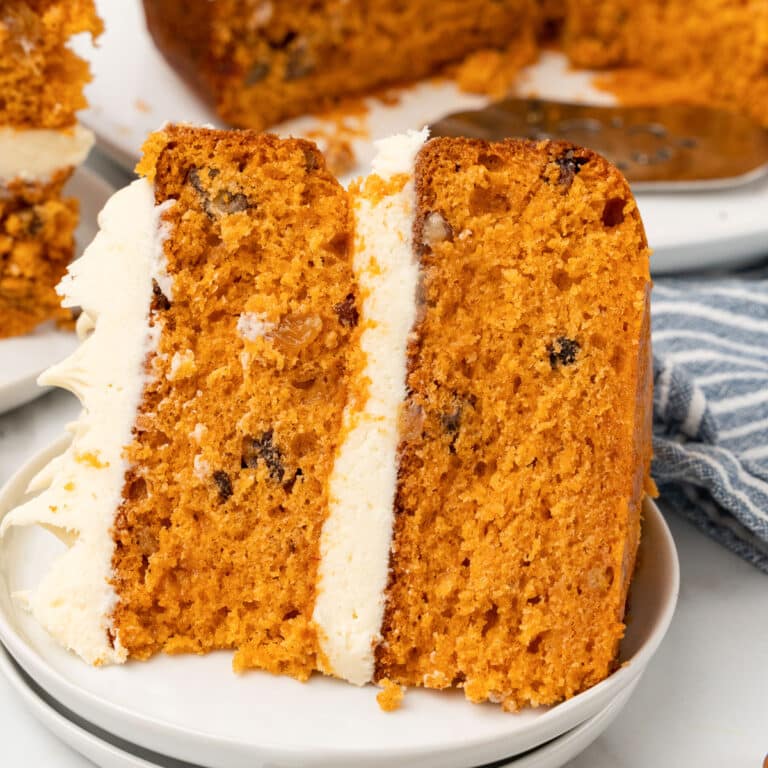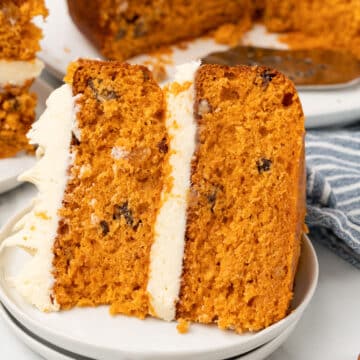 Tomato Soup Cake
This tomato soup cake is a moist and fluffy spice layer cake frosted with cream cheese frosting. A popular vintage dessert based on a classic retro 1950s recipe.
Instructions
Preheat oven to 350 F, grease two 8" cake pans and set aside

In a medium bowl, stir together the flour, cinnamon, baking powder, baking soda, and nutmeg; set aside

In a large bowl, stir together the oil, sugar, tomato soup, and water

Stir in the nuts and raisins

Stir until well combined and you have a smooth and creamy consistency

Divide the mixture evenly into the prepared pans, then bake in preheated oven for 30 minutes, or until a toothpick inserted in the center comes out clean

Allow to cool 10 minutes before inverting and cooling completely on a wire rack

Prepare the frosting by beating together the cream cheese and butter until light and fluffy

Stir in the vanilla, set aside until needed

Pipe half the frosting over one layer of the cake, then add the second layer and pipe the remaining frosting on top

Chill in fridge at least one hour before serving
Nutrition
Calories:
880
kcal
Carbohydrates:
122
g
Protein:
7
g
Fat:
43
g
Saturated Fat:
13
g
Polyunsaturated Fat:
8
g
Monounsaturated Fat:
20
g
Trans Fat:
0.4
g
Cholesterol:
50
mg
Sodium:
352
mg
Potassium:
234
mg
Fiber:
3
g
Sugar:
87
g
Vitamin A:
634
IU
Vitamin C:
1
mg
Calcium:
101
mg
Iron:
2
mg