Dish up this delicious and simple Chocolate Peanut Butter Cake at your next celebration! Transform a basic chocolate cake mix into this decadent dessert topped with whipped cream and crumbled Reeses.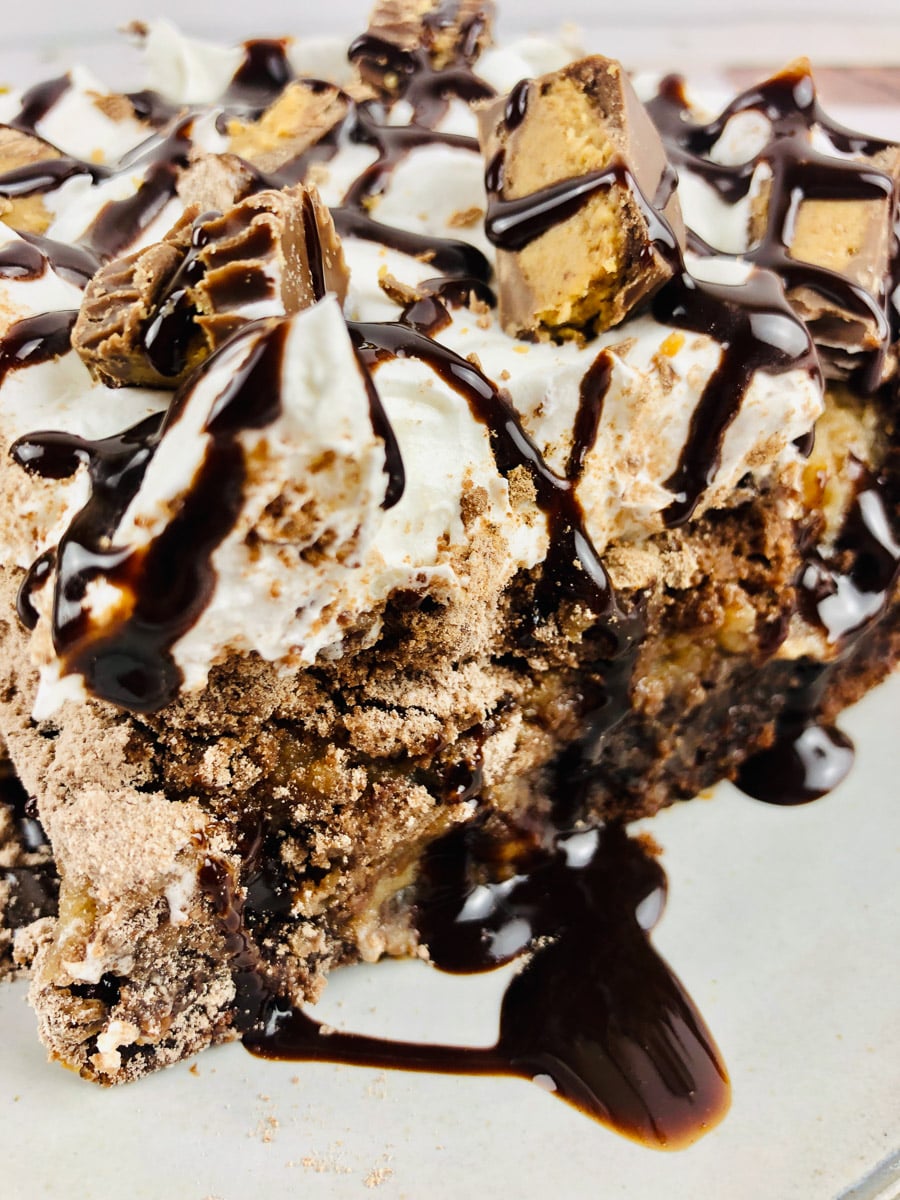 In this Article:
If you are looking for a way to dress up a cake mix, this recipe is a hit! I love how easily it comes together, and it's always fun to add a twist to a classic dump cake.
To serve your cake, it's always a great idea to offer some ice cream on the side! Try this basic vanilla ice cream, or get fancy by making some Blue Moon or Bounty Vienetta Ice Cream! (Of course, if you want to be a little healthier, you can always opt for this Chocolate Fruit Pizza instead!)
This Chocolate Peanut Butter Cake recipe is...
Made with boxed cake mix
Simple to make
Quick to put together
A layered dessert
Great for parties, holiday gatherings, or weeknights
How to Make Chocolate Peanut Butter Cake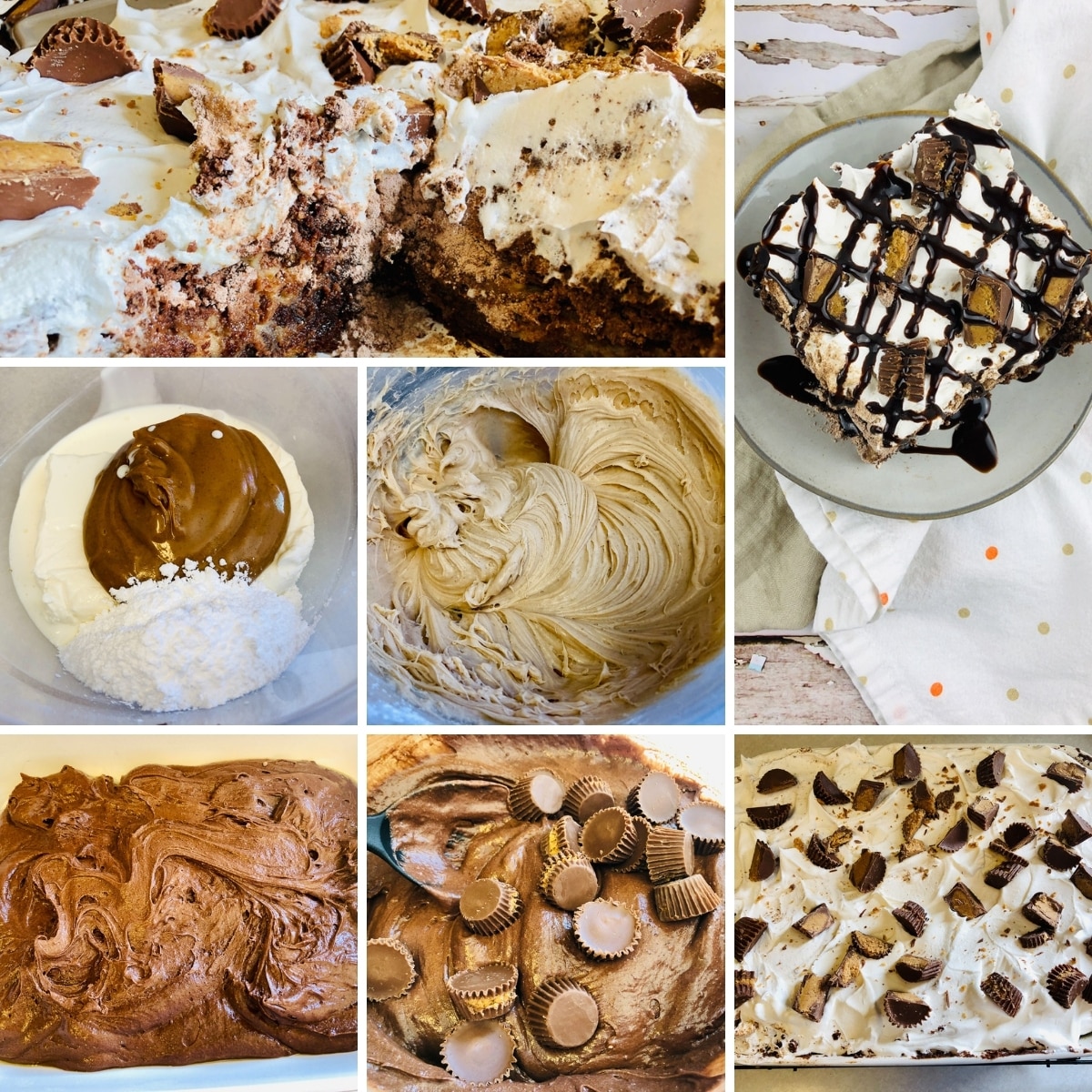 Preheat the oven and grease your pan.
Mix together one cake mix, milk, and pudding until blended.
Fold in peanut butter cups.
Pour batter into the baking pan and set aside.
In a new bowl, cream peanut butter, cream cheese, powdered sugar, and whipping cream.
Pour creamed mixture over cake batter, then sprinkle on the second cake mix.
Pour melted butter on top, and bake as directed. Allow to cool completely.
Top with whipped cream, leftover peanut butter cups, and chocolate syrup.
Tips & Tricks for Chocolate Peanut Butter Cake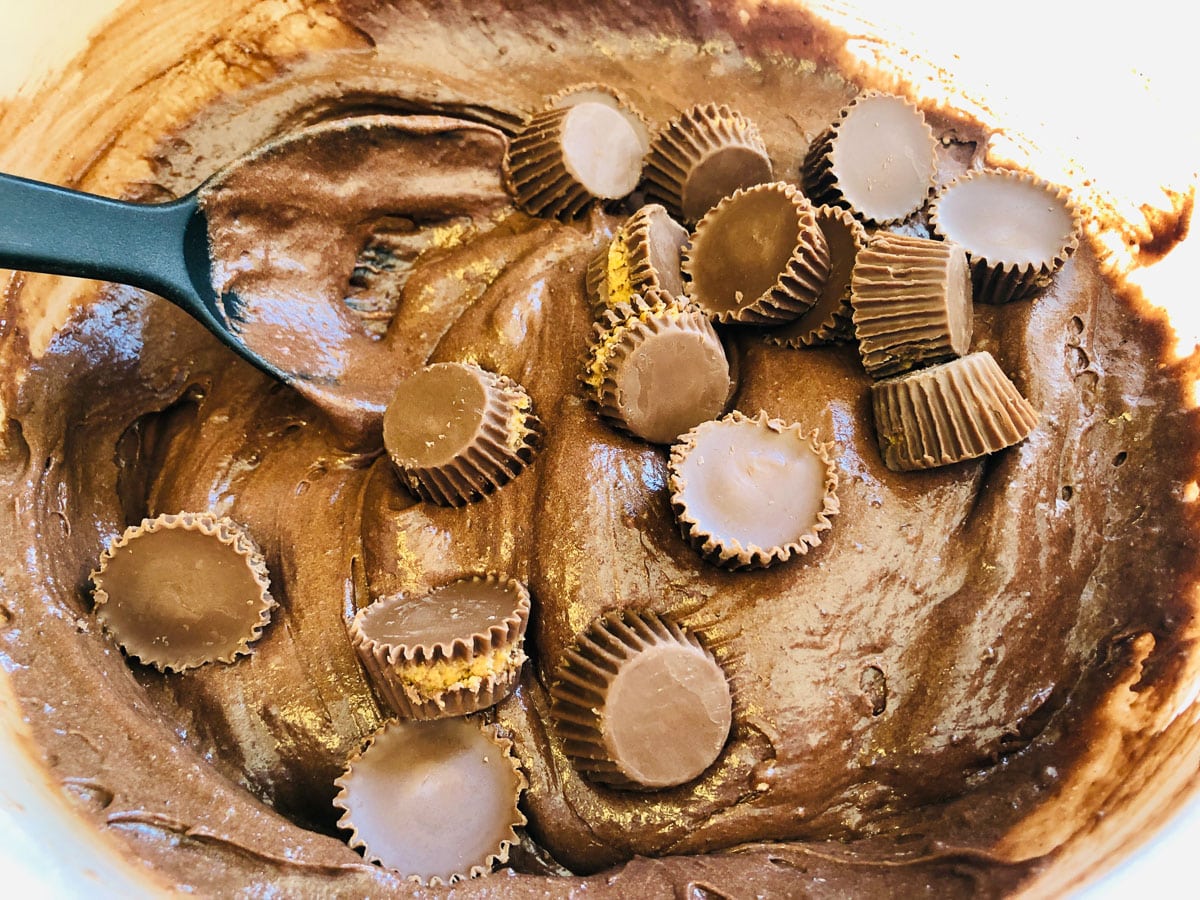 Cake Mix
For this recipe, you can use any brand of cake mix you would like. I recommend using chocolate! But if you are not a huge chocolate fan, you could use a white or even a red velvet cake mix.
Hand or Stand Mixer
I recommend using a stand or hand mixer when whipping up this dessert. The cream cheese is going to be harder to whip without some kind of electric mixer. Using an appliance will really eliminate excess elbow grease!
Softened Cream Cheese
Make sure that your cream cheese is fully softened before attempting to cream it. If your cream cheese is not softened ahead of time, it will not cream together and leave a curdled texture like cottage cheese in your cake.
Variations to Peanut Butter Chocolate Cake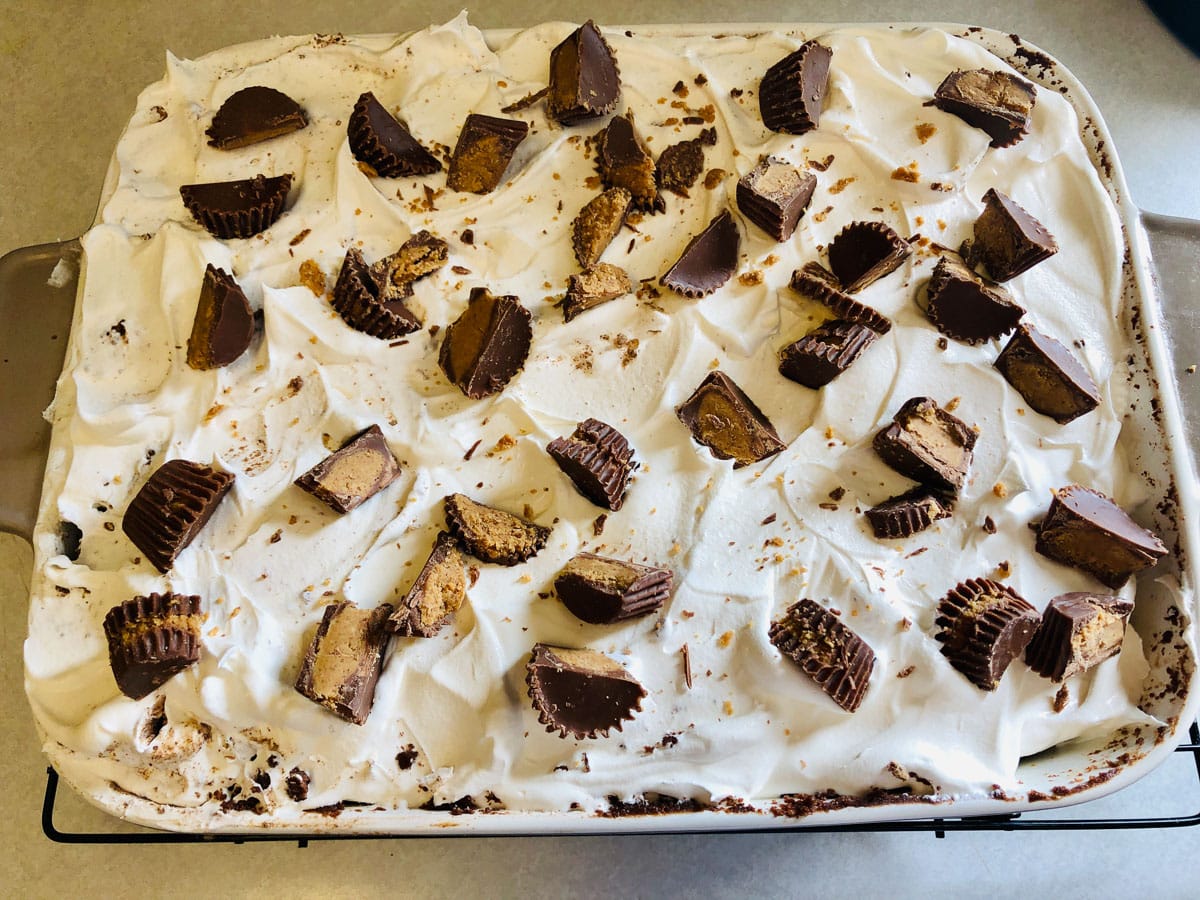 Pretzels
When you've finished topping your cake with whipped cream, consider breaking up some pretzels and sprinkle them on top as well. They will add a delicious sweet and salty flavor to the cake!
Pudding
I used a chocolate pudding in this cake recipe. However, feel free to switch it up and try using vanilla pudding to lighten up the chocolate flavor of the cake. If you want to get really creative, you could even try using a peanut butter pudding—or totally change up the recipe and use a mint pudding and mint Oreos!
Frosting
Instead of using whipped cream, consider making frosting to go on top of your cake! Try a cream cheese or buttercream frosting and let the deliciousness overwhelm you.
Chocolate Peanut Butter Cake FAQs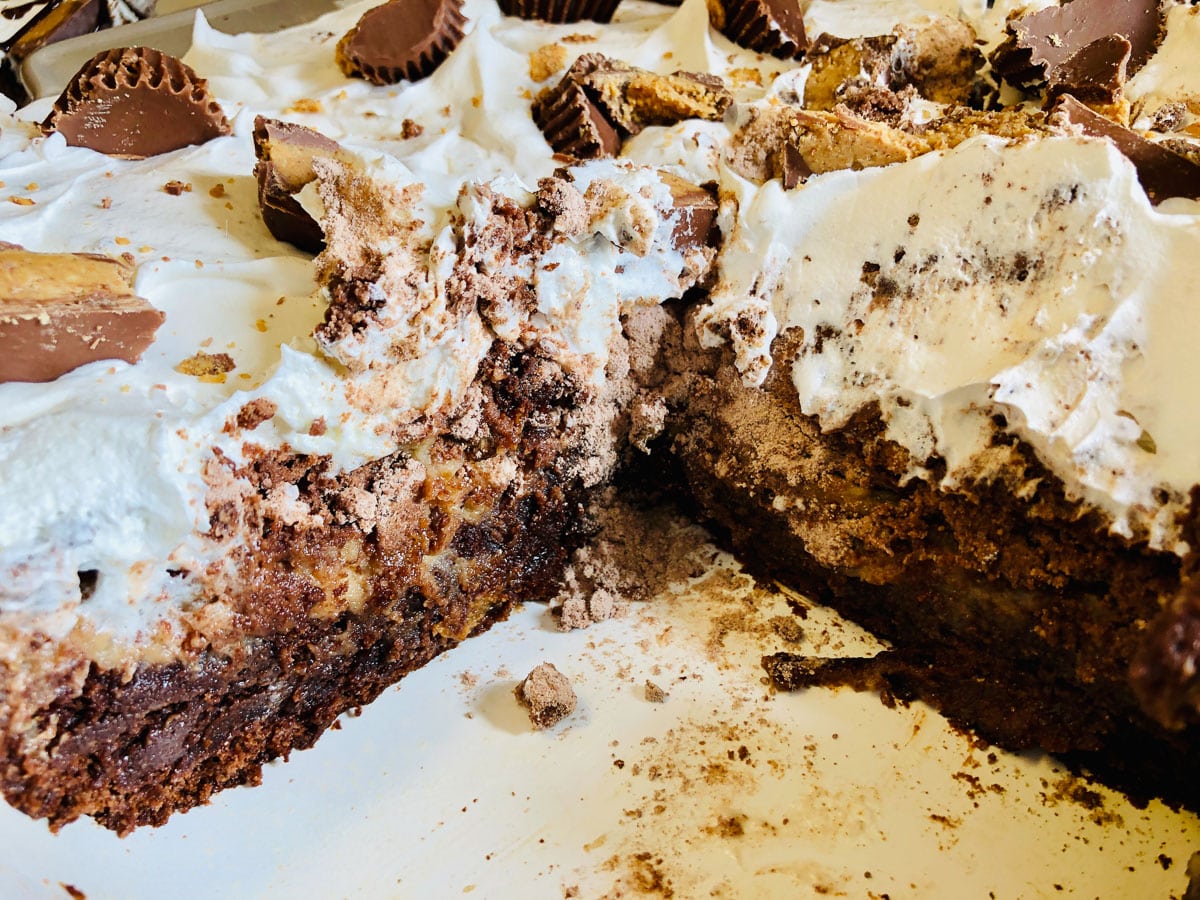 How do you know when dump cakes are done?
The key to baking a dump cake is making sure the cake itself looks done. You can also test the cake's doneness with a toothpick. If the toothpick comes out clean, the cake is done. Just make sure not to poke through a piece of chocolate!
Does this cake need to be refrigerated?
Due to the cream cheese layer, this chocolate cake does need to be refrigerated. When you are done eating the cake, cover it with a lid or some plastic wrap and store it in the fridge.
How long will this Chocolate Peanut Butter Cake last?
If your house is anything like mine, this cake won't last for long! But if you have more self control than we do, you can store this cake in the fridge for up to 5 days.
Can you freeze this peanut butter cake?
Go right ahead and freeze any cake you don't plan to eat right away. Just place the cake in a freezer-friendly container and freeze for up to 3 months. Thaw cake in the fridge or on the counter for around 30 minutes or so before eating.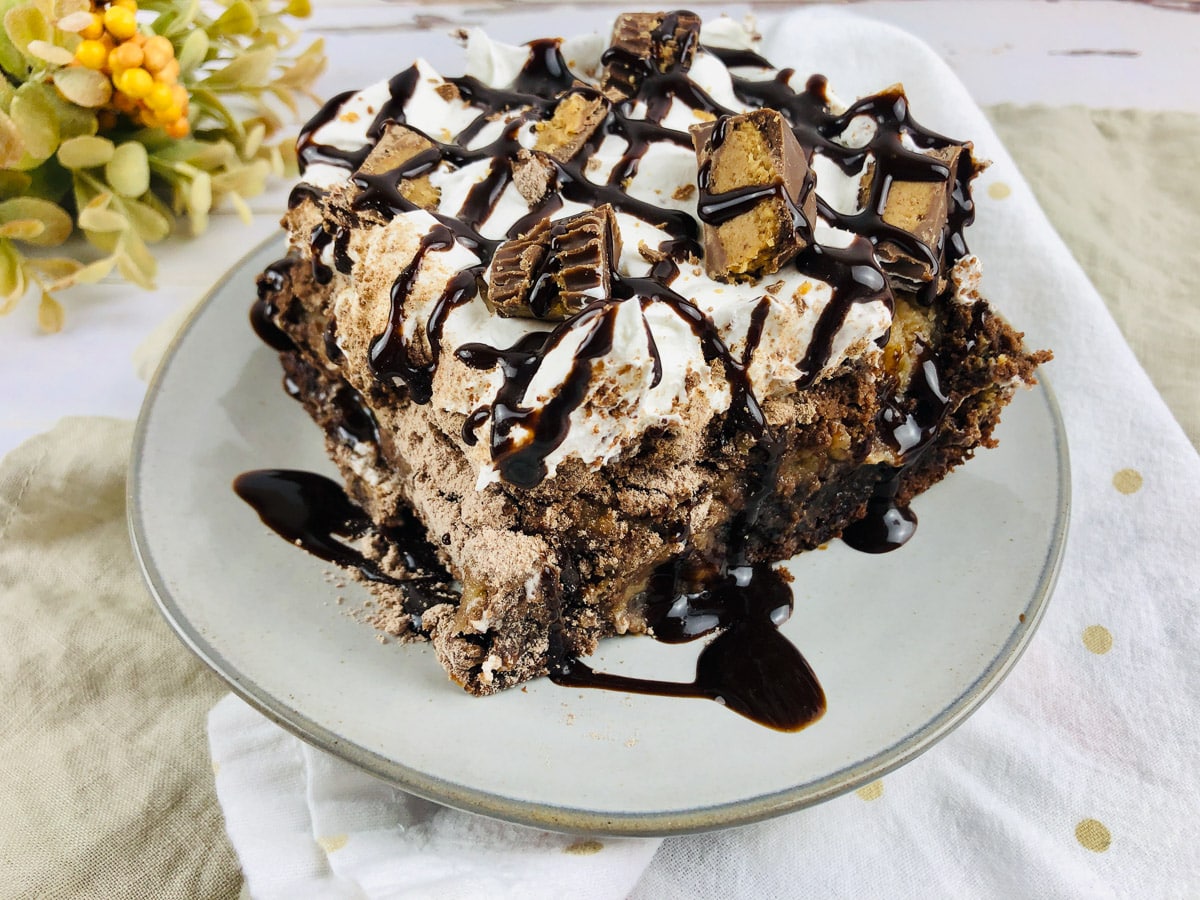 Recipe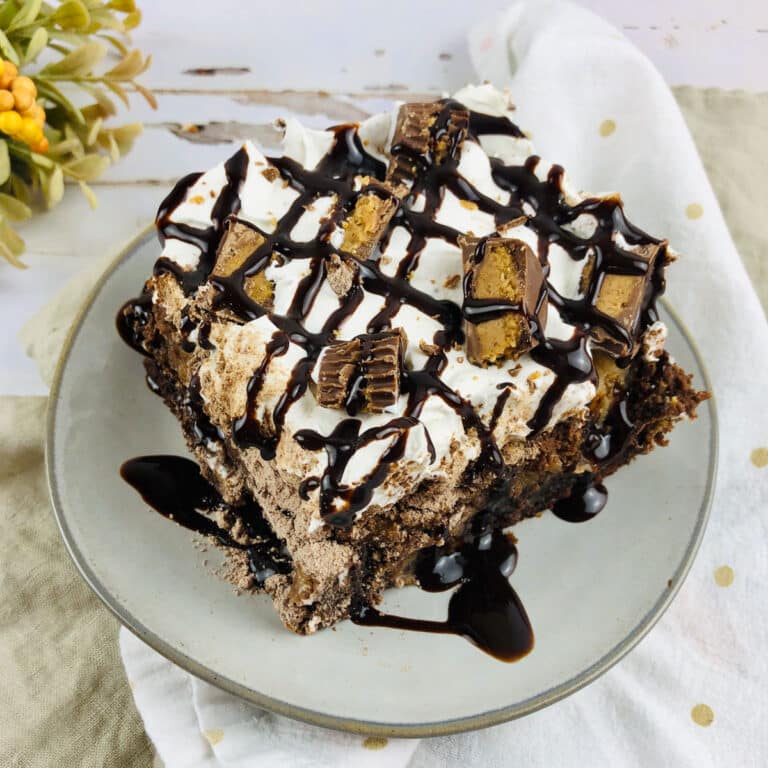 Chocolate Peanut Butter Cake
Dish up this delicious and simple Chocolate Peanut Butter Cake at your next celebration! Transform a basic chocolate cake mix into this decadent dessert topped with whipped cream and crumbled Reeses.
Ingredients
2

boxes

chocolate cake mix

1

box

instant chocolate pudding mix

1 ½

cups

milk

2

bags

Reese's mini peanut butter cups

5 oz bags; unwrapped

½

cup

creamy peanut butter

8

oz

cream cheese

softened

1

cup

powdered sugar

¼

cup

heavy whipping cream

1

stick

butter

melted

8

oz

cool whip

chocolate syrup

for garnish
Instructions
Combine 1 box of the chocolate cake mix, the instant pudding mix, and the milk in a large bowl. Mix together until smooth.

Fold in the peanut butter cups, reserving a handful to garnish the cake at the end.

Lightly spray a 9x13" baking dish with cooking spray, then pour in the batter.

In a separate bowl, mix together the cream cheese, peanut butter, powdered sugar, and heavy whipping cream.

Use a hand mixer to beat together until smooth and creamy.

Spread this mixture evenly over the cake batter mixture in the pan.

Sprinkle the second box of cake mix over the top.

Pour the melted butter over the top of the dry cake mix.

Bake for 35–45 minutes. Once out of the oven, allow the cake to cool completely.

Spread cool whip over the top of the cooled cake.

Sprinkle the remaining peanut butter cups over the cake, and decorate with a drizzle of chocolate syrup.
Nutrition
Calories:
1250
kcal
Carbohydrates:
162
g
Protein:
23
g
Fat:
64
g
Saturated Fat:
22
g
Polyunsaturated Fat:
13
g
Monounsaturated Fat:
24
g
Trans Fat:
1
g
Cholesterol:
69
mg
Sodium:
1587
mg
Potassium:
910
mg
Fiber:
6
g
Sugar:
103
g
Vitamin A:
841
IU
Vitamin C:
1
mg
Calcium:
405
mg
Iron:
7
mg