Best Watermelon Summer Salad Recipe
It's getting to be that time of year.  It's warming up--or at least thinking about it--and our minds are turning to salad recipes. It's inevitable to add a Watermelon Summer Salad to the must make recipes list.  I mean--watermelon salad. Feta cheese. Mint. The ingredients say it all, and what they say is YUM.
Now, I've had a few 'best watermelon salad recipes' over the years, but I believe that this one really takes the prize--hands down.
Really, anything berry is fair game right now--and will be for the next several months.  Be it a tasty Blueberry Tart, Chocolate Blueberry Smoothie, Strawberry Crepes, or even a delectable slice of Lemon Poppy Seed Pudding Cake with Strawberry Topping--berries scream spring and summer. And that is sweet music to our ears.
Watermelon Salads. Recipes that Make Your Mouth Water.
This recipe is one of those watermelon feta mint recipes for salad that make you cry out for a second helping.  This Mediterranean inspired salad is a flavorful salad that is full of good for you ingredients. We happen to think those are the absolute best type of ingredients to be loading into a salad.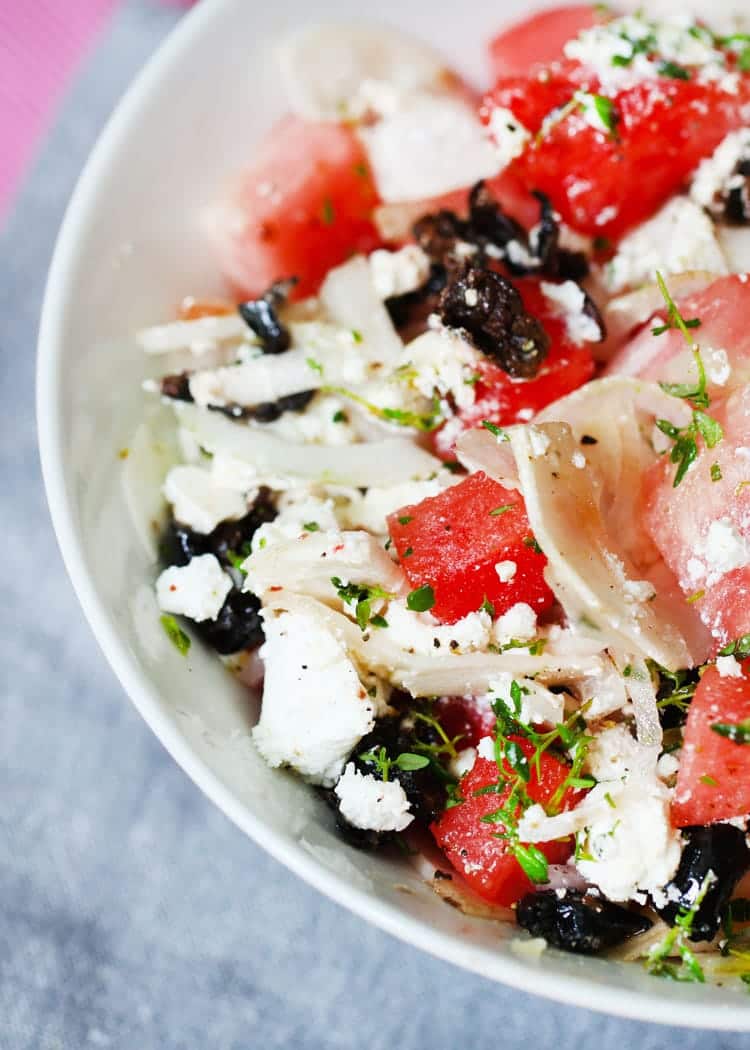 Looking for a fun, healthy and delicious salad to take to work with you? Load this salad into a mason jar or one of your favorite BPA free lunch containers the night before, and bring this colorful recipe for your afternoon meal.  You'll be feeling refreshed in no time after chowing down on this tasty salad.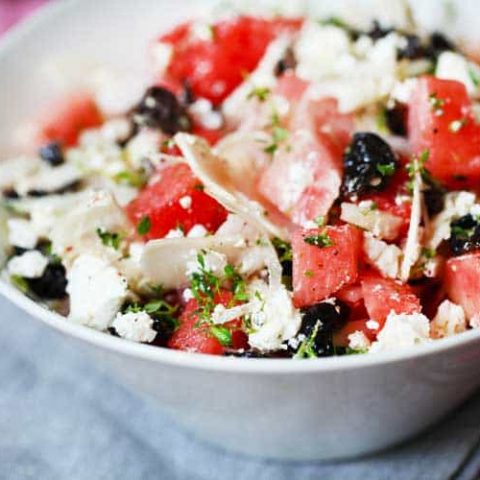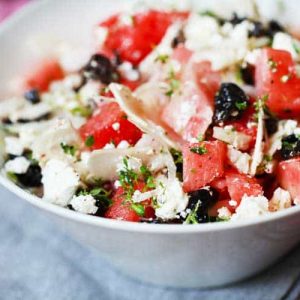 Watermelon Summer Salad
Easy Watermelon Summer salad recipe that is a perfect bbq salad recipe. Take this to share and everyone will ask for the recipe. It's that good!
Ingredients
¾

cup

halved

thinly sliced red onion

1

tablespoon

fresh lime juice

1 ½

quarts

seeded

cubed watermelon

¾

cup

crumbled feta cheese

½

cup

pitted black olive halves

1

cup

chopped fresh mint

1

tablespoons

olive oil
Instructions
Place the onion slices in a small bowl with the lime juice. The acid of the lime will mellow the flavor of the raw onion. Let stand for 10 minutes.

In a large bowl, combine the watermelon cubes, feta cheese, black olives, onions with the lime juice, and mint. Drizzle olive oil over it all, and toss to blend. Dig in and be prepared for a pleasant surprise!
Nutrition
Calories:
1028
kcal
Carbohydrates:
134
g
Protein:
28
g
Fat:
51
g
Saturated Fat:
21
g
Cholesterol:
100
mg
Sodium:
2339
mg
Potassium:
2091
mg
Fiber:
14
g
Sugar:
98
g
Vitamin A:
10729
IU
Vitamin C:
143
mg
Calcium:
826
mg
Iron:
7
mg