When a recipe comes together simply that is just perfect, well... that's something. Today, I had the pleasure of whipping up a cake that is so out of this world fabulous, that you can be sure it is going to become a family gathering favorite. Lemon. Poppy Seeds. Pudding. Strawberries.
Simple ingredients because we're using mixes. And you know what- that's okay in my book. I love making food from scratch, but I don't always have time to, and I know the majority of home cooks who read All She Cooks don't have the time to make dessert from scratch all the time either. This recipe, and so many others we have here on the blog, (Fruit Pudding or Pineapple Upside Down Cake) were created with you in mind.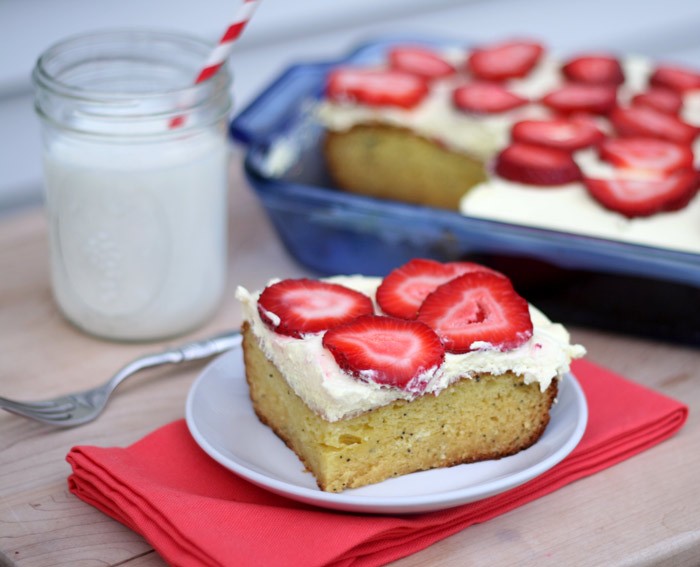 This cake is so moist! I know its all the pudding that is in there, but OMG... seriously guys. I took a bite of this and was taken aback by how moist and delicious it was. I'm a cake fan, I am... but I'll go for a cupcake 9 times out of 10 because they seem moister to me. That and they're easier to pick up and shove in my face... but hey- just being honest here.
So... I had a big piece of Lemon Poppy Seed Pudding Cake, and inhaled it quicker than I meant to. I wasn't timing myself or anything, but I think I might have set some kind of record. Good thing I've been hitting the gym and playing some basketball.
I'm thinking... portion control, a piece of cake now and then (breakfast, anyone?), and adding in some extra veggies for a mid-day snack. If you're eating good, it's okay to splurge on dessert, right?
Now I know... almost every time I post a dessert, I get comments either on the blog, on Facebook or other social media telling me: you're killing me here... I'm on a diet. Well, all I can say to that is good luck and I do sincerely hope you stick with it. I love looking at Pinterest and would say that if you're dieting, its probably a place to avoid, unless you are really specifying what you are searching for. And on the other hand- portion control, portion control, portion control. You can have your cake and eat it too... just a little at a time.
Hope you enjoy my delicious Lemon Poppy Seed Pudding Cake with Lemon Pudding Whipped Topping and Strawberries. YUM!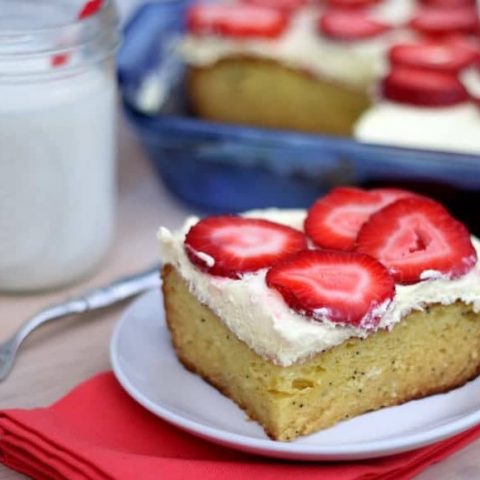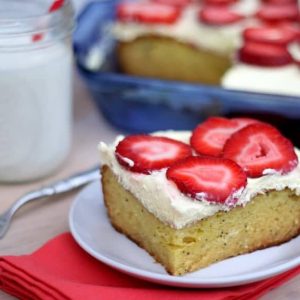 Lemon Poppy Seed Pudding Cake with Strawberry Topping Lemon Pudding Whipped Topping with Strawberries
Lemon Poppy Seed Pudding Cake #puddingcake #lemoncake
Ingredients
1

lemon cake mix

1

box instant lemon pudding

¾

cup

vegetable oil

10

ounces

lemon-lime soda

4

eggs

1 ½

teaspoon

poppy seeds

1

package instant lemon pudding

1

cup

milk

2

cups

whipped cream

½

quart

strawberries
Instructions
Add all ingredients to bowl and mix all ingredients together until well blended.

Preheat oven to 350. Spray 9x13 pan with cooking spray.

Bake for 35-40 minutes, or until toothpick inserted in center comes out clean.

Set aside to cool completely.

Whip together lemon pudding, milk, and whipped cream. Spread over cooled cake and top with sliced strawberries.
Nutrition
Calories:
1080
kcal
Carbohydrates:
131
g
Protein:
14
g
Fat:
58
g
Saturated Fat:
42
g
Cholesterol:
193
mg
Sodium:
1043
mg
Potassium:
427
mg
Fiber:
4
g
Sugar:
75
g
Vitamin A:
556
IU
Vitamin C:
70
mg
Calcium:
432
mg
Iron:
4
mg
You might also like these delicious desserts that are perfect for any family gathering or spring/summer-time cookout.
If you haven't tried an icebox 'cake', they are a fantastically simple way to throw together a scrumptious dessert without having to turn on the oven. Our Chocolate S' Mores Icebox Cake:
Or this delightful Banana Cream Dessert: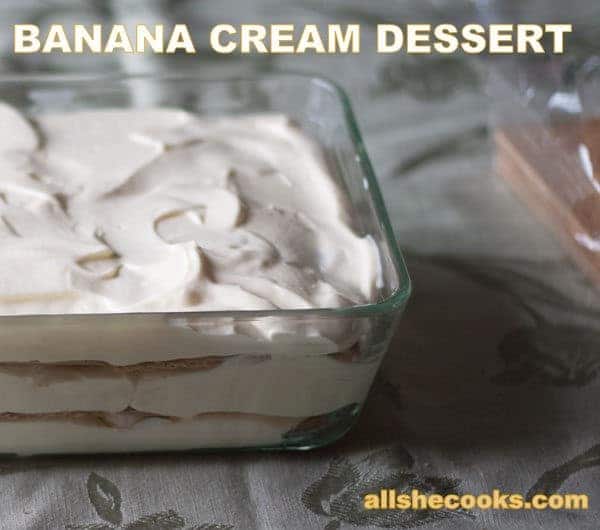 Or an extra yummy Pineapple Poke Cake.