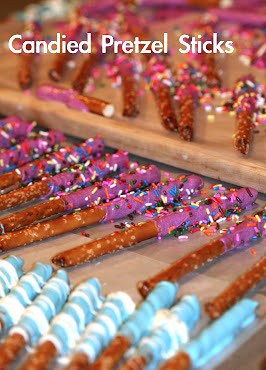 On any given day, you'll find me in the kitchen creating tasty treats for my kids to test out.  The ultimate goal is providing them with something they will love, with a side benefit of being able to post the test results on my blog and pin it.  You know… the life of a food blogger.
My son walked into the kitchen a couple times last night while I was making these easy chocolate covered pretzels and said nothing at all… no comments, nothing.  I asked him why and he just said, 'Well, I'm kinda used to you making all of these different things now.  I love it.'
I love it, but it's become normal.  I guess I will need to come up with something monumentally extraordinary to catch his attention in the kitchen next time.
These Candied Pretzel Sticks are so simple to make and not time consuming in the least.  They were a quick alternative to the Rice Krispie Pops my daughter requested that I make for her class on short notice.  If you can heat candy melts and dip pretzels, you can handle this tasty and visually pleasing treat.  Pop one or two in a treat bag and twist and you've got a gourmet goodie to send to school with your child.  Delicious and cute!
Ready to make some easy chocolate covered pretzels?  Here's the recipe:
Candied Pretzel Sticks
Ingredients
16 oz bag pretzel rods
12 oz bag Wilton Candy Melts
Sprinkles
Directions
Line counter or baking trays with wax paper.  Melt candy according to package directions.  Use a tall microwavable glass or jar to get maximum coverage for the pretzel rod.  Dip pretzel rod into melted candy and pull out of glass slowly while lightly tapping some of the melted candy off of the pretzel.  Alternatively you can twist the pretzel against the side of the glass while you are pulling it out to reduce the amount of candy on each pretzel.  Sprinkle with confetti or chocolate sprinkles while the candy is still wet.  Wilton Candy Melts are available in a variety of festive colors.  Mix and match, or drizzle one color lightly over another for a fun decorative touch.
Follow us on Pinterest and Facebook