Best Thanksgiving Sweet Potato Casserole Recipe
My sweet potato recipe is not only the best sweet potato casserole recipe I've come across, it also tops my Thanksgiving side dishes list.
I like to make double of some of the side dishes I make for holiday meals because the sides are my favorite part of the meal. And let's it, what would overindulgence of a holiday meal like Thanksgiving dinner be without leftovers.
I can always count on enjoying my favorite sweet potato recipes Thanksgiving, the day after, and maybe (just maybe) the day after that--depending on how many people are still chowing down on my favorite.
We have a big list of favorite Thanksgiving recipes.
From our Copycat Cheesecake Factory Pumpkin Cheesecake, to Green Bean Casserole, our favorite Cranberry Stuffing, and of course Brown Sugar Basted Turkey--we have a full menu of delicious food.
Best Sweet Potato Recipes Thanksgiving = Sweet Potato Casserole with Pecans
Here's the deal... when I start thinking about holidays, I think about food and meal planning.
Meal planning, as in: the big holiday meal that must be prepared.
Why must it be prepared, you may ask? For me, a big part of it is all about family coming together to enjoy traditions and togetherness.
Sweet Potato Recipes Thanksgiving
Traditions are born. Which is why I like to try new recipes now and then. Sweet Potato Casserole is the absolute bomb... and as such, has earned a spot on every holiday dinner table at my house from here to eternity.
I used to make Sweet Potato Casserole with Marshmallows. It's a classic. I also have to admit that the first time I made it--it was a total dud. I've learned so much since then.
But--if you are scared to make even this easy Sweet Potato Casserole recipe, you can always buy a casserole, put it in your own casserole dish, and then switch it out to your own pan and claim it as your own!
Like I said, a Sweet Potato Casserole dish on the side of my Thanksgiving table is a tradition. It always has been.
No lie. No kidding. It just has.
Best Way to Cook Sweet Potatoes Casserole
This is really a pretty simple recipe. If you can mash potatoes, you can make this easy Sweet Potato Casserole recipe. Easy Peasy.
Boil sweet potatoes... peel them first if you must, but honestly I hate peeling sweet potatoes and a lot of time I will just wash them and cook them with the peelings on.
Then, I wait for them to cool and take the skin off. A LOT easier... but, that's just me. However, my husband or daughter will use our Ultra Sharp Stainless Steel Peeler
.
After that... dump everything in a mixer, mix it all up and bang!
You've got a delectable dish of delight ready to serve up to family and friends.
Well... after you've mixed up the topping in a bowl with a fork- you're seriously good to go. Bake it up and eat it up. Give me two forks please. One for each hand.
Or a shovel. This dish is pure sweetness that can be either an excellent side or leftovers as dessert. I kid you not.
Whether you're looking for a fabulous side dish for your next family dinner, holiday dinner (maybe Easter dinner), or potluck... this is the perfect side dish to add to your must-make recipes.
I swear you'll come back to it again and again.
Hot Casserole Carrier
And if you're bringing a side dish or two to Thanksgiving like I am this year, a couple insulated casserole dish carriers are a must.
Needless to say, I've got one on my Thanksgiving shopping list.
Scroll to the Bottom for the Best Sweet Potato Casserole Recipe
Looking for more amazing sweet potato side dishes? Here are some other yummy recipes to try!
You've got to try Twice Baked Sweet Potatoes, Baked Sweet Potato Fries, or Ginger Fried Sweet Potatoes.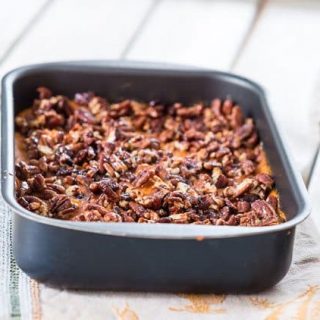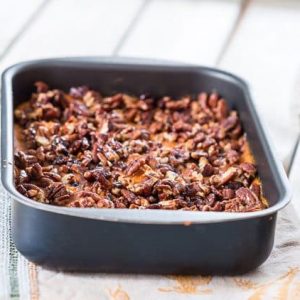 Best Sweet Potato Casserole Recipe
Comfort food at its finest! With the Best Ever Sweet Potato Casserole Recipe with Pecans, you will never need another recipe for a sweet potato casserole. This is phenomenal.
Ingredients
5

cups

mashed sweet potatoes

shortcut- use 1 (40 ounce and 1 (15 ounce) can sweet potatoes in light syrup)

1 ½

cup

granulated sugar

⅓

butter or margarine

melted

3

eggs

2

teaspoons

vanilla

1 ½

teaspoon

ground cinnamon

½

teaspoon

ground nutmeg

⅓

cup

heavy cream

can be substituted for milk

1 ½

cup

brown sugar

5

tablespoons

butter

melted

⅔

cup

all-purpose flour

1 ½

cup

pecans

chopped
Instructions
Peel and boil sweet potatoes until tender. Mash with a fork and measure out.

Preheat oven to 350 degrees. Mix together all ingredients together first 7 ingredients and beat until a smooth consistency is reached. Add in cream or milk and mix together until well-blended.

Spray a large pie dish or 9x13 pan. Pour sweet potato mixture into pan.

Mix together topping (ingredients and directions below), and then add to sweet potatoes. Bake for 25 to 28 minutes.

Mix all ingredients with fork. Drop spoonfuls or sprinkle over sweet potatoes.
Nutrition
Calories:
1216
kcal
Carbohydrates:
213
g
Protein:
13
g
Fat:
38
g
Saturated Fat:
8
g
Cholesterol:
152
mg
Sodium:
191
mg
Potassium:
930
mg
Fiber:
10
g
Sugar:
165
g
Vitamin A:
24107
IU
Vitamin C:
4
mg
Calcium:
208
mg
Iron:
4
mg