Move over pumpkin pie, hello sweet potato pie! This sweet potato pie recipe is a creamy sweet potato pie that is loaded with warm spices, tender buttery crust, and topped with a dollop of whipped cream.
Sweet potato pie is a southern classic that is served during the holiday season. You get a lot of the similar flavors of a pumpkin pie but with a slight twist in flavor.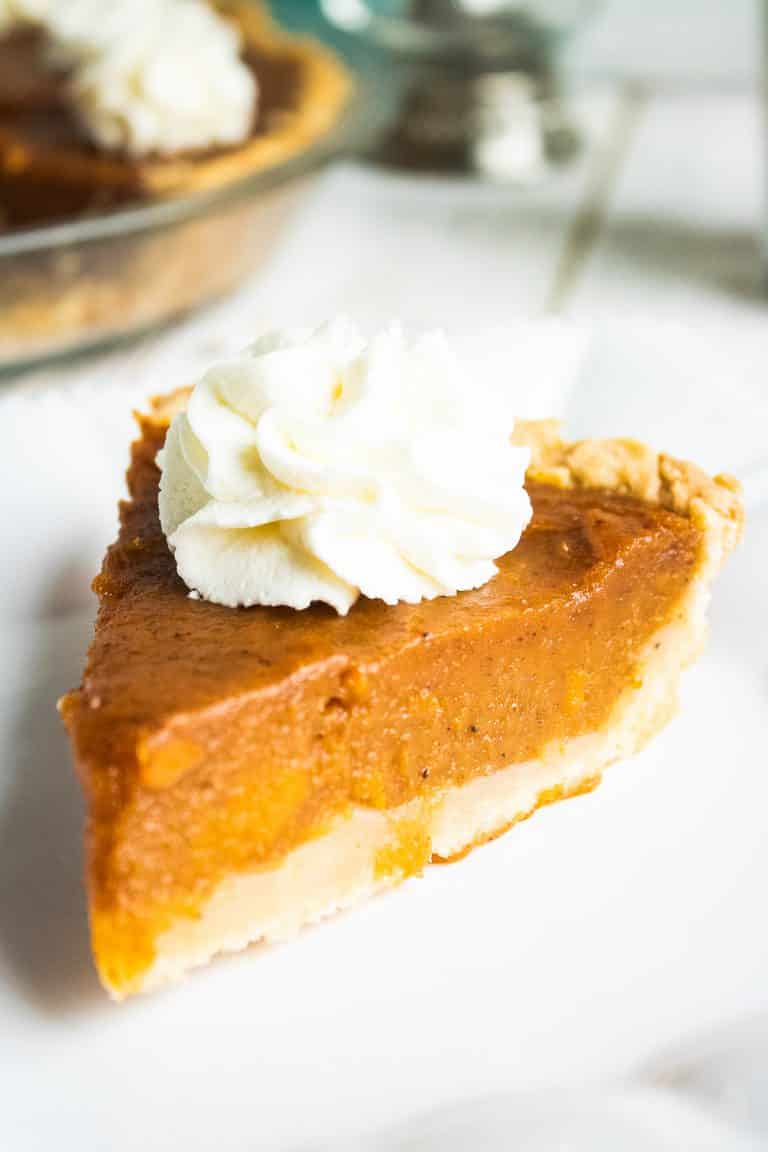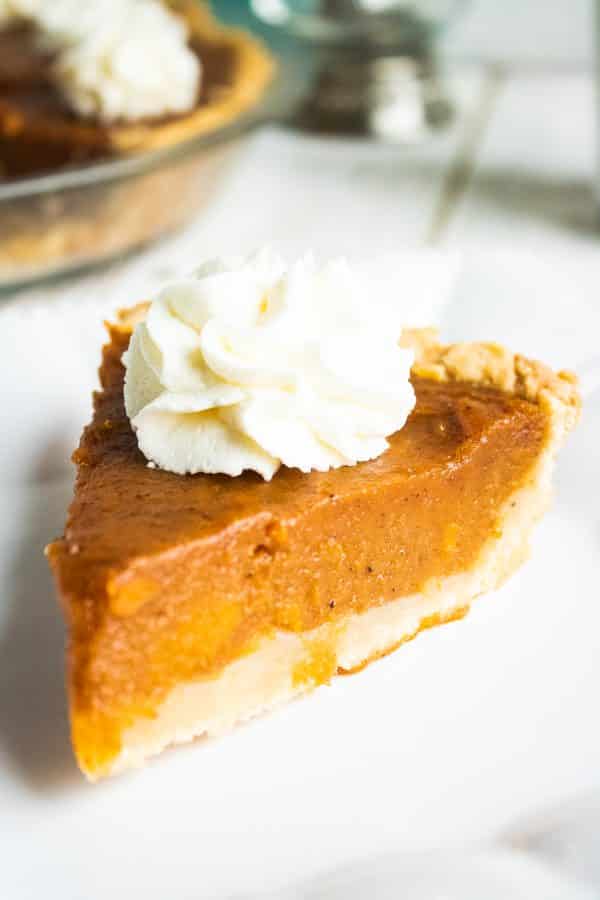 Sweet Potato Pie
If you have never made sweet potato pie, let me teach you how to make a sweet potato pie! It is so easy, and I think you will love this pie recipe.
Why You Will Love This Sweet Potato Pie Recipe
Similar flavor to a pumpkin pie recipe.
A flaky butter crust
Add a dollop of whipped cream or scoop of ice cream
Velvety smooth filling
Simple filling ingredients
Homemade just like grandma made growing up
What Does Sweet Potato Pie Taste Like
A sweet potato pie is full of rich and warm spices and offers a similar flavor of pumpkin pie. But pumpkin pie is a denser pie. But a sweet potato pie offers a lighter texture.
Do You Eat Sweet Potato Pie Cold
Sweet potato pie can be eaten warm or chilled. The option is up to you. Most will chill it and serve cold, but I do enjoy a warm slice of pie.
Can I Make Sweet Potato Pie Ahead Of Time
Yes, you can make this pie a day in advance. Just store your pie in the fridge once it cools down a bit from being removed from the oven. Then cover with aluminum foil or place in an airtight container.
You can store your pie in the fridge for up to four days. After that you will find it goes bad.
Does Sweet Potato Pie Freeze Well
Yes, you can freeze your sweet potato pie. Make sure to wrap your pie up in aluminum foil or place in a freezer friendly container. This potato pie will store for up to one month in the freezer.
Thaw your pie in the fridge 24 hours before you plan to serve it.
How To Make Sweet Potato Pie
The first thing you want to do is start making the homemade pie crust. I used cream cheese, butter and flour. Shape and place in the pie pan.
Then in a bowl, you will whip up the pie filling. You will blend your sweet potato pie filling and then pour it into the pie pan. Bake for 60 minutes in the oven until it is cooked through.
Craving More Holiday Pie Recipes?
Apple Crumble Pie | This is a fantastic apple pie recipe with a delicious crumble on top. Bake and enjoy a fresh and tasty pie.
Chocolate Pie with Meringue | Whip up a velvety chocolate pie that is topped with fluffy meringue. This is one of our favorite holiday pies.
Derby Pie | Whip up this sweet and tasty Derby pie recipe. A chocolately delicious pie recipe that is loaded with pie.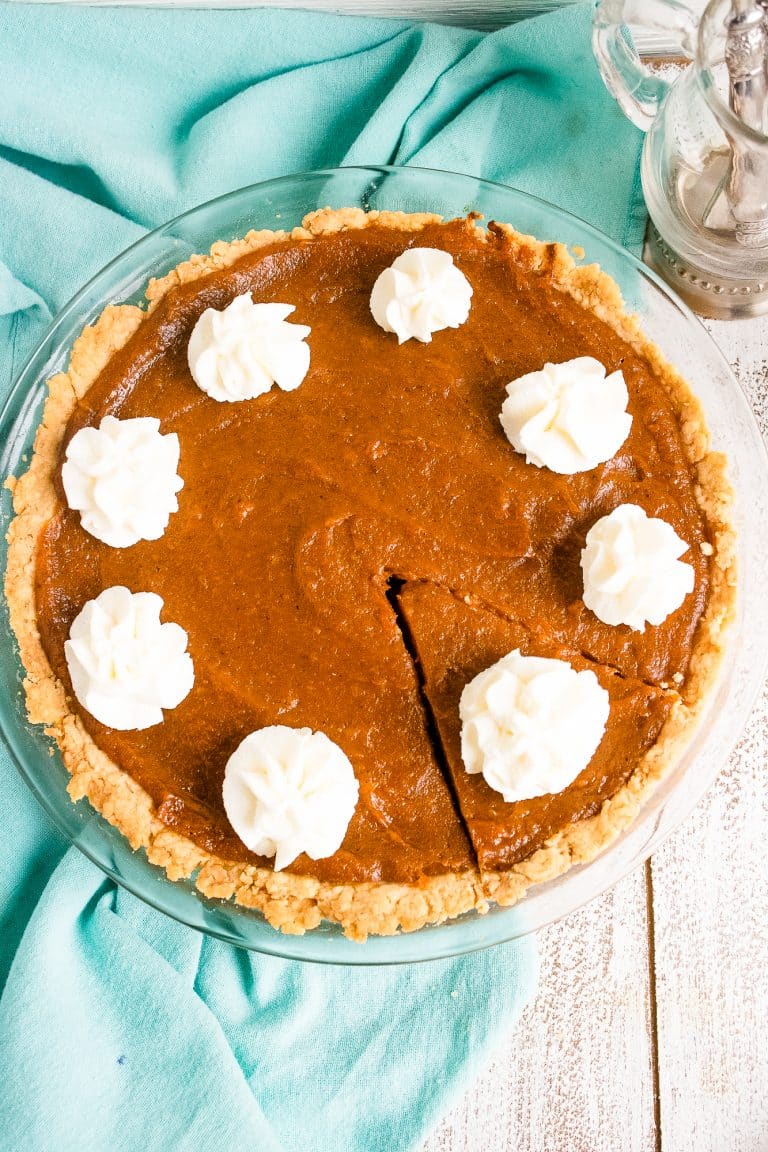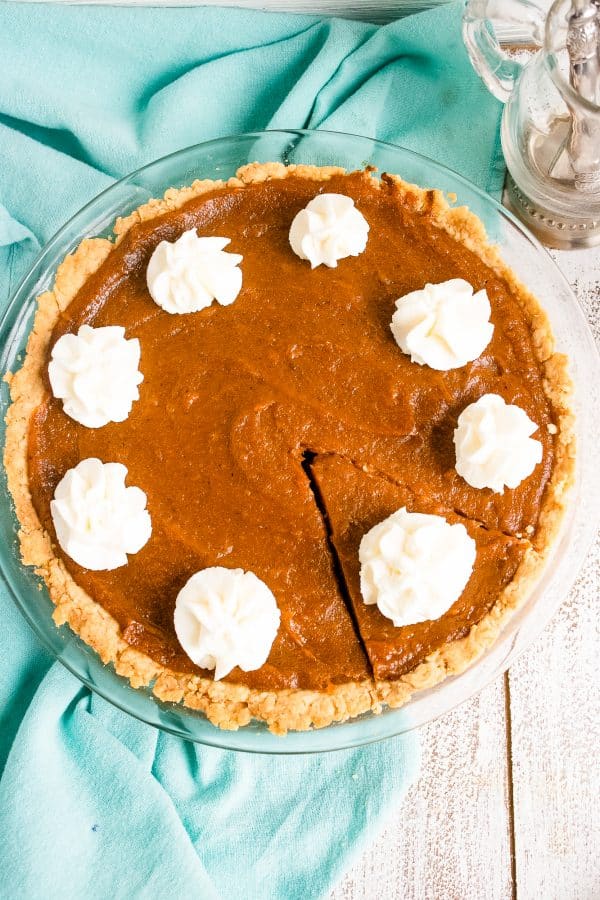 Can I Use Frozen Pie Crust Instead of Homemade
Not for this pie. This pie has more of a shortbread style crust, which is different from traditional pie crust. It adds a layer of flavor to the pie recipe that you won't want to leave out.
The pie crust recipe that I used for this offers a really creamy and buttery flavor. This pie crust is one that will work for other pie recipes you might decide to make as well. It is versatile, and such an easy pie crust to make.
Canned Sweet Potatoes VS Fresh
You are welcome to use canned sweet potatoes or fresh sweet potatoes. I tend to just boil up fresh potatoes, and the mash them, I find it offers great flavor.
If you use canned make sure they are plain sweet potatoes and don't have other ingredients added in. That way you don't create extra layers of flavor in the pie from what is in canned sweet potatoes.
Can I Use Pumpkin Pie Spice
Yes you can, swap out the spices in this recipe and use pumpkin pie spice instead. I love using the separate spices but if you want to buy just one spice you can easily use a pumpkin pie spice and still get the warm spices in your pie.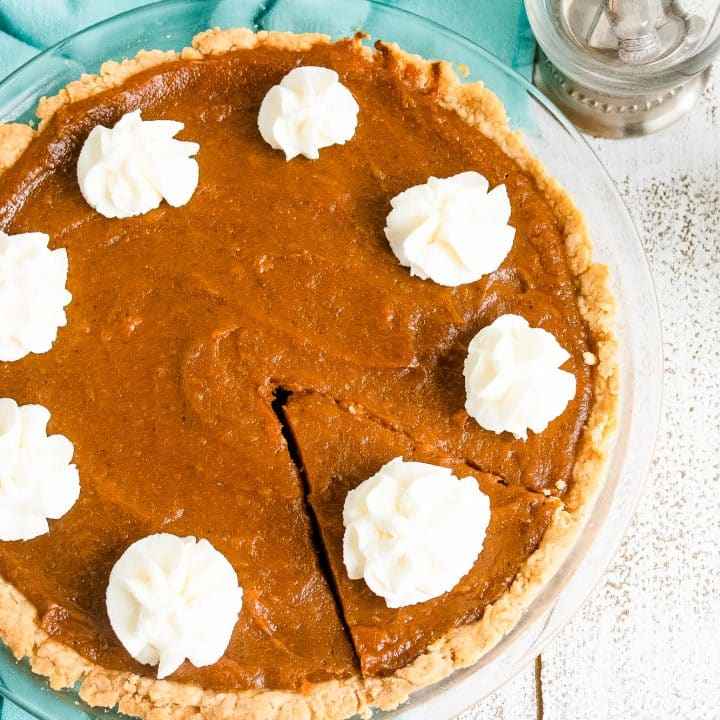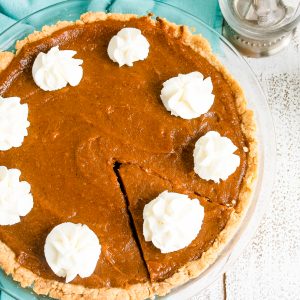 Sweet Potato Pie
Sweet Potato Pie with a shortbread style crust is ideal for year-round dessert, and is also traditionally served during holidays, especially Thanksgiving.
Ingredients
Filling
2

cups

mashed sweet potatoes

3-4 small sweet potatoes

2

tablespoons

all-purpose flour

1

cup

granulated sugar

1

teaspoon

vanilla

1

teaspoon

cinnamon

½

teaspoon

nutmeg

½

teaspoon

ground cloves
Instructions
Preheat oven to 350 degrees. Spray 9-inch pie pan with non-stick cooking spray.

In a medium-sized mixing bowl, mix cream cheese and butter until combined. Add in flour and mix until the dough starts to clump together. If necessary, knead together to form a ball, and then press the dough down into the pie pan, covering the bottom and the sides of the pan.

Peel the sweet potatoes and cut up into one-inch chunks. Place in a pot with boiling water just covering the potatoes, and cook until fork-tender. Puree the cooked sweet potatoes in a food processor to get smooth consistency.

In a large mixing bowl, combine mashed sweet potatoes and remaining ingredients, and stir to incorporate. Pour into pie shell, and bake for 60 minutes.
Nutrition
Serving:
1
g
Calories:
395
kcal
Carbohydrates:
53
g
Protein:
3
g
Fat:
19
g
Saturated Fat:
12
g
Polyunsaturated Fat:
6
g
Trans Fat:
1
g
Cholesterol:
52
mg
Sodium:
171
mg
Fiber:
2
g
Sugar:
34
g
More of Our Pie Recipes