Boozy cherries or drunken cherries are a must make. Whether you are looking or a tasty adult dessert for Valentine's Day or a garnish for your cocktails, this recipe is incredible.
Boozy Cherries
Boozy cherries are marachino cherries that have been soaked in alcohol, and then dipped in semi-sweet chocolate.
Whether you make as a dessert for your spouse or a bunch for a party, these drunken cherries will be the talk of the evening. Sweet, tasty, and downright addictive.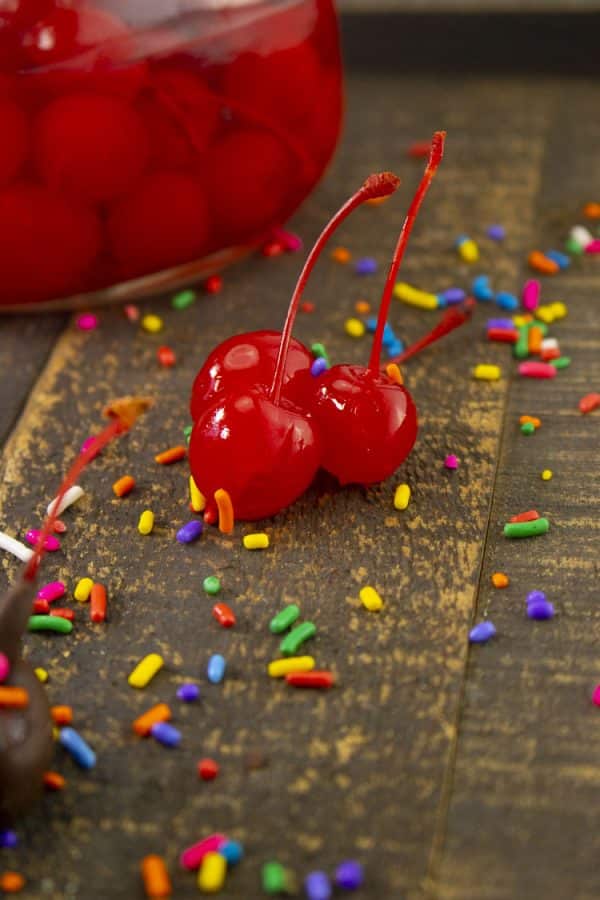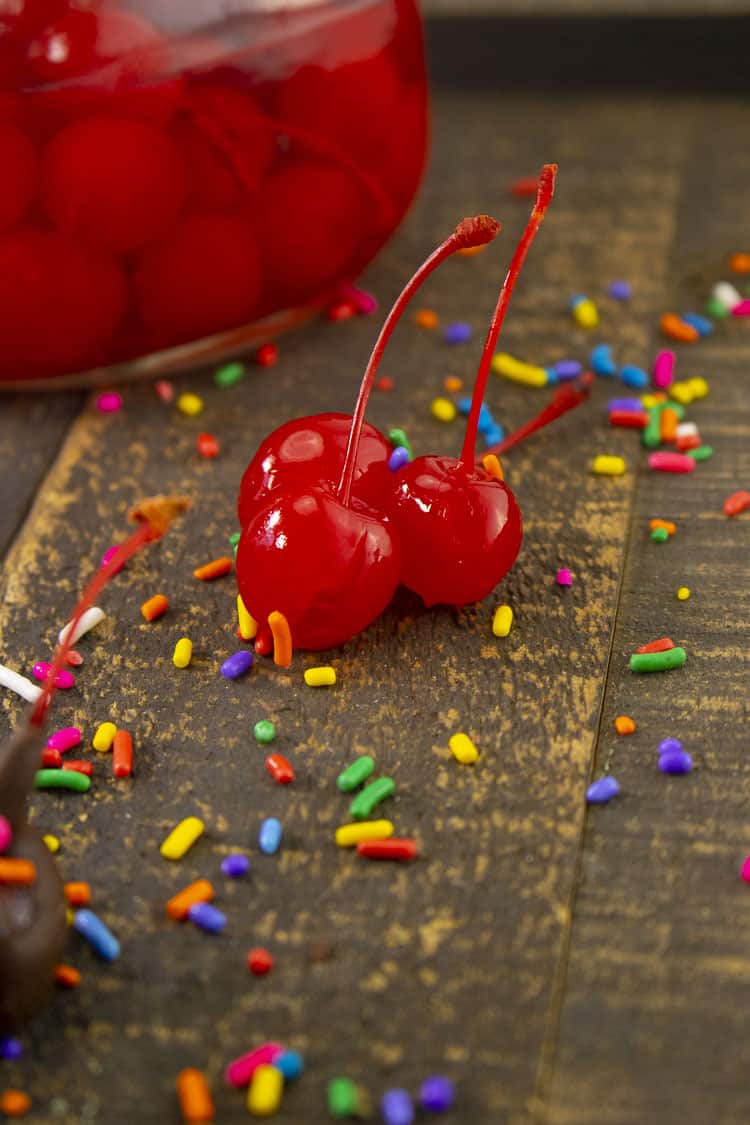 What Is The Best Alcohol To Soak Cherries In
Personally, I find that using rum, vodka, or even tequila to be incredible for soaking cherries in. The longer the cherries soak the more alcohol that absorbs into these little red gems.
Then you dip in chocolate for added flavor. It is the perfect chocolate covered cherry with a drunken twist!
Can I Use Fresh Cherries Instead of Maraschino Cherries
You sure could use real cherries that are fresh. I would suggest pitting the cherries before you soak, that way someone doesn't bite down into the pit.
I have found the maraschino cherries absorb the flavor a lot faster from the alcohol but feel free to experiement and see which you prefer.
Can I Dip Cherries Into White Chocolate
Not a fan of semi-sweet chocolate? You are more than welcome to use a white chocolate for these chocolate dipped drunken cherries!
I have used white chocolate with sprinkles, dark chocolate, and even milk chocolate. They are all great options and taste fantastic. So pick chocolate that fits your preference.
Can I Use CandiQuick for Dipping Drunken Cherries
Dipping in CandiQuick is fantastic. It will harden the chocolate a lot faster, which is perfect. Now, you have to take into consideration the flavor. If you prefer regular chocolate chips over the almond bark style then go that route.
Either method works great.
How Long Do You Marinade Cherries
You can marinade these cherries in the alcohol for a few hours up to overnight. I have tried a variety of methods and they all taste fantastic.
If you want a milder flavor I suggest only soaking for 1-3 hours. For a stronger flavor go for 6 hours to overnight.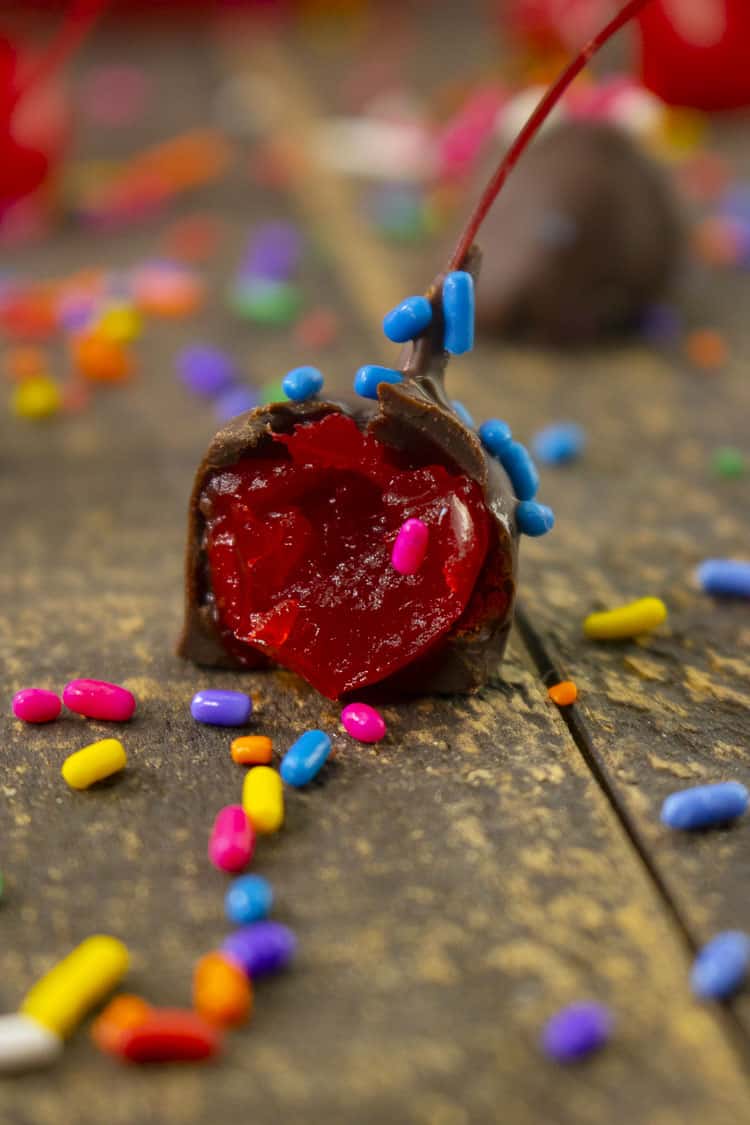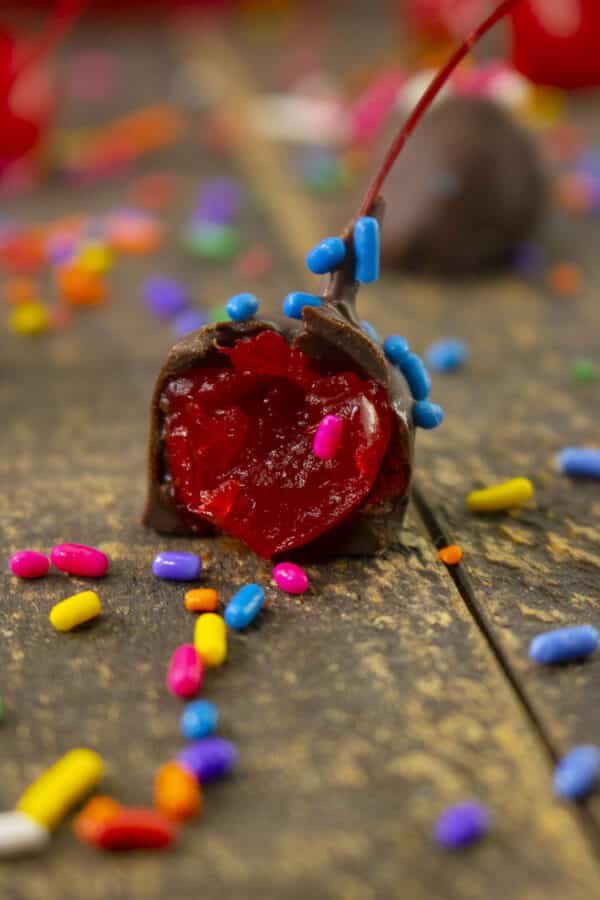 Ways to Serve Up Drunken Cherries
Serve as a dessert
Garnish Cocktails with these prety cherries
Use to decorate cupcakes, cakes, etc. These make a great stand out look.
You can add sprinkles of all colors to your cherries for more color pop. Or do drizzles of chocolate for added dimension or mix multiple chocolates.
Check out these recipes with cherries
Can You Get Drunk Off Of Boozy Cherries
You have to remember you are using alcohol in this recipe. So if you consume enough of these cherries you could for sure end up getting a buzz from them.
The strength all depends on how long you soak, type of alcohol you use, and how many you eat. So always enjoy these in moderation.
Drunken cherries are perfect anytime of year. With Valentine's Day around the corner this is a fun treat for you and your partner to enjoy. Or make them for summer fun in the sun.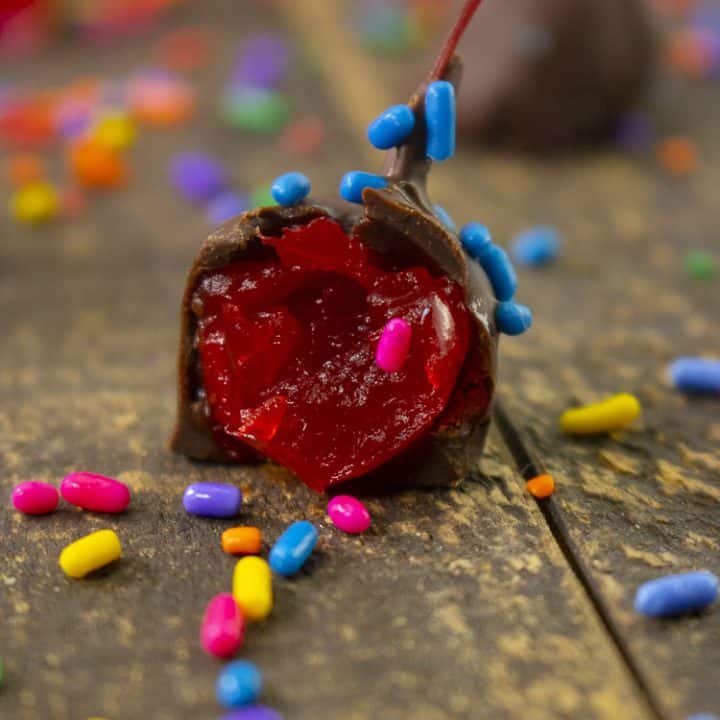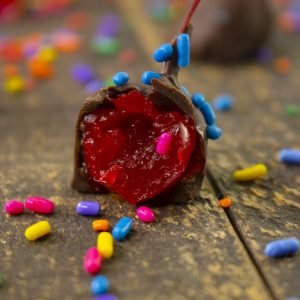 Drunken Cherries (Spiked Cherries) Recipe
Boozy Cherries are a cherry that is spiked with alcohol and then dipped in chocolate to make a chocolate covered spiked cherry, or Drunken Cherries.
Ingredients
24

Maraschino cherries with stems

2

cups

semisweet chocolate chips

or dark chocolate

1

cup

vodka

rum or tequila
Instructions
Drain liquid from cherries and pour cherries into a wide-mouth jar or container.

Cover with alcohol (about a cup).

Soak cherries in alcohol for a few hours (or overnight).

Remove cherries from alcohol and dry on paper towels.

Melt chocolate chips in a glass bowl in the microwave or a double boiler.

Dip the cherries in chocolate to cover the cherry. Decorate with sprinkles if desired.

Set on parchment paper to allow chocolate to harden. Refrigerate to harden chocolate quickly.
Nutrition
Serving:
1
g
Calories:
108
kcal
Carbohydrates:
11
g
Protein:
1
g
Fat:
4
g
Saturated Fat:
3
g
Polyunsaturated Fat:
2
g
Sodium:
2
mg
Fiber:
1
g
Sugar:
10
g