When we're talking about fall flavors, we normally focus on all things pumpkin, and dabble in some apple. Hello Pumpkin Dump Cake and Mom's Apple Pie. But what about cherries?
If you've never been to Door County, Wisconsin, you'll want to take a trip there in the fall. Now, while cherries are picked in mid-July to early August, you can find them in big freezer buckets all over Door County, just ready to be baked up into amazing tasting recipes.
Like our Overnight French Toast...which we would have used Door County cherries for if we had any on hand.
Instead we used Cherry Pie filling, which also worked well. We topped cinnamon bread with a mix of eggs, sugar and cream and then spooned cherry pie filling on top of that.
Seriously--if you think you can't cook--think again.
You truly CAN make this recipe. It is that easy. Spray your pan with non stick spray, and you're golden.
We like to stick to easy to make recipes because, well...they are easier. And if you can have all that great taste without spending hour upon hour cooking--well then, why not?
That's not to say we don't on occasion like make a recipe that takes longer in the kitchen, but for the most part we like to keep things simple.
The color in in Overnight French Toast with Cherries is just amazing. You can cook the cherries, or you could also add cherries as a topping after the French toast has baked.
If you add cherries to top the French toast after baking, you'll have a more vibrant end presentation. So...if you care about how your food looks, you might want to go that route instead.
Either way you serve it up, Overnight French Toast is the bomb.
If you like this recipe, you might also like our Overnight Apple Pie French Toast. YUM!
Recipe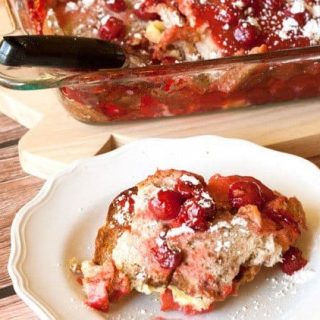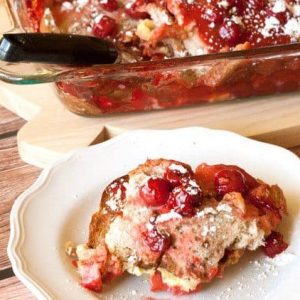 Overnight French Toast with Cherries
Overnight French Toast with Cherries is a delicious no-fuss breakfast recipe that is perfect for when you are looking for brunch recipes or easy breakfast recipes.
Instructions
Spray baking pan with nonstick baking spray. Layer bread over bottom of pan.

Mix together eggs, sugar, milk, cream and vanilla, and then pour over top of bread.

Cover and refrigerate overnight.

In the morning, top with cherry pie filling and put in NON-preheated oven. Set temperature to 350 degrees and bake for 30 minutes.
Nutrition
Calories:
265
kcal
Carbohydrates:
28
g
Protein:
10
g
Fat:
13
g
Saturated Fat:
6
g
Cholesterol:
269
mg
Sodium:
114
mg
Potassium:
142
mg
Sugar:
27
g
Vitamin A:
624
IU
Calcium:
81
mg
Iron:
1
mg