Carrot cake waffles are a carrot cake flavored homemade waffle that is topped with nuts, dried fruit, and a drizzle of syrup. This carrot cake waffle recipe will make your brunch game top-notch. Homemade waffles are easy, and this carrot cake version is perfect for any time of year.
We love carrot cake, but some people frown about eating carrot cake for breakfast. So I got creative and created these waffles. They turned out fantastic. Light, filled with carrot cake spices, and delicious down to the last morsels.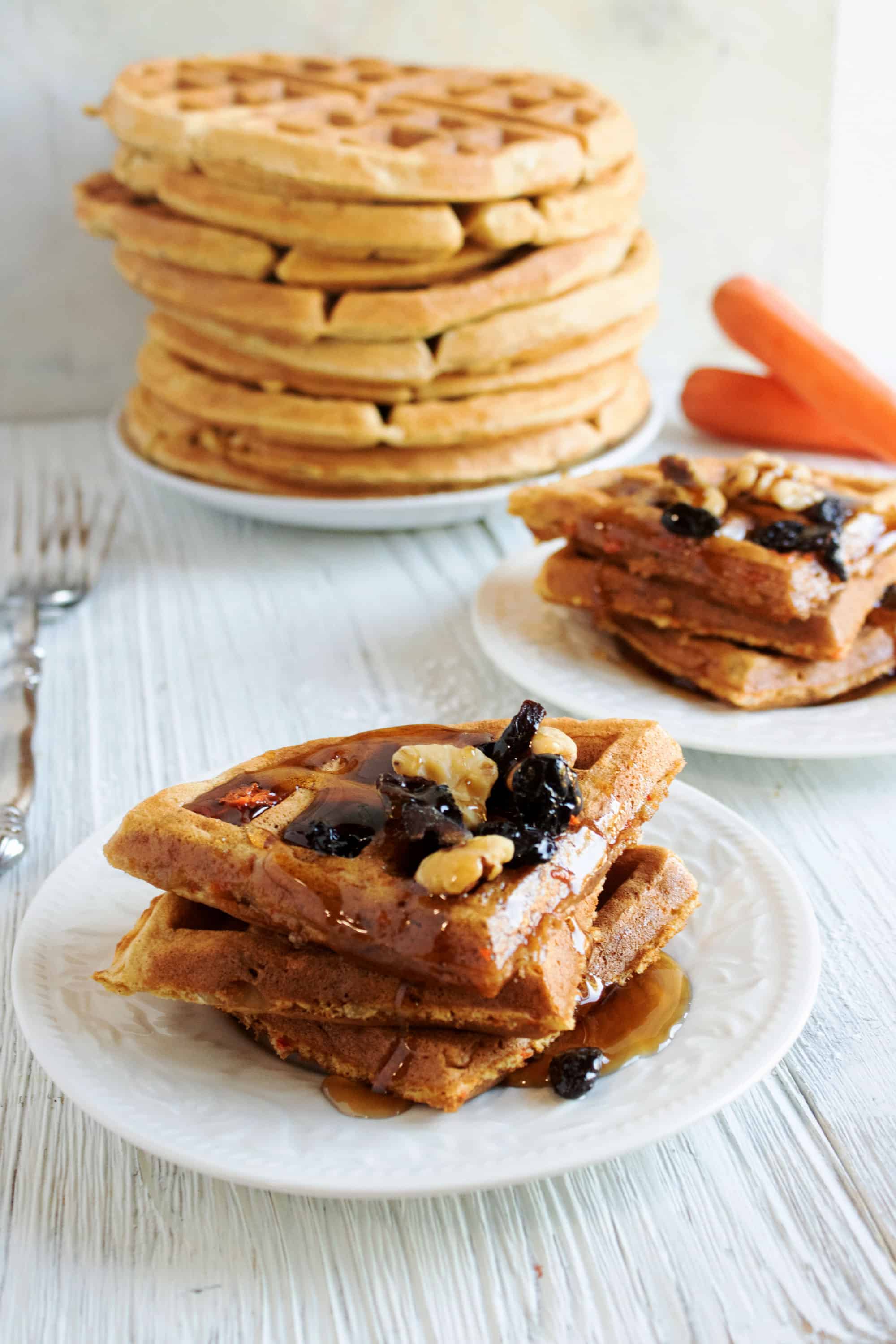 Carrot Cake Waffles
If you are looking for a new and different waffle recipe, give this one a go. With tender shreds of carrots and spice in every bite, your family and guests will be asking for one more helping.
Best Toppings For Carrot Cake Waffles
Spread On Cream Cheese for a sweet layer of flavor. Or you could even do a whipped cream cheese frosting to give it more of a cake-like flavor.
Nuts add incredible crunch to these waffles. You could just chop up nuts and then sprinkle over the top. I find salted nuts help bring out even more spices from the waffles.
Powdered sugar offers a hint of sweetness. I just add a light dusting and it adds style but also a sweetness to your waffles.
Dried Fruit is another option. Whether you reach for raisins or dried cranberries. Both work great and I find pair nicely with the carrot cake flavors.
Fresh fruit is always tasty as well. I love the flavor of berries next to the spices of the waffles.
Syrup is always welcome when pancakes or waffles are being served. You could use regular maple syrup or reach for a flavored one.
Yogurt is another topping that sounds different but is really tasty. I use vanilla Greek yogurt and it was a nice tangy twist. A drizzle of light syrup and boy was that a tasty combination.
Whipped Cream is another simple topping. Whether homemade or store-bought, a dollop will do the job.
What Can I Use To Substitute Baking Powder In Waffle Recipe
For every two tablespoons of baking powder you will need to use this recipe. One teaspoon of cream of tartar and ½ teaspoon of baking soda. This recipe will replace baking powder in recipes you use.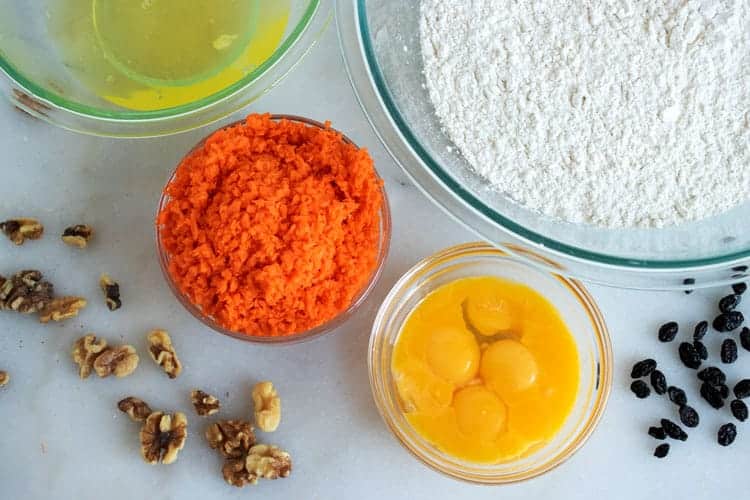 Can Baking Soda Replace Baking Powder
If you want to fully replace baking soda for baking powder in a recipe, you need to use three times the amount. So 2 tablespoons of baking powder would equal 6 tablespoons of baking soda.
How To Freeze Waffles
Simply let your waffles cool down, and then lay them out on a baking sheet. Toss in the freezer and allow them to harden. Then transfer to a freezer bag or airtight container. Freeze and then pull out however many you want, and reheat.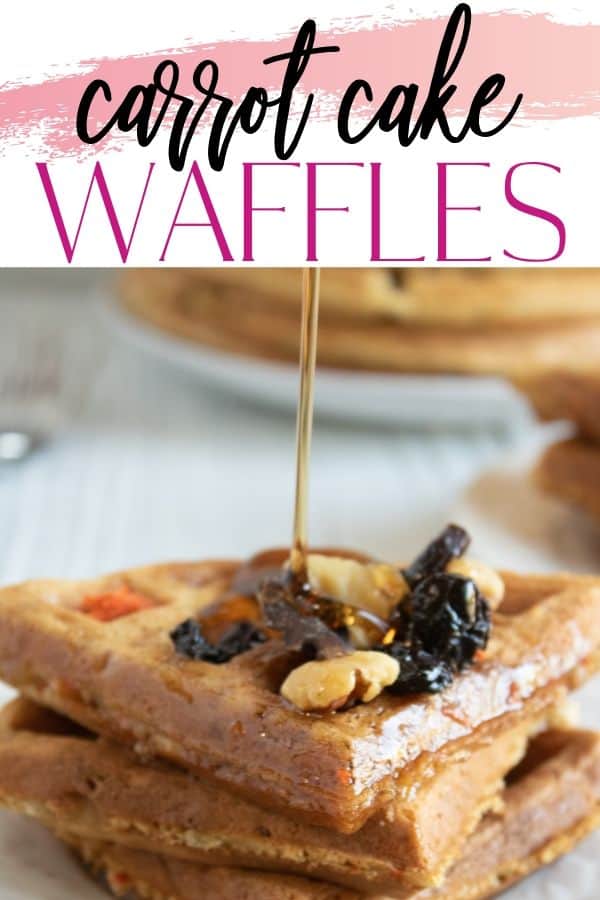 How To Reheat Waffles
Toaster | Take your frozen waffle and place in a toaster or toaster oven and warm them up that way.
Microwave | Add waffle on a plate and set in the microwave. Then take a small glass and fill halfway with water, and then warm-up. The water will help keep the waffle moist as it reheats.
How To Make Carrot Cake Waffles
I used my stand mixer for this recipe. I tossed in my eggs whites and whipped them up until it formed stiff peaks. Then added in sugar and mixed until sugar dissolved.
Then in a separate bowl add all other ingredients and mix. Make sure not to overmix or that will make your waffles dense. Then fold in the egg whites gently.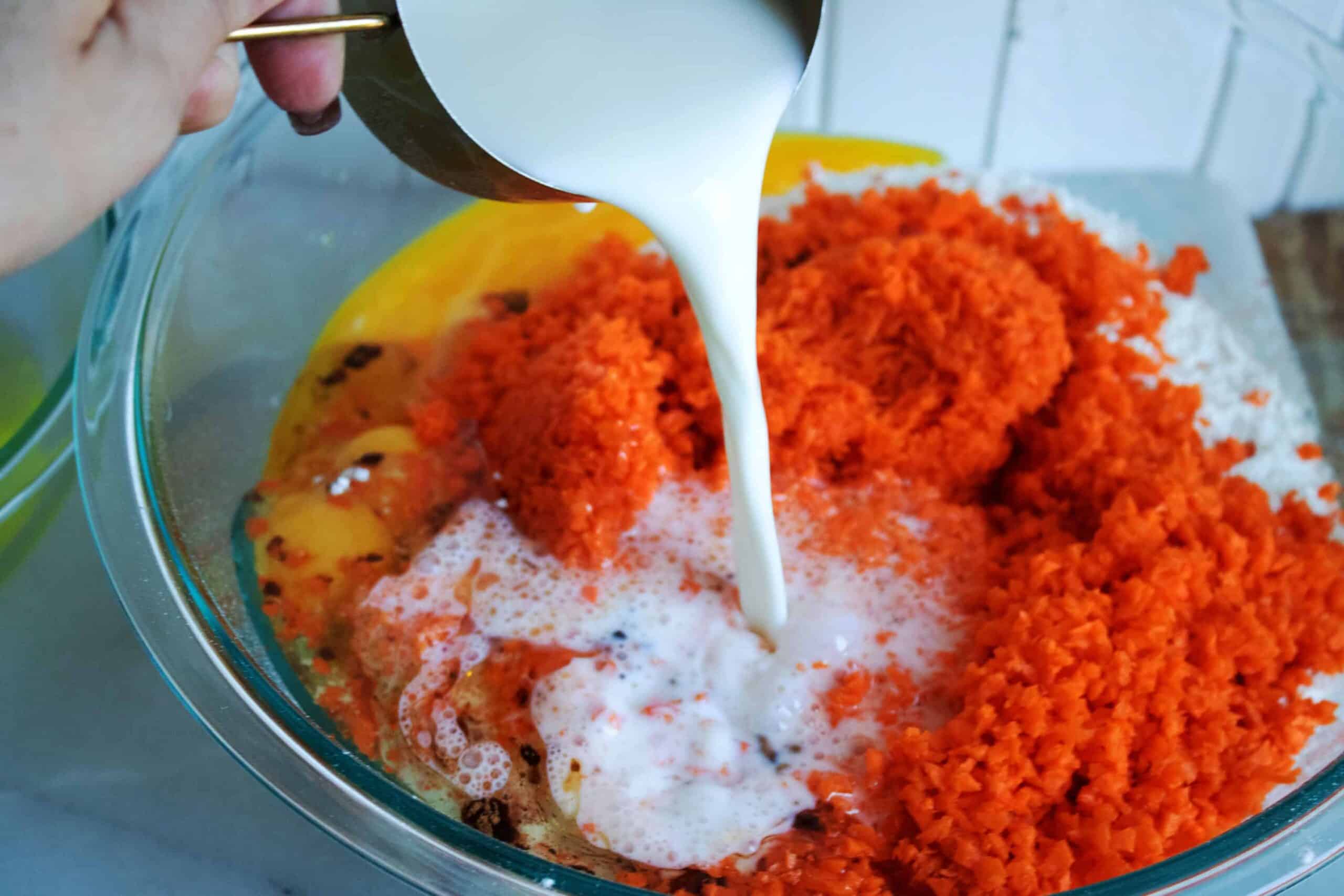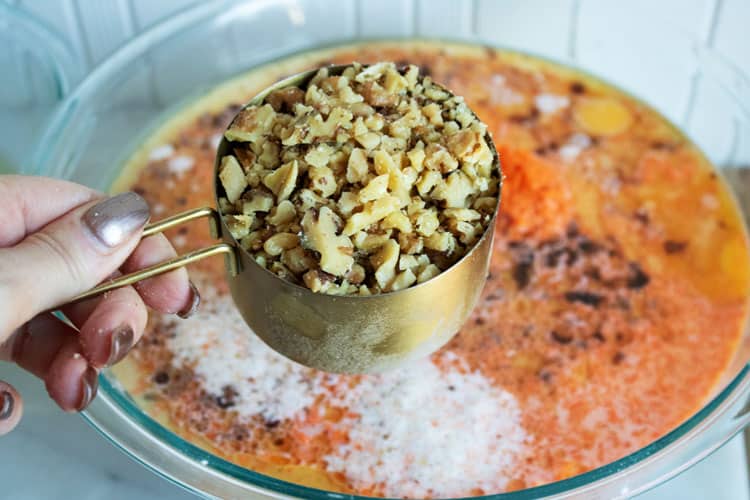 Cook in your waffle maker, as per the instructions, then top how you choose!
Looking For More Waffle Recipes
Strawberry Chocolate Chip Waffles | These are so good. I know strawberry waffles sound different, but trust me it works well. A great one for Valentine's day!
Best Chocolate Chocolate Waffles | Chocolate lovers will cheer when you serve up this waffle. All things chocolate in one fluffy homemade waffle.
Cream Cheese Waffles | One of my favorites. The cream cheese adds such richness and creaminess to the waffles that will leave you wanting one more.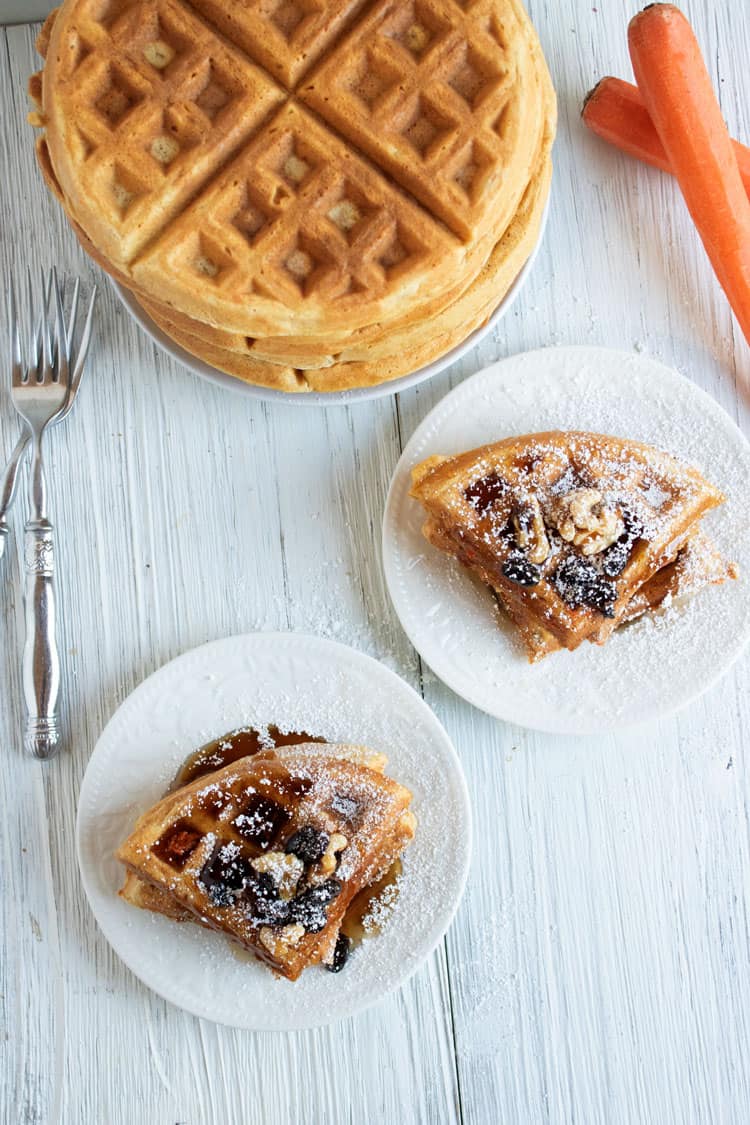 Step out of the box and try these carrot cake waffles. I think your family will thank you! Also, check out these carrot pancakes!
Recipe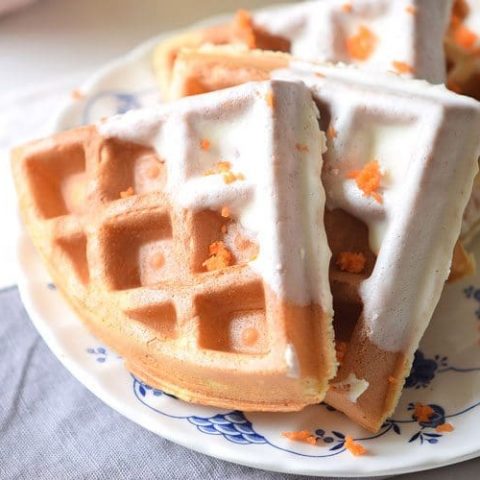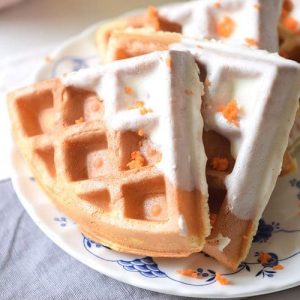 Carrot Cake Belgian Waffles
Carrot cake waffles are all the flavors of carrot cake in a waffle form. This carrot cake waffle recipe is easy and makes a fantastic breakfast
Instructions
Using a stand or handheld mixer, beat egg whites until stiff peaks form, adding in sugar towards the end.

Combine remaining ingredients (including egg yolks) in a separate bowl and stir together, making sure to not over-stir. Fold in the whipped egg whites, until just incorporated.

Cook in waffle iron according to waffle iron instructions.

Top as desired, with whipped topping, nuts, fruit, berries, syrup, etc.



Nutrition
Calories:
501
kcal
Carbohydrates:
69
g
Protein:
13
g
Fat:
21
g
Saturated Fat:
10
g
Cholesterol:
90
mg
Sodium:
503
mg
Potassium:
533
mg
Fiber:
5
g
Sugar:
10
g
Vitamin A:
5596
IU
Vitamin C:
3
mg
Calcium:
261
mg
Iron:
4
mg