Easter baking is easy with Chocolate Chip Cookie Bars
Tradition.
Family traditions are the center-stone of special holiday memories. From decorating Easter eggs to making the perfect green bean casserole, we find comfort in the symbiotic similarities that tradition brings to the table. We think these Chocolate Chip Cookie Bars are a great addition to your baking traditions.
For many of us, the Easter holiday brings back memories of baking with family. Our family likes to bake Chocolate Chip Cookie Bars for Easter.  They have the same great taste as chocolate chip cookies, but are thick and chewy, and you really can't go wrong with that. While we don't often decorate these cookie bars with frosting, pastel Easter-inspired icing piped with a ribbon design would be a perfect decorative touch if you desire to dress these chocolate chip cookie bars up for the holiday.
We like to use Bob's Red Mill flours in this recipe, and the results are amazing.  Using a combination of Organic Almond Meal/Flour and Organic Unbleached All Purpose White Flour, we created a flavorful combination that we think makes this traditional cookie bar recipe taste even better.
Chocolate Chip Cookie Bars Recipe
One of the things I love about making brownies and bars is the ease of mixing the batter. While I do use my mixer, I could just as easily mix the batter for this recipe up by hand--unlike the dough for cookies which tends to be a bit thicker.
Sugars, melted butter, eggs, vanilla...and then the dry ingredients and chocolate chips.  This recipe is really quite simple.  The only difficult part is figuring out how to avoid snacking on the chocolate chips. Maybe you'll have better luck than I did.
Bob's Red Mill Almond Meal is ground from whole, blanched sweet almonds. 
And since almonds are super healthy nuts providing a good deal of manganese and vitamin E, it's nice to know that you're getting a good dose of those essential nutrients in addition to protein and monounsaturated fats.
Organic Unbleached All Purpose White Flour is not enriched with any additives. This is the same high protein flour that is used by many professional bakers because it produces high, well-textured loaves of breads and light, airy baked goods. And we can certainly attest to the fact that it has produced those light and airy baked goods in our test kitchen. We love the versatility of this kitchen staple.
Bob's Red Mill also has a Gluten Free 1-to-1 Baking Flour that is perfectly formulated for baked goods.  Although we didn't use it in this recipe, we have used it before and can attest to its quality.  The gluten-free flour combines finely gourd brown rice flour, sweet white rice flour, whole grain sorghum flour, potato starch, and tapioca flour with a touch of xanthan gum—just enough xanthan gum to create chewy cookies and springy muffins.
Having friends who have to baking with gluten free flour, I know how difficult baking can be and how many ingredients they sometimes have to pull together. Having everything combined into a baking flour that has the perfect concentration of ingredients that allows for a cookies, cakes and brownies that turn out just right--well, it is a huge time saver and life changer.
Chocolate Chip Cookie Bars Brownie Batter
The only problem I had with this recipe was stopping at just one cookie bar.  These chocolate chip cookie bars taste that good. In fact, I like them better than chocolate chip cookies--mostly because of the soft consistency. Plus, they are thick...so having one bar is basically the same as having a couple cookies.
A couple really great cookies if I do say so myself.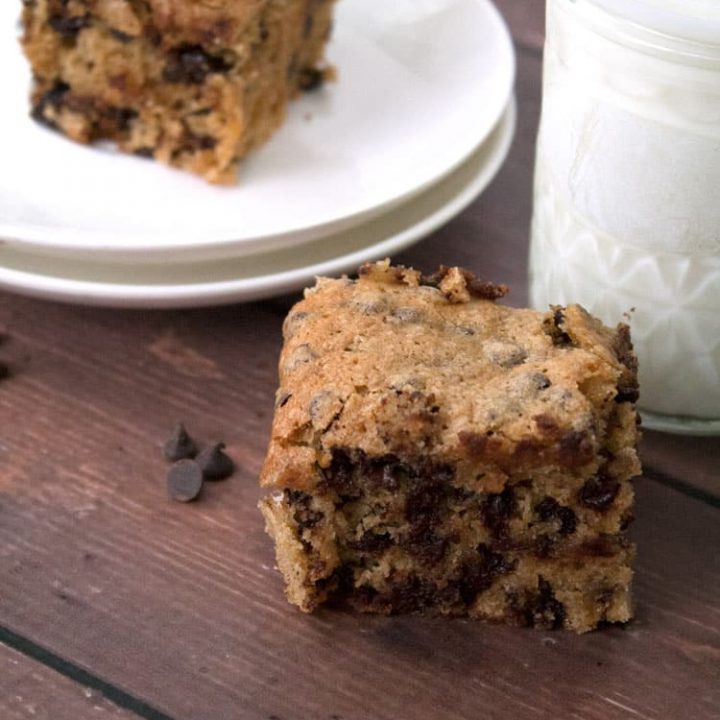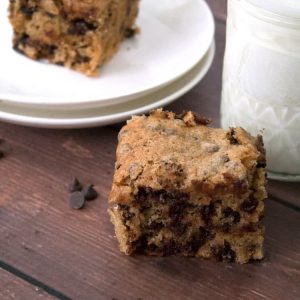 Chocolate Chip Cookie Bars Recipe
Try this chocolate chip cookie bars recipe. It's great on its own, with decorative frosting or even with ice cream. Easy baking recipes and kids can help.
Instructions
Preheat oven to 350.

Mix dry ingredients together. Set aside.

Mix together melted butter with sugars. Add eggs and vanilla and blend.

Add dry ingredients into the sugars and then add chocolate chips after well combined.

Lightly spray 9x13 pan with cooking spray. Spread batter into pan and then bake for 25-30 minutes or until center is done.
Nutrition
Calories:
921
kcal
Carbohydrates:
119
g
Protein:
12
g
Fat:
46
g
Saturated Fat:
8
g
Cholesterol:
82
mg
Sodium:
872
mg
Potassium:
171
mg
Fiber:
3
g
Sugar:
79
g
Vitamin A:
1621
IU
Calcium:
117
mg
Iron:
4
mg