Chocolate waffles are a chocolate lovers dream come true. Moist and fluffy chocolate waffles with chocolate chips. Drizzle on syrup and dive in.
I got my inspiration for this recipe from a chocolate chip waffle recipe. I wanted to add even more chocolate goodness to a waffle. So I reached for some cocoa powder and a few other ingredients and created this incredible chocolate waffle.
Chocolate Waffles
Belgium chocolate waffles will dress up any morning or brunch. I made these for my family when they came to visit, and let's just say every single waffle got gobbled up rather fast.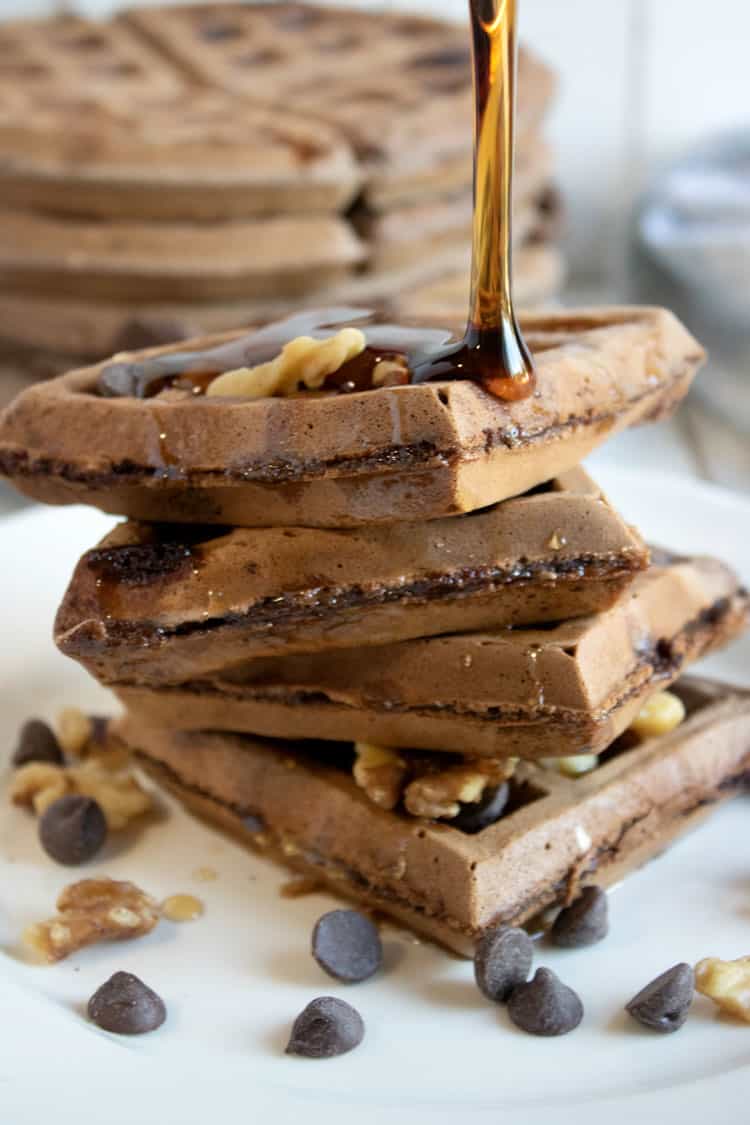 We love Waffles and Pancakes, here are more recipes
What Is In Chocolate Waffles
You will find that this waffle mix is unique. Flour, cocoa, mashed bananas and more come together for making an incredible batter that stands out from other homemade waffle recipes you may find online! The cocoa and chocolate chips offer the richness of chocolate in every single bite.
Topping Ideas For This Chocolate Waffles Recipe
Cherries, Strawberries, or any other fruit
Dusting of powdered sugar
Drizzle of Syrup
Chocolate Chips
Ice Cream
Chocolate Ganache
Peanut butter, Nutella or any other nut butter
Whipped Cream
Crushed up nuts
Those are a few of my favorite ways to enjoy these waffles. Feel free to add on any of your favorite waffle toppings.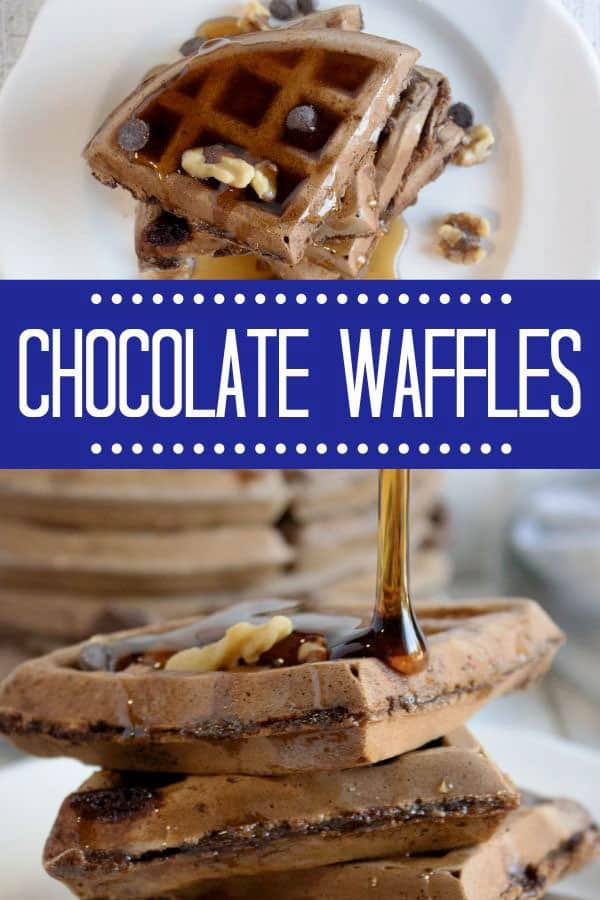 How To Make Homemade Chocolate Waffles
Start with a stand mixer and beat your egg whites and sugar until stiff peaks form. That means when you lift the beater up, the mixture sticks and forms peaks as you lift up.
Then in a separate bowl add in all your ingredients but the egg white mixture and chocolate chips. Once the batter is mixed, fold in whipped egg whites, and chocolate chips.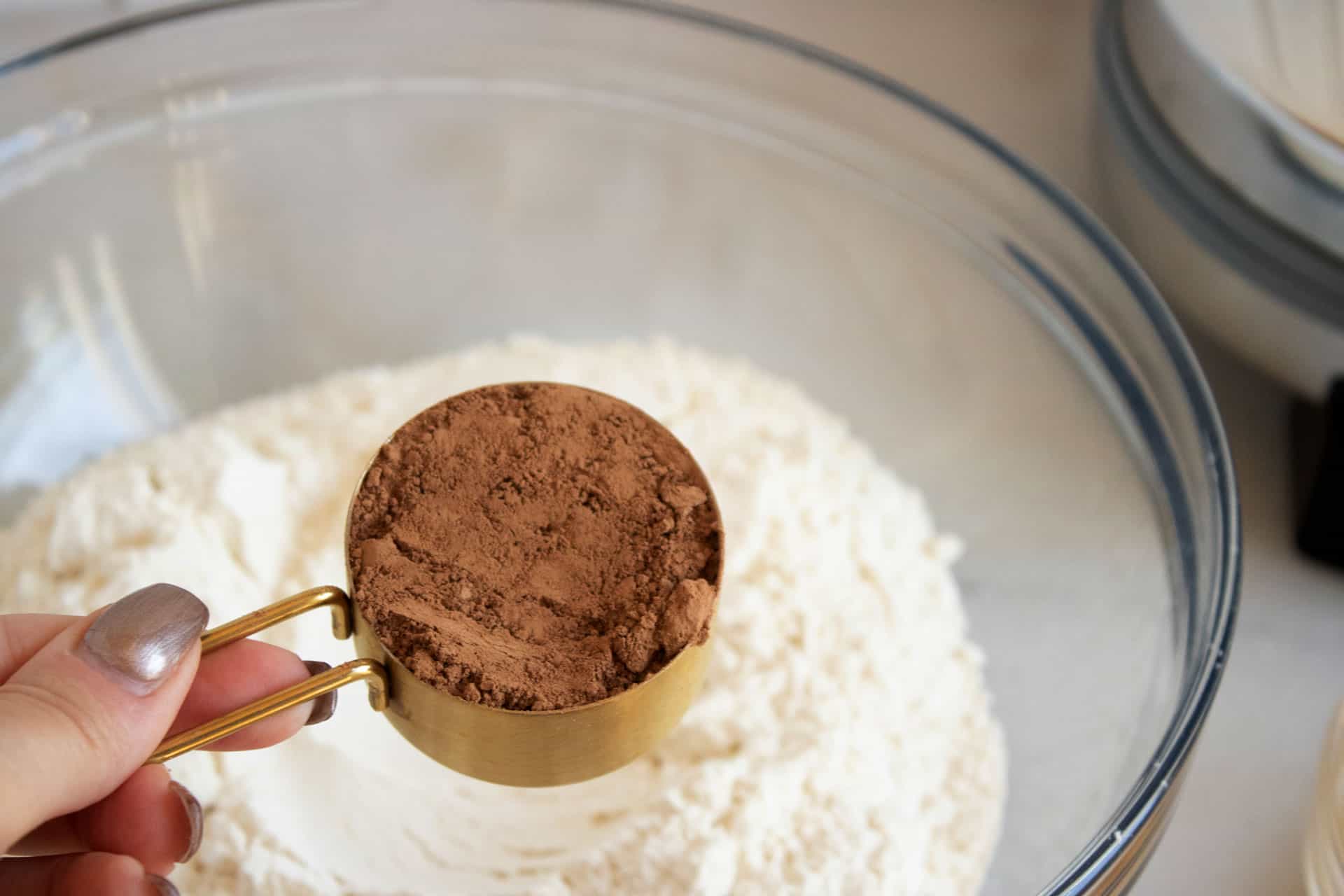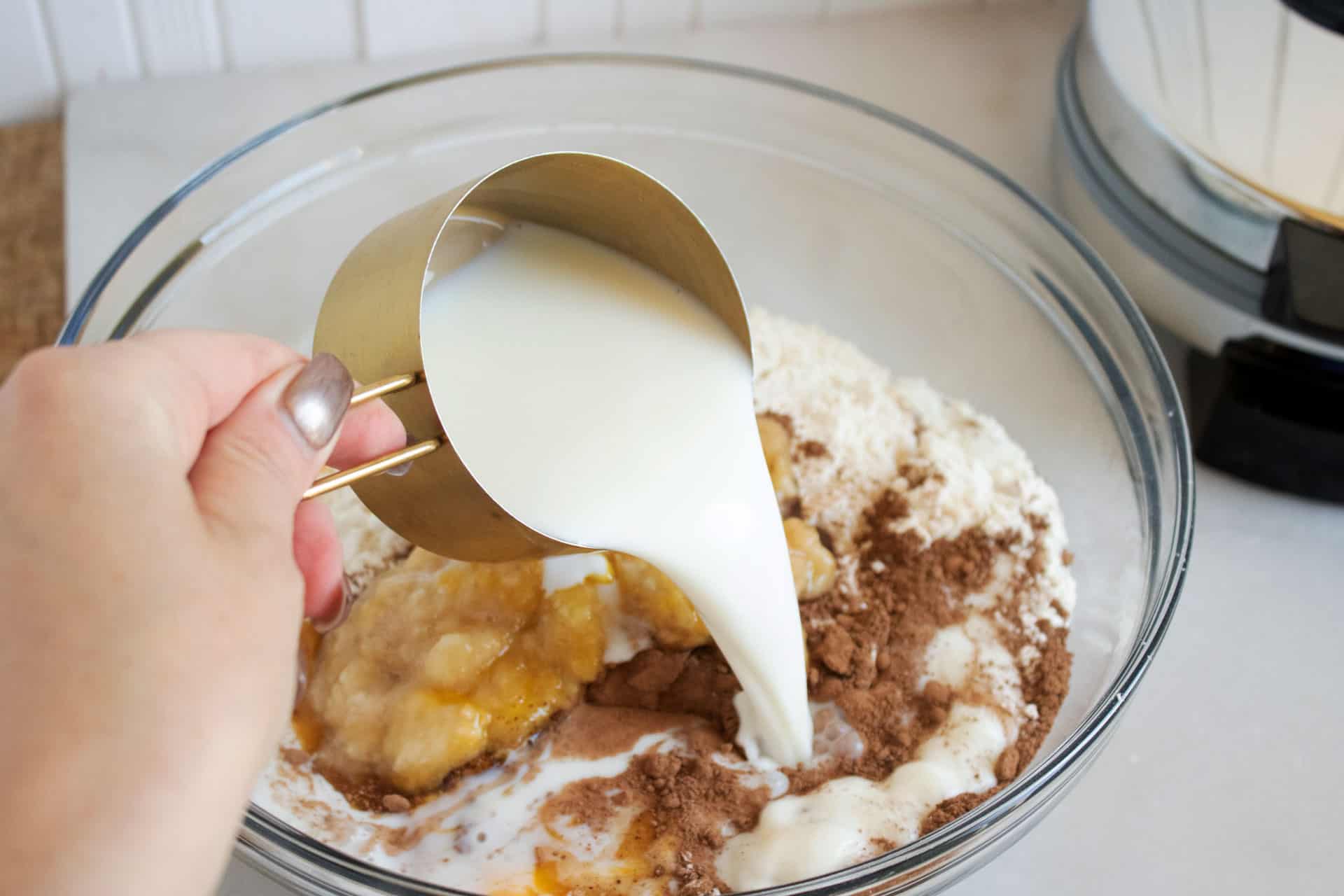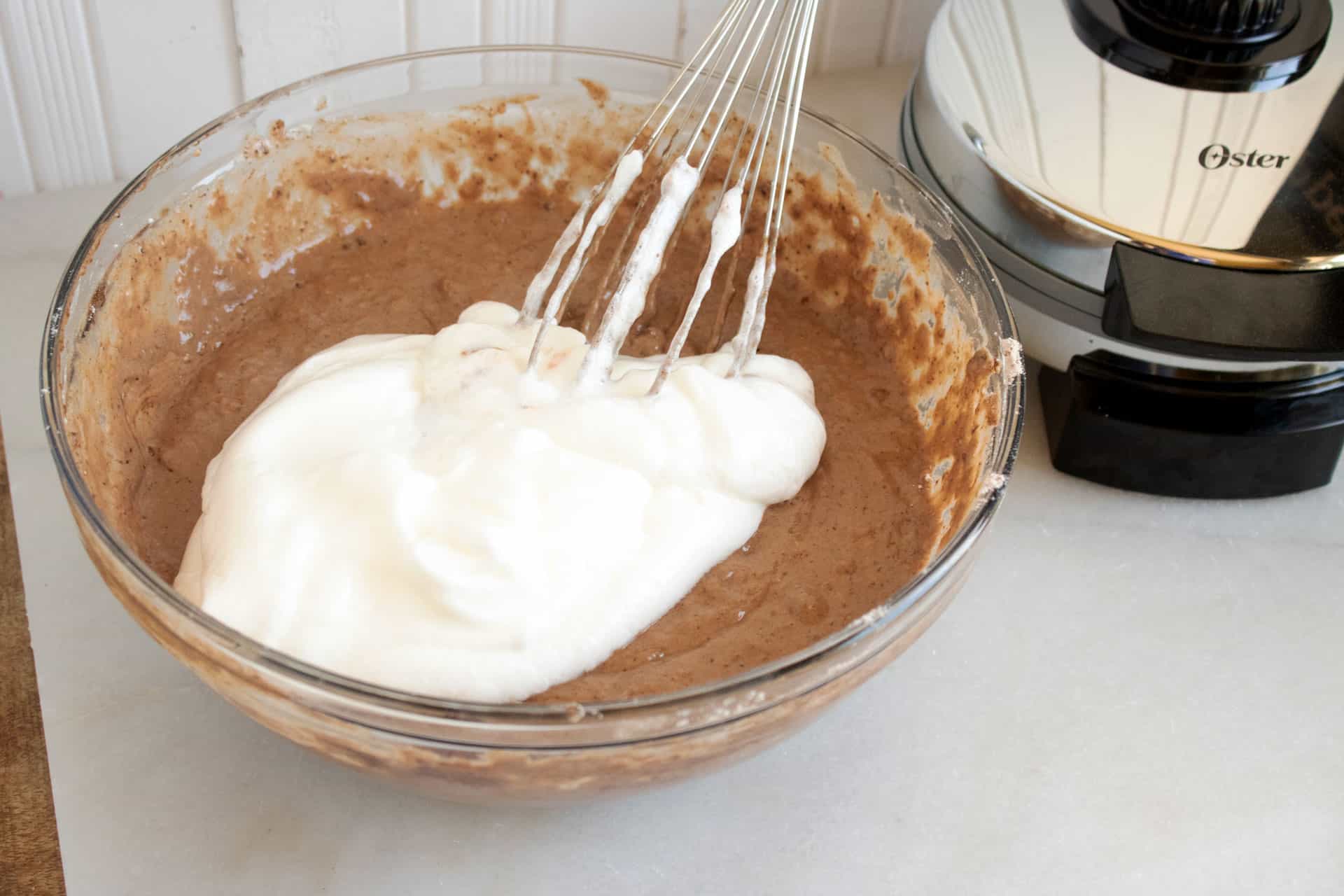 Pour batter into the waffle maker, and follow instructions of your machine. Then top and serve fresh.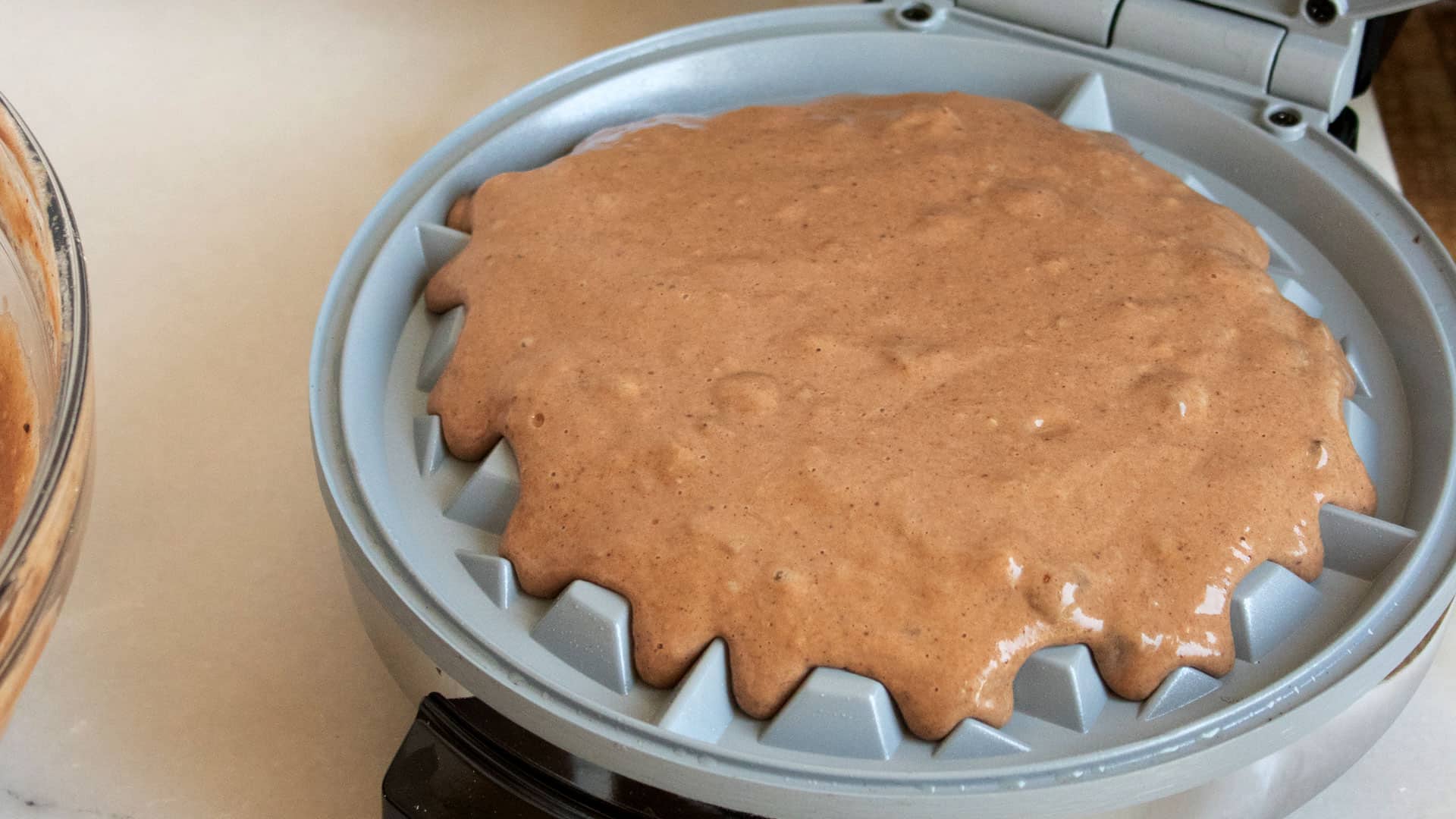 What Add-Ins Would Be Good In Chocolate Belgian Waffles
Nuts - for a crunch factor.
Coconut - For that hint of sweetness in each bite.
Butterscotch Chips - These are a really tasty add-in. You could also do peanut butter chips, white chocolate chips, toffee bits, etc.
Cinnamon - Add a teaspoon of cinnamon for a mix of depth and spice in the batter.
For any of these add in's except the cinnamon you could add in ½ cup to ¾ cup to the mix.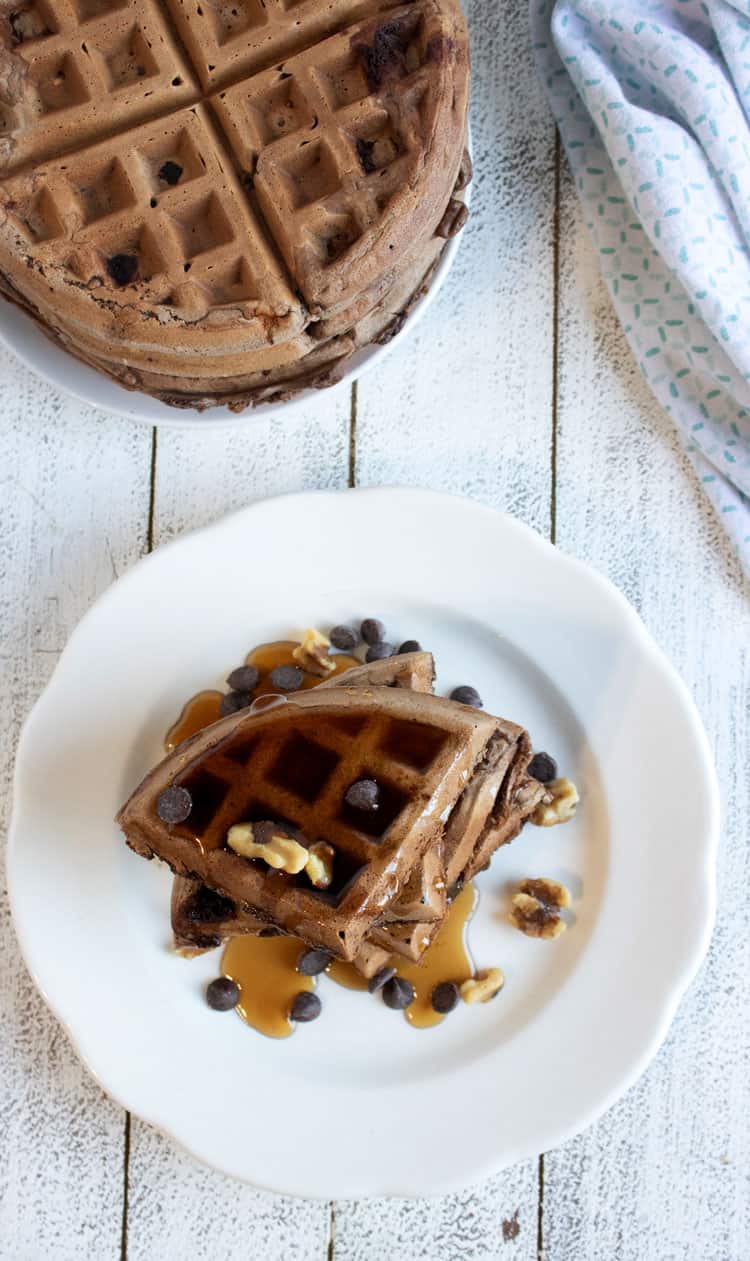 Tip For Homemade Chocolate Waffles
One area I want to touch on is to make sure you do not over-mix the batter. If you do, you will not end up with a fluffy and light waffle. It will become heavy, dense and less than appealing.
When I fold in the egg whites and chocolate chips I use a spatula. It helps to gently fold it in, without adding a lot of stress and harsh movements to the batter.
Use A Hot Waffle Iron
One other big tip is to ensure your waffle iron is sizzling. Having a preheated iron will give you that tender inside with a crispy outside. What I do is leave the iron closed for 4-5 minutes and let it fully heat. Add a drop of water and see that it sizzles and evaporates away. Then I know the iron is ready for me to pour in my batter.
If you don't allow your waffle griddle to fully heat, you can have a soggy waffle that isn't going to have the crispy outside like you are wanting.
How To Store Leftover Waffles
You will want to allow your waffles to cool on the counter fully. Once cooled you can then transfer to a sealable bag or airtight container and then store in the fridge. This will help preserve the texture of the waffles.
Can You Freeze Homemade Waffles
Yes! Just let your waffles fully cool on the counter, and then lay them out on a cookie sheet. Flash freeze for 15-20 minutes. Then transfer the waffles into a freezer bag or storage container. Store up to three months in the freezer.
Best Way To Reheat Waffles
While you can reheat waffles in the microwave, I find heating them up in the oven gives the best results. Simply turn oven to 350 degrees. Place waffles on a baking sheet, and bake them for 10-15 minutes or until they are fully warmed all the way through.
Have you ever made chocolate waffles?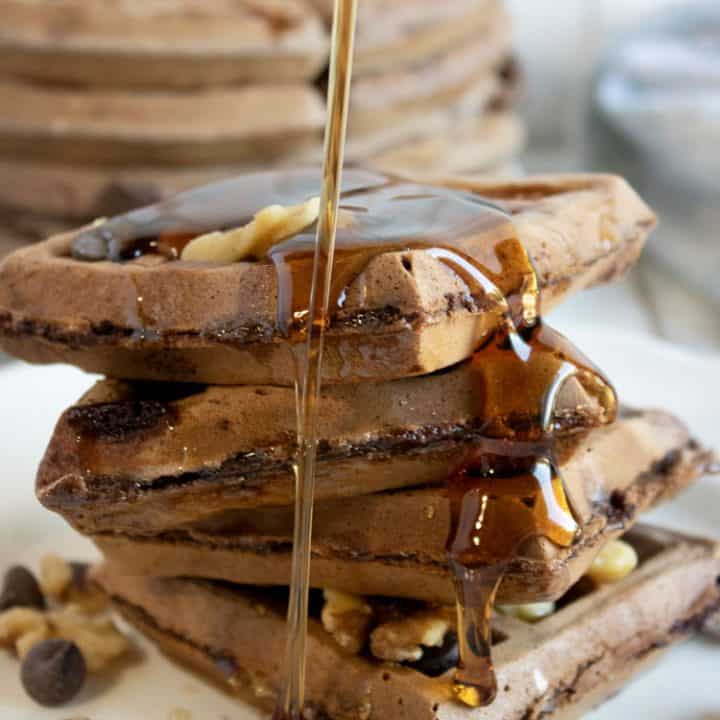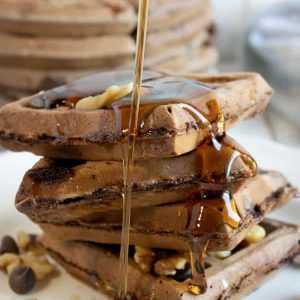 Chocolate Belgian Waffles
Chocolate Belgian Waffles are a delicious homemade waffle recipe made in a Belgian Waffle maker. They are a light and airy waffle, thanks to whipped egg whites that are folded into the batter.
Instructions
Using a stand or handheld mixer, beat egg whites and sugar until stiff peaks form.

Combine remaining ingredients (except the chocolate chips) in a separate bowl and stir together, making sure to not over-stir. Fold in the whipped egg whites, until just incorporated. Add chocolate chips.

Cook in waffle iron according to waffle iron instructions.

Top as desired, with whipped topping, nuts, fruit, berries, syrup, etc.
Notes
Makes between 6-8 waffles, depending on the size of your waffle iron.
Nutrition
Serving:
1
g
Calories:
402
kcal
Carbohydrates:
57
g
Protein:
11
g
Fat:
16
g
Saturated Fat:
5
g
Polyunsaturated Fat:
9
g
Cholesterol:
75
mg
Sodium:
377
mg
Fiber:
4
g
Sugar:
16
g